The Best Backcountry Shower Systems
A nice warm rinse can boost your camping trips to new heights of luxury. Here are our favorite setups.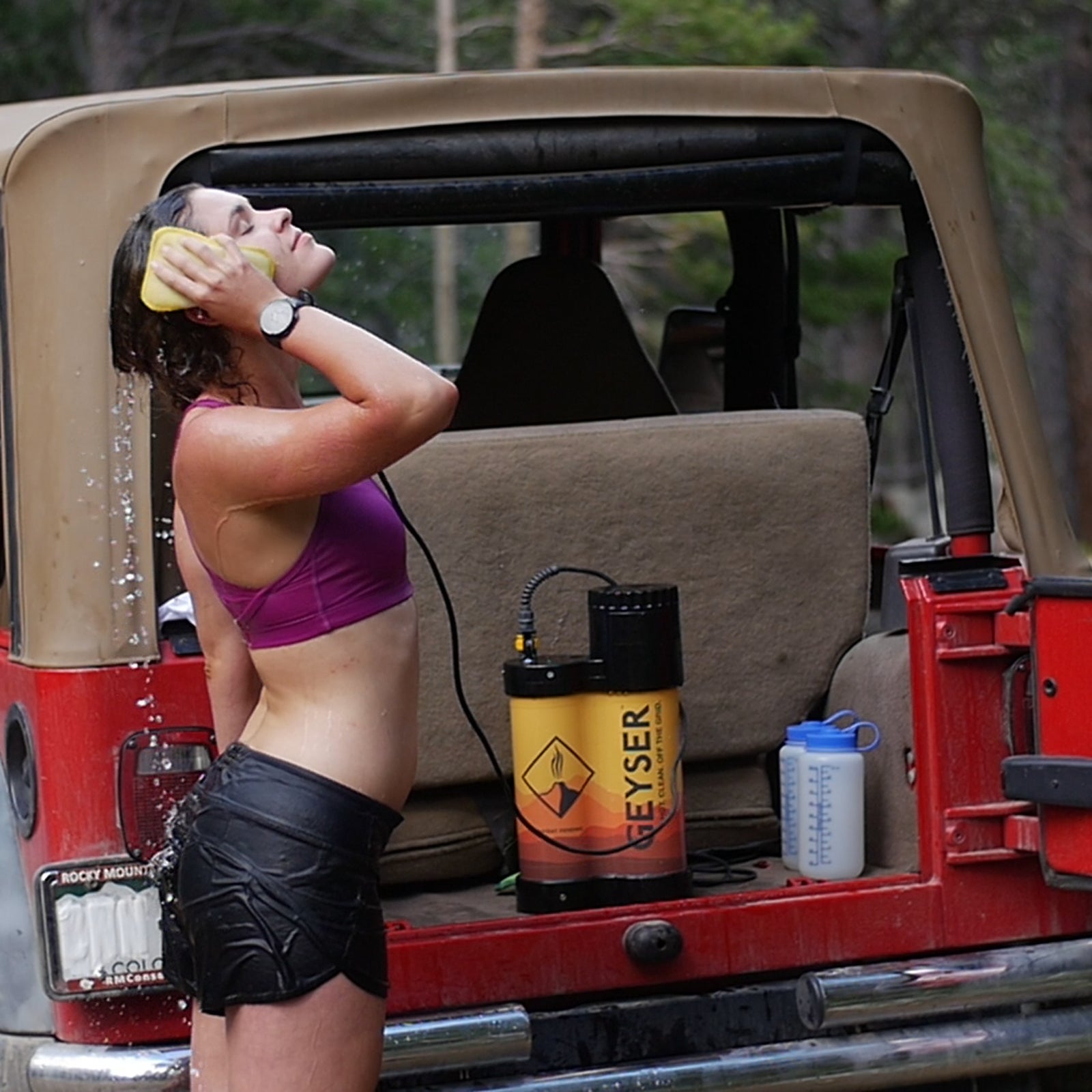 Heading out the door? Read this article on the new Outside+ app available now on iOS devices for members! Download the app.
The best shower of my life took place 100 miles from the nearest water pipe. I'd been mountain biking the White Rim Trail through Utah's Canyonlands National Park, and by evening my skin was plastered with sunscreen, salt, and grit. Sliding a sleeping bag over that mess would only intensify the ick. But Holiday River Expeditions, the outfitter that was supporting my ride with meals and sag wagons, had hauled a solar-heated shower system into the Utah backcountry. As the warm water and lavender castile soap rinsed away my salt crust, I felt better than clean. I felt reborn.
"The showers make those trips," laughs Tim Gaylord, Holiday River's director of operations. He designed the company's shower system after discovering that bladder-style solar showers routinely burst after just one or two trips. "The terrain we drive is rough, and all that sloshing around would break the bladders," Gaylord says. So he collected a bunch of rugged plastic jerry cans, fitted them with hoses and shower nozzles, and painted them black to intensify the sun's heat. They ride on the van's roof, so gravity supplies the pressure required for showering. Gaylord even packs a small bamboo bath mat that I stood on to keep my feet out of the mud.
Since then, I've been on a mission to perfect my own road-trip shower system. I've eyed the roof-mounted showers that some vagabonds build DIY-style from PVC pipe and a few hardware-store fittings. Yakima also makes a ready-made version called the RoadShower ($450), a pressurized system that's capable of delivering a truly dirt-blasting jet of water.
But my adventure rig, a Four Wheel pop-up truck camper, doesn't easily accept roof-mounted accessories, so working out a way to integrate a pipe-style shower—or even something like Gaylord's jerry-can system—seemed like a major endeavor. I wanted easy.
Thus my quest focused on the array of portable shower options that don't require a vehicle mount. I tested them on chilly November days when a warm rinse felt as restorative as a hot tub, and on gusty spring trips when the wind carried away my sprinkling water. Group campouts afforded opportunities to solicit friends' opinions of the various systems. And packing them over rough 4WD routes tested their durability.
Here are the test-winning products.
The Best Showers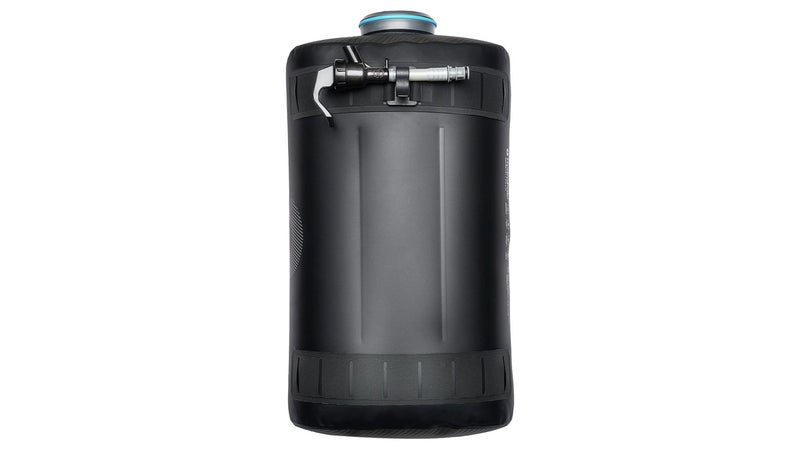 Best Durable Shower
Hydrapak Expedition 8L ($60)
This burly, collapsible water-storage container is made of TPU film laminate with RF welded seams, and survived a full season of rough-road travel. On desert trips where water is scarce, I typically fill it before leaving home. Despite the sloshing and abrasion it's suffered, it has yet to leak.
The wide-mouth cap is compatible with many water filters, making it a handy storage jug on overland trips and even backcountry hikes (it weighs nine ounces). But you can also fit it with Hydrapak's Seeker Plug-N-Play Cap Kit ($18), which adds tubing, a shower head, and an on/off valve. Suspend the vessel overhead like like this and it functions as a low-flow shower (devotees of body-drenching sunflower shower heads will find it lacking). Leave it in the sun to heat up, or just shower cold. When empty, the bladder and shower hose roll into a tidy, eight-inch-long baton.
---
Best Ultralight Shower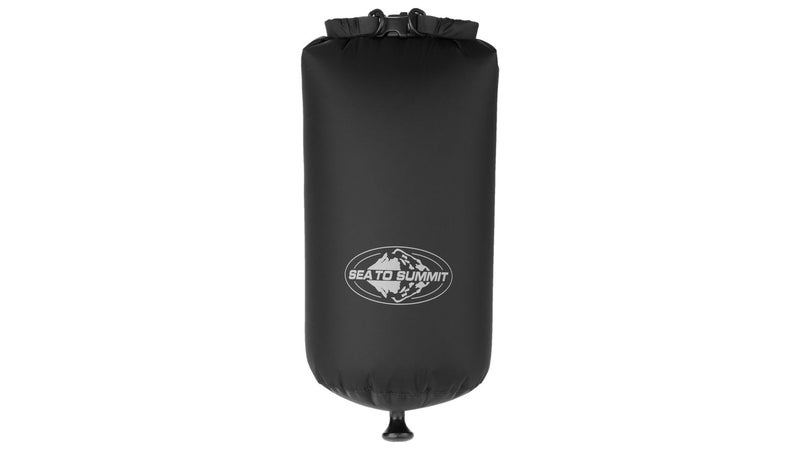 Sea to Summit Pocket Shower ($35)
Weighing just 4.3 ounces, this ten-liter bladder looks a lot like Sea to Summit's ultralight stuff sacks. The roll-top opening facilitates easy filling from virtually any water source, and the plastic buckle and two D-rings make hanging it a cinch. Plus, the roll-top is fitted with a 20-foot nylon cord that lets you adjust the hang height. That's a lot of easy.
I don't, however, feel confident transporting water in this bladder. Although it's made of abrasion-resistant 70-denier nylon, the bag's roll-top closure and delicate shower fixture sometimes got knocked open during transport in camp, so I didn't trust it to stay leak-free during the extended sloshing and jostling of overland travel. I prefer to fill it immediately before use (that does mean showering cold). The spray nozzle screws open and closed, and delivers just enough flow for hair-washing (Sea to Summit claims a shower time of seven minutes).  This is also the most compact and packable option I tested. It fits into a storage pouch that's as small as a deck of cards.
---
Most Versatile Shower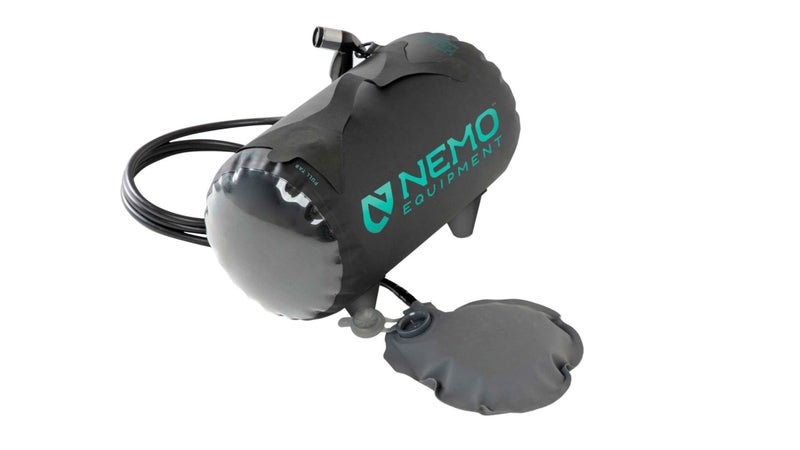 NEMO Helio Pressure Shower ($100)
This clever system doesn't need to be suspended overhead to deliver a satisfying shower. A foot pump lets you pressurize the 11-liter water chamber, so with the water tank resting on the ground, I could just raise the shower hose overhead and enjoy a body-cleansing stream. That proved handy when I camped on a treeless desert plain that lacked attachment options for overhead shower systems. I also used it to wash dishes (the shower nozzle looks exactly like a sink sprayer) and shoot my campmates with my "water gun."
It's lighter in construction than the HydraPak reviewed above, but still tough enough for travel when full (think TPU and PU-coated polyester, with sturdy welded seams). It compresses to the size of a soccer ball when empty, and weighs 1 lb. 5 ounces. This won't please the ultralight crowd but is just right for car campers with limited cargo space and weight tolerance.
---
Most Efficient Shower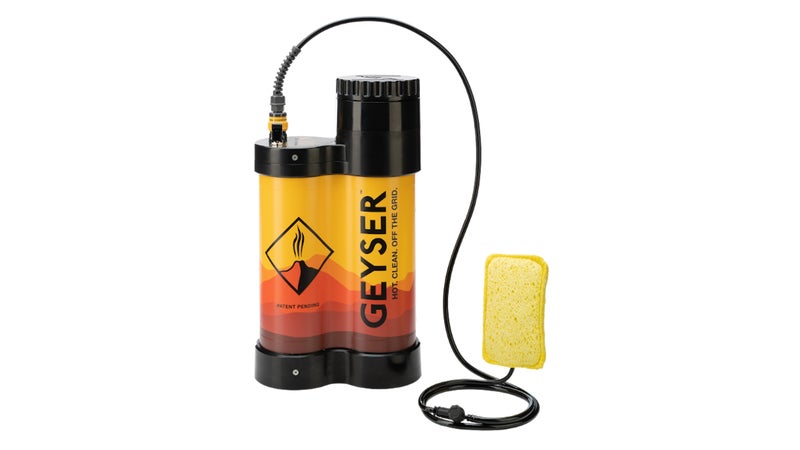 Geyser Systems Hot Portable Shower ($325)
This innovative option occupies a class of its own. For starters, it's the only system that I tested that heats water with a built-in warming element rather than passive solar energy. And it's not a bladder: the hard-sided three-liter water chamber is made of rigid ABS plastic, and includes an electric water pump that has to be connected to a power source if you want the water to flow.
That requirement tripped me up initially. The Geyser's preferred power source is the 12V DC socket on a running vehicle. Idling my truck just to take a shower seemed wasteful and loud. Plus, rigging up a privacy shelter within the open truck door wasn't practical. Eventually I discovered that I can run the pump without simultaneously running my car's engine, so long as I was driving the truck each day to recharge its battery.
On the other hand, using the water-heating element definitely requires a running vehicle or a portable power station (such as the Goal Zero Yeti 200x). I tried connecting the unit to my camper's auxiliary battery, but its throughput wasn't strong enough to produce warm water. After 60 minutes, the liquid went from cold to not-so-cold (Geyser Systems advertises a 15- to 45-minute hot-water time when the device is powered with a running car engine). That said, you can fill the Geyser with hot water from your stove, rather than waiting for the built-in unit to work its magic. A liter of boiling water plus two liters of cold is just right.
But what's really cool is that the Geyser is by far the most water-sparing system I've found. On the medium flow setting, it rations three liters of water into a seven-minute body cleanse (the ten-liter Pocket Shower claims the same shower duration). That's because the Geyser's hose attaches to a body-scrub sponge rather than a spray nozzle. You can remove the accessory to douse your hair and then put it back on for body-washing, to conserve water.
The Geyser also seems to be admirably tough and shock-resistant—more like Gaylord's rigid jerry cans than a bladder with seams that might split. It's ideal for multi-day trips where water is scarce.
---
The Best Camping Shower Accessories
Advanced Elements Summer Shower Enclosure ($40)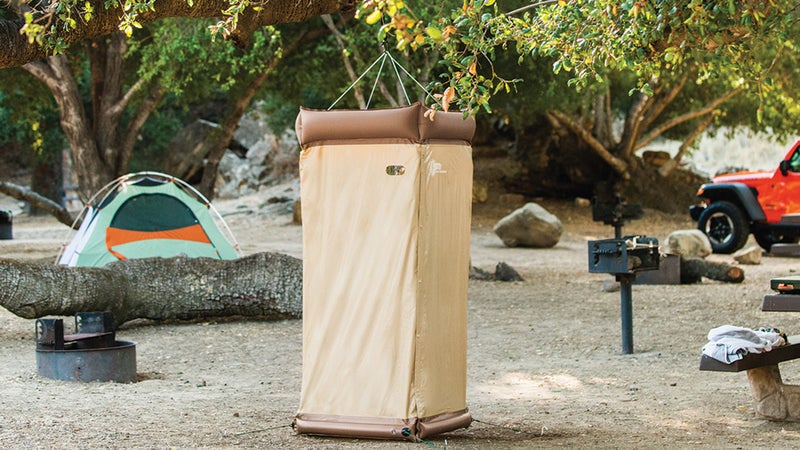 This game-changing vinyl privacy shelter solves the foundational problem with showering in camp: it lets you get naked without exposing yourself to neighboring groups. Even when my "shower" system was as rudimentary as a water bottle and a towel, I often had a hard time finding a truly private location for my backcountry wash-up. But this enclosure facilitates a variety of approaches to backcountry bathing.
Two crisscrossed, fixed-length strings at the top allow you to hang the rig from a tree branch, a camper awning, or any overhead horizontal beam (like the roof supports on a shade pavilion). I like to suspend it as I would a bear bag, using a piece of nylon webbing fitted with a metal S-hook.
Plastic snaps along the corner opening keep it shut while you're showering, and inflating the air beams at the enclosure's top and bottom give it enough structure to keep the plastic off your body, unless it's windy. In that case, you can stake out the four bottom corners (stakes and guy line not included), which stabilizes the shower in a gentle breeze. In truly wind-hammered conditions—like the 40 mile-per-hour gusts I experienced in Moab—body wipes (such as Sea To Summit's Wilderness Wipes) remain the best bet.
---
OXO Good Grips Large Silicone Dish Drying Mat ($16)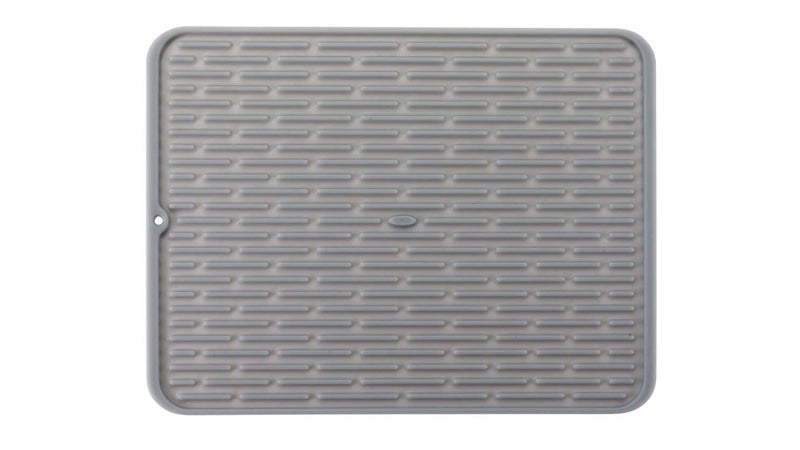 There are various ways to keep your bare feet off the muddy ground while showering. You can stand inside a plastic dish tub, which catches the runoff and lets you reuse it for dish-washing (provided you boil it first!). My favorite bath-pad is the foldable NEMO Helio Clover Mat ($20), which is no longer sold. But various dish-drying mats, like OXO's silicone mat, elevate your feet off the ground and are packable enough for easy transport. If your cargo space isn't limited, you might even try toting a wooden bath mat à la Holiday River Expeditions. With warm water and a killer view, it's the ultimate luxury.
Lead Photo: Courtesy Geyser