Indefinitely Wild
The Best Outdoor Sleep Systems for Adventurous Couples
How to sleep together, better, outside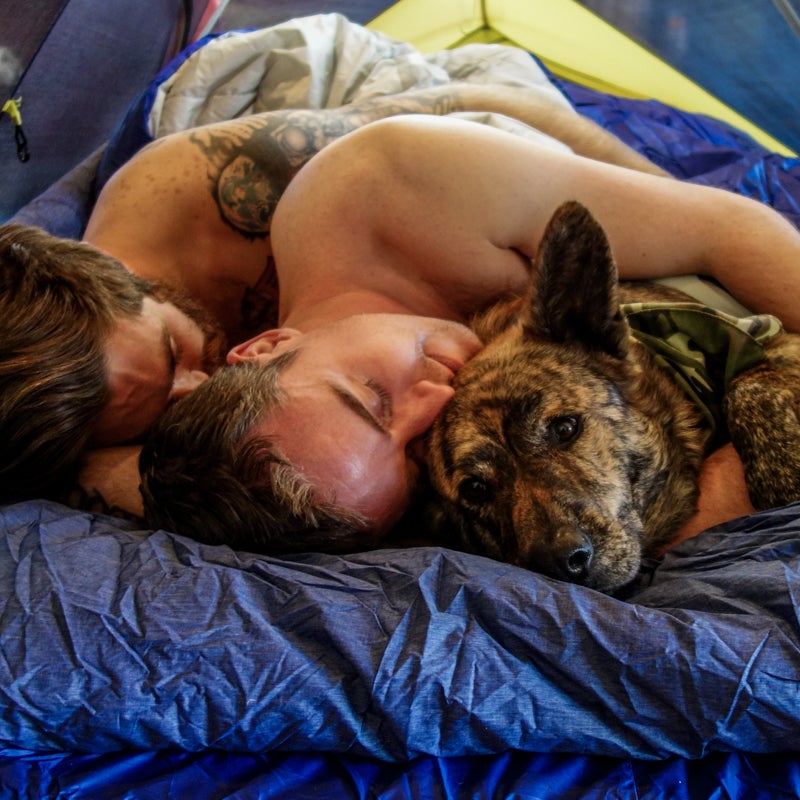 Heading out the door? Read this article on the new Outside+ app available now on iOS devices for members! Download the app.
Camping: the best third date in the world. But bring the wrong sleeping bag or mattress and you might get the cold shoulder—quite literally. Fortunately, couple's camping gear is suddenly becoming a hot segment. We've tested the latest equipment and are here to tell you what works. 
How to Get Couple's Camping Wrong
The go-to options, at least when a car is involved, have always been one of those cheap, inflatable air beds, paired with a cheap, synthetic double sleeping bag. Both likely purchased at Walmart. There's a number of problems with this stuff, starting with size and weight and ending with poor insulation. 
Here's the kind of double sleeping bag both you, I, and our ex-girlfriends likely have experience with. It packs down to roughly the size of a beer keg and weighs a positively unbelievable 16.5 pounds. Worth sacrificing half your trunk space, given its zero-degree Fahrenheit advertised temperature rating? Not even close. I've spent many nights in this thing and can report with considerable disappointment that it sleeps cold if temperatures even approach freezing. 
That bad insulation is worsened if (again, like most casual couple's campers), you use a big, cheesy, inflatable air bed. Not only do they take forever to inflate, sag in the middle, and puncture incredibly easily, but they totally lack insulation: the cold ground will suck the heat out of you as you sleep. 
Adding insult to injury, air beds lack adequate support for even tame sexual activities. Missionary position barely works on one and you won't be doing anything that involves supporting a human body on hands or knees. 
Real-World Limitations and Considerations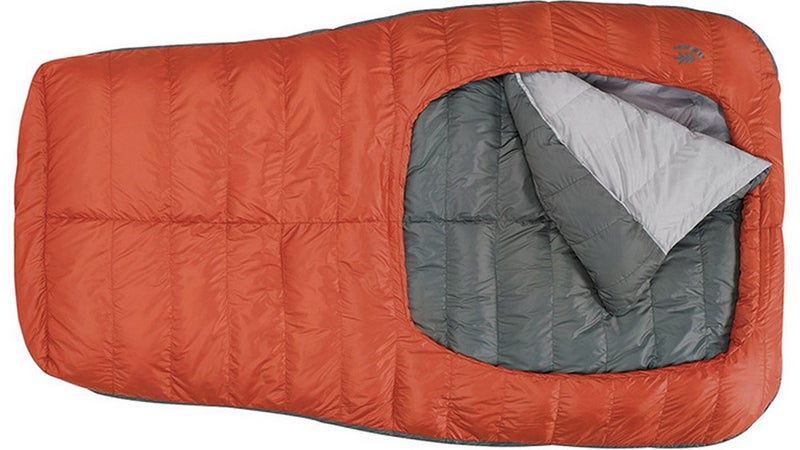 Before we dive into gear that actually works, let's first consider the overall picture that a couple's sleep system needs to fit into. Cost, for example, will determine how far down this path you want to go, as will things like your existing camping equipment, the types of trips you go on, and the kinds of weather you encounter. 
First, consider the type of shelter(s) you plan to sleep in. If you already have a two-person tent and are simply planning on adding a cutie to it, then you'll need to find a system that fits inside. If you use an ultralight backpacking tarp or other non-traditional shelter, then you may need to figure its support structure into your overall plan. Does it require a trekking pole to stick up right in the middle? Then you might not be able to sleep totally together. We won't review tents here: this is just a reminder to size your sleep system to your shelter or vice versa. 
It's worth remembering that tent sizes tend to be pretty exaggerated. A two-person backpacking tent will just about (you'd better really like each other!) fit two normal sized humans, with no room to spare. A three-person will feel a little roomier and make space for your dog. Size up to a four-person for comfortable car camping. Pictured up top is the Exped Megamat Duo inside a 2P Sierra Designs Nightwatch—the mattress is stretching the tent's walls beyond their comfortable capacity. 
You'll also need to carry all this stuff with you. In a car, space is abundant and weight doesn't matter. But that Megamat and the Frontcountry bed you'll read about later will fill the trunk of a small hatchback. Do you need that space for other stuff? And, if you're covering any distance at all, packed size and weight suddenly become as, if not more, important than nighttime comfort. And it's possible to reduce overall weight with the latest ultralight couple's gear (see below). 
But that's not to say comfort doesn't matter. I don't know about you, but I'm a total wuss who wants to be comfortable at night, have room to move, and sleep in something warm enough that I don't need to wear all my layers to bed. If camping with a partner is about more than miles covered or peaks climbed, then you'll want them to be as comfortable as possible, too. Especially if your outdoor goals include getting some. It is totally possible to cut weight while maximizing comfort, you'll just need to spend some money to do that. 
Money is a factor as well. The cheapest way to take a cuddle buddy camping is simply to add a second pad and bag to your existing setup. But you may not achieve total nighttime integration if you go that route. Also, consider your activities. Are you a hardcore backpacker on a budget? Then taking someone car camping once a summer shouldn't mean you need to buy a whole new, luxury setup—just add a little extra to your existing setup. 
Let's walk through the different levels of camping and find the ideal couple's sleep system for each. 
Luxury Car Camping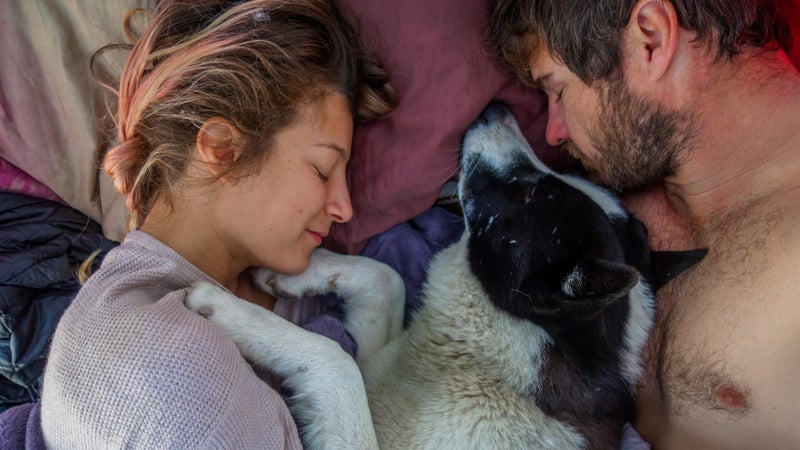 Glamping. It might have a dirty name, but spending time outdoors with friends is always going to be a good time, even if it doesn't bag you peaks or bragging rights. Doing it, you want to be as comfortable as possible. 
Last year, REI released a new, integrated sleep system dedicated to couple's car camping. The Kingdom Queen includes an un-insulated air mattress, an insulated fitted sheet to go over it, a synthetic quilt that's warm down to about freezing and, in a novel solution, an inflatable "headboard." 
Initial signs were positive. I inflated the mattress and headboard for a test sleep at home and it managed to achieve a fantastically firm degree of inflation. Interior pillars eliminated that dreaded sag in the middle, and the sheets and quilt were extremely well integrated. Perfect? Not so fast. I packed the whole thing up and shipped it to Hawaii for a week of camping on my secret beach. After driving out into the jungle, and climbing down a 100-foot cliff, I opened the included stuff sack and tried to blow it up. Both the mattress and headboard had sprung leaks, seemingly without reason. I managed to patch it with a nitrile glove and superglue, but both slowly lost air each night, requiring regular re-inflation. A few days in, I threw the whole thing out. 
I replaced it with Swiss brand Exped's new Megamat Duo, the two-person version of the mattress that won best car camping option in our giant sleeping pad comparison last year. Unlike air beds, this mattress's air chamber is surrounded by memory foam—an arrangement that makes it more comfortable to sleep on than the Tempurpedic mattress I use on my bed at home. You will not find better support anywhere, indoors or out. The Megamat is also bombproof and backed by a five-year warranty. Wiley has jumped all over the thing and, with the exception of some hair stuck to its luxuriously soft upper surface, it shows no wear and tear. 
The Megamat achieves an extraordinarily warm 9.7 R-value, making it the most insulated sleeping pad we've ever tested. But, to keep it clean and add a little more coziness, I use it with a flannel fitted sheet set, plus two pillows from home with flannel cases. On top of that, I use the synthetic, fitted quilt from the REI Kingdom, adding a Nemo Tango Duo Slim ultralight down quilt and hood when temperatures drop below freezing. The Nemo's fitted hood perfectly slides over the top of the Megamat, adding some much needed head insulation for cold nights. Set up like that, I've slept in it down to about 10 or 15 degrees, and been so warm that I had to stick a leg out to cool down. The ability to do so is a major advantage of quilts. 
The Megamat's totally flat sleeping surface and vertical sides maximize the available space of what is actually a full-size bed. I don't understand the reason, but every "queen size" outdoor sleep system I've encountered is actually full size. But check the measurements before you order fitted sheets. 
Inflating incredibly firm and topped with memory foam, the Megamat provides both ideal bounce and support for vigorous sex, in any position you can come up with. 
I cannot recommend this system enough to car campers. While expensive and way too big for transportation by any means other than a car, you will never sleep as comfortably on anything else. Use whatever technical down or synthetic quilts you have available or want to buy, while a fitted foot box keeps things tucked in and warm. 
Another option is the new Sierra Designs Frontcountry Bed Queen (also full size). Using its innovative shoe tongue-style closure previously seen on the Backcountry Bed, it combines the coziness of a mummy bag with the comfort of a quilt. It includes sleeves an elastic undersheet that perfectly integrates it with the Megamat. At nine pounds, it's not something you'll backpacking with, but it is a perfect companion to the Megamat, while dispensing with the hassle and expense of needing two quilts when temperatures drop. 
All-Around Camping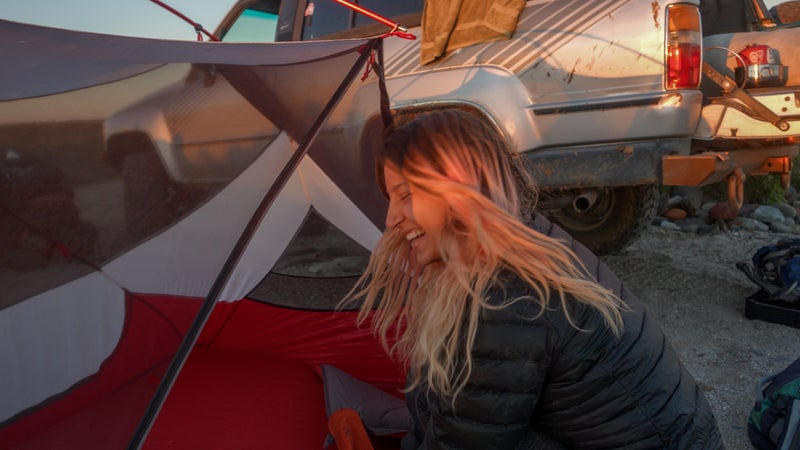 Want one solution that you can use for short-distance backpacking, canoeing or kayaking, motorcycle camping, and other mobile activities, while still maximizing comfort? 
My friends John and Brit carried my Sierra Designs Backcountry Bed Duo on a 40-mile backpacking trip over Christmas. Thanks to 600-fill waterproof down, it weighs just under four pounds. That's about the weight of their two-person tent, so each carried one of those, then they paired it with an odd assortment of sleeping pads—one mummy-shaped and 20 inches wide, the other rectangular and 25 inches wide. A big advantage of Sierra Designs' unique pad sleeves is that they can accommodate both widths and shapes while still drawing the pads close together, securely, for a fairly integrated sleeping surface. Unlike the Frontcountry Bed, there's no easy way to secure the Backcountry Bed to a two-person pad. (It must have worked, because John managed to knock Brit up at some point during the trip. I gave them the bag as an engagement present last month.) 
At this point, it's probably worth mentioning that you can (and should!) wash your down sleeping bags. 
Taking comfort one step further is Exped's new SIM Comfort Duo 7.5. It weighs a still portly seven pounds, but is far more portable than the Megamat, while still providing excellent comfort and warmth. It's what IndefinitelyWild contributors Ty and Rachel Brookhart use for car camping with their 4Runner. They took the SIM Comfort on a 10-day camping trip in Baja last month. "They were the best nights of sleep we've had in years, including in our bed at home," reports Ty. "It's not the lightest pad in the world so don't expect to take it easily on extended backpacking trips, but for an overnight or any car camping or boat trips, this is the pad to own for two people. It fits perfectly within most two-person tents like our MSR Hubba Hubba NX, which means it won't slip around or have you rolling off or falling between pads."
"We conceived our baby on this pad," says Rachel.
A variety of pad couplers exist to better integrate two sleeping pads, side-by-side. The best is Therm-a-Rest's Down Coupler, which adds a layer of insulation and makes its pads ideal for use with a two-person quilt. No coupled pads will ever be as good as a single solution, but with the Down Coupler, you get as close as possible, comfort wise, without having to buy a dedicated couple's pad. When coupling, it's best to use two rectangular pads—mummy-shaped ones leave odd gaps that create drafts and which you'll end up falling through at some point in the night. 
Can you quantify the comfort advantage a single, 2P pad has over coupled, single pads? "Little things make a big difference when we're talking about sleeping well, especially for couples," explains Exped's Kaj Bune. As you may have gathered from this article, that brand is at the forefront of couple's camping innovation. "There is no shifting of the sleep surface, and absolutely no heat loss where the interface would have been. And remember, if you're going to cuddle with a partner, you're going to want to do so in the middle of the mat—right where the interface between two single mats is located."
Ultralight Backpacking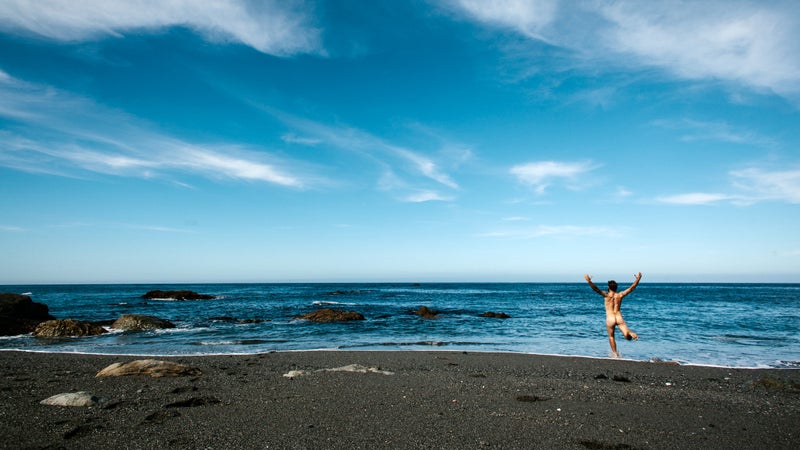 I've spent a few nights with the 2.5-pound Nemo Tango Duo Slim tied onto two Therm-A-Rest NeoAir All-Seasons with paracord. It worked, even below its 30-degree comfort rating, but honestly, it wasn't ideal. One pad invariably rode up onto the other one, there were drafts, and any shifting during the night by one person woke the other. Plus, we had to sleep in our layers, so nighttime sex wasn't really an option. 
The same can be said of most mummy-style two-person bags, with the exception of Sierra Designs' products. Most companies don't integrate the pads well enough that you gain anything by sleeping together. The same goes for zipping together two matching bags—the end result is so poor you're better off sleeping separately. 
Fortunately, Exped has just released a true ultralight two-person pad. The SynMat Hyperlite Duo weighs just 1.75 pounds, has an R-value of 3.3, and packs down to just 6.9-by-5.1 inches. Pair it with an ultralight quilt like the Nemo and have each person carry one, and you should each carry less weight than you would solo. The Hyperlite Duo also uses two different air chambers, one for each person. That means you can tailor firmness to personal preference and that movement on one side won't disturb the other. 
It should be noted that the one-person version of the SynMat Hyperlite (which has a two-year warranty) was the only pad to fail during the abuse test in our sleeping-pad comparison. And it failed with an irreparable rip. I wouldn't hesitate to purchase one, but I'd take care to protect it from thorns, rocks, and big dumb dogs if I did.