The Decathlon Tent That Takes Seconds to Set Up
For those of us who aren't backcountry beasts, there's the 2 Seconds pop-up tent
Heading out the door? Read this article on the new Outside+ app available now on iOS devices for members! Download the app.
I'd love to say that I'm a backcountry broad who can set up a tent in three minutes with one hand while filleting a rainbow trout with the other. I'm not. When I arrive at campsites, it's usually after a lot of driving—I'm grumpy, I'm tired, and I want to set up as fast as possible so I can actually enjoy being there. Enter French gear giant Decathlon's 2 Seconds pop-up tent, the answer to all of my camp-setup woes. The 2 Seconds is part of Decathlon's hiking and camping line, named Quechua after a group of indigenous tribes that live in the high Andes of Peru.
Let's be clear: this is not a tent for the habitual backpacker. When not in use, the 2 Seconds contorts into a round disk about two feet in diameter and can be clunky to walk long distances with.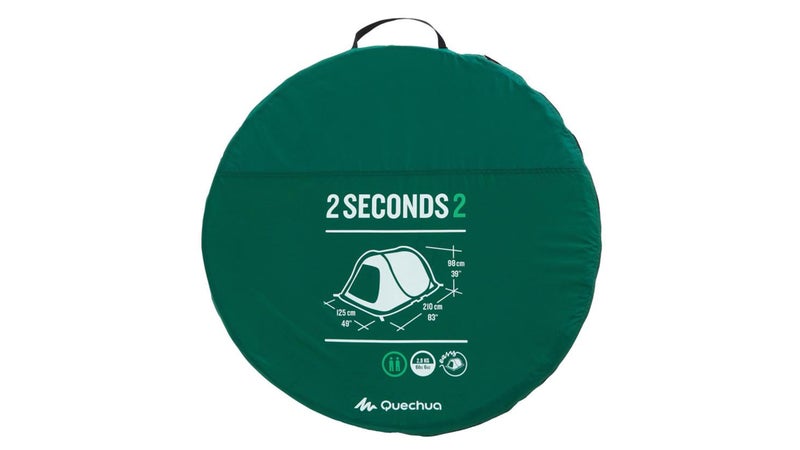 But for car camping, I'm a diehard fan, because, true to its name, it takes seconds to set up. Simply unclip four buckles, step back, and watch it pop into shape (with the rain fly already attached and the frame built in). After taking another minute or two to stake it down, you'll have plenty of time to relax and reflect on how you ever put up with tent poles.
Made entirely of polyester, with a tarp-like polyethylene floor, the 2 Seconds is waterproof and can withstand winds of up to 30 miles per hour thanks to an internal, flexible fiberglass frame. On a recent trip to camp in the White Sands backcountry of New Mexico, a friend and I spent a comfortable night in the tent, despite 25-mile-per-hour gusts of sand and two wiggly dogs (the tent fits two humans easily—an additional two dogs make it snug).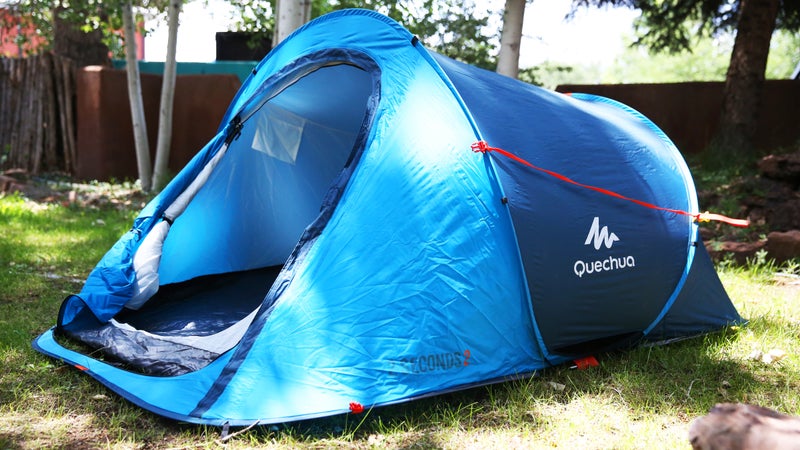 It's also surprisingly durable. Since I got the 2 Seconds about seven months ago, my mutt, Beep, has, in her enthusiasm, pawed at both the inside and the outside of the tent on every single trip. While a friend's tent ripped after a dog scratched at it in a similar display of excitement, the 2 Seconds has consistently stood up to the test of Beep's joy.
But the best part is Decathlon's notoriously low prices. You can buy the tent for $60. For people who have limited gear dollars like me but love the outdoors, that's about all you can ask for.
Corrections:
(10/03/2023) In the original version of this story, we incorrectly stated that Decathlon is U.K-based. In fact, it is a French company. Outside regrets the error.
Lead Photo: Jenny Earnest
Trending on Outside Online