Drop the Weight of the World
Camp overnight or camp all week. We've got the gear to let you go fast and light under blue skies or gray.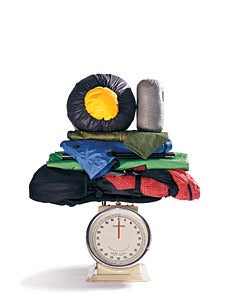 Heading out the door? Read this article on the new Outside+ app available now on iOS devices for members! Download the app.
FORGET EVERYTHING YOU KNOW about backpacking. Think hiking. Hiking is about movement, not accoutrement. Off you go with a daypack, so unencumbered you're practically skipping. Now imagine being that lighthearted and light-footed, but spending several nights out. To do it, you just need to know your comfort boundaries. I used to fastpack with a madman who carried practically nothing. He could sleep like a baby on a slab of granite. He hiked naked through a snowstorm singing "Marching to Pretoria" (I was an eyewitness). He ate gelatinous mac-and-cheese and cold cocoa and half a PBJ mashed together in a cup, grinning. He took all forms of suffering as good fun.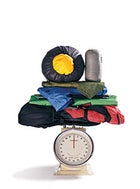 Most of us are not so masochistic, of course, but the lesson is clear—forsaking some amenities pays off in freedom. Since there's no point in escaping the materialistic burden of everyday life by replacing it with the crushing burden of a beastly pack, you simply must cut weight.
There are two ways to do it: First, don't carry certain items. Do you really need hot meals? Nah. Forsake the stove, fuel, and kitchenry. Eat Baby Ruths for breakfast, bagels for lunch, buffalo jerky and dried apricots for dinner. Ditch the trekking poles, the ice ax that you never use, and all the great-white-hunter nonsense like Bowie knives and bulky multitools with saw blades. As for the Game Boy, fat paperback, and leatherbound diary, forget them. Try being where you are while you're there.


Carry ultralight versions of all essentials. Scrap the heavy hiking boots; wear the sneakers. Instead of a medical kit, carry some ibuprofen and duct tape. A bottle of iodine tablets instead of a water filter.


Of course, if it snows or sleets and you've gone too light, you'll have an unnecessarily brutal thrash and end up hypothermic in a ditch. So beware! There are two categories of going light: fair-weather and foul-weather. Before you skip off for the hills, check the forecast and grab the gear that suits the conditions—but nothing more.
Rainy-Day Ready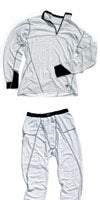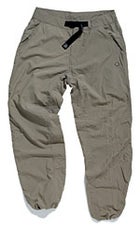 KELTY HAIKU 3000 The all-purpose, medium-size, no doodads, indestructible backpack. That's the only pack most of us will ever need, and that's the Kelty Haiku. It's like a Honda Civic or an iMac, so simple and functional it's almost an appliance. Built in a single-sack design from the sturdiest of materials (Cordura and Spectra gridstop cloth), with the standard double-pocketed top flap and wide, thickly padded hipbelt, there's virtually nothing that can go wrong. Load it, shoulder it, adjust it, and lift up thine eyes to the hills, brother. (3 lb., 9 oz.; $160; 800-423-2320, www.kelty.com)

BIBLER TEMPEST If it's likely to storm, you need a tent. Period. No matter what people say, tarps and bivy sacks are lunacy in a thunderstorm or whiteout. But that doesn't mean you need something sprawling, and hence heavy. On the contrary, a small, low-profile tent is lighter, warmer, and less likely to be flattened by big bad blow. Like all Bibler tents, the Tempest is a single- wall domicile built from Todd-Tex (Bibler's high-end waterproof/breathable fabric). Four poles stretch this mountain tent tight as a drum, and two entrances, each with its own vestibule, help stave off cabin fever when two people share the 49 square feet of living space. All it lacks is a fireplace. (6 lb., 2 oz.; $498; 801-278-5533, www.bibler tents.com)

LIGHT-IS-RIGHT CLOTHING Mountain Hardwear's EXtend long underwear (zip T, $60; tights, $45; 800-330-6800, www.mountain hardwear.com) is made from Polartec Power Dry and treated with X-Static, a silver coating that actually devours your locker-room-rank body odors.

THE NORTH FACE AMA DABLAM To move swiftly through inclement conditions and still stay comfortable, you need a waterproof/breathable jacket. Think of the Ama Dablam as mountain armor. Jackets in this category used to be heavy and bulky, but although the Ama Dablam is built with Gore-Tex in a tough, three-layer construction, it is nonetheless lightweight and simple. But not too simple: The hood is big enough for a helmet, two chest pockets double as ventilators (and close with water-resistant zippers), and two internal chest pockets stash sunglasses and keys. (1 lb., 3 oz.; $390; 800-447-2333, www.thenorthface.com)

If the weather is threatening, pull the mountain hardwear Canyon pants ($90) over your shorts; the lightweight nylon dries much faster than denim.

GOLITE FORCE The blow-dried TV meteorologist astutely advises that it will be warm in the valley but cold in the mountains. So your first night it'll be in the fifties, the second night in the thirties, and the third night in single digits. Wouldn't it be great if somebody made a sleeping bag that worked in all conditions? Ask and ye shall receive. The Force is an ingenious, exceptionally versatile down bag with an extra zip-on Polarguard 3D top. Use the down alone on warm nights, and both layers for that unplanned bivy below the summit in a freezing drizzle. (3 lb., 10 oz.; $420; 888-546-5483, www.golite.com)
Fair-Weather Freedom


INTEGRAL DESIGNS APPALACHIAN SERIES XPD-00 SLEEPING BAG After a century of trying, man still hasn't successfully mimicked the warmth-to-weight genius of down. (It took Mother Nature several million years of prototyping.) The XPD-00—another premier product from Integral Designs, a small equipment company run by a clan of fanatical, ounce-counting Canucks—is your home-away-from-home when traveling light. Stuffed with 750-plus-fill European goose down, and featuring trapezoidal baffles, a fat collar, and an ergonomic hood and foot section, the XPD-00 will keep you locked in sweet dreams right down to 20 degrees. (2 lb., 7 oz.; $340; 403-640-1445, www.integraldesigns.com)

HELLY HANSEN MOTIVE Forget the padded four-pound snowboard jacket, the articulated-everything three-pound ice-climbing jacket, even the zippers-everywhere two-pound Gore-Tex shell. For fastpacking in fair weather, you need nothing more than the Motive, the lightest windbreaker you'll find. Built from wind-stopping, dew-sloughing, superlightweight ripstop polyester, with a ventilating front zip and panels of stretch tricot at the elbows, armpits, and waist, this windbreaker stuffs down to the size of a baseball. And if the rains come? Well, you get wet. (5.2 oz.; $80; 800-435-5901, www.hellyhanson.com)
INTERGRAL DESIGNS SILSHELTER If a serious storm is unlikely, leave your tent in the closet and bring a Silshelter, the lightest two-person tarp-cum-tent on the planet. This floorless, zipperless shelter snaps up into an A-frame or lean-to with any old four-foot stick and six stakes. A pole cap keeps the stick from puncturing the silicon-impregnated 30 denier ripstop nylon, and 21 webbing loops make it easy to lash down in any terrain. Merely four by eight inches when stuffed, it's the perfect backup shelter. If skies are clear, use it as a blanket; should it start to pour at four in the morn, pop it up and go back to sleep. (12 oz.; $150)

ULTIMATE DIRECTIONS SPEEDEMON To go light, you must pack small. To pack small, you need the discipline of a small pack: no room for more junk. As its name implies, the SpeeDemon is built for swift, unencumbered travel, and with just 2,070 cubic inches of cargo room, all of it easily accessible via a horseshoe zipper, you can't overpack. Just in case everything doesn't fit, however, there's a "QuickStash" floating compressible panel on the outside, as well as compression straps to secure a foam pad. The SpeeDemon also sports a built-in compartment for its 128-ounce rolltop hydration system, a water source so capacious it would make a camel envious. (33 oz.; $120; 800-426-7229, www.ultimate direction.com)

Leave the heavy fleece at home and bring alongthe Marmot Flash Sweater ($150; 707-544-4590, www.marmot.com), a feathery, one-pound jacket made of ultralight ripstop nylon and insulated with Polarguard 3D. It's like a sleeping bag for your torso.