Indefinitely Wild
The Best Dog Blanket Costs $10
Fur, dingleberries, and dog claws are no match for a Harbor Freight moving blanket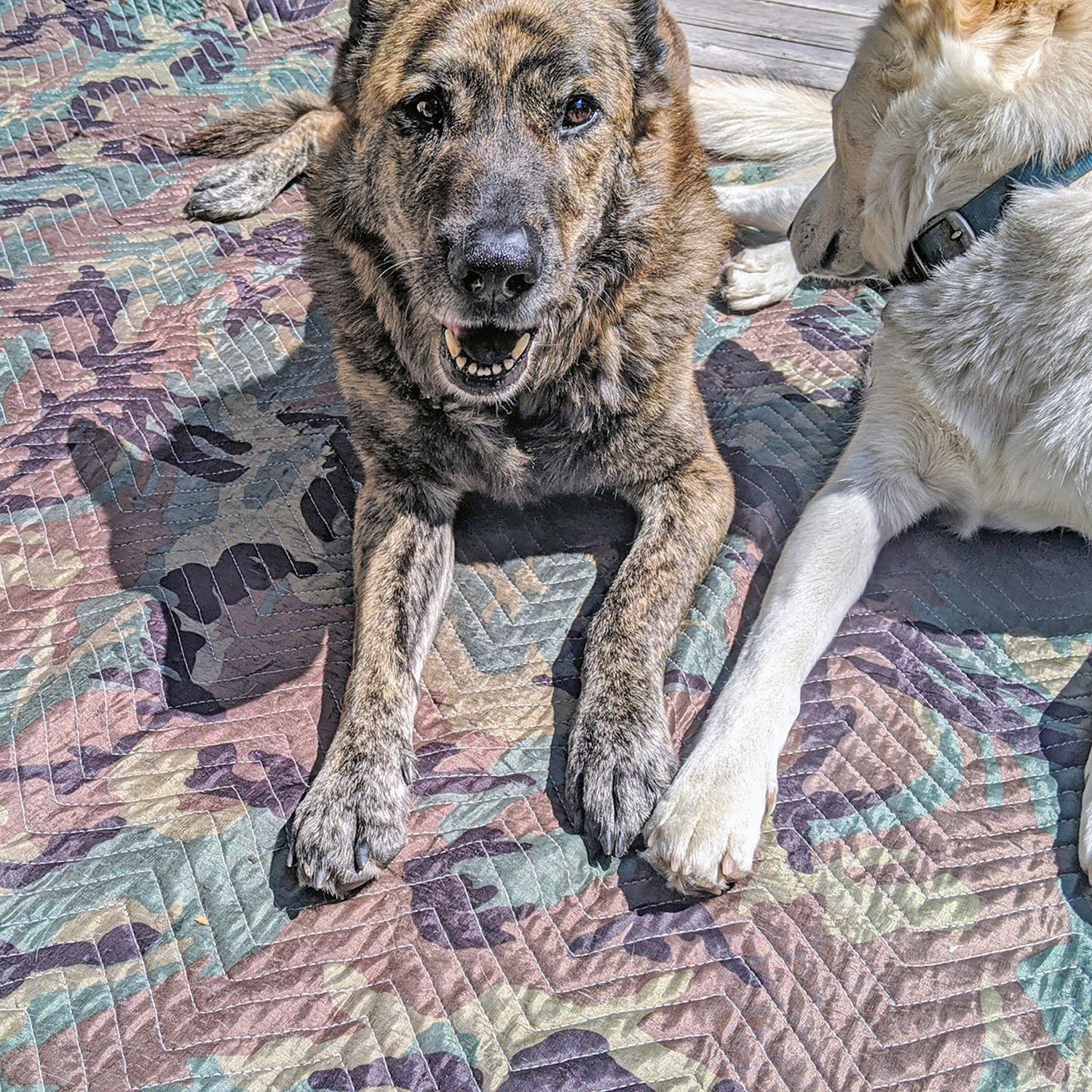 Heading out the door? Read this article on the new Outside+ app available now on iOS devices for members! Download the app.
When it comes to dog blankets, I've tried them all. The ones custom-fit to the back seat of your car. The ones that claim to be waterproof. Expensive ones. Cheap ones. And even human ones the dogs have stolen. But nothing, no matter how expensive or how many special features it claims, has worked half as well as a $10 moving blanket from Harbor Freight.
A dog blanket has a couple jobs: first and foremost, it must be easy to clean. Not necessarily in the sense that it can be machine-washed, but rather that you can simply pick it up, take it outside, and shake it off. My 300-pound collection of dogs all shed copious amounts of fur, a substance that seems to fall from their bodies with abandon yet instantly cling to any surface it lands on with a tenacity that defies vacuum cleaners and lint rollers—any surface, that is, aside from those $10 moving blankets from Harbor Freight, from which fur falls freely off.
A dog blanket must serve as a barrier between a dog and whatever that dog may want to sit, lay, or jump upon. A dog's nails can be sharp, and expensive things like car upholstery and couches often need a little extra protection if they're to see regular use by dogs (as everything in my life does). That's exactly what moving blankets are designed to do. With thick exterior face fabrics on both sides, and a little padding sandwiched in the middle, they protect furniture from bumps and scrapes as it's carried around. Or bumps and scrapes caused by big, boisterous canines.
And for obvious reasons, a good dog blanket should also protect your things from liquids. Especially dog liquids. While these $10 moving blankets from Harbor Freight aren't waterproof, they are heavily water-resistant. Whether it's been bile, a dingleberry, or even accidental pee from a 100-pound puppy, they've kept it off my stuff. The moving blankets actually seem to achieve this goal better than totally waterproof blankets designed specifically for dogs; their slight absorbency prevents liquids from simply following the path of least resistance downhill and, inevitably, into the crack in the back of a seat.
The other big advantage these moving blankets have over purpose-built items is versatility. Because they're not designed specifically for a car seat, they fit your couch, too. Have a big couch? Use two of the 72-by-80-inch blankets. Folded up a few times, they make a nice, cushioned dog bed. That's what my dogs sleep on when they camp in the back of my pickup truck or, in nice weather, underneath it. In a tent? They'll protect the thin fabric floor from claws and add a little insulation from the cold, wet ground, keeping you more comfortable, too.
If you want to use them to protect car seats, poke a couple holes in the blankets to match the location and width of the headrest mounts. Pull the headrests out, push the mounts through the holds in the blanket, and then reinstall them in the seat. That way they'll be custom-fit to your car—and at the exact location you need to use them. This typically makes them fit better than the so-called universal straps employed by name-brand dog hammocks and seat covers. Hang one blanket from the back of the front seats to keep your dogs in the back. Hang another from the rear headrests, and drape the blanket across the seat to protect it. Fold a blanket in half and put it on the front seat, again using the headrest to hold it in place, if your dog likes to ride up there.
Why do I prefer the $10 moving blanket from Harbor Freight as opposed to the $8 version? I've tried both, and something about the fabric used on the more expensive camo print seems to resist pilling and wear with more gusto. Plus, the camo really does hide dog debris.
How long these blankets last depends on how you use them. The care label instructs you not to machine-wash them, but if you do, they'll hold up to at least one hot cycle and a run through your dryer before they start to fall apart. The price is a definite advantage here. I own at least ten of these things and cycle them from the nice cars and furniture into the crappy truck and garage as they wear out. I still have the first one I bought about two years ago. It's getting worn-out in its appearance, but still does its job as if it's brand-new.