Indefinitely Wild
How to Make Camping in Scorching Hot Weather Enjoyable
Can you still expect to have a comfortable summertime camping trip in the lower 48? Absolutely, but you probably need to upgrade your approach to dealing with the heat.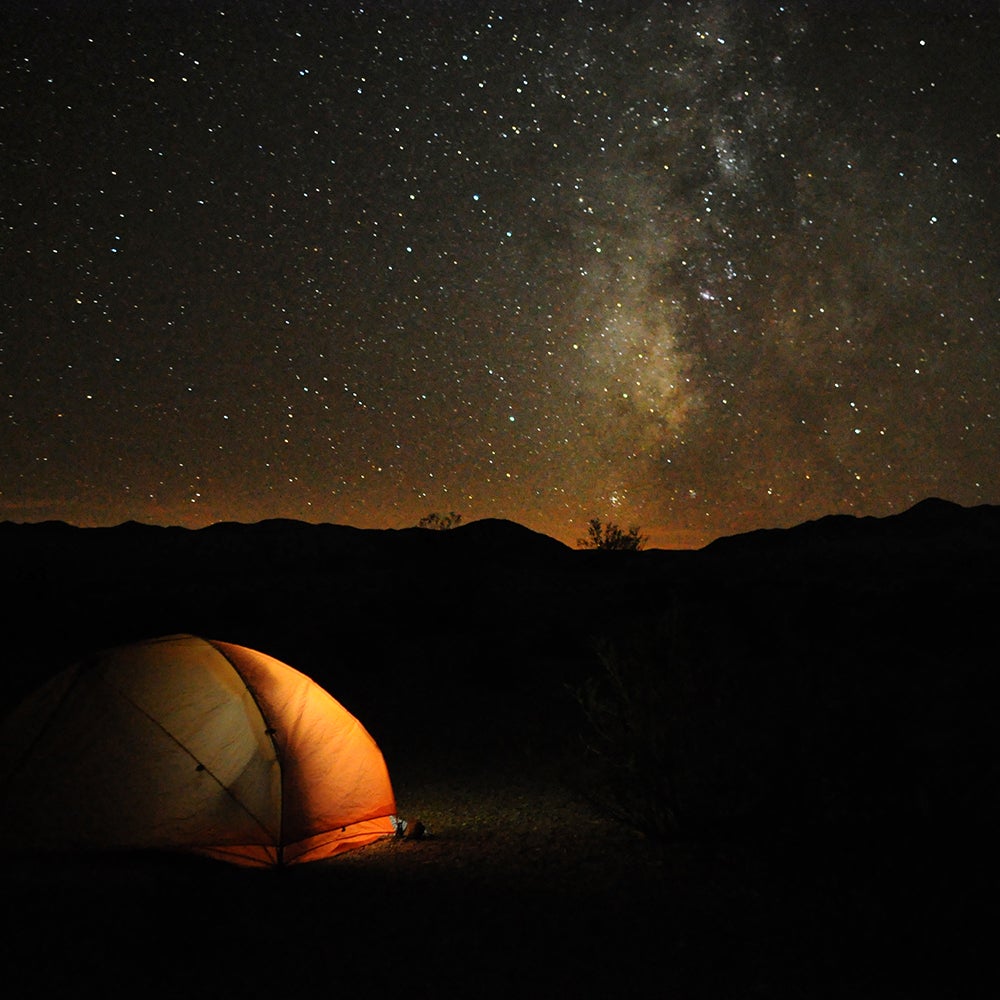 Heading out the door? Read this article on the new Outside+ app available now on iOS devices for members! Download the app.
Extreme weather is quickly becoming the new normal. In Phoenix last week, it was too hot for some airliners to fly. A woman hiking in Death Valley suffered third-degree burns to her bare feet.
Here's what you need to know to adapt.
Clothing
The basic idea is to keep the sun and bugs off while allowing your body to breathe as well as possible. So you want to cover up, but in as light a fabric as possible.
Still wearing a cotton T-shirt? While that material can actually be useful in hot weather, all the sweat it soaks up will make it really stinky, really fast. Instead, opt for an ultralight merino T-shirt. It'll keep you a little drier and will last a week or more of constant wear before getting smelly.
Trew just released a new 110-weight merino T-shirt made from NuYarn, which holds up to regular wear and washing a little better than other merino fabrics I've tried. Voormi makes an even lighter 100-weight long-sleeve hoodie designed to keep the sun off your arms and neck.
I try to avoid wearing shorts while camping, at least when I'm not in the water. Exposed legs are at risk of getting scraped on brush and are vulnerable to irritants like poison oak and mosquito bites. Pants that are light enough to wear comfortably in very hot weather and allow you to move unrestricted but are tough enough to resist abrasion and penetration? Lightweight, breathable soft-shell pants like the Outdoor Research Ferrosi are perfect. GoRuck's Simple Pant works just as well, looks a little better in civilization, and is available in longer inseams.
If you're camping for more than a couple days, you'll want the ability to dry or air out your clothes overnight. A hank of paracord and maybe some clothespins are all you need to do that.
In summer, avoid footwear with waterproof membranes. When it's hot, those membranes turn your shoes into a swamp of sweat, bacteria, and stink. Look for the most ventilated shoe or boot possible, and pair it with the lightest merino sock you can track down. I like Darn Tough's ultralight range.
A silk bandana soaked in water and wrapped around your neck can provide a surprising degree of evaporative cooling. Major blood vessels pass close to the surface in that area of your body, so you're basically making a heat exchanger for your entire circulatory system.
Food and Drinks
There's nothing better than a campfire on a summer night, but cooking food over the heat of a fire in the middle of a summer day is just totally miserable. Save the cooking for dinner, and choose breakfast and lunches that are quick to prepare. Check out a solar oven if you want to cook during the heat of the day.
You'll be using a cooler to keep your stuff cold, and there are some basic tricks to making those more effective. Yeti and other high-end cooler brands achieve their extreme ice-holding claims by first freezing their coolers in a large chest freezer. You can do the same with a cheap Playmate. You can also freeze meats and other foods before putting them in the cooler. Large blocks of ice last longer than bags of ice cubes. Make your own by freezing milk jugs full of water, and then use it as cool drinking water as it melts. Wrapping a Mylar space blanket around your food to hold in cool air as you open the lid is another trick. But the best advice anyone can give you with coolers is to avoid opening them. Do so only when strictly necessary and for as short a time as possible. For that reason, it often makes sense to pack a separate cooler just for drinks since you'll be accessing that more regularly. And you can pour any melt water from your food cooler into your drinks cooler.
You'll want to make sure you drink plenty of water to stay hydrated, especially if you're also drinking alcohol. A gallon a day is about right for most people. Powdered Gatorade can help replace electrolytes if you're doing any high-exertion activities.
Pets
Heat affects your dog as much as it does you, if not more so. Plan hiking routes and camping spots adjacent to bodies of water so they can have plenty to drink and splash around to cool off.
Dogs may also benefit from an evaporative cooling vest. These are basically diapers that hold water. As the water slowly evaporates, it cools the dog in the same manner as our sweat. Dogs don't sweat like humans.
Ruffwear makes three solid options. The Swamp Cooler totally wraps the dog in that water-filled diaper, while the Jet Stream is a slimmer, lighter option for shorter-duration activities. There's even one designed to fit inside a pack harness. Soak it, put it in a Ziploc bag, and keep it in your fridge or cooler to help out your dog even more. Our Husky/GSD puppy will be getting into one of these once he's finished his growth spurt.
Shelter
It can be really hard to sleep in sweltering hot conditions, particularly if it's also humid. For that reason, you need a specialized summer camping setup, just like you need winter gear for snow camping.
If you buy nothing else, make it a mesh cot. Lifting your body off the ground allows air to circulate all around you. Therm-a-Rest makes a great cot that's very comfortable but packs small and light enough for backpacking.
You'll also want a summer-weight sleeping bag or blanket. Polyester fleece makes a great material for hot nights. It's cheap, easy to clean, and light enough that it doesn't provide too much insulation. It also retains a dry feel if it gets soaked with sweat, rain, or humidity. Grab a fleece blanket at a big-box store, or try this rectangular sleeping bag made from the material. Just be warned: This won't be enough insulation if nighttime temperatures dip below 60 degrees.
Your normal tent may also be inadequate for hot weather. You don't want to be under a rain fly for air to circulate as effectively as possible, but summer also sees rain showers and thunderstorms. How can you maximize air flow while still keeping rain off? A simple tarp strung between trees, above head height, is ideal. It'll keep rain out of your tent without obstructing air flow and give you a nice place to hang out during storms.
If I were going to come up with an ultimate summer camping setup, it'd be that Therm-a-Rest cot paired with that brand's attached bug shelter and the biggest tarp I felt like carrying. Together, that'd pack up small and light enough to backpack with yet provide a comfortable night's sleep, keep bugs off my entire body, and give me a daytime shade/rain structure.
It's also vital that you consider the exact location and orientation of your summer camp. Because of bugs, setting up in a wind-free hollow is a bad idea, but because of lightning, camping on an exposed hilltop is even worse. Look for areas that provide shade, a place to tie your tarp, and a constant breeze but also keep the worst of summer thunderstorms off you. Face your tent door into the breeze. Flying bugs hover in the wind shadows that tents create, and if your door is downwind, they'll get inside when you open it.
Bugs
It's summer, so you're probably camping by water. And that means bugs.
The basis of anyone's anti-bug arsenal needs to be a DEET-based bug spray. Natural alternatives and home remedies have been scientifically proven to be ineffective. Humans have applied more than 8 billion doses of DEET in the past 50 years, and in that time there have been only 50 documented cases of side effects. The infinitesimally small risk you run by applying DEET is far outweighed by the much higher risk of mosquito-born infections.
What concentration of DEET is best? The New England Journal of Medicine found a concentration of 23.8 percent to be ideal. Anything higher doesn't provide more protection.
One problem DEET does have is that it can reduce the effectiveness of sunscreen by up to one-third. Try to apply your sunscreen at least 20 minutes before DEET to minimize its effect.
By now you've probably seen various outdoor clothing brands advertising bug-repellant properties in their clothing. L.L.Bean calls its line No Fly Zone, for example, but all work by impregnating the clothes with permethrin. This insecticide kills bugs like mosquitoes, ticks, and chiggers on contact, and I can verify that it really does work to prevent them from landing on or climbing through treated clothing, but it doesn't keep them from buzzing around you or landing on exposed skin like a DEET bug spray will.
You can also spray permethrin onto any clothing or camping gear. Built in from new, the treatment is said to last up to 70 wash cycles. Spray it on clothing and gear yourself and it'll last through five or six. In addition to pants, socks, shirts, and such, I spray permethrin on my hat, camp chair, tent, and sleeping bag.
You should also go ahead and buy a Thermacell mosquito-repellant device. They make models you can carry, attached to your pack or similar, and this year the company released a new model that screws onto your isobutane canister. They both work by slowly burning a pad impregnated with alethrin, which works as an effective deterrent. In calm conditions, a single Thermacell creates a 15-foot-diameter bubble of total mosquito protection.
On summer camping trips, I arm myself with all of the above, and I do not get bitten by mosquitoes.
The Ultimate Summer Camping Trick
I'll leave it to you to figure out a source of power for the fan and a supply of fresh ice for the bucket. But if you can, one of these really will keep your tent or cabin surprisingly cool.