DIY
How to Build Your Own Sauna
You could order a premade kit. Or you could get crafty and build your own hot box.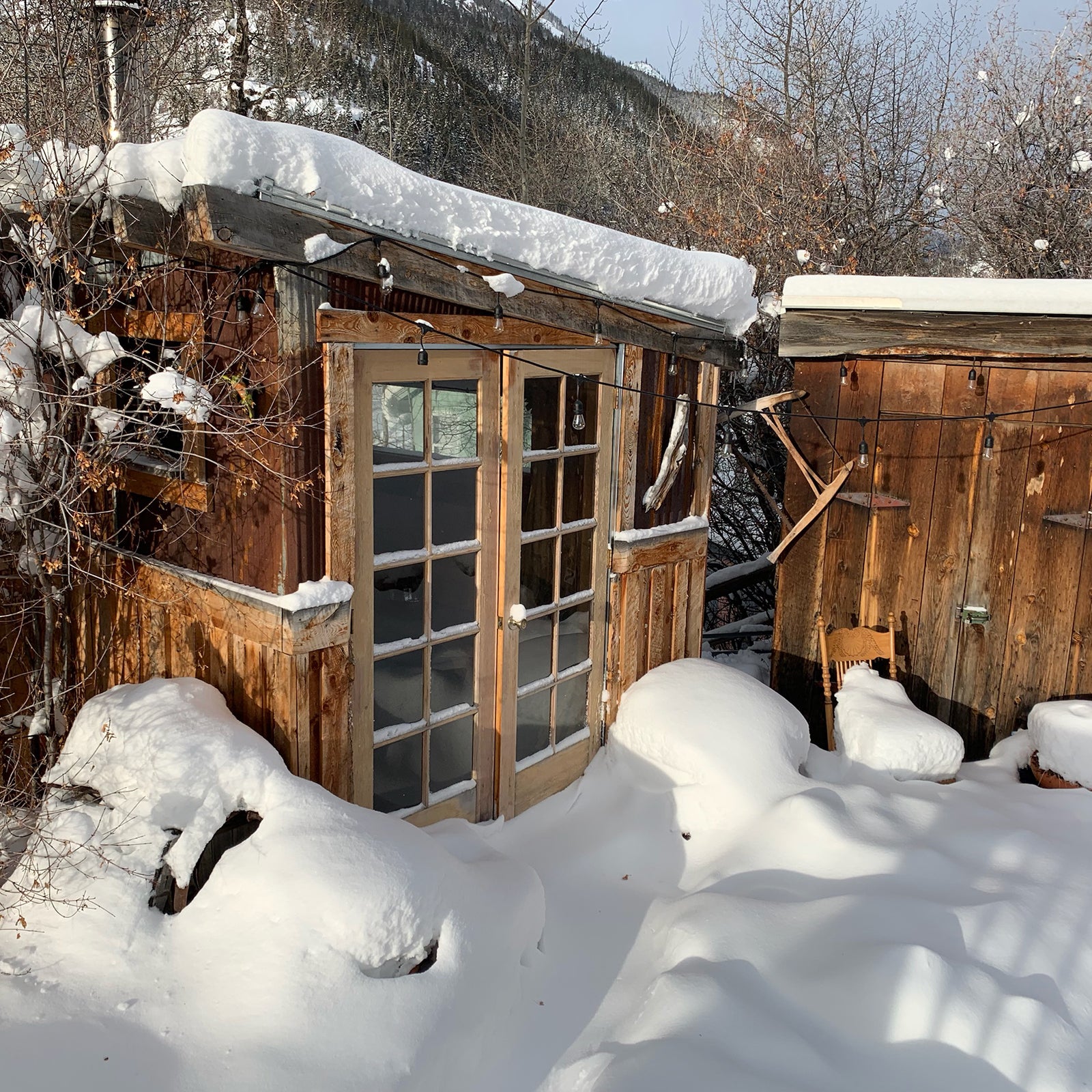 Eben Mond(Photo)
Heading out the door? Read this article on the new Outside+ app available now on iOS devices for members! Download the app.
First we roasted sausages over an open fire next to a lake. At dusk it was time for the sauna (the only Finnish word in the English dictionary). I had no clue what I was doing, so I followed the Finns. I was 18, had just graduated from high school, and had flown to Finland to visit Hanna, an exchange student who'd lived with my family in California a few years prior.
We piled into a wooden shack heated by burning wood, with way too many people naked under towels. The sweat began to drip down my face, and I could feel my entire body relaxing in the dry heat. Soon we rushed outside and bolted to the lake for a cold plunge. Then back to the heat. This was repeated for hours. And that was my official introduction to saunas. I've loved them ever since.
For me, saunas are most enjoyable when you've spent all day outside. After skiing or biking in the cold, nothing beats a hot, dry sweat. The medical benefits of saunas are disputed, but I find it's more of a social occasion. Take a backcountry hut trip in Canada or visit an off-the-grid lodge in Big Sur, California, and you'll be treated to the weird luxury that is sweating in a confined space with others. But can you re-create that at home? You bet. I called up a few friends who have brought the beloved Finnish tradition to their own backyards for tips on how you can do it, too.
A Kit Versus DIY
It's considerably easier to buy a premade sauna kit than to build one from scratch. You can find kits to convert a spare room or a large closet in your house, or you can install a prefabricated, freestanding sauna in your backyard. The North American Sauna Society (yep, that's a thing) has a good list of local sauna retailers across the U.S. and Canada. You can even buy easy-to-install options at Costco or Home Depot for as low as $1,000. Redwood Outdoors has Scandinavian-style outdoor barrel saunas (from $4,099) that can be put together in four hours, or check out the cabin and barrel sauna offerings from Almost Heaven. For something more eccentric, Sauna Stoke, run by a Canadian named Mika Sihvo whose family hails from Finland, builds custom saunas (from $11,290) on trailers so you can take them on the road.
But let's say you want to do it yourself and create a unique, individualized sauna space. Where do you begin?
Pick a Location and a Size
You can't just put a sauna anywhere. You need level ground and enough room to build a box about seven feet high and at least six feet wide. "I prioritized view over all else," says Ben Christensen, who works in fly-fishing and built a sauna at his home in Bozeman, Montana. "Having it a good distance from the house is also comforting if you're using a wood-burning stove as your heat source. It keeps the fire hazard away from the main structure."
Plan on making the building at least four feet by six feet to fit two or three people, or bigger if you want more company. "I wanted my sauna to be a social space, so I went pretty big—it's about 10 by 12 feet," says Eben Mond, a ski coach in Silver Plume, Colorado, who built one in his front yard. "We maxed it out with 17 people once."
Select Your Materials
Most people build saunas out of cedar—since it can handle moisture, it will last longer. But it's also quite pricey. Mond went with what he had. "In Colorado, beetle kill pine is the cheapest wood you can get locally," he says. He found some rough-cut pine and got it milled.
You'll need to pour a concrete foundation, then frame the walls and roof—hire a builder if you need help here. The floor can be tile, concrete, or wood. The North American Sauna Society suggests building a drain for easier cleaning. For insulation, it advises using standard fiberglass and an aluminum vapor barrier along the walls and ceilings.
"Don't skimp on insulation," says Christensen. He used cedar siding on the outside and cedar tongue and groove on the inside. "The wood is a bit more expensive, but it smells great and is naturally rot resistant. For the other building materials, we used a lot of leftover wood from other projects, including all of the decking."
For the wood on the interior, Christensen says to opt for 100 percent clear-grain wood—as in no knots. "When the sauna heats up, the knots in the wood get especially hot and can be a bit uncomfortable against your skin," he says.
Check out this DIY sauna e-book ($20) for specific guidelines on building.
Add Your Own Design Elements
Mond wanted windows so he could enjoy the view: "Everyone who comes to my sauna says, 'It's nice to see outside.'" Use double-paned glass, he says, and keep it away from the heat source. (Mond's windows are 24 inches from his stove.) He also added two doors—one on each side—for ample ventilation and easy access, and a spacious bench along one side of the sauna that fits eight people comfortably.
"We designed the ceiling pitch so it's lower by the heat source and higher where we sit," Christensen says. "That causes the warm air to circulate up toward us, and when you throw water on the hot rocks, it gives you a major blast of heat right in the face—which is a good thing."
Having a source of cold water nearby is a good touch. "We had an old claw-foot bathtub that we set into the hillside adjacent to the sauna deck," Christensen says. "We fill it off of a hose and use it as a little dunk tank."
Choose a Heat Source
You can choose between wood, gas, electric, or infrared. Most sauna purists will say wood-burning is the way to go. Christensen scored an old barrel wood-burning stove from a local; Mond bought a woodstove on Craigslist. "For me it was all about the kind of vibe I wanted in the sauna," Mond says. "I was going for the 'we're on a hut trip in the mountains' feel, and that means burning wood." It gets really hot—around 150 degrees—but it takes him hours to heat the space up, and he has to manually stoke the fire while he's in there.
Electric and gas saunas are easier to maintain and quicker to heat but not quite as charming. Infrared heaters are the most efficient, as they heat up quickly and use considerably less electricity. Almost Heaven sells electric and wood-burning heaters designed for saunas.
Total Cost
Using repurposed materials and local wood, Mond estimates he built his sauna for around $2,000. Christensen found double-pane windows and a solid oak door at a Habitat for Humanity ReStore, and his build cost closer to $10,000, including hiring a contractor to help build a platform.
Once your sauna is up and running, there's nothing left to do but crank it up, invite some friends over, and sweat it out.
Lead Photo: Eben Mond