Ignik FireCan Deluxe Review: Have Your Fire and Eat It Too
This new propane-powered box gives you a compelling two-for-one deal in a tidy package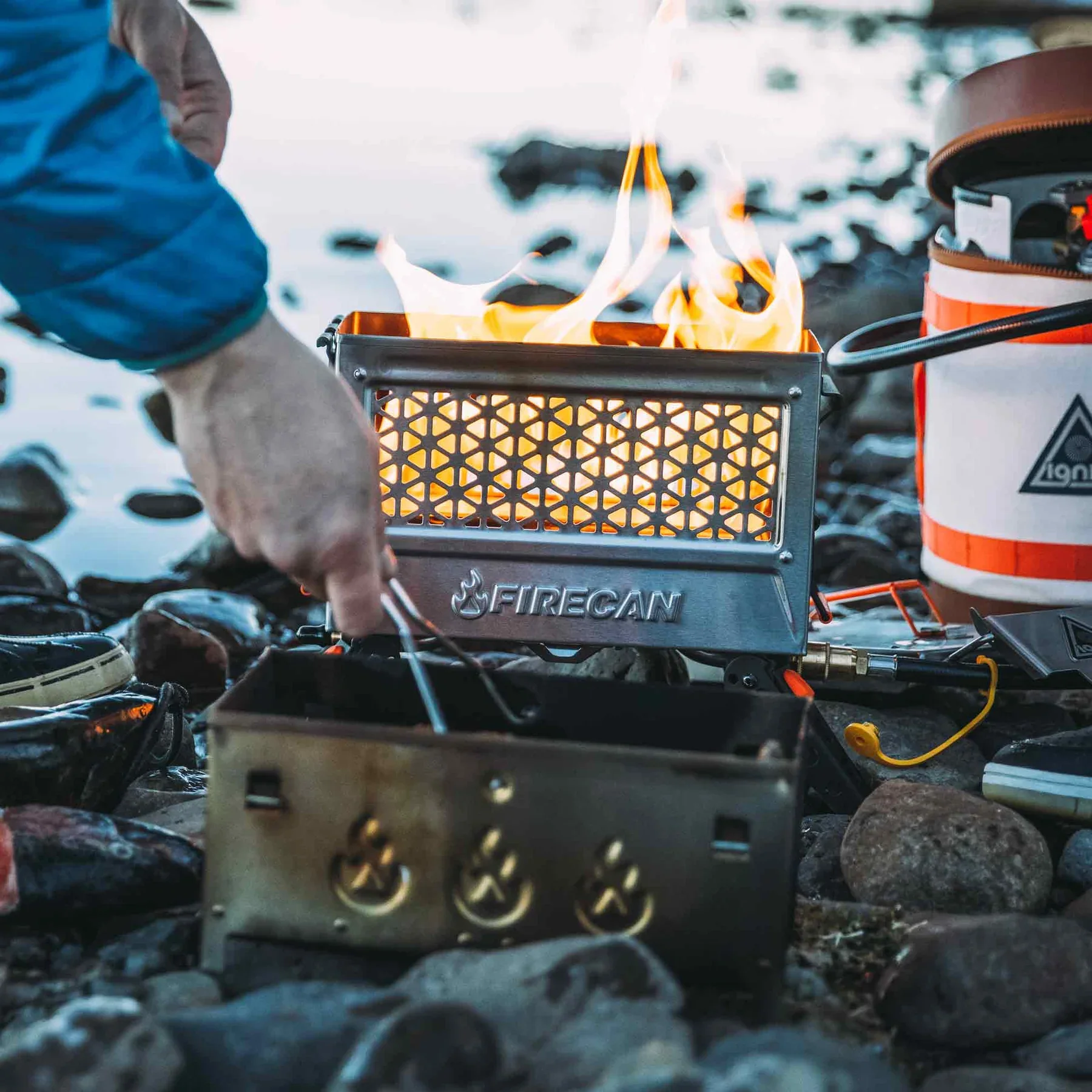 Courtesy Ignik
Heading out the door? Read this article on the new Outside+ app available now on iOS devices for members! Download the app.
Pros: Small size; efficient heating; great in both modes
Cons: Small grilling area; fussy to switch between modes
Who It's For: Fire lovers that often camp where there are fire restrictions; people that love to grill; skiers and boarders that are serious about apres
I'm a sucker for nomadic grilling. Being deep in the forest, miles from civilization, and eating something like a hot bratwurst or grilled salmon filet just feels right. Plus, I've discovered that I can endure all kinds of suffering, like a hundred miles on a gravel bike, if there's the promise of fresh fish tacos when I step off the saddle. And because I use terms like "nomadic grilling" near my iPhone and Alexa device, I get a lot of targeted ads for items that might fall under this category on the socials. My feed is essentially a litany of grills, max-cushion running shoes, and EDC knives—outdoor dad stuff. A targeted ad actually introduced me to Ignik's new FireCan Deluxe ($300), a portable fire box fed by a propane tank that doubles as a small grill—it's basically catnip for a person like me. I ordered one immediately, and spent a couple months testing it in my backyard and out in the wild.
I've used a variety of open flame/portable grilling devices over the last couple of years in the name of journalism, from a cast-iron grill designed to fit over a Solo Stove, to a full-sized grill built to fit on the back of your vehicle. Cooking food over a flame is fun and each of these grills has their pros and cons, but after using the FireCan Deluxe for many meals, I'm having a hard time coming up with anything I don't like about the grill, besides its petite size.
Plus, it doubles as a campfire because you can use it under many fire restrictions in the western U.S. (always be sure to check local regulations). Considering the prevalence of wildfires in the Western U.S. and the leave no trace ethics surrounding campfires in general, it's a smart concept. Hook up a propane source and you have all the fun and warmth of a campfire in a contained box that requires no cleanup, just like the original Firecan.
The Deluxe is very similar to the first edition, but has a removable stainless-steel insert and grilling grate that you slide into the outer shell that lets you BBQ. It also has two propane valve connection ports: one that allows more gas into the FireCan while in firepit mode (for a whopping 38,000 BTUs), and another that throttles the gas feed down for cooking. You just connect the propane hose to whichever port coincides with the mode you want to use. The only bummer is that you can't just buy a grilling insert for the original FireCan if you've already invested in that particular product.
When the Deluxe arrived, I was surprised at how small it was. It's basically a 12- by 6- by 8-inch rectangle (like a shoe box) that weighs just 13 pounds. With a handle on top, it's easy to carry and takes up very little space in the back of my truck, which I like, but it also severely limits the amount of grilling space on hand. It's basically big enough for two burgers or four or five bratwursts— you're not going to roast a whole hog on this thing. You might not even be able to fit a large filet of salmon on the grill without trimming it. And if you're cooking for more than two people, you'll be doing the work in batches.
But the small size helps keep the Deluxe efficient: the grill gets hot quickly (I usually let it burn on high for a few minutes before loading the grill and reducing the heat) and cooks thoroughly with no discernable hot or cold spots. You can even use the metal lid while in grill mode to help trap the heat and cook your meal even faster. Because of the small size and good design, you're not burning through an excessive amount of gas to cook a couple of burgers like you would if you were using a full-sized grill. All good things.
A couple of other design aspects that I really like: Four legs fold out from the bottom of the FireCan, raising the heat far enough off the surface that you can safely use it on a picnic table or truck tailgate. The grilling insert helps keep the grease and rogue bits of burger away from the propane burners on the bottom of the FireCan (there's even a removable drip tray to collect excess grease), and the fact that the insert is removable makes it very easy to clean.
One thing all users should keep in mind: the FireCan gets wicked hot. Don't touch it until it's had time to cool off after use. I got into the habit of turning it off immediately after I was done cooking and letting it cool while I ate. It typically takes about 10-15 minutes to cool down before you can handle it and pack it up again.
Another minor complaint I have about that two propane connection port system—it adds a level of logistical difficulty to the FireCan Deluxe if you want to use it as both a grill and fire pit in the same outing. For instance, you can't cook then just remove the grill insert and transition seamlessly into firepit mode. You have to turn the gas off, switch the feeder hose to the other port and relight the FireCan. It's a small detail, but it would be great to be able to move smoothly from grilling to party mode without having to mess with the propane connection.
I'm excited about using the FireCan Deluxe for post-ride tailgating sessions during the summer, and for car camping trips when I'm not bringing the entire family—it's simply too small to accommodate a lot of hungry stomachs on big, family camping trips. I'm also stoked about the winter tailgating potential. It's far more compact than my other portable fire pits, but it puts out a lot of heat, so the fire pit will come in handy while drinking an apres beer in the parking lot after a ski session.
While it's not the perfect solution for every situation, it's an efficient little grill that can add warmth and tasty grub to a lot of different scenarios. I mean, grilled fish tacos in the middle of the woods. What's not to love?
Lead Photo: Courtesy Ignik