Insect-Repellent Gear to Make Bug Season More Bearable
Sprays, lotions, wipes, apparel, and devices to keep mosquitoes, ticks, and flies at bay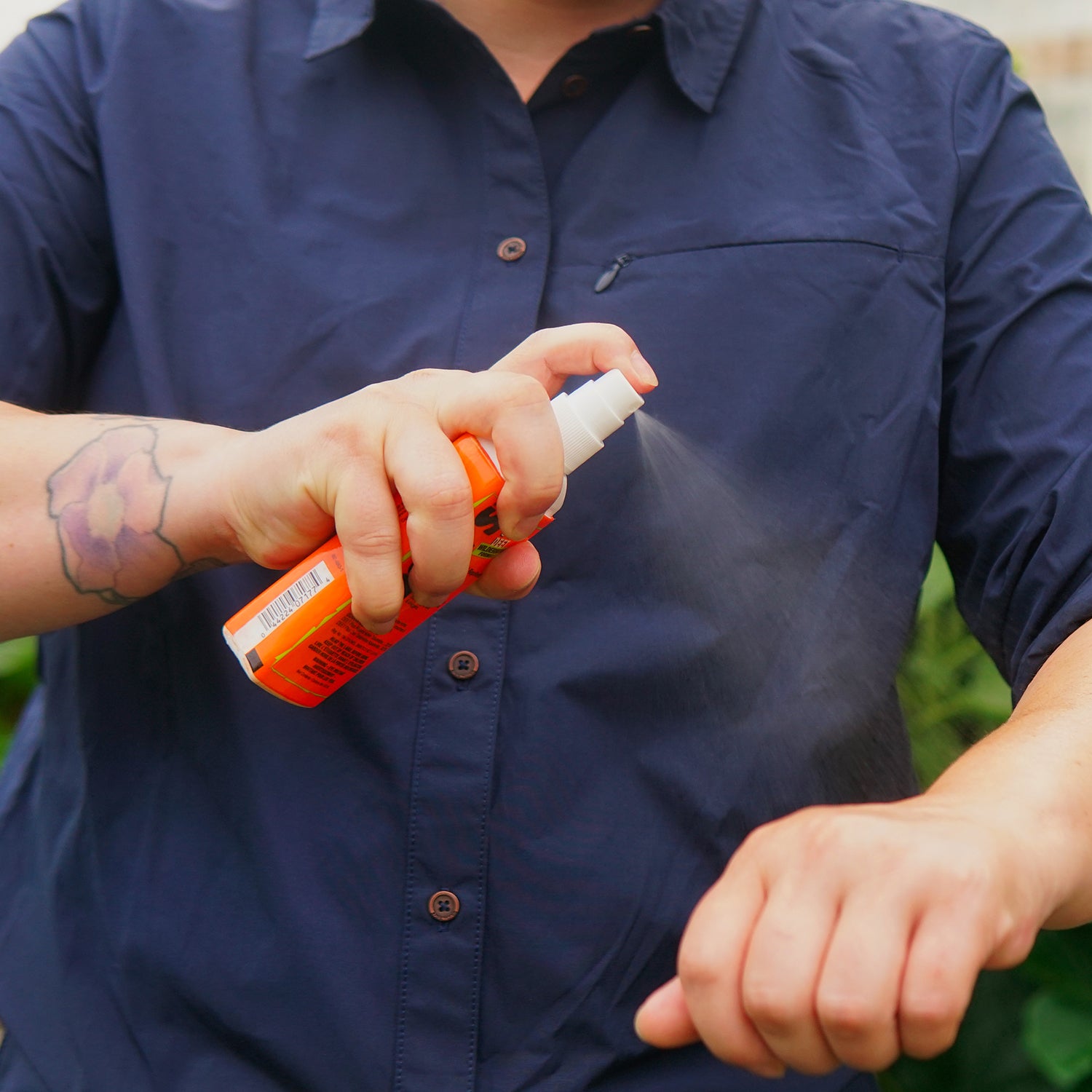 Steve Redmond
Heading out the door? Read this article on the new Outside+ app available now on iOS devices for members! Download the app.
The world's deadliest animal isn't a shark, venomous snake, or human (although we rank a close second)—it's the mosquito. As a carrier for viral diseases like Zika, dengue, West Nile, and more, mosquitoes are responsible for upward of one million deaths a year, reigning as humankind's worst natural enemy. So it's not just an itchy bite you're looking to avoid; it can literally be a matter of life and death. On top of that, some ticks carry Lyme disease, and there are other annoying-to-deal-with bugs that bite. But what products offer reliable protection to ward off hungry insects?
To get the lowdown on which products to trust and how to safely and effectively use them, I spoke with David Brown, an expert with over 30 years in the mosquito-control field and now technical adviser for the American Mosquito Control Agency."Mosquitos are nothing to trifle with," Brown told me, which is why he recommends Environmental Protection Agency–registered repellents and discourages the use of what he calls "home brews" for use against mosquitos and ticks for several reasons. EPA-registered repellents are tested for both safety and efficacy, something homemade repellents lack. Unregistered products can also offer a false sense of security. And although "the science is still kind of out" on the specifics of how repellents work best, he said, "what they seem to do is confuse the female mosquito as she's trying to find you. So it won't land, and it won't seek a blood meal."
Outside contributor Wes Siler says there are only four proven repellents that you can trust: deet, picaridin, permethrin, and allethrin. Because deet has been around for decades and has an incredibly high safety profile, it remains the gold standard for repelling mosquitoes and ticks (as well as black flies, stable flies, chiggers, biting midges, and deer flies). Deet is also effective, provided you properly follow the directions on the label. Picaridin, a synthetic chemical derived from the natural compound found in black pepper, has been around since the mid-2000s and is another safe and effective option. It's also notable as kinder to gear, because it won't damage waterproof membranes in your technical shells the way deet can. On the other hand, permethrin is an insecticide, so it can kill any ticks, mosquitos, chiggers, flies, midges, and ants that come into contact with it.
"One of the misconceptions that many people have is that the higher the percentage of the repellent, the better repellency it will get. That's not true," Brown said. "The higher the percentage of repellent in the products you buy, the longer repellency you'll have." A repellent that contains 10 percent deet is effective for about two hours; one that's 25 to 30 percent deet will keep you safe for around five to six hours (repellent with 20 percent picaridin will also offer protection for as many hours). Again, read and follow the instructions, as different formulations might vary slightly in terms of how long they'll repel insects.
That last point bears repeating. According to Brown, not following the instructions on the label is the biggest safety concern when it comes to insect repellent. "The directions are designed to ensure that both the product can be used safely—so you won't get sick or harm yourself—and will be efficacious," he said. Other steps you can take to stay safe and avoid getting bit include tucking your pants into your socks, wearing long sleeves and loose-fitting clothing (light colors are best), and making sure you conduct regular tick checks, even if you are wearing repellent.
Ben's 30 Percent Deet Mosquito, Tick, and Insect Repellent ($9)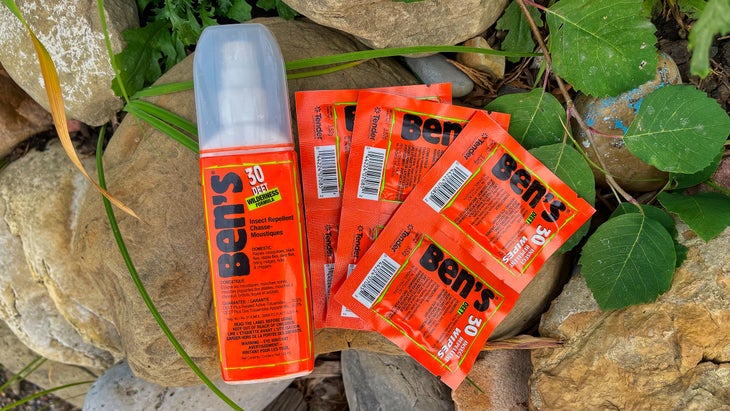 I've recommended Ben's 30 Deet insect repellent before, and I still stand by it. It's effective against mosquitoes, ticks, flies, and more, and I like that the pump spray bottle doesn't get clogged with product. Because it's a water-based formula, it doesn't soak into the skin as rapidly as an alcohol formula, which helps repel bugs a little longer. If you prefer a continuous spray, an eco-spray can ($8) is available and won't release harmful aerosols. I also usually toss in a pack of Ben's 30 insect-repellent wipes ($19 for 24) when traveling or when I know I'll need to reapply some in the wilderness but don't want to carry the spray bottle. As individually wrapped wipes, they're convenient but also create unnecessary waste; still, they're good to have in a pinch. I throw a couple packs in my first aid kit, the glove compartment of my vehicle, and in the camper.
Wes Siler prefers the Off Deep Woods Spray with 25 percent deet, but any repellent with 25 to 30 percent deet will sufficiently protect against most insects while you're outdoors.
---
Sawyer Permethrin Insect Repellent ($16)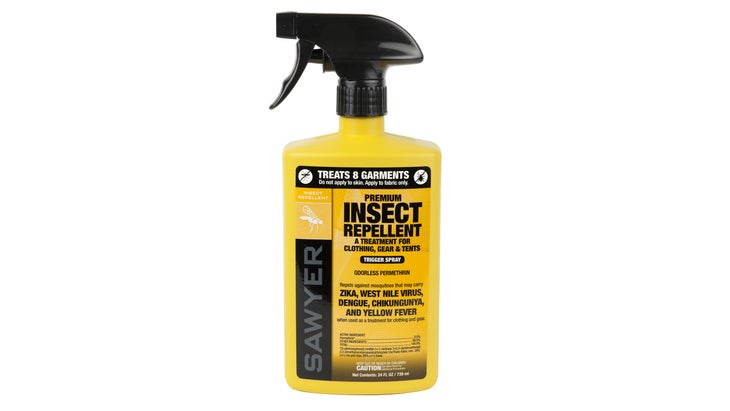 Sawyer's 0.5 Percent Permethrin insect repellent makes it possible to treat your outdoor clothing, sleeping bags, tents, netting, camp chairs, hammocks, and pretty much any other fabric you want. One treatment will last six to eight washes or six weeks (whichever comes first). A 24-ounce bottle will cover four to five outfits (shirt, pants, socks) and protect you from mosquitos, ticks, and a handful of other insects. It's odorless after drying, and it won't stain or damage fabric. To use this product, lay your gear out in a well-ventilated area, spray until the material is slightly wet, and then wait until the clothes dry before putting them on. Note: permethrin is safe for use on dogs, horses, and livestock, but it is toxic to cats, so be extra careful while using it around your feline friends.
---
Insect Shield Your Clothes Easy Pack ($90)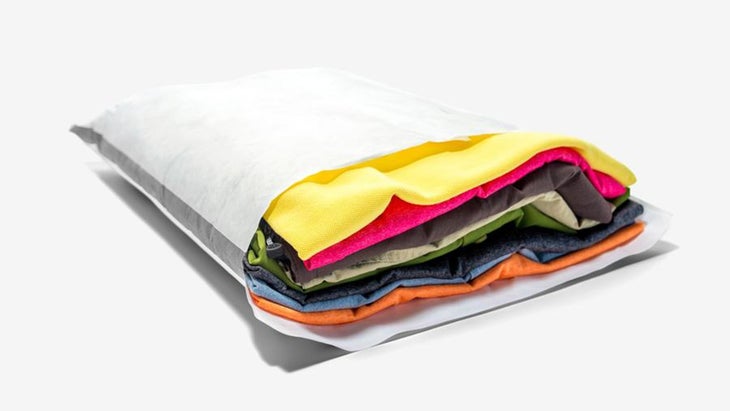 Get your favorite outdoor apparel professionally bug-proofed by having it treated by Insect Shield. When you order an Easy Pack, the company will send you a packet that holds around 10 to 15 items. Fill it with your clothes (​excluding underwear or dry-clean-only or waterproof items), then drop it off at any FedEx location (the return label is already affixed). In a few weeks, your garments will be returned to you ready to hit the trail. The treatment lasts up to 70 washes—about ten times longer than treating your clothes with permethrin at home. And rather than buying something that's permethrin infused but might not match your style, you can mail in clothes you genuinely love. If you're traveling to a bug-dense area or planning a multiday backpacking trip, treating your clothes beforehand is a great option.
---
Sawyer 20 Percent Picaridin Insect Repellent Lotion ($10)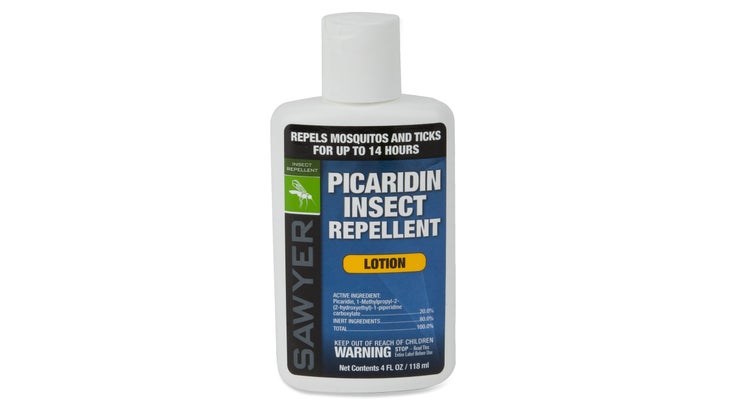 "I like lotions because they are easier to apply," replied Brown when I asked him what he uses to repel insects. "I don't like spraying my face, and lotions can make sure you get good coverage. Percentage is key." Sawyer's 20 Percent Picaridin lotion offers up to 14 hours of protection against mosquitos and ticks, which is a couple more hours than the spray will provide. It has a light citrus odor (noticeably less of that bug-spray smell found in classic deet formulas) and won't damage plastics or synthetics with the way deet might.
If you're looking to use a spray in lieu of lotion, Ben's Tick Repellent eco-spray ($10), with 20 percent picaridin, is one of Wes Siler's top recommendations.
---
Farm to Feet Boulder No Fly Zone Socks ($21)
Farm to Feet's light-cushion crew-length Boulder socks are treated with permethrin insect repellent, which protects against mosquitos, flies, ticks, ants, chiggers, and midges for up to 70 washes. These 100 percent U.S.-made merino wool socks are naturally odor-resistant, moisture-wicking, antimicrobial, and thermoregulating. I've been wearing these all-season socks for a few years, and they're still in great condition despite many outdoor adventures and subsequent washings. The seamless toe closure lays flat against the foot, so there's no rubbing going on inside my shoes, and I've remained blister-free. They've held their shape well, and most important, I've never been bitten by a tick while wearing them. If you're wearing pants, make sure to tuck them into your socks for extra protection. Added bonus: Farm to Feet guarantees its socks for life; if durability or performance become an issue, return them for a refund or a new pair.
---
Thermacell Rechargeable E55 Mosquito Repeller ($40)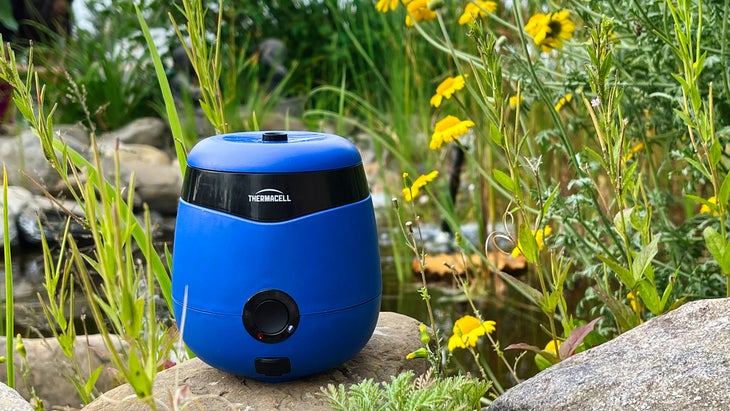 Thermacell's E55 mosquito-repellent device provides a 20-foot dome of protection by emitting an odorless, no-spray, heat-activated repellent called allethrin. Using a built-in lithium-ion rechargeable battery, the liquid-filled cartridge offers 12 or 40 hours of protection (depending on which cartridge you use). The battery lasts for just over five hours, but you can also plug it in with the supplied USB charging cable. This device is ideal for times when you're staying in the same location—at a backyard BBQ, sitting around the campsite, or during an outdoor movie night, which is where I first used it. On a particularly buggy night, 15 minutes after turning this repeller on, we were all sitting in a mosquito-free bubble—five kids, six parents, two grandparents—and not one of us suffered a mosquito bite in the two-plus hours we were hanging outdoors. Since then it's been a camping-kit staple and makes regular appearances at family hangouts, and in two months of intermittent use, I've just now replaced the 40-hour cartridge.
---
Ben's InvisiNet Insect Head Net ($10)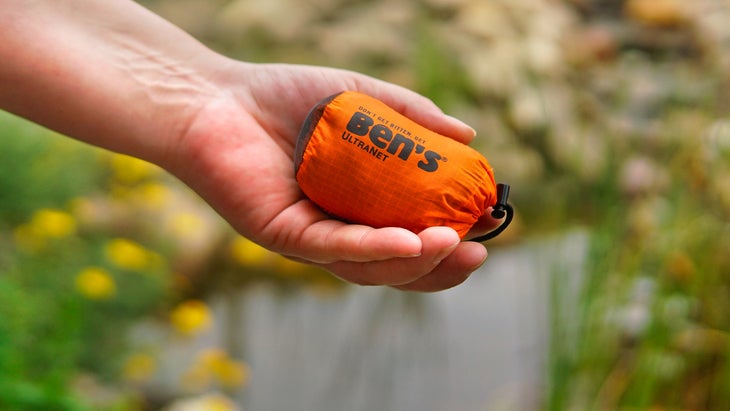 When I asked Brown about other insect-control measures he recommends outside of repellents, he told me, "Head nets can be very effective in really dense populations of mosquitoes, preventing [them] from getting in your face, mouth, nose. If you're in an area that's really that bad, I would encourage the use of those."
There are a few popular head nets, and they're basically all the same, but I have Ben's InvisiNet for when the bugs are nasty. Weighing just under an ounce, and packed into a tiny pouch, it easily stashes in my backpack and becomes a lifesaver when I'm hiking and come into a huge swarm of hungry mosquitoes. The fit of its elasticized crown can be customized, it features a drop-neck design, and it's easy enough to see through the sheer black superfine mesh. If you'd rather use the permethrin-infused version, Ben's makes the same head net but with the added Insect Shield technology ($13).
This head net does fit on the narrower side; it sits over my ball cap just fine but doesn't quite work with a wider brimmed hat. So if you plan to wear a sun hat or want a little more room under the mesh netting, the Sea to Summit Mosquito head net with Insect Shield ($13) has a slightly simpler design that will be a better option.
---
Jack Wolfskin Lakeside Mosquito-Proof Apparel ($90 and Up)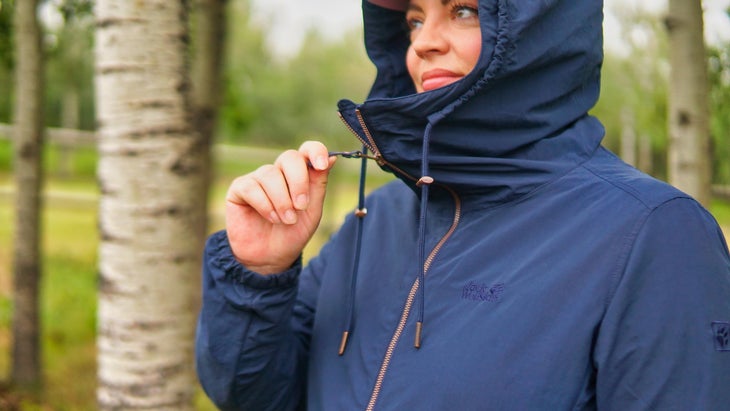 Still not convinced about chemical repellents? Then you need to make sure your skin is covered from head to toe. Jack Wolfskin's Lakeside series—with shirt, pant, jacket, and hat options for women, men and kids—utilizes a thick weaving technique that protects against mosquito bites. I've been wearing the women's Lakeside Roll-Up shirt ($90), the Lakeside pants ($90), and the Lakeside jacket ($120) for the past couple of months. The quality is outstanding, and the look makes me feel like I could go from fieldwork to teaching in a university classroom without changing my clothes. I've tossed the jacket on when sitting around the campfire at night, and when my repellent starts to lose its effectiveness and I don't feel like reapplying, it seems to work well at preventing bites. The bonus is that this apparel also offers protection from UV rays. The downside is that, unless you're completely covered and also using either a repellent or bug net for your hands and face, mosquitos will find your skin. That said, I think this gear is best used in conjunction with other forms of insect control.
Lead Photo: Steve Redmond