MSR Makes the Best Backpacking Cook System
Whether you're just getting into backpacking or want to upgrade your kit, you can't go wrong with this tiny cooking setup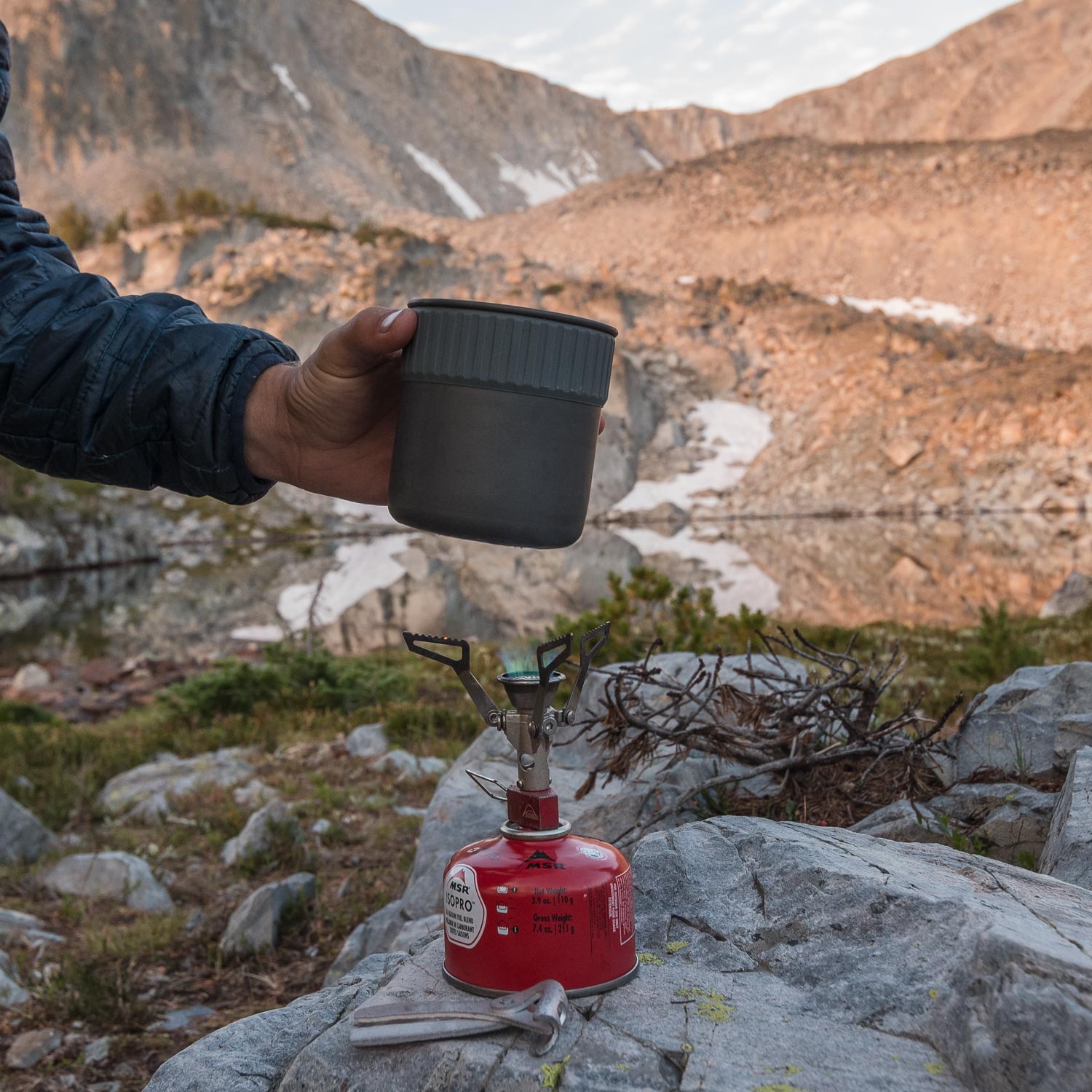 Scott Rinckenberger(Photo)
Heading out the door? Read this article on the new Outside+ app available now on iOS devices for members! Download the app.
I recently wrote about all my favorite lightweight backpacking gear in Outside's Summer Buyer's Guide. Buy everything I suggest (plus a few choice extras) and your base weight (all your gear excluding water and food) will be around nine pounds—and you'll be $1,800 poorer. Going light is expensive, and it takes a lot of time to research the best gear to fit your needs.
That's why I perk up when a brand makes a great weight-conscious product at a reasonable price. For the past year, I've been testing the MSR PocketRocket 2 Mini Stove Kit ($80), and I think it's a high-performing, affordable system that is ideal for anyone just getting into backpacking or the seasoned backpacker looking to lighten their pack.
The five-piece kit includes nearly everything you need to cook in the backcountry—just bring food and a spork. Here's what you get:
Stove
I've probably tested more than 20 backpacking stoves, and the Pocket Rocket 2 is still my go-to. There are already enough in-depth reviews of the stove online, so I don't need to go into the details, but in brief, it's lightweight, compact, reliable, and cheap. If you already have an ultralight pot, you can buy this stove separately for $40. 
Pot
The .75-liter hard-anodized aluminum pot is four inches high and four inches wide. It sits perfectly on the stove and has a removable rubber sleeve around the outside edge that lets you hold the pot without burning your hand. The pot is really only big enough to boil two cups of water, which is plenty for cooking a dehydrated backpacking meal, but if you backpack with a friend, this won't be big enough.
Snap-On Lid
The problem with most camp cooking pot lids is that they snap onto the pot too tightly. This is good in concept—creating a tight seal prevents heat from escaping, thus boiling water faster. But if the lid is too tight, removing it requires two hands: one to pull off the lid and one to hold the pot steady. Inevitably, you end up burning your fingers and splashing water everywhere. Not so with this lid, which snaps onto the pot gently, creating a good seal but not so tight that it can't be easily removed with one hand. A small rubber tab in the center makes this easy. The lid also has vents so you can strain pasta water or drink a cup of coffee without spilling.
Plastic Bowl
Described by MSR as a "hot- and cold-safe bowl" made of BPA-free plastic, this 12-ounce cup/bowl nests over the metal pot for compact transportation. I don't use this item too often, but it's nice to have if you want to drink a cup of tea or lemonade while cooking dinner.
Pot Grabber
A grabber makes picking up a pot of boiling water easy and burn-free. While the pot's rubber sleeve works well once the pot has cooled down a bit, it doesn't provide enough insulation to handle when water is still boiling, making the pot grabber necessary. It works very well, it's lightweight (less than one ounce), and it stores inside the pot when not in use.
Conclusion
The PocketRocket 2 Mini Stove Kit is an effective, compact cooking system that's suitable for basic cooking while backpacking. All the components nest together in the pot and take up very little space in a pack. Over a year of testing, I've found the kit components to be well made and durable. Sure, you could take the time to compile your own cooking kit, but for just $80, the Mini Stove Kit has nearly everything you need in a small, lightweight package.
Lead Photo: Scott Rinckenberger