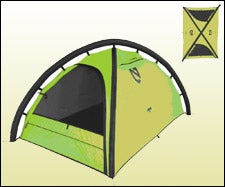 Heading out the door? Read this article on the new Outside+ app available now on iOS devices for members! Download the app.
My two-year-old thought Christmas had come early as he eyed me setting up Nemo's Hypno EX tent in our back garden prior to getting it out into the field. "Amazing: my own personal moon bounce," the glint in his eyes seemed to telegraph before he ran screaming, arms aloft, into the erect tent.
Nemo Hypno EX Tent

Nemo Hypno EX Tent
The good news? The Hypno bounced right back after his exuberant participation in my getting-to-know-your-gear session. You see, this tent is integrated with a pair of sturdy air-filled crossbeams that do what those finicky tent poles once did. And if it can handle some roughhousing from a 25-pound child, I'm confident it can take whatever Mother Nature throws its way.
Don't think fellow campers will look upon you as the backcountry equivalent of a big-top freak, either. During a trip to West Virginia's Dolly Sods Wilderness over a hot Memorial Day weekend, the Hypno scored top marks for its light weight, easy setup, and user-friendly trimmings like intuitive ventilation. It's a serious tent outfitted with an effective, simple design.
You'll be a convert the minute you're ready to set camp. Unfurl the single-wall canvas and hook an easy-to-fit foot pump (or optional mouth pump) to the valves on the airbeams … and start stomping. One minute later, tops, your shelter's up. Your fellow campers will be downright jealous when you're brewing up while they're still fumbling with tent poles, clips, and sleeves. The only risk you run: potentially spraining an ankle on the pump's narrow footpad in your enthusiasm to set a personal best. On the disassembly side, unlock the air valves and the tent simply collapses in on itself, making it a cinch to fold and pack.
Nemo's air-supported tents are no gimmick, either, winning a Time Best Inventions of 2005 award, while the Hypno PQ (the EX's even lighter 3.1-pound sibling) is the official tent for this year's Primal Quest. The reason is simple: replace aluminum or fiberglass poles with air and shave over a pound from your load. The 4.2-pound EX stuffs into a cantaloupe-size sack that not only helps trim weight but keeps things organized and svelte.
Of course, getting a flat in the backcountry is the obvious downside of relying on air-filled housings. The tent comes with a repair kit including puncture patch, spare bladder, and valve-repair kit. As with bike touring, get to know your repair gear before you depart to mitigate the hassles of an unexpected rip on the trail.
One other thing worth noting about the Hypno EX is that the 2.5-inch-diameter outer air spar creates a curvaceous 36.5 inches of internal headroom, enough for two sleepers to feel nicely at home. Front and rear storms doors allow easy in and out, though as with all single-wall shelters, the lack of a fly and vestibule does mean you have nowhere to stash soggy packs or boots as you slumber. Nifty side ventilation panels with useful deployable struts keep air circulating, as do the mesh inner doors. Even beside a stream in the humid West Virginia backwoods, the EX kept things as breezy as a comparable two-wall shelter with more inner mesh.
Available in July through the Nemo Web site, EMS, and other gear outlets; $455; www.nemoequipment.com