Gear Guy
Tested: The Best Weekend Coolers
Our Gear Guy tested the top small coolers to help find what's right for you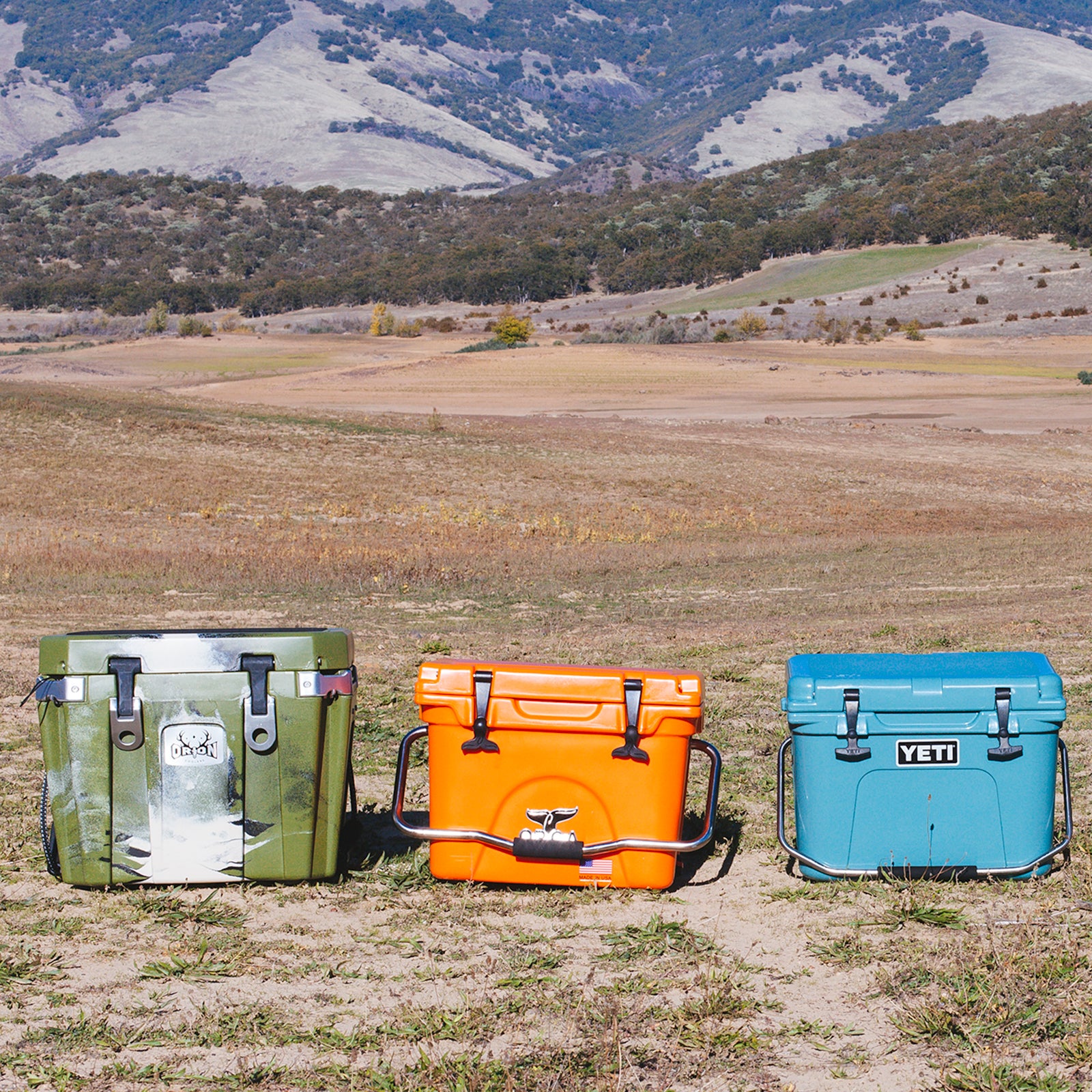 Sarah Jackson(Photo)
Heading out the door? Read this article on the new Outside+ app available now on iOS devices for members! Download the app.
A bomber 110-quart cooler is an undeniably badass piece of gear. It is also overkill for those of us who aren't regularly sportfishing in the Seychelles or boating the Grand Canyon (read: most of us). While I've found the 45-to-55-quart range to be a solid size for family weekends or longer trips on my own, the twentyish-quart ice box hits a sweet spot for day-tripping with the fam or heading out for a solo weekend. On top of thermoregulating more efficiently than their larger relatives, small coolers are much easier to carry and stuff into a packed trunk. Just because they're compact does not mean they're wimpy. On the contrary, I think a wee cooler should hold its own in an overfilled raft with the best of them. I put five of the best to a rigorous test to help you decide which one is right for you.
The Test
Ice Retention: I individually weighed seven-pound bags of ice in grams—a figure which converts to 3,175 grams, though some bags weighed slightly more or less. I conducted my test using grams to yield more specific results, which made it easier to compare ice loss. Then I put each bag of ice in a cooler, closed it, and left all of them on the sunniest spot on my back deck for five days. Temperatures were in the low seventies during the day and around freezing at night. After 120 hours (five days), I strained the leftover ice (if any remained) and weighed it. Then I repeated that process with a 40-hour sit time and similar temperatures to find out how the coolers would work on a weekend camping trip.
Usability: I packed and unpacked each cooler five times with fridge contents (a six-pack of beer, a small bin of salad greens, and two smaller Tupperwares filled with leftovers) that I would bring with me if I scavenged for a weekend camping trip. I also noted any accessories built into the coolers. Some of them had upgrade options (most notably the Otterbox), but I focused on the base coolers themselves to keep the comparison as fair as possible.
Ease of Carry: I placed a 14-kilogram (about 31 pounds) kettlebell in the center of each cooler and carried each twice around a one-eighth-mile obstacle course I set up in my backyard.
The Results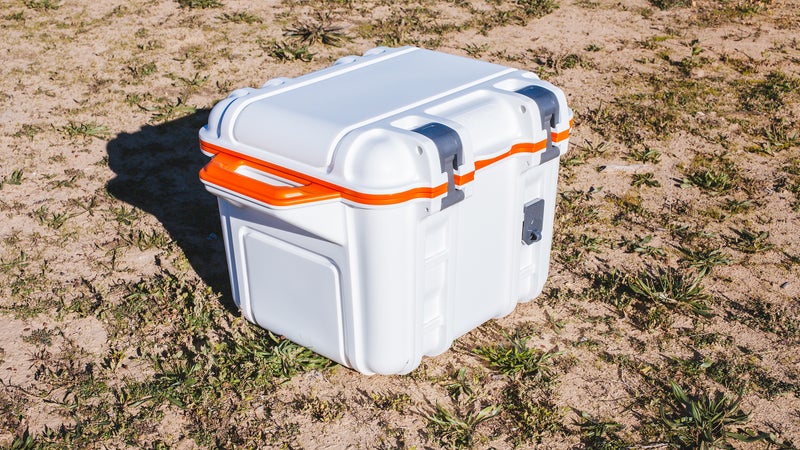 Winner: Otterbox Venture 25 ($196)
Ice Retention: 5 (Five-day ice loss: 2,705 grams, or 89 percent; 40-hour ice loss: 658 grams, or 20 percent)
Usability: 5
Ease of Carry: 4
This is a straightforward little cooler that did its job remarkably well. I was expecting the thermoregulation tests to end with pretty similar results to the other models, but the Venture 25 absolutely kicked ass, still holding 343 grams (three-quarters of a pound) of ice at the end of the five days. Credit the two inches of refrigerator-grade insulation. It boasts the roomiest interior of any of these ice chests, making it the easiest to pack and giving me the option of throwing more food in there. The large, no-nonsense molded handles aren't much to look at but made the Venture extremely easy to carry fully loaded. Since the handles are integrated into the cooler's burly body, I imagine they will last forever. (Handles are the first thing to go on a brutalized cooler.) The closures are a smart mix of hard, durable plastic and thick rubber that made me feel confident the lid was closed. While its base model isn't as feature-rich as some of its competitors below, the Venture 25 killed it on the basics, which is all that matters at the end of the day when you need a cold beer.
---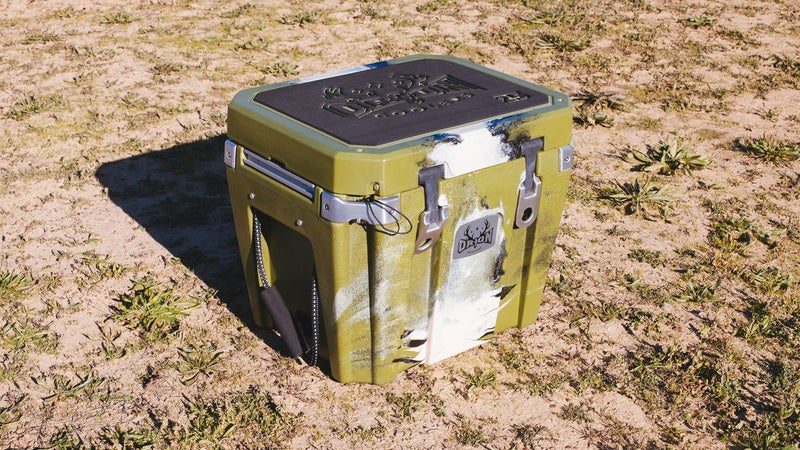 2. Orion 25 ($369)
Ice Retention: 4 (Five-day ice loss: 3,018 grams, or 93 percent; 40-hour ice loss: 717 grams, or 21 percent)
Usability: 4.5
Ease of Carry: 4.5
The Orion 25 was certainly the most badass-looking cooler of this test, and it features the burliest additions. I would feel absolutely comfortable bringing this on a raft trip where I had a high chance of flipping, thanks to a metal tie-down on each corner (which can also be used to open beers), hearty metal and rubber closures, and sturdy handles. It was right behind the Otterbox in ice retention—the only other in the test that held ice for five full days—and is also extremely easy to pack, unpack, and close. It shone in the carry test; its mountain-bike-reminiscent handles, which are threaded with thick rope, allowed me to distribute the weight most comfortably while walking on flat ground. But it also has built-in handholds on the sides of the cooler, a perk if you need to keep the whole thing closer to you for more off-kilter carrying. The Orion 25 has a foam grip pad on top that was made to stand on and cast from in a fishing boat, but we found it was a top-notch landing spot for a beer. It's an excellent cooler and came very close to winning first, but it didn't thermoregulate as well as the Otterbox and is significantly more expensive.
---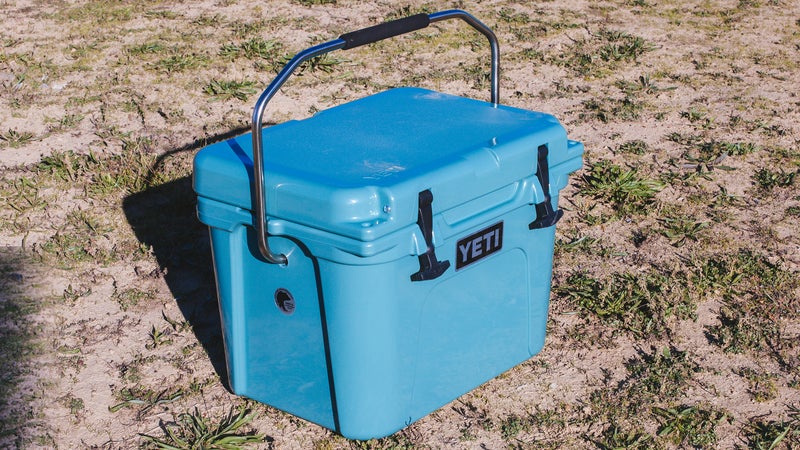 3. Yeti Roadie 20 ($280)
Ice Retention: 3.5 (Five-day ice loss: 3,195 grams, or 100 percent; 40-hour ice loss: 863 grams, or 26 percent)
Usability: 3.5
Ease of Carry: 3.25
The Roadie and the Orca (below) were neck and neck for a lot of this test, but in the end, the Yeti was simply a better cooler. The two coolers received the same score for usability because their interior dimensions and closure systems are so similar. However, the Roadie performed slightly better in the 40-hour ice test and is definitely easier to carry because of its extremely smart and intuitive system, which locks the handle above the middle of the cooler. The latter made it feel more balanced in hand than the Orca and easier to manage while walking over knee-high rocks.
---
4. Orca 20 Quart ($218)
Ice Retention: 3.25 (Five-day ice loss: 3,214 grams, or 100 percent; 40-hour ice loss: 871 grams, or 26 percent)
Usability: 3.5
Ease of Carry: 3
While the Orca was edged out in the thermoregulation category and didn't carry quite as well as the Yeti, it is still a damn fine cooler and the second most affordable of this test. If you're like me, and you look at your cooler as a flair piece, the blaze-orange color was my favorite of the test, while the whale-tail rubber closures were both simple to use and pretty dang cute. The integrated mesh pocket on the front is also use extremely helpful for bringing essentials like silverware, a lighter, and a wine opener on an extended camping trip.
---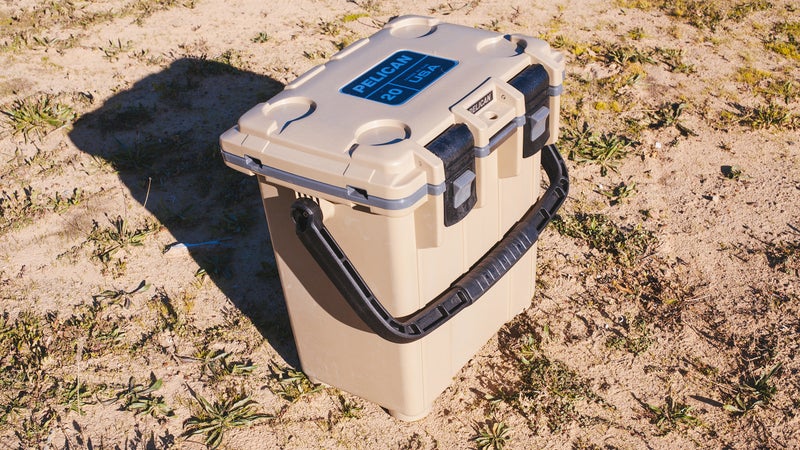 5. Pelican Elite 20 ($154)
Ice Retention: 2 (Five-day ice loss: 3,180 grams, or 100 percent; 40-hour ice loss: 1,166 grams, or 36 percent)
Usability: 2
Ease of Carry: 3.5
While the Elite's extra-tall stack height and skinny footprint made it easier to carry with one hand than both the Orca or Yeti—it cleared my knees with no problem while walking over an off-kilter rock pile—that same profile made it a pain to pack and grab food out of. It was also outmatched by the other coolers in the thermoregulation test. This is still an excellent cooler for this price; it just got worse marks in a stacked field. It's also worth noting that it's made in the U.S. and backed with a lifetime guarantee.
Lead Photo: Sarah Jackson
Trending on Outside Online