Gear Guy
These $2 Bags Are Our Favorite Waterproofing Hack
Trash-compactor sacks are the most inexpensive way to keep your gear dry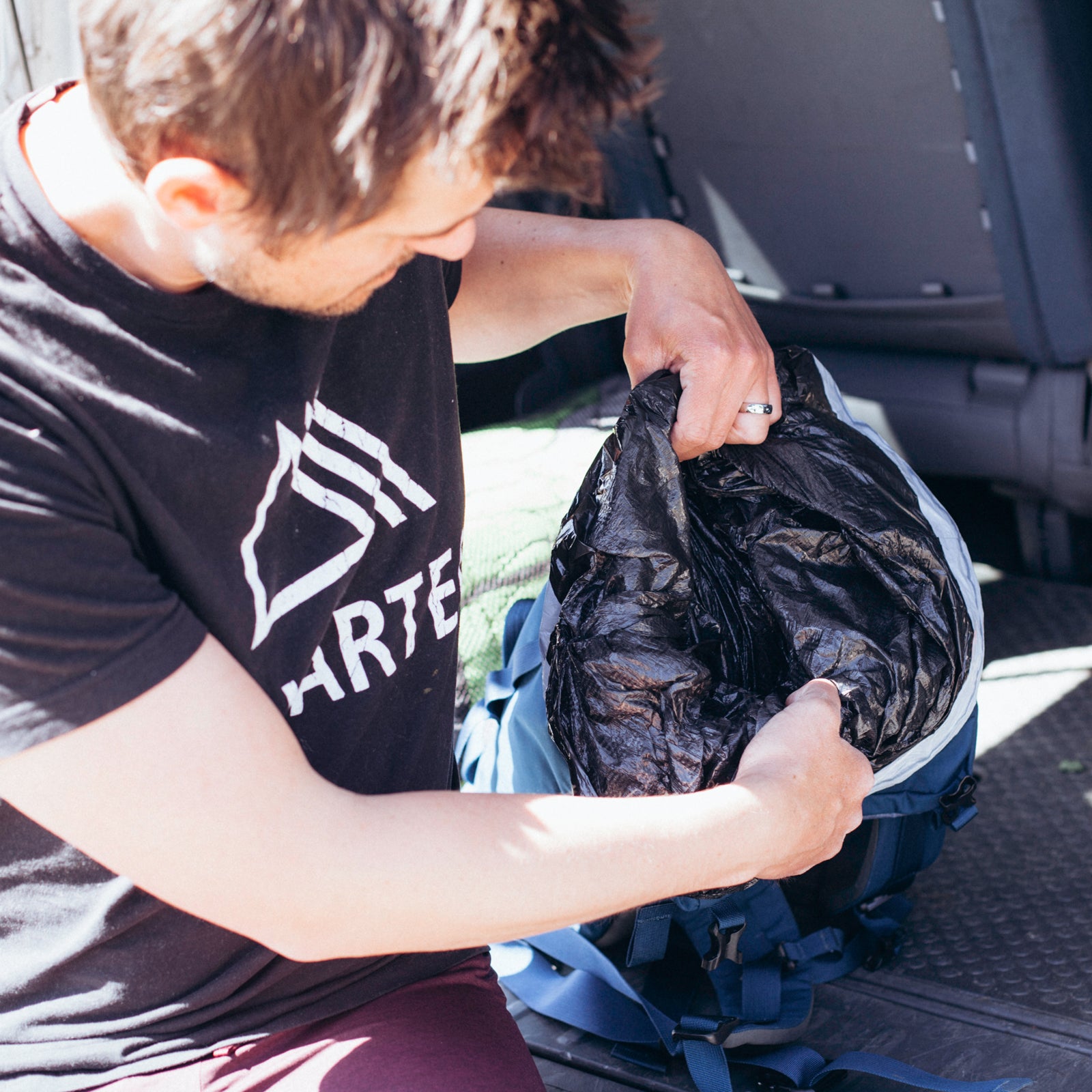 Sarah Jackson(Photo)
Heading out the door? Read this article on the new Outside+ app available now on iOS devices for members! Download the app.
I've lost count of the number of times I've mentioned trash-compactor bags in this column. I swear by them as a piece of gear in my kit, thus the constant recommendations. But my love for them is more than personal—they make dry, warm comfort in the outdoors accessible to anyone who can't afford expensive waterproof gear.
Trash-compactor bags usually run $1 to $2 apiece. While that's perhaps pricey next to a standard trash sack, the cost is minimal compared to a drybag or a waterproof backpack. Closed correctly, they can keep your gear bone-dry inside a bag that would otherwise get soaked in a rainstorm or a flipped raft.
The old backpack your pops handed down to you that has paper clips where zipper pulls once lived? Line its interior with a trash-compactor bag and the thing might as well be waterproof. The drybag you took to the Grand Canyon that has a three-inch gash held together with weathered duct tape? Four dollars' worth of compactor bags and that sucker is ready to get strapped back down to the floor of your raft.
Even if you already have fancy waterproof gear, it isn't a bad idea to put key pieces of kit—the things that would ruin your trip if they got wet—in a trash-compactor bag. I add this second layer of defense to my sleeping bag on overnight rafting trips in spite of the mountain of drybags I've accrued. There are tons of ways to pack a trash-compactor bag to keep moisture out, but I like to stuff it like a top-loading drybag: squeeze the air out, and roll the top down as tight as possible.
You may be tempted to grab the regular trash bags you already have living under your sink. This is a mistake. One little poke from a spork, stick, or rock and its waterproofing capabilities are compromised. Compactor sacks are damned tough and extremely difficult to puncture. They also retain value because they can be reused four or five times longer than regular trash bags.
When I lived out of my truck, I saw a smoking deal on trash-compactor bags at a Walmart while resupplying during a cross-country road trip. It was a huge box: over 100 bags for less than $20. I bought the box without thinking about how the rose scent advertised on the packaging would affect my experience. That scent was horrifying—one part chemical sweet and one part toxic—but I found the bags so useful that I slept six inches above them on a sleeping deck in my truck for months. It wasn't until my now wife asked what the hell type of air freshener I used that I moved them into my storage unit. I couldn't bring myself to throw them away.
The cheapest piece of gear is the one you already have. Trash-compactor bags are an amazing way to get one more season out of some of your most beaten-up waterproof pieces for an exceptionally reasonable price. Just buy the unscented ones.
Lead Photo: Sarah Jackson