Where can I get an ultralight skillet that won't burn?
I having trouble finding a skillet that is lightweight yet will not burn. I using a Primus canister stove and able to adjust the heat low enough. I use my equipment for bike touring, backpacking, and canoeing, so I looking for something that is both small and light. Brad Rantoul, Illinois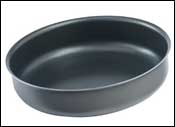 Heading out the door? Read this article on the new Outside+ app available now on iOS devices for members! Download the app.
Well, yeah, that's always going to be the case. I have on the Wolf range in my kitchen a set of six Griswold skillets—all vintage skillets that I got on eBay. They're fabulous for steaks, fried chicken, all sorts of things, and distribute heat so well it's almost impossible to burn anything. Alas, they're cast iron. The big one—a 14-incher—weighs close to ten pounds. But it's the heft that makes them so thermally efficient at cooking.

DuraLite

When camping/backpacking/bike touring, one doesn't want to carry that weight. So if you want to do some skillet work—obviously, how else are you going to fix scrambled eggs and Spam?—you have to put up with something a little lighter. One good choice is GSI's ten-inch skillet ($30; www.gsioutdoors.com), which weighs just over one pound and is made from anodized aluminum with a non-stick coating. It's got a folding handle, and just enough heft so that a hot flame won't immediately scorch your bacon. MSR's DuraLite ($20; www.msrcorp.com) weighs about half as much, in part by doing without the nicety of a handle, and by thinning out the metal. Open Country's ten-inch pan splits the difference in weight, has a folding handle, and sells for $17 (or $15 for an eight-inch model; www.opencountrycampware.com).
So those are your choices, give or take a few models that are basically the same. If you're using a canister stove, you ought to be able to lower the flame enough so that you can do fairly delicate cooking (all the canister stoves I have allow that). One gadget that might help is the Backpacker's Pantry Scorch Buster ($6; www.backpackerspantry.com), a disk of metal that you place atop the stove, directly under the skillet. It's designed to capture and diffuse heat from the stove, so that the flame isn't concentrated in one place. It weighs four ounces, which isn't bad. And, it can be used with the Outback Oven ($68), a great thing to take on trips where weight is not absolutely critical.
For a comprehensive listing of Outside's great food and drink articles from over the years, check out the Food and Drink Special Issue.