DIY
Inside My Custom Toyota Land Cruiser Build
This is the single finest example of a go-anywhere family wagon ever created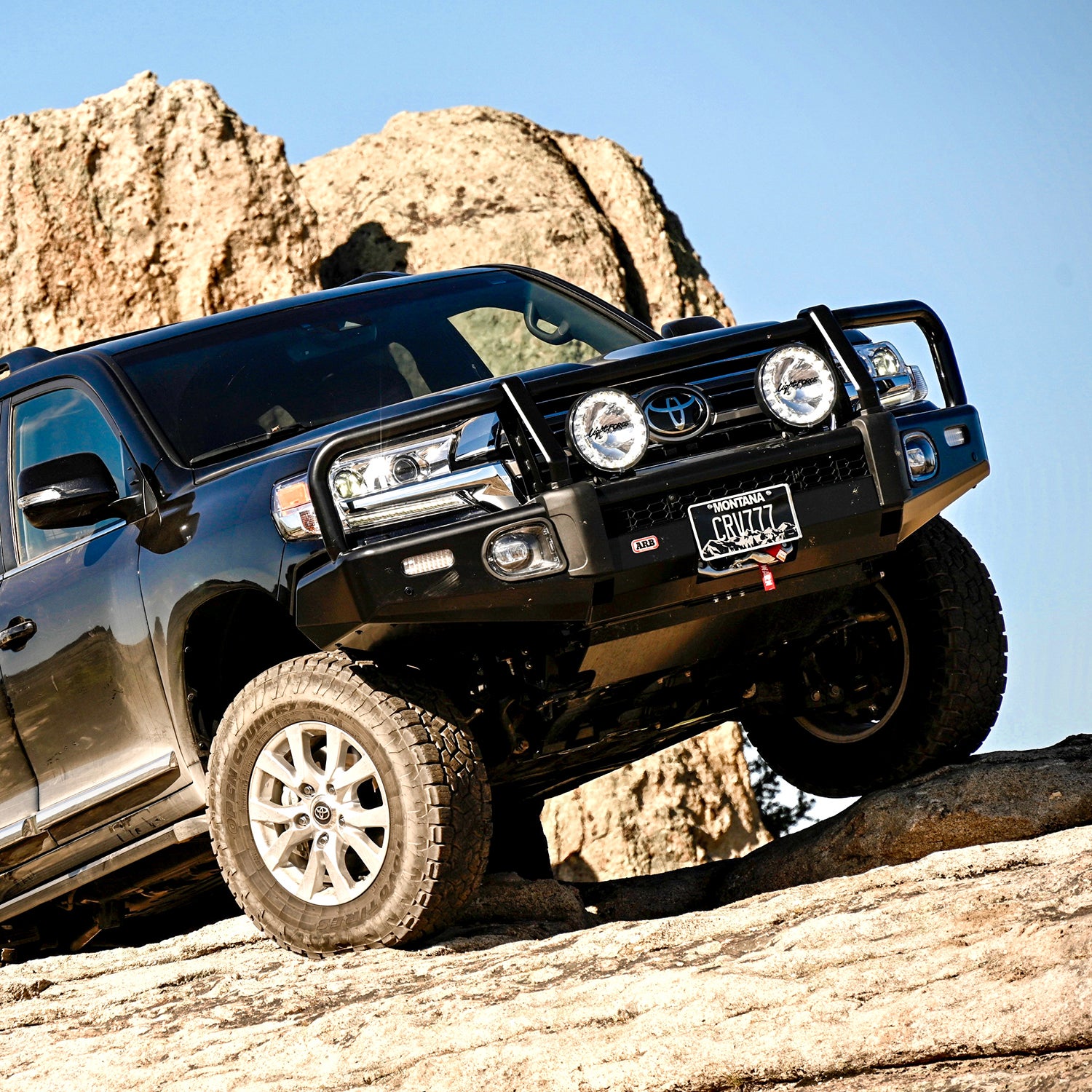 Heading out the door? Read this article on the new Outside+ app available now on iOS devices for members! Download the app.
The truck you see here is the greatest sport-utility vehicle ever made. I am not talking about Toyotas in general, or even Land Cruisers in particular. I am talking about this Toyota Land Cruiser, which I just built for my wife. Allow me to explain.
What Are SUVs For? 
The original promise of the SUV archetype is a vehicle capable of carrying an entire family (plus their stuff) over challenging terrain and through difficult weather, with sure-footed confidence and in comfort.
But this ideal has been somewhat lost over the decades. The way SUVs look became fashionable, but the way they drive never caught on. So much of the development around these vehicles in recent years has focused on improving their road manners and reducing the amount of fuel they use. In many cases, the very thing that made SUVs appealing in the first place—their capability—has been lost, yet the driving dynamics and efficiency of passenger cars were never fully achieved.
A person who never goes off-road probably doesn't need to opt for a ponderous SUV as a daily commuter. In fact, the fashionable nature of SUVs has created an image problem, in which the general public no longer appreciates the vehicles for what they offer, nor understands the people who actually use them as they were intended.
I challenge all of that. My family of two humans and three dogs regularly travels all over the western United States, Mexico, and Canada—when we're not in the middle of a pandemic—in pursuit of our various outdoor passions. Not only do we live in Montana, a place that can see blizzards any month of the year, and where we drive off-road virtually every single day, but we deliberately seek out extreme weather and challenging terrain in an effort to get as far away from other people as possible. We don't need a vehicle that looks like an SUV and drives kind of like a car; we need a vehicle that looks like a normal SUV but is even more capable. That's why we started with the strongest platform out there, then took it much further.
The Land Cruiser
I explored the reasons why we ended up with a 2020 Toyota Land Cruiser at length last December. The brief recap is that, while the 200-series Land Cruiser is extraordinary in its ability to combine Jeep Wrangler levels of off-road prowess with Range Rover levels of on-road comfort, as well as decades-long durability with modern driving conveniences and the towing and hauling performance of a full-size pickup, it remains a vehicle that must adhere to the limitations placed on all stock vehicles.
But that just makes it ripe for modification. And the Land Cruiser has a couple of unique features that make it especially suitable for alterations. The first is the Kinetic Dynamic Suspension System (KDSS), which enables the front and rear sway bars to automatically disconnect over challenging off-road obstacles. Sway bars apply downward pressure to the outside suspension while cornering. On paved roads, this helps the vehicle take turns without undue body roll. Off-road, though, sway bars limit wheel articulation and therefore traction. (If a tire loses contact with the ground, it can't perform its job.) To address that disparity, some of the other most capable off-road vehicles also come with disconnecting sway bars, but none include a system as simple or robust as the KDSS. Because it uses the pressure of oil running through dedicated lines between each axle to sense any differences in applied forces (the same pressure in those lines is what releases or connects the sway bars), the KDSS functions constantly and without driver intervention. And because the system is entirely independent of shocks, springs, and axles, with no position sensors or other electronic complications, it's able to apply itself to aftermarket suspension just as easily as it does the stock stuff.
One other thing that makes modifying the Land Cruiser so easy is the parts commonality it shares with the rest of Toyota's truck range. Toyota uses parts like bushings and bearings and bolts of the same size and spec across several of its vehicles. The company does this to save money, not to give its customers the ability to swap parts around, but it endows the range with a certain degree of Legoability nonetheless. And that creates some very interesting possibilities.
Long Travel, Defined
Decades ago, all trucks used solid axles in the front and rear. This was simple, strong, and granted vehicles so endowed with the easy ability to access a lot of wheel articulation. But solid axles, particularly front ones, impair the ride and handling of a vehicle in any type of driving that doesn't involve rock crawling. So manufacturers adapted independent front suspension (IFS) to four-wheel drive vehicles by mounting the front differential to the frame and replacing one-piece drive shafts with insanely complicated items capable of flexing in multiple directions while spinning. Those are called CV axles.
With IFS, the movement of the wheel is controlled by upper and lower A arms, while a unified shock and spring arrangement (called a coilover) suspends the vehicle's weight and damps its movement. Stock vehicles use suspension that must compromise between cost and safety. And those factors have traditionally limited the amount of articulation available. Once desert racers got their hands on trucks with IFS, they realized that the same reasons the suspension setup rode so well meant it had the potential to fly across rough surfaces with unprecedented speeds, if only they could add back in some of that articulation. And they did that by increasing the lengths of the upper and lower control arms; a wider arc is a longer arc.
This arrangement was dubbed long travel, and it necessitated longer CV axles to match the increased track width and longer, remote reservoir shocks that facilitated increased travel for the shock pistons by allowing shock fluid to move into an external reservoir, allowing for more space within the shock body—something that's complicated but worth it. By increasing wheel travel, you're effectively decreasing the influence a bump of any given size will have on the suspension. And by making big bumps little ones, you drastically improve ride quality and control.
Race suspension works great (when it works) but requires extremely short service intervals and often only functions well in very specific circumstances. A Baja 1000 race truck might land 100-mile-per-hour jumps like it's floating on a cushion of air, but hit a pothole in one at 20 miles per hour and you'll lose teeth.
That's the problem Ford set out to solve when it designed its first F-150 Raptor, which launched in 2010. That vehicle adopted the front-suspension approach developed by desert racers into a production vehicle by using factory-quality parts that were durable, had long service intervals, prioritized ride quality, and could stand up to wear from both daily driving and inclement weather. The result changed the truck world forever; Ford was able to sell a vehicle in its showrooms that came with a warranty, yet could safely land huge jumps, and still drive you home from the mall in total comfort.
I took a similar approach with this Land Cruiser.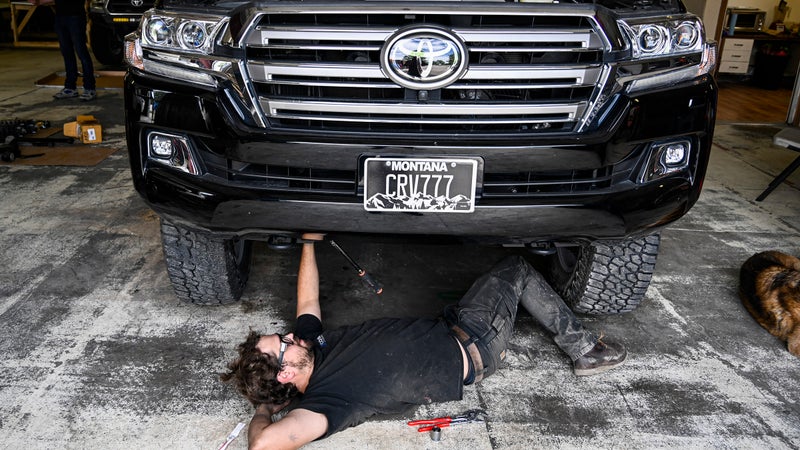 Don't Believe Everything You Read on the Internet
One of the things that convinced my wife and me to buy a Land Cruiser were reports on the owners forum attesting that you could easily swap out its front-suspension parts for ones designed for a Toyota Tundra—and achieve a long-travel suspension system with three inches of additional track width. Potential advantages included everything described above, as well as the ability to clear larger tires than Land Cruisers with stock control arms are able. Tempted, I reached out to a few people who'd taken that approach, and they seemed to know what they were talking about, so we decided to take the plunge.
New Land Cruiser secured, I told all my friends what I was planning, thereby locking down the commitment to follow through. I'm handy, but not enough to design a custom suspension system for a truck that was rapidly crossing the $100,000 barrier, so I started looking around for an actual expert. Graeme MacPherson from GoFastCampers introduced me to Hudson Hall, who used to wrench for racing driver Robby Gordon at the Dakar Rally. I texted him what I was thinking, and he responded, "No problem." We made plans for him to come visit us in Montana, and I set about gathering all the necessary parts.
The other person I texted was Ed Loh, an old buddy from my car-magazine days who now runs MotorTrend. He drives his own Frankenstein Land Cruiser, a 1980s model he imported from Japan via Canada that's fitted with a diesel motor from a different model generation. Loh was enthusiastic about the project and introduced me to some people at Toyota. A pallet containing all the parts I needed for the project showed up a few weeks later.
Convincing the most conservative of conservative Japanese automakers to provide parts support for a harebrained project is pretty unprecedented. But that didn't necessarily help elsewhere. While this setup employs a bunch of stock Tundra parts, it also requires the fitment of aftermarket upper control arms, front coilovers, and rear shocks and springs. I decided early on that I wanted to run ARB's BP-51 internal-bypass suspension system. It pairs well with the goals of the project, delivering exceptional ride quality and very long service intervals, in addition to good weather resistance. BP-51 needs to be rebuilt just once every 50,000 miles—that's about five times the service interval of most race-oriented rivals, which also struggle to come close to the Australian firm's smooth ride. And with internal-bypass channels within the shock bodies delivering five different positions of progressive damping (from soft to hard, providing that ride quality along with the ability to soak up huge landings), BP-51 also matches the ideal performance profile of a long-travel setup, too.
I called up my friends at ARB, who patiently listened while I described what I was planning, then told me in more polite words that I was crazy. If I wanted to run BP-51, I was on my own. So I handed over my credit-card details in exchange for two Tundra-length coilovers and a rear-suspension setup spec'd for an actual Land Cruiser.
The call to Total Chaos Fabrication was a lot easier, mostly because that company is used to building expensive Toyotas for the express purpose of jumping off sand dunes. It actually sells its own race-spec long-travel kit that adds seven inches of front track width (but requires custom fiberglass fenders), mostly to customers in the the Middle East, where the Land Cruiser is the local equivalent of a Ford F-150. I asked for upper control arms designed to fit a truck very different from the one we own, and the folks there just asked for my address.
A few days later, I drove the Land Cruiser over to a friend's garage, helped Hudson unload a giant pile of stock Tundra parts—plus a mix of aftermarket stuff designed for both the Land Cruiser and the Tundra—then left him to figure all that out while I went to have new tires mounted to new rims.
It was Hudson's first time attempting to install a Frankenstein long-travel setup on a Land Cruiser. But he ended up having an easier time with his task than I did with the wheels and tires. A couple of other owners with similar suspension arrangements told me I'd have no problem fitting zero-offset wheels with big tires inside the stock fenders, but when I got back from the tire shop, Hudson and I did a test fit and found that tires mounted on those wheels ended up poking out of the fender by at least two inches. That would have crushed bodywork before reaching full articulation.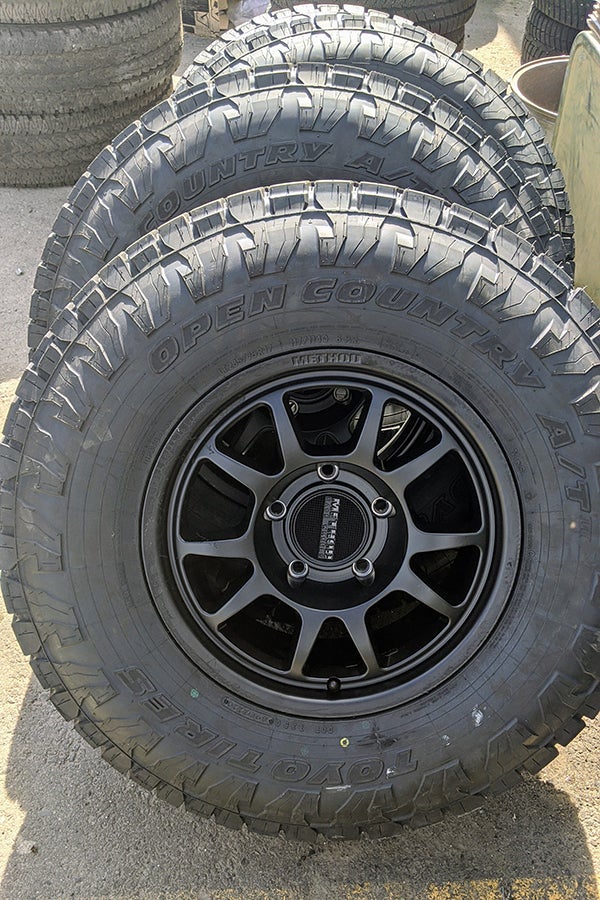 Wheel sizes are more complicated than just a diameter and bolt pattern. You also have to consider offset, which is the position of the rim, inboard or outboard, relative to the hub. Most aftermarket off-road wheels are made in zero offset for the simple reason that most customers like the look of some added width, they aren't installing insane suspension systems, and it's way cheaper for a company to produce and stock a single offset. The stock Toyota wheels are +56, which means the tires sit 2.2 inches farther inboard than most aftermarket wheels. I'm not sure if I somehow ended up with more suspension width than other people who have tried this setup, but that's the only offset that will work on our suspension. Fender clearance is so tight that tire width is also limited, even on the stock wheels. Eleven inches is the widest tire that's going to fit, and due to the vagaries of available tire sizes, that also limited our tire height.
Having said all that, ending up with a tire that measures out at 33.2 inches tall and 10.8 inches wide (versus one that's 34 inches tall and wider than 11 inches) helps keep unsprung weight low, and I actually like the look of the stock wheels now that they're pushed out flush with the Land Cruiser's body. They give the truck a more subtle look than aftermarket wheels might, totally hiding just how much suspension it now carries.
Oh, and I should mention that using Tundra lower control arms, CVs, and other parts actually increases parts availability and reduces parts prices for anything that might eventually break or wear out. And making the suspension not just taller but wider also means the CVs are able to operate at less extreme angles, reducing the odds of those ever breaking. Being able to achieve such a dramatic increase in suspension performance while simultaneously making that system more reliable is unprecedented.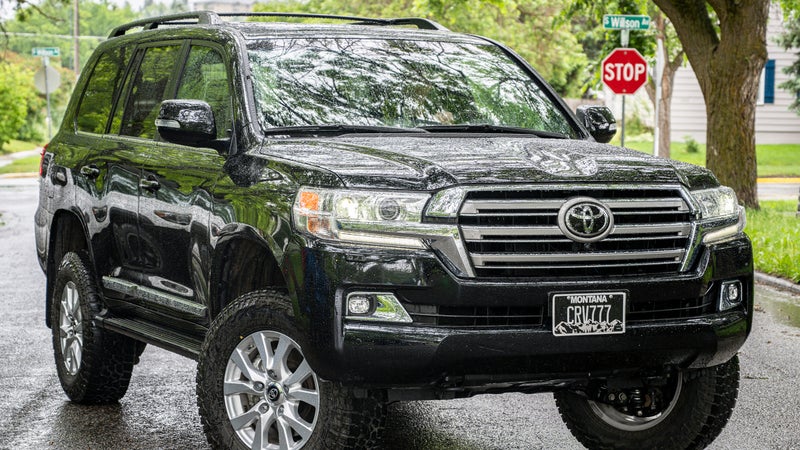 What It All Adds Up To
Is the final product worth all the hassle and expense? With the truck still on a lift, we whipped out a measuring tape and came up with an initial wheel-travel measurement: 11.4 inches. That same number for the stock Land Cruiser is 9.05 inches.
An additional 2.35 inches of travel may not sound like an enormous amount, but let me put it in context. That's a 26 percent increase, so all other things being equal, a bump of any given size will now feel 26 percent smaller. Every bump, every day, every mile now has 26 percent less influence on the suspension.
Another good comparison is to other 4x4s. One of the major selling points of the new Ford Bronco is that, at 10.2 inches, it's able to slightly exceed the front wheel travel of the live-axle Jeep Wrangler Rubicon. That Bronco is going to be the most capable stock 4×4 ever sold, but my wife's Land Cruiser is able to beat its front articulation by over 10 percent.
That extra travel combines with the BP-51 and the new tire size to create systemic advantages. The 33.2-inch tires are 1.7 inches taller than the 31.5-inch ones that come standard, so they also make bumps smaller, by 5.4 percent. And those functionally smaller bumps now act on shocks that deliver much better control.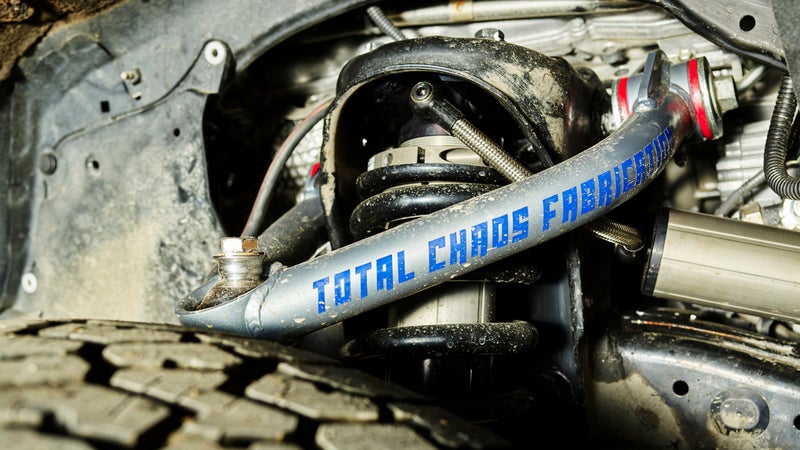 The end result is simply transformative. Rough dirt roads that people in stock trucks complain about driving along at 35 miles per hour now feel as smooth as driving on the highway. Observe the Land Cruiser from the outside as it flies down that rough road at the 65-mile-per-hour speed limit and you'll see the wheels and tires moving up and down so rapidly that they're a blur, but the body just floating along, seemingly unaware of the storm raging underneath it.
And that's just on dirt roads. On actual off-road trails, where speeds are much slower and obstacles much larger, the new levels of articulation help keep the tires in contact with the ground through more challenging terrain. Combined with the added grip offered by the Toyo Open Country A/T III tires, this setup is like easy mode for off-roading. Navigating this Land Cruiser through conditions that challenge even my built Ford Ranger has become so easy and so smooth that it's almost obscene.
That confidence comes not just from the added articulation, ride quality, and grip but also from the new track width, which has increased by three inches. It helps offset any instability created by the three inches of additional height. Off-road, it makes situations in which the vehicle might lean frighteningly far to one side feel more stable. On-road, it adds back in any stability that may have been lost to the raised center of gravity.
And this is where the Kinetic Dynamic Suspension System also adds to the systemic benefits listed above. Because it's always working, and constantly enabling or disabling the sway bars, this has become a lifted truck that still corners totally flat—even during aggressive mountain-road driving—yet can simply roll over large off-road obstacles, with no driver involvement beyond slowing down a bit. Those rough dirt roads are where the combination of the KDSS, that extra wheel travel, the fancy shocks, and the grippy tires really shine. Constantly disconnecting and reconnecting as the surface dictates helps keep the body level through both high-speed corners and over large, uneven potholes. These are traditionally conflicting circumstances that no other suspension system on any other vehicle can handle as well as the suspension on my wife's Land Cruiser. And since rough dirt roads account for so many of our miles chasing outdoor activities, that just makes our setup totally ideal for our needs.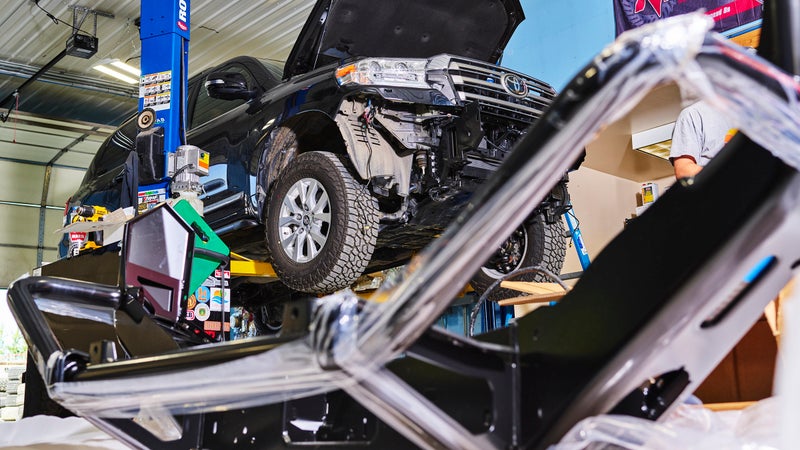 And It's Protected, Too
We live within the greater Yellowstone ecosystem and spend a lot of time driving deeper into it. Getting to see wolves, bears, elk, and moose running wild is a big part of the reason we choose to live here, but that same abundance of wildlife also poses a significant additional hazard: road critters.
While the best way to avoid hitting a big animal will always be to drive slowly, pay attention, and to try not to drive at dawn, at dusk, or at night, adding the ability to identify the presence of animals as early as possible and endowing your vehicle with the protection necessary to survive an animal strike is just common sense. That's why all three of our trucks are fitted with steel bumpers and powerful driving lights.
This Land Cruiser build is obviously about the best possible solutions. Not only is the ARB Summit the most protective bumper out there, but it also retains total compatibility with all of a vehicle's safety systems. So, with it, we're gaining the ability to survive most collisions with an animal unscathed, without sacrificing the ability of the Land Cruiser's crumple zones, airbags, and automatic emergency braking to save the lives of its occupants in a larger crash. ARB finishes its bumpers to a standard that doesn't look out of place even on a brand-new Land Cruiser, and it also allows us to mount Lightforce HTX2 driving lights, along with Warn's nicest winch, the Zeon 12-S.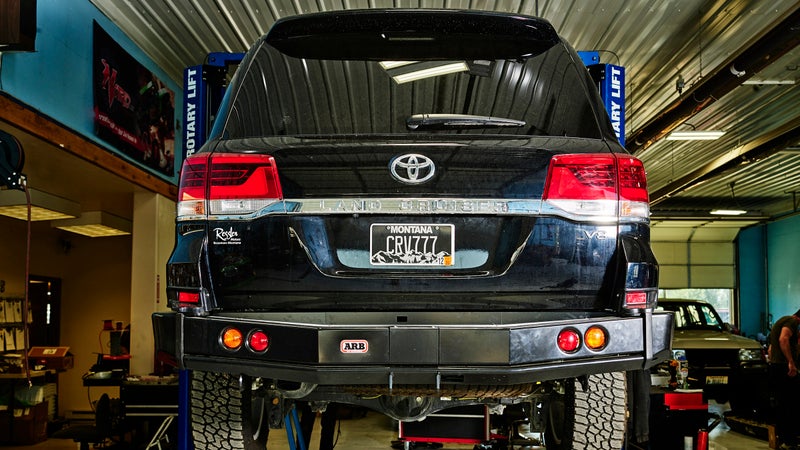 Steel bumpers also increase protection from the kind of scrapes and knocks that are common off-road, and they add to your approach and departure angles, while allowing you to make the most of those, safe in the knowledge that you're not going to damage your vehicle. That's why I also fitted an ARB bumper to the rear of the truck. In addition to outright protection, the bumper adds very bright brake-light and turn-signal repeaters, increasing the Land Cruiser's visibility to other drivers, boosting its safety even further.
A unique feature of ARB's rear bumper is that you can option it without swing-out tire and fuel-can carriers. While convenient on long off-road trips, swing-outs add a lot of weight and complicate the process of opening the rear hatch. Since we're sticking with a tire size that fits in the stock location, under the vehicle, and because we're adding a cleaner, safer auxiliary fuel tank instead of carrying dirty, leaky gas cans around, I figured skipping the swing-out would boost the Land Cruiser's daily practicality. Doing so also means we don't sacrifice visibility through the rearview mirror or the reversing camera.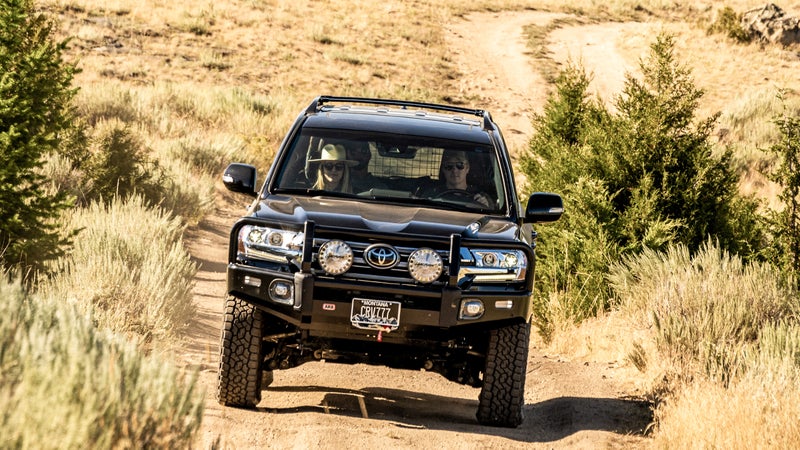 But We're Not Done Yet
We still have to fit sliders and skid plates. Because it's 2020, this whole project is taking a little longer than originally planned. Sliders mount in place of the stock steps (which are plastic) and help protect the area of the body beneath the doors from damage. That's probably the most commonly damaged spot on any off-road vehicle, so those are going to be a priority once we figure out which part we want to run.
Body-on-frame trucks like the Land Cruiser are able to mount most of their sensitive parts out of harm's way, tucked up between the frame rails. Still, a big mistake or a lot of bad luck could put a hole in the exhaust, damage the transfer case, or snag an important cable. That's where skid plates come in. They're nowhere near as important as sliders, though, so I'm looking around for the lightest possible option.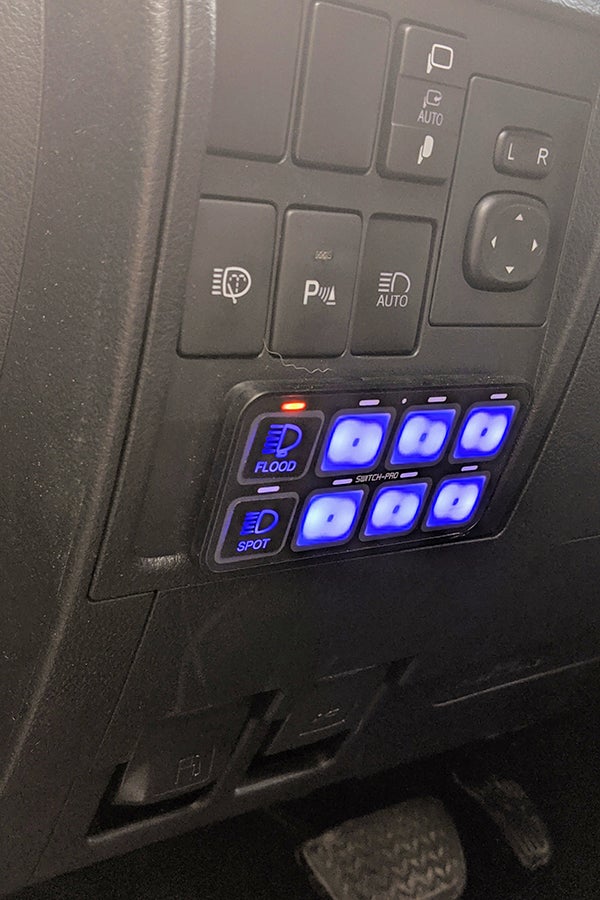 Then there are two more parts I want to add: an onboard air compressor and a locking rear differential. I'm very happy with Toyota's electronic traction solutions, now that the truck is wearing better tires. The all-seasons that come stock on these things are so bad that those electronic traction aids are forced to work overtime to combat their lack of grip and end up feeling invasive as a result. Now with a level of tire grip that actually compliments the Land Cruiser's capability, those aids don't have to work nearly as hard. When they're just occasionally tweaking a brake caliper to mimic the effect of a locking axle diff, you barely notice them. But those aids only work in four-low, and it'd be nice to have the ability to lock the rear axle at higher speeds for terrain like loose sand.
Powered by its onboard air compressors, ARB's air lockers are invisible to a vehicle's stock systems and can be switched on or off at any speed with the simple press of a button. I'd originally planned to fit an air locker to the front axle as well, but with the eight-speed gearbox the Land Cruiser gained in 2016 and its revised final drive gearing (now 3.3 to 1) there's not actually room in the front differential housing for one of those. You can fix that by regearing to a shorter ratio, but the new eight-speed really doesn't need that for tire sizes under 35 inches: 4.3's or 3.9's would end up ruining the truck's high-speed cruising ability, which we'll use far more than a front locker, so we're keeping that setup.
And that's it. This build is as much about what we're not doing as what we are. Without overly large tires, without a bunch of weight on the roof, without a rear bumper full of random crap, and with nothing added inside but a dog barrier, we're left with a vehicle that's able to prioritize its driving experience—one that's able to carry our family and our stuff over challenging terrain and through difficult weather with more confidence and comfort than anything else on the planet.
But What About the Environment? 
Big, lifted trucks like this Land Cruiser have come to symbolize personal impacts on climate change. And the 200 series is notorious for burning an awful lot of fuel. Not only does its overbuilt nature mean it weighs close to 6,000 pounds, even before you start bolting stuff to it, but the complicated full-time four-wheel-drive system that endows it with so much traction in both bad weather and off-road also adds drag. And those factors combine with the big, powerful V-8 to deliver just 14 miles per gallon in the Environmental Protection Agency's combined city-highway test cycle. How dare we drive something so inefficient? Well, it turns out that carbon footprints involve a little more nuance if you're prepared to actually examine yours.
While I'm on the topic of fuel economy, I should probably talk about ours. The EPA fuel-economy numbers advertised by automakers are determined in controlled conditions for the primary purpose of allowing you to compare the relative efficiency of different vehicles. As we all know from watching dollar signs roll by at gas pumps, those advertised numbers don't often carry over to driving in the real world—especially if you throw in factors like high elevations, steep mountain passes, dirt roads, or high speeds. In a state full of big mountains and 80-mile-per-hour speed limits, and given that half our miles are done on dirt, we've averaged about 13 miles per gallon in the Land Cruiser. Notably, that number does not seem to have been altered by the modifications. All that torque and all those gears don't seem bothered by the addition of relatively minimal weight and height. Other trucks that may advertise better fuel-economy numbers in stock form would be lucky to match our fuel economy with similar modifications and use.
It looks like we're on track to put about 10,000 miles a year on this truck, which adds up to approximately six metric tons of carbon emissions, according to the calculator at Carbon Footprint. That may sound like a lot, but let's put it in perspective. One of the trips we hope to take next year, if this whole pandemic thing gets solved, is to Todos Santos, Mexico, where we got married in March, for our first anniversary. For both of us to fly into San José del Cabo, connecting through Los Angeles, the carbon footprint would be ten metric tons. And that doesn't include the car we'd need to rent when we got there.
That a single plane trip, of the kind most of us probably take at least once in a normal year, can easily eclipse the entire annual emissions of a Land Cruiser isn't my point, though. It's that the entire cycle of consumption each of us is responsible for is much more complex and likely much larger than it may appear on the surface. That's why deciding not to have a child reduces a potential parent's carbon footprint by 58 tons annually. If you do not need the extreme capability a heavily modified SUV like ours offers, then drive something more suitable to your life. But let's talk about big solutions we can achieve as a society before we try and shame individual people for leading the kind of existence that justifies building a truck like this.
Of course, we won't be flying to Baja; we'll drive so we can take the dogs. And because we'll be doing that drive in our long-travel Land Cruiser, we'll be able to comfortably tackle the peninsula's most challenging off-road trails in order to camp on beaches we'll have all to ourselves, safe in the knowledge that we're driving through those remote areas in the vehicle with the lowest odds of mechanical trouble, and which is now equipped with the greatest possible ability to avoid getting stuck or damaged. That's the kind of experience this SUV is uniquely able to deliver.