2024 Polaris Xpedition Review
The Polaris Xpedition UTV has a fully enclosed cab and is built to carry a rooftop tent far into the backcountry. But who will actually buy one?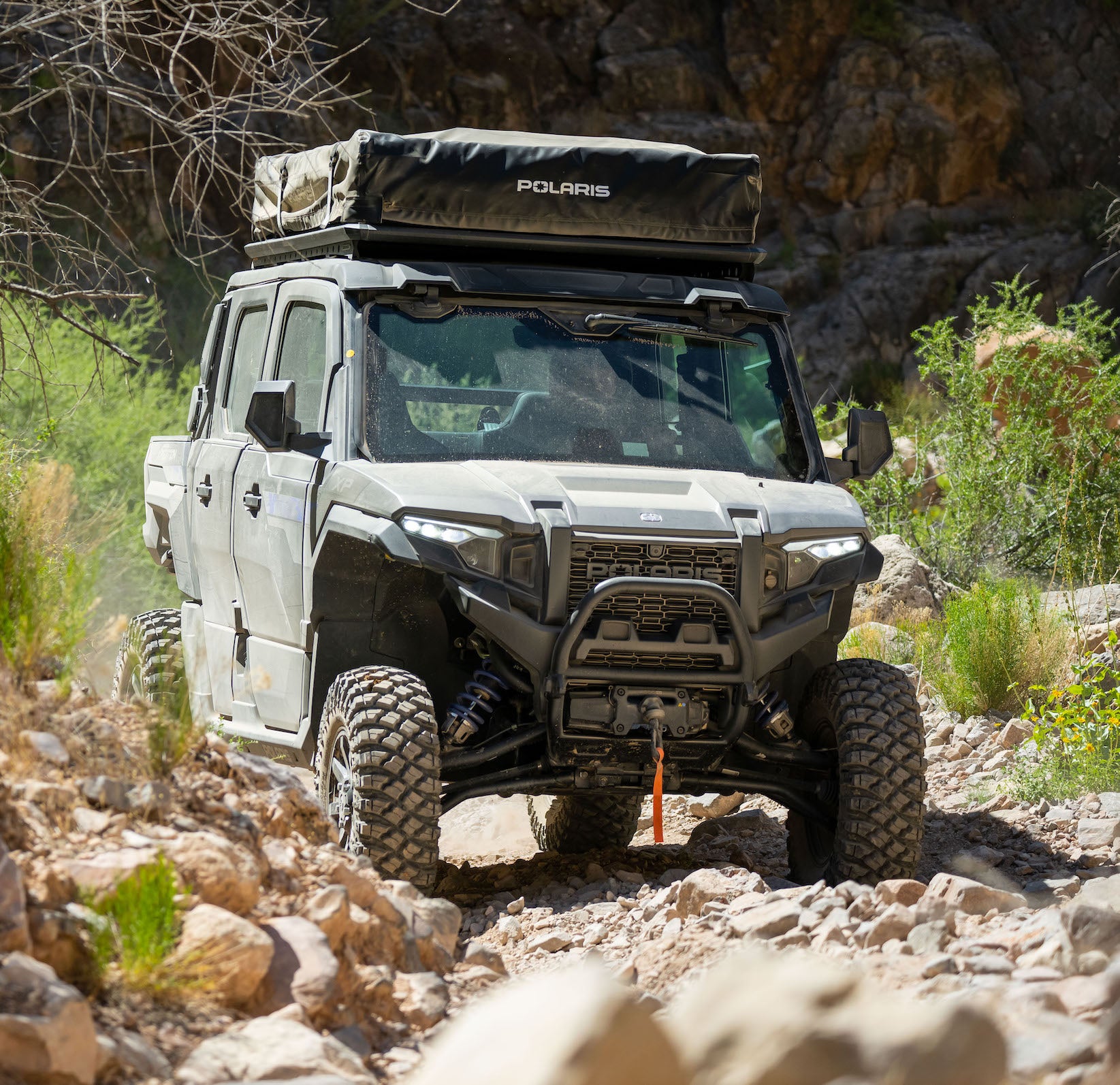 Mike Emery
Heading out the door? Read this article on the new Outside+ app available now on iOS devices for members! Download the app.
I haven't even turned the ignition of the brand-new Polaris Xpedition side-by-side and I have questions. I'm supposed to drive this plush utility terrain vehicle (UTV) 110 miles from Mesquite, Nevada across the desert to the edge of the Grand Canyon and I'm wondering what I should listen to while charging through rocky canyons and washed-out dirt roads. It's an important query, but maybe not as pertinent as another: Who the hell is going to buy this vehicle, which has a price tag that starts at $28,999? Polaris bills the Xpedition as the first of its kind in the UTV world—a side-by-side made specifically for overlanding. It's a four door, five-seater with air conditioning, a rooftop tent, a truck bed for gear, and multiple rack options so you can bring bikes, kayaks, fishing gear, or paddleboards. It's an evolutionary leap in the side-by-side market, which are usually rowdy machines built specifically for trail performance and no room for frills. But do overlanders and family campers need—or even want—a dedicated UTV?
A History of Side-by-Sides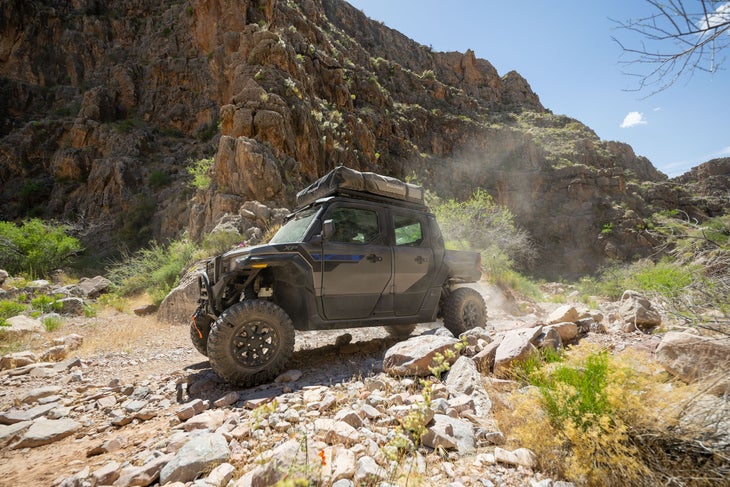 In 1999, Polaris launched the first modern side-by-side with the Ranger, a utilitarian machine with a small truck bed built for farm work. But it had enough performance specs and ground clearance that people started getting it into—and out of—all sorts of off-road shenanigans. Naturally, people started racing them, so in 2007, Polaris developed the performance-minded RZR, which looks like something straight out of Mad Max, with a powerful engine, massive shocks, and an open cage-style upper frame. Since then, side-by-sides have exploded in popularity as other similarly-styled vehicles filled the market. Drive through Moab, Utah on a weekend and you'll sit in a mile-long traffic jam of side-by-sides gassing up and cruising the streets.
But these vehicles aren't comfortable. They're loud, wind-in-your-hair, hands-inside-the-vehicle-at-all-times speedsters built for traversing extremely gnarly terrain, like steep sand dunes and boulder-choked canyons. Drive one through the desert for a few hours and you'll walk away picking sand, dust, and mud out of your teeth. They're about performance with comfort as an afterthought. Ditto hauling gear or extra people.
The Xpedition flips that model on its head. It can still handle legit off-road terrain, but it's more refined, with an emphasis on comfort and a design that accommodates a family of four and all of the gear you want to bring.
It's an obvious play to lure some of the overlanding crowd over to the side-by-side world, but I'm not convinced it will work, mainly because of the price tag. The Xpedition's starting cost (remember: $28,999) is about the same as a very nice used Toyota 4Runner or Jeep. And in most states, it's not legal to drive UTVs like the Xpedition on paved roads. I understand wanting a second vehicle specifically for overlanding (I had a 4Runner outfitted for that purpose), but why would someone drop that much money on an overland-specific UTV that they might have to tow to the trailhead, when they could just buy an SUV that could also run the kids to soccer practice in a pinch? That's what I'm in Nevada to find out.
Testing the Polaris Xpedition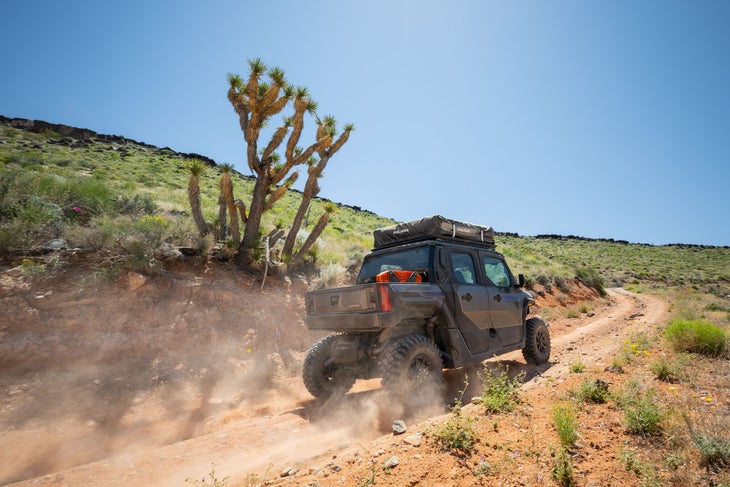 Navigating dirt roads as we leave the cheap gambling mecca of Mesquite behind, I'm immediately impressed with how comfortable the Xpedition is. It has a windshield and power windows so I'm completely sealed from the elements, eliminating the grime typically associated with side-by-sides. I hit 60 miles-per-hour on dirt road straightaways over washboard terrain and barely feel a chatter because of the progressive suspension that responds appropriately to the terrain beneath the tires. It's pushing 90 degrees outside, so I crank the AC and put a little Wu Tang Clan on the sound system. Then I crank it to 11 because the engine is so loud, I can't hear a damn thing Method Man is saying. Side-by-sides run at an extremely high RPM to allow for optimal power and efficiency based on the load, and the Xpedition is no exception, so while the ride is comfortable, it's just as loud as any other UTV. And it actually feels more jarring because everything else about the machine is so soothing.
I get used to it as we drive through slopes of blooming wildflowers, climb into narrow canyons, and bomb over mountain passes. The route gets progressively more technical as we cross into Arizona and make our way towards the Grand Canyon and the Xpedition handles it with aplomb. Polaris built a new chassis for this vehicle, then loaded it with a 114-horsepower engine with a 200-mile fuel range, push-button all-wheel drive, Fox Podium Q53 suspension, 14 inches of clearance, and Pro Armor 30-inch Crawler XP tires. Translation? The Xpedition is equipped to handle any terrain you could find yourself in, and it's small and nimble enough for beginner offroaders to handle with confidence. This thing plows through chunky washed-out creeks, and has fantastic stopping power, which saved me from an expensive mistake more than once. Yes, I push the limit of the 14 inches of ground clearance, scraping the skid plates on rocks occasionally, and sure, I find the bottom of the suspension a few times, but I'm here to push the limits of the vehicle. The Xpedition shines especially bright in tight, technical terrain—places where I wouldn't take a 4Runner or even a Jeep because the trails are too narrow and would require too much driving prowess to navigate in a full-sized vehicle. But with the Xpedition, you just press the gas and steer, practically floating through chunky obstacles.
I was originally worried the machine would feel top heavy because of the rooftop tent, but I felt incredibly stable while pushing speed through turns and crawling over off-camber rock sections. Polaris designed the ride of the Xpedition with the weight of a rooftop tent in mind, dialing in the chassis and suspension to exceed the standard Recreational Offroad Vehicle Association's tilt table testing requirements, which gives each vehicle a lateral stability rating that quantifies its likelihood of rolling over. That said, one member of my group did roll her Xpedition on a particularly sketchy downhill. But I've never been on a side-by-side trip where someone didn't roll a machine, so I don't think this UTV is more inclined to roll than its performance-minded counterparts. I think it's just easy to go fast in these little beasts, and when you go fast, things happen whether you have a tent on top of your roof or not.
Who Is the Polaris Xpedition For?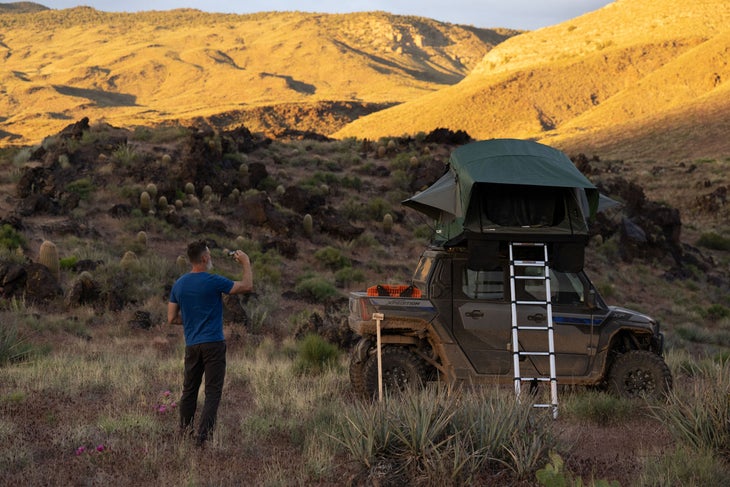 At the end of the 110 miles, we parked the Xpeditions and deployed the rooftop tents on open ranch land on the southwestern edge of the Grand Canyon. As soon as I stopped, I put on my running shoes and knocked out a few slow miles along the edge of a side canyon to work out the kinks from the day.
The next day, I used the Xpedition as a shuttle. Another driver picked me and my mountain bike up in his side-by-side, which was outfitted with a bike rack, from the bottom of a rocky, nine-mile descent. The terrain we traveled through was especially technical, and we didn't see another vehicle or person the entire day. I've experienced remote terrain like this before—places where I was the only person around for miles—but I've pedaled my bike for days to get there. The Xpedition opens up that sort of backcountry terrain in a much shorter amount of time, and with the comfort of air conditioning and tunes.
During development, Polaris called the vehicle the "72-hour project," because they were designing it for weekend warriors with three days at their disposal. The customer they have in mind isn't interested in just driving trails. They want to do things while they're out there. They want to bring their toys with them. They want to drive to the edge of the Grand Canyon, and camp, trail run, and mountain bike, just like I did. As a result, the Xpedition is about access—a vehicle built to get you deeper into the backcountry, over terrain you're not likely to take your SUV through, and haul all your gear in the process.
Last year, I spent three days in the desert of Utah driving side-by-sides through dunes and double track trails outside of Zion National Park. I was operating a performance-minded machine, and the point of the trip was to drive, and that's what we did, for several hours each day. It was fun, but I couldn't help but think it would be more fun to get out of the vehicles every once in a while and go for a hike, or climb something, or swim in a river. Just driving around wasn't enough for me, though. But using the Xpedition to go deep into the backcountry, and then ditching the vehicle for some human-powered endeavors? That's my jam. All this time I spent who the hell would buy this expensive toy, and it turns out: I would.
After coming to this realization, I did some research, and it turns out there are more than 20 states where it's legal to drive an UTV like the Xpedition on the road, including where I live in North Carolina. One of the Polaris drivers I talk to thinks a lot of people will start driving the Xpeditions as their daily driver. I'm not convinced about that, largely because the machine is so loud it's hard to have a conversation when you're inside of it. I can't imagine putting myself through that noise on my daily commute. But my initial doubts about the market have been assuaged and I'm convinced there are people looking for this sort of hybrid vehicle. It's expensive, yes, but it's far more capable on the trail than any used 4Runner. It will get you far out there, and it will bring your gear with you. And that is exactly what overlanding is about.
Polaris Xpedition Options
The Polaris Xpedition comes in two models: the XP (starting at $28,999), which can be either two- or four-door and has a dumping cargo box in the back; and the ADV, which has a fully covered cargo box. Whichever model you choose, you can start adding internal accessories like the Ride Command seven-inch touch screen display, JBL Trail Pro Audio, and external accessories like a Rhino roof rack, rooftop tent, and front and rear cargo cages.
Lead Photo: Mike Emery
Trending on Outside Online