Cyclists: Volvo Wants to Keep You Safe
The car company wants us to lather up in glow-in-the-dark paint before we ride. Frankly, maybe we should.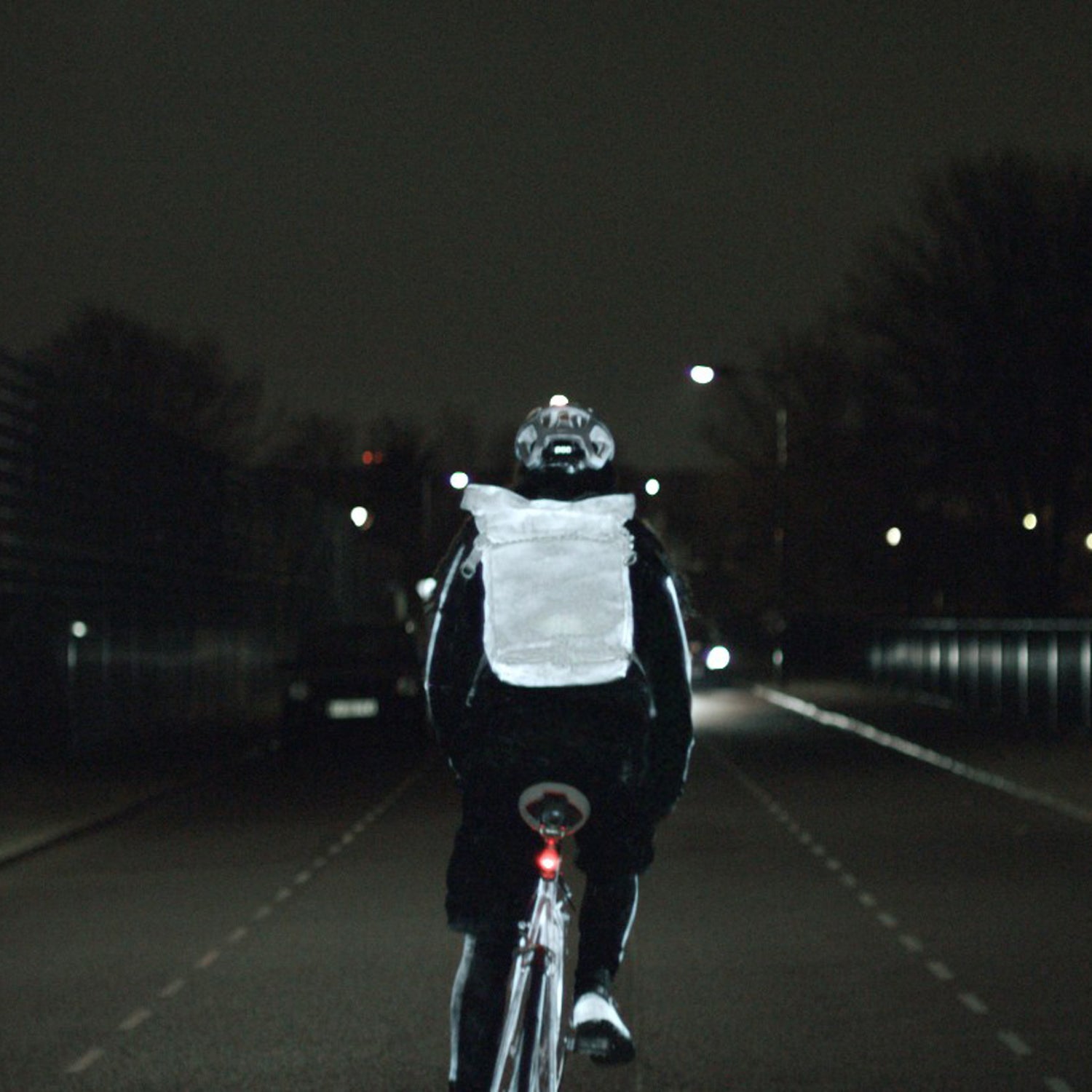 Volvo(Photo)
Heading out the door? Read this article on the new Outside+ app available now on iOS devices for members! Download the app.
Last month, Volvo—a company long synonymous with auto safety—threw a curveball at cyclists everywhere. The carmaker claimed to care about them.
In March, the $300-million, Chinese-owned, Swedish company gave away 2,000 canisters of a novel product called Volvo Life Paint, which was briefly available in a half-dozen bike stores around London. 
The paint—a temporary, washable coating that's invisible by day but generates impressive reflectivity at night—can be applied almost anywhere on a cyclist, from her helmet and shoes to her clothes and backpack and even skin. Life Paint makes a rider awfully hard to miss.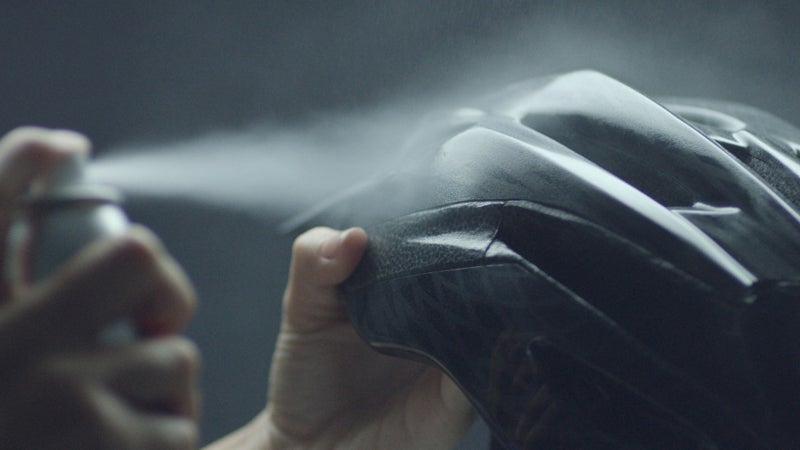 "Road safety shouldn't be for the few," says the Life Paint website. "It should be for everyone." 
Soon after the promotion commenced, some in the cycling community recoiled. A multinational car company wanting to align itself with cyclists? Of the 17,000-plus reported cycling casualties involving adults in the U.K. in 2013, the majority involved clashes with motor vehicles. 
"Cyclists do want to survive crashes, but whether those crashes occur isn't bike riders' decision to make," wrote the UK's Cycling Weekly in a story titled, "Volvo LifePaint: Innovative Safety Product or Marketing Stunt?"
"I'd like to see ‪@Volvo‬‬‬‬‬‬‬‬ try to sell one of their cars sprayed down with ‪#lifepaint‬‬‬‬‬‬‬‬," tweeted one unimpressed observer going by the name @Blisko. 
"I'm not sure how practical it is to expect people to spray-paint their possessions on a weekly basis," wrote Sarah Goodyear on CityLab, an urban-trends website produced by The Atlantic. "This could get tedious and pretty pricy."
Goodyear also cited the outrage expressed over LifePaint on the blog Copenhagenize, which originates from Copenhagenize Design, a Denmark-based urban planning company that focuses on bicycle-friendly communities. Copenhagenize writer Mikael Colville-Andersen went so far as to launch an online petition asking Volvo to retrofit all of its vehicles with LifePaint. By mid-May, over 1,250 supporters had signed it.
"Volvo is running the classic smokescreen campaign. Trying to place responsibility on pedestrians and cyclists," wrote Colville-Andersen on the petition page. "Wagging their fingers and desperately trying to make them responsible for the carnage caused by Volvo and other Big Auto brands."
Volvo has a history of trying to make roads safer for non-motorists. And it's got the engineering to prove it.
Not everyone in the bike community is so cynical. "I didn't look at it like it was an advertising ploy," says Tim Blumenthal, president of People for Bikes, a bike-industry-led coalition and foundation based in Boulder, Colorado. "A mainstream company with global reach is thinking about rider safety. That's a good thing."
"We want to protect the unprotected," echoes company spokesperson Sascha Heiniger from the company's Goteborg, Sweden-based headquarters. "The previous goal was to protect people in the car."
If Heiniger sounds like a PR guy, he is. But Volvo does have a history of trying to make roads safer for non-motorists. And it's got the engineering to prove it.
In 2012, Volvo introduced an airbag that inflated on the windshield's exterior to reduce the blow sustained by a pedestrian hit hood-first by the company's compact car (which isn't currently offered in the U.S.). 
At last January's Consumer Electronics Show, Volvo teamed up with Swedish helmet-maker POC and social-networking site Strava to introduce a Bluetooth prototype where a helmet could communicate with an incoming car and send out proximity alerts if the driver and cyclist got too close.  
And late last year, Volvo introduced a high-end SUV packed with sensors, radar, and onboard cameras that can recognize pedestrians and cyclists and will hit the brakes if a crash is imminent.
"It can detect a masked pedestrian celebrating Carnival from someone wearing a sombrero from a moving cyclist," says Heiniger. "It'll make sounds if you don't hit the brakes."
Protective paint still sounds like quite the departure product—along the lines of Volvo/5-Hour Energy, or maybe cars equipped with "squirrel sonar"— and it is. 
Life Paint is the brainchild of spin-doctors, not safety engineers.
UK-based Grey London, Volvo's global creative agency, spent a year developing the Life Paint idea. The paint comes from Swedish startup Albedo100. Prior to supplying its product to Volvo, Albedo100 made headlines by spraying its reflective product on Finnish reindeer, up to 4,000 of which reportedly die in traffic accidents ever year. 
"Our job isn't just to advertise our clients," Grey London chairman Nils Leonard told Adweek regarding the Life Paint project. "It's to help them make a positive impact on culture."
Grey London—and its army of 30-plus people working on the campaign—moved the needle in a way that seat-belt technology and additional airbags don't. Web stories ahead of free giveaways of a neat product help create real commotion and awareness about a serious, avoidable safety issue for cyclists: visibility.  
"There was a huge demand. We got hundreds of emails from all over the world—New Zealand, Brazil, Canada," says James Kelly, who works at London's Cadence Cycling, one of a handful of shops chosen to give away Life Paint. "Everything was gone in a couple days."
Even Volvo North America's New Jersey offices, which were thousands of miles from the nearest can of Life Paint, were inundated with calls from cyclists and bike-shop owners wanting the stuff. 
What happens next isn't clear. Blumenthal, for one, hopes that cyclists continue to embrace the notion of wearing clothing and accessories that are highly reflective. "Attitudes between drivers and cyclists are harder to change," he says. "What's easier to change is visibility."
In the name of being seen on your bike, you could go out and overhaul your wardrobe with apparel that's already on the market. This coming fall, for instance, bicycle-clothing maker Pearl Izumi will roll out a new line of cycling wear called BioViz that's designed precisely to catch the eye of a driver. BioViz features multiple, strategically placed pieces of reflective material and bright-colored fabric.
Or you could wait for shipments of Life Paint to arrive. But you might wait for a long, long time. "We're looking to see if we should carry this on from a Volvo perspective," says the company's Heiniger. "Do we sell the cans in dealerships?" (So far, the company hasn't committed to entering the paint-a-rider biz, although Heiniger says the possibility is still being "analyzed and discussed.") 
Or you could follow in the hoof-steps of some Finnish reindeer, and buy a can of the original paint from Albedo100. A 4.6-ounce supply of Albedo100's Invisible Bright, which won't wear like Pearl's clothing but will perhaps last you weeks, costs less than $19. 
Lead Photo: Volvo