Do You Need a Table on the Back of Your Truck? Probably Not.
Will you want one after reading this review of the Hitchfire Ledge? Probably.
Courtesy Hitchfire
Heading out the door? Read this article on the new Outside+ app available now on iOS devices for members! Download the app.
Do you need a table-storage platform that slides into your hitch receiver and adds usable space off the back of your vehicle? Probably not, but do you really need rooftop tents, puffy vests, and portable fire pits, either? There's a certain segment of people reading this review that think all of those items are ridiculous and can't fathom why anyone would possibly need a table extending from their hitch. But I'm not one of them. There's a good chance I'm wearing a puffy vest and sitting next to a portable fire pit while you're reading this. That said, the haters aren't wrong. You don't need the HitchFire Ledge ($325), but just because a piece of gear isn't necessary doesn't mean it isn't awesome. I've been using it for over a month, and having a table on the back of my truck has been a game changer.
The Ledge is the latest release from HitchFire, which hit the scene a couple of years ago with their hitch-mounted grill, the Forge 15. I tested this grill, and it made me reconsider my priorities in life (look for that review soon). At the time, I was convinced the Forge 15 was the best use of hitch space—having a full-size grill on the back of my truck is handy. But having a table back there is even more convenient.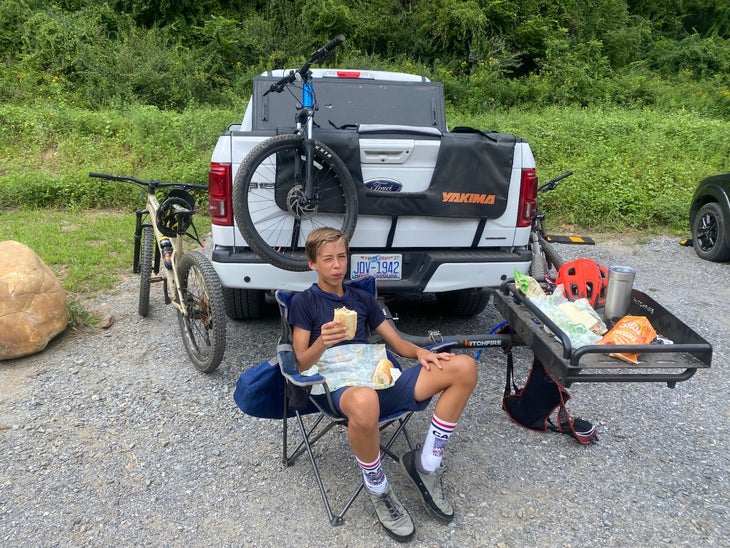 The Ledge is made from hefty, powder-coated stainless steel that attaches to Hitchfire's swingarm, which means you can pull it away from the back of your rig and swivel it 180 degrees to make sure it never interferes with rear access. It has multiple places where you can tether down a load if you need to use it as an extra trunk, which is super handy. But that's my one complaint about the ledge—it isn't big enough. It's just 17 inches deep and 31.5 inches wide, it offers exactly enough room to carry a 45-liter Yeti Tundra cooler, but nothing bigger. You can remove the side rails if you want to carry slightly larger items, but I like the peace of mind those offer. As is, it's ideal for carrying a stack of wood or reasonably sized cooler, but you're not going to be able to load it down with all kinds of extra gear, like you could with the larger Exo GearWarrior ($469) tailgate basket from Yakima. But the build is solid and there's very little rattle from the Ledge when it's loaded down, even when I'm driving on unmaintained Forest Service roads. I've bought cheap versions of similar baskets in the past, and never felt confident my cooler would make it to the campsite. I have no concerns about the stability of that extra load with the Hitchfire Ledge. It's a bomber system, even if it is a little undersized.
But the Ledge shines brightest as a table, not a storage platform. I'm always trying to create more table space when I'm camping, and the Ledge fits your standard two-burner car camping stove perfectly. It also sits at the exact same level as my lowered tailgate, creating an almost seamless corner of work space. Camping with the Ledge is a no-brainer, but I find it  just as handy at the trailhead when I'm prepping for a mountain bike ride and need a space to make a sandwich, or fill a bladder, or just set down all my gear as I pump tires. Having a table off the back of my vehicle makes all those little things easier, not to mention more civilized. Yes, you could just bring a camping table with you and set it up when you need it and take it down when you ride and set it up again when you get back to the car after the ride…but the beauty of the Ledge is that it's just there when you need it.
One thing to consider: the Ledge sits close to the back of your vehicle, so if you have a truck and use your tailgate to carry bikes like I do, you'll need to purchase a hitch extender ($59) to carry those bikes and the Ledge at the same time. And driving with the Ledge adds a bit of spice to parking situations because it sits out a couple of extra feet from the back bumper. (It sets off my back-up alarm when in reverse because it sits within the backup camera's view and it's still worth having.)
Like rooftop tents and portable fire pits, the Hitchfire Ledge isn't cheap. But the quality of the build is solid, and the convenience it offers is real. For me, the price is worth hauling more gear or making a sandwich on a table in the middle of the woods.
Lead Photo: Courtesy Hitchfire