An Ode to the Toyota Tacoma
The most reliable partner I've ever had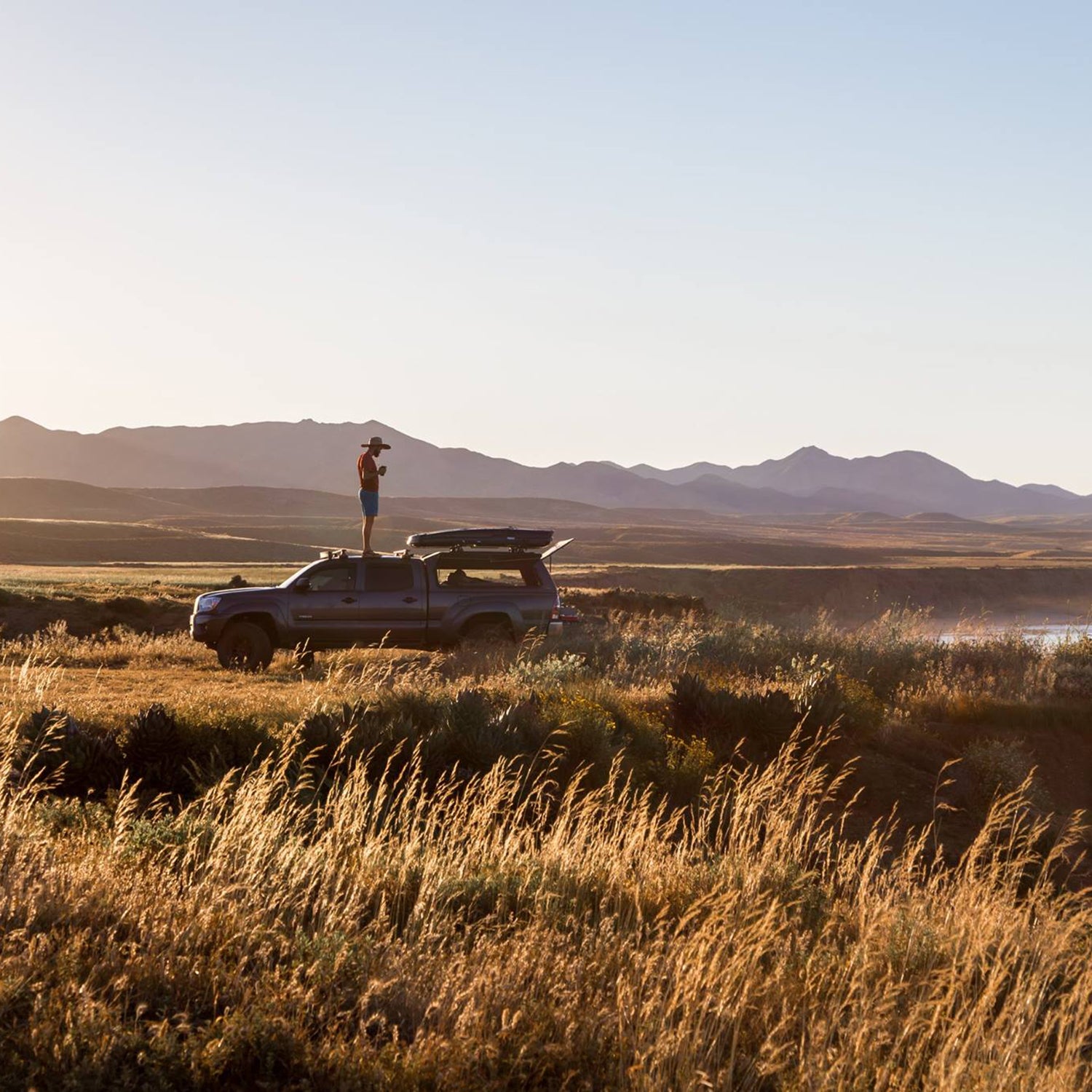 Andy Cochrane/Johnie Gall(Photo)
Heading out the door? Read this article on the new Outside+ app available now on iOS devices for members! Download the app.
Somewhere between San Francisco and Salt Lake City, you'll find yourself in the middle of nowhere, a place that many of us call happiness. The fastest way to get there is setting cruise control on Interstate 80 and exiting at the Bonneville Salt Flats. The fun way to get there is on dirt, in a Toyota Tacoma.
While I do my best these days to reduce my footprint, buying few things, eating vegetarian, and being conscious about travel, there are a handful of vices I still allow myself. Driving on wide-open dirt roads is one of them. Nothing replaces a ride in my 2015 Tacoma with a friend riding shotgun, a playlist with heavy bass, and a distant horizon when I need an adventure.
Some may argue that the make and model of the truck doesn't matter, that the joy comes solely from the open road—frankly, they're wrong.
I've test-driven a dozen other off-road rigs, from Jeeps to Land Rovers to full-size trucks loaded with whizbangs and Crawl Control you'll never use (ahem, Ford Raptor). None of these vehicles feel or function like Toyota's prized thoroughbred. Simply put, it's the best truck in the world, because it's reliable above all else. 
I prefer the rare double-cab long bed, a capable steed that comfortably fits a family of five and can store enough gear for them, too. This humble half-ton is the sweet spot between style, utility, and fitting into most city parking spaces. Sure, it's not perfect. I've upgraded my Tacoma with a handful of aftermarket parts to optimize it for my lifestyle, including a lift kit, control arms, all-terrain tires, heavy-duty brakes, a grille, and off-road lighting. But a lot of these are just icing on the cake.
Stock Tacomas are designed and built to be used, whether you're ripping through red mud in Utah, safely traveling on ice and snow in Montana, or hauling loads of gear to the next job. I wish I could say the same thing about other trucks, but it wouldn't be true. Most new 4×4 buyers are looking for a sport vehicle over a workhorse, and auto manufacturers have taken note. In the meantime, Toyota stuck to its roots.
Admittedly, I'm far from objective. I spent a good part of my childhood dreaming of a Tacoma and the places it could take me. This doesn't make me unique—it's one of the most popular midsize trucks in the country. But my irrational loyalty may help me stand out; instead of just using it as a mode of transport, my Tacoma is also my home. 
I've lived in it for nearly four years now, crawling in and out of the back each morning and night, cooking on the tailgate, and even writing this article from the front seats. It's always packed and ready to go, with just enough gear for any adventure. When the mountains call, I find it best to answer with high clearance and all-terrain tires.
Over time I've used it to take my lifestyle further off-grid. Thankfully, the truck is the most reliable thing I've owned, ever. There are many look-alikes, such as the Colorado, Ranger, Ridgeline, and the Gladiator, but trust me, the humble Tacoma is the real truck of your dreams.
Lead Photo: Andy Cochrane/Johnie Gall