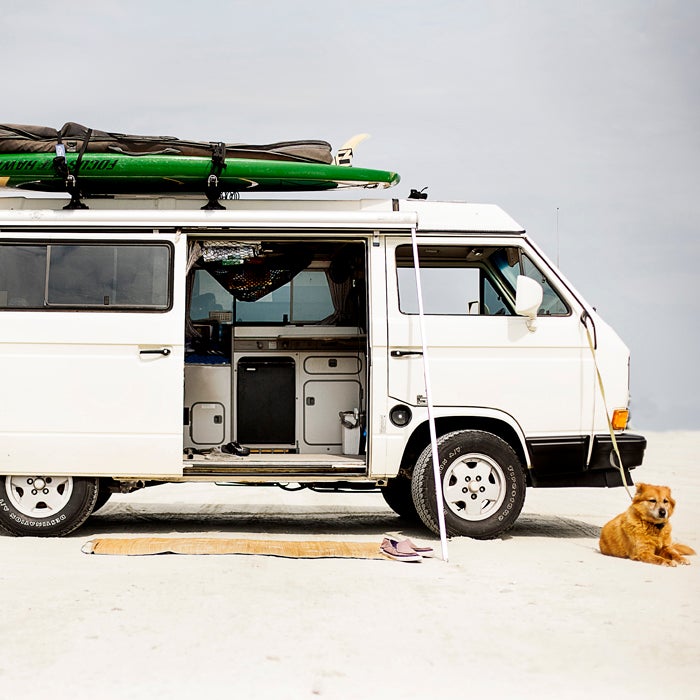 Heading out the door? Read this article on the new Outside+ app available now on iOS devices for members! Download the app.
Essential Vanagon Gear and Other Pro Tips
I bought my first VW Westfalia Vanagon camper back in 1999, and have since owned five of them. I finally settled on a gorgeous 1991 model—lucked into via Craigslist for $9,000 a few years ago.
As I've written in Outside and The New York Times, a camper-converted Vanagon, especially a 4wd Syncro, is truly the Ultimate Adventure Vehicle. Our Westy is also a mobile office, motel, and grocery-getter. It's compact enough for town with plenty of comforts—rotating chairs and slide-out tables, kitchen, headroom for changing from wetsuit to city clothes, and enough interior length to swallow a ten-foot surfboard.
But this freedom isn't free. To #Vanlife creator Foster Huntington, the freedom of his 27-year-old Syncro was so expensive that he upgraded to a camper-backed (and far more reliable) Toyota Tacoma. "From afar, VW vans are very romantic," he wrote. "Living in one is a totally different story."
Yet most of us don't cover 40,000 miles a year like Huntington, so I'll probably drive my Westy 'til I die. So far, I've learned a few things about outfitting and owning a purpose-built, affordable, reliable camper. Following are a few hard-won lessons and essential gear from 15 years behind the wheel.
Shoulder-Fired Missile Boxes
Army surplus shoulder-fired missile boxes are an inexpensive, tough means of carrying your tools and requisite spare parts. I also drilled holes into the fiberglass roof of the van and bottom of the boxes so I can securely bolt them down.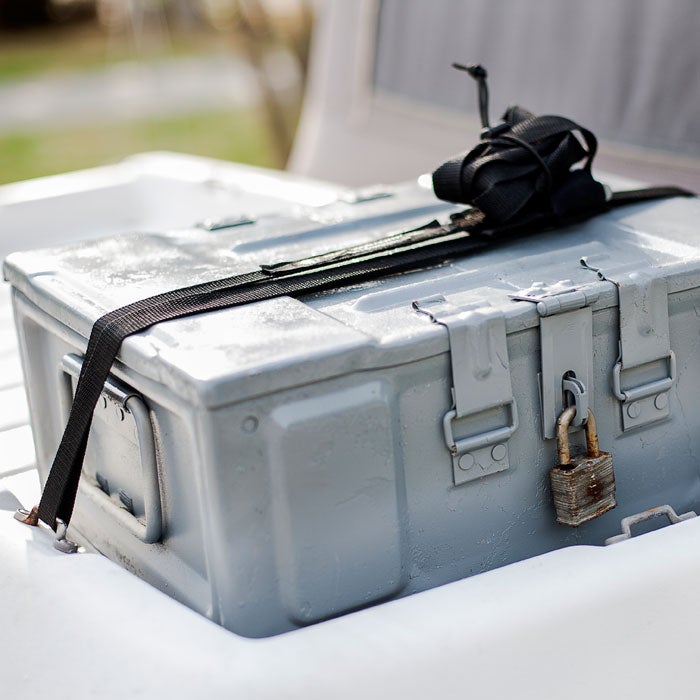 ---
A Warning
Just make sure you remove the missiles first.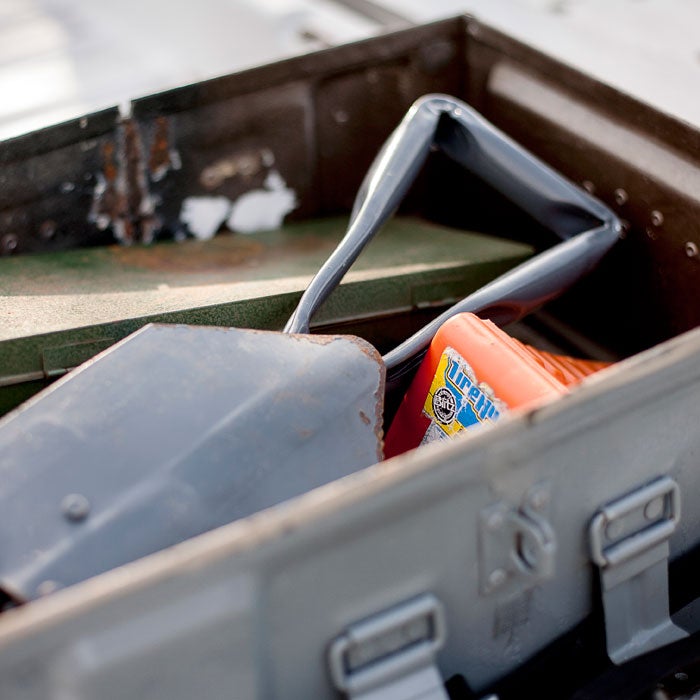 ---
Pop Top Shocks
Many van campers—particularly Sportsmobiles—have hydraulic shocks to help with raising the roof. Westys lack this option (Eurovan VW poptops have them), but Jack Bombay's Heavy Duty Pop Top Shocks ($80) make lifting a breeze, even with surfboards and a solar panel on top.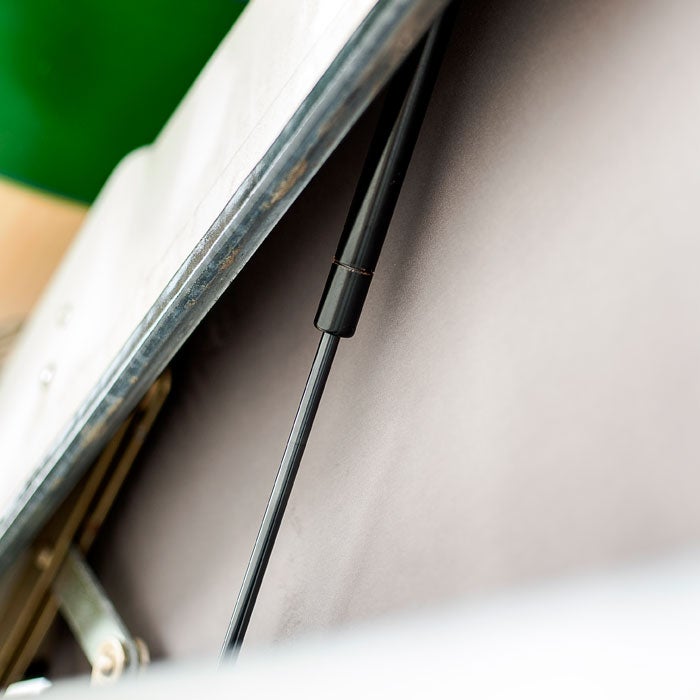 ---
Tent with Side Vent Windows
Also notice the aftermarket tent with screened side vent windows that will keep you much cooler than the stock "front-window-only" tent ($399).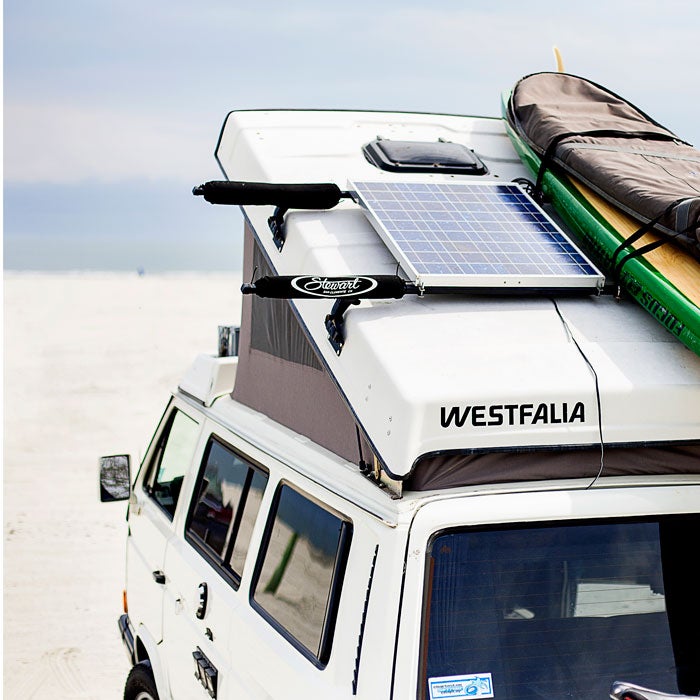 ---
Yakima Widebody Artificial Raingutters
I use Thule Racks, but mount them to Yakima Widebody artificial raingutters. The Widebodys ($40) have a huge surface area that distributes the load evenly on the fiberglass roof. Mount your racks fairly far back to help with raising your roof. The widest load bars—in this case 78-inch Thules—hold lots of gear. Some use sliding rack mounts, but they must be well sealed or they'll leak into your roof, ruining your top bunk.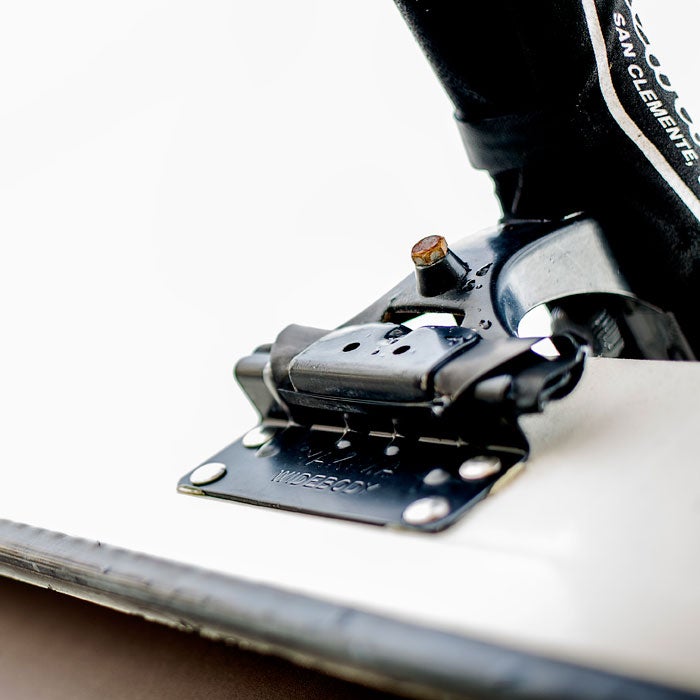 ---
Fold-Down Bike Rack and Hitch
A fold-down bike rack that lets you open your rear hatch—an old Saris BAT series rack works for my old-school Ibis Ripley—is essential, as is a two-inch receiver hitch like GoWesty's ($179). If the rack receiver bar is longer than a foot, cut it down by six inches so it won't scrape coming out of parking lots. I'd also recommend GoWesty's Heavy Duty Hatch struts ($13).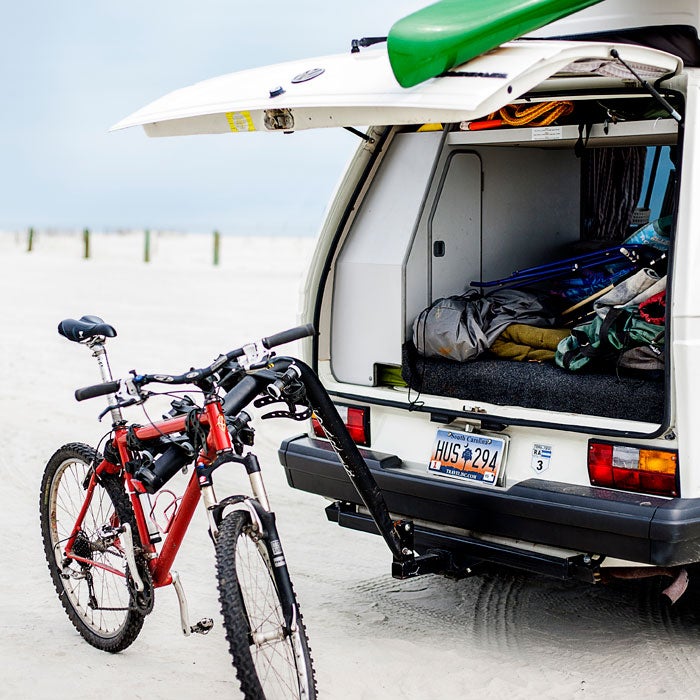 ---
TruckFridge
My wife and I found our dog Frieda on the side of the road during a 2004 Georgia roadtrip in our Westy. Frieda's relaxing next to our new TruckFridge TF-49. I replaced the Westy's original and problematic propane-powered stock refrigerator in favor of the quiet, bigger TruckFridge ($500). The TF-49 fits into the stock cabinet with minimal modification and can run forever on an auxiliary battery and a 100-watt solar panel ($150).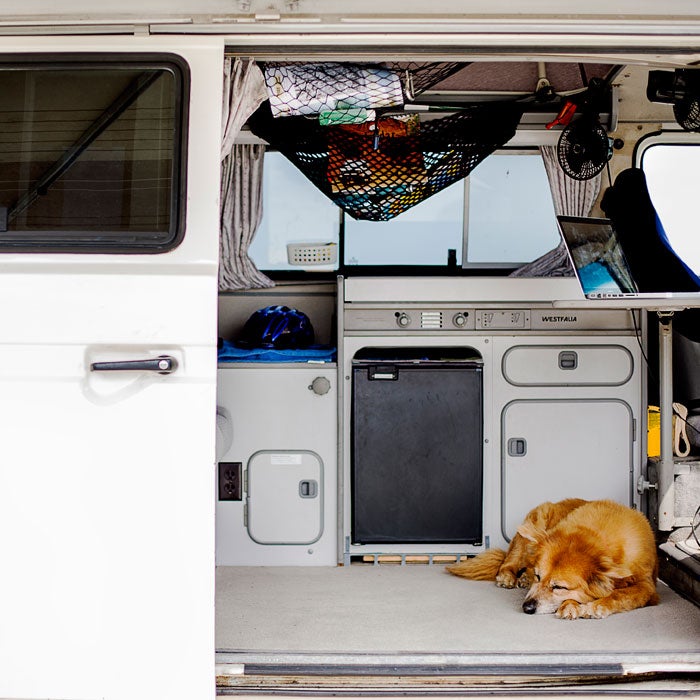 ---
Fridge Hack
Pro tip: Store a quart-size Ziploc full of frozen water in the back of the freezer to make your fridge stay colder and conserve charge.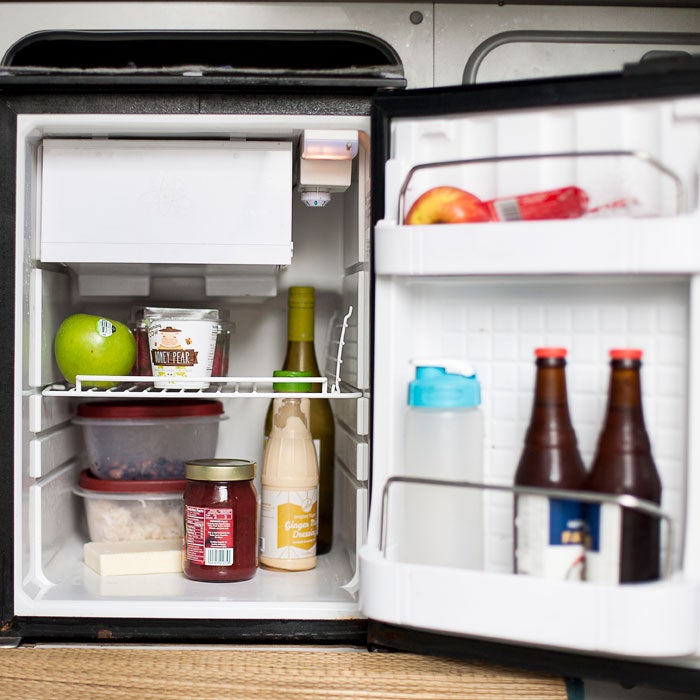 ---
ProSport Smart Charger
The solar panel is wired to a deep cycle auxiliary battery whose solar charge is regulated by a simple, inexpensive SunForce 10AMP controller ($30). This also gives an easy readout of the battery's voltage. A simple GoWesty relay ($60) keeps the starter and auxiliary batteries isolated when the van is switched off, thus saving your starter battery.
For plugging in at a campsite, a marine-grade six-amp ProSport Smart Charger ($60) is cheap and trouble-free. If you are a power hound, go with at least ten amps.
Some folks also put in big 120-volt power inverters for laptops and such, but big LC watt inverters are also a power drain. A Cobra model ($25) works fine for me.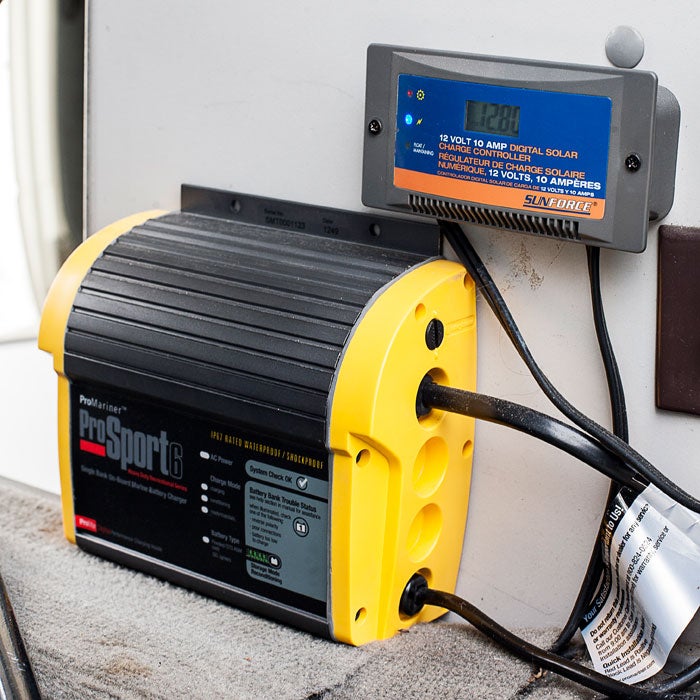 ---
Propane Stove
As a dad, I was nervous carrying three gallons of highly flammable propane in the stock under-van tank. Instead, I plumbed in a line and mini-regulator that allows the stove to be run on disposable propane canisters we store in the roof box.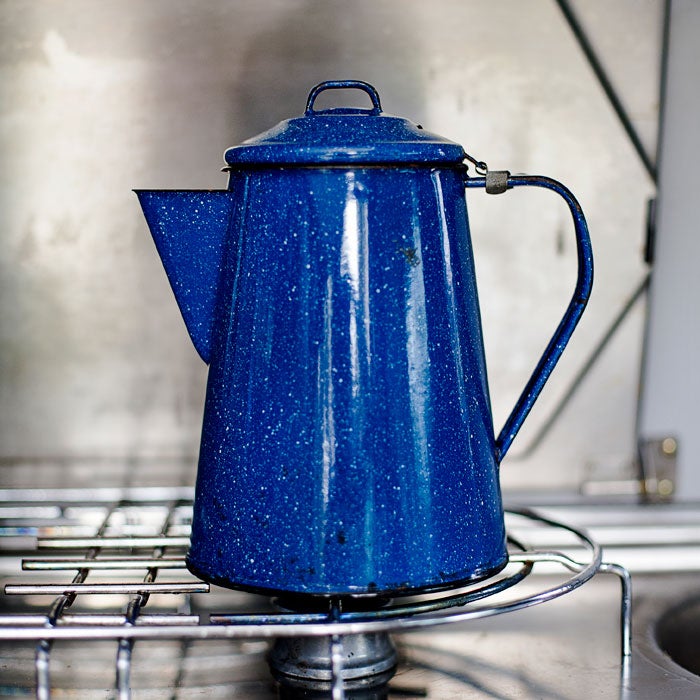 ---
Keeper Tow Rope
I consider my Keeper tow rope ($19) an essential piece of gear. It's a good way to get unstuck, and for the occasional emergency tow when something fails unexpectedly. If you're off-roading, an even stronger Bubba's "snatch" rope is a better bet.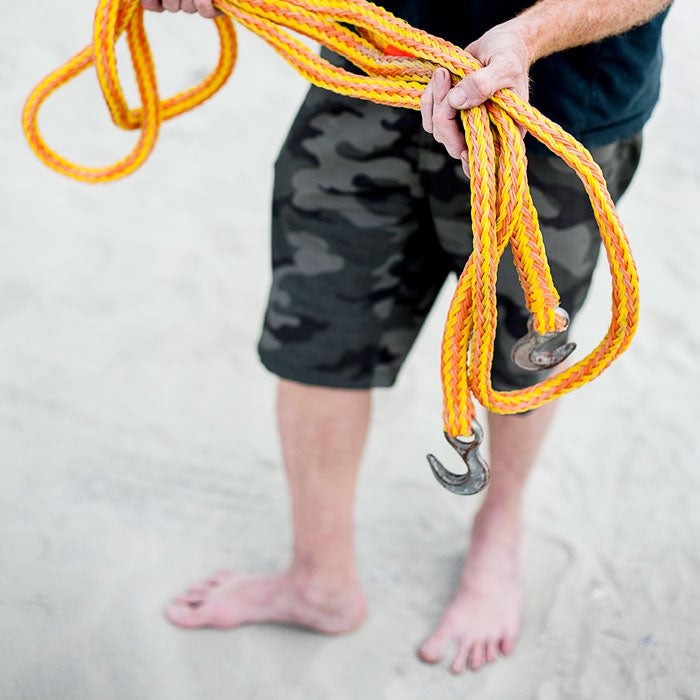 ---
Rollup REI Camp Table
This camp table from REI ($65) is a must-have for your outdoor dining set-up. I also recommend the nearly indestructible steel plates and bowls from GSI ($70). Our van came with a Dometic/TransAwn slideout awning. Awnings are essential, especially if you're going to camp in rainy or blazing hot places. These are rare finds on Craigslist or Ebay, but you can pick up new Aleko Awnings ($399) for a smoking deal on Amazon. A shakeable straw beach mat ($8) is perfect for keeping the sand and mud out of your van.
Before sitting down to your meal, wash off under a four-gallon sunshower ($35), which can be kept in the rooftop storage area. If there's no sun, adding a pot of boiling water will make the coldest sunshower comfy.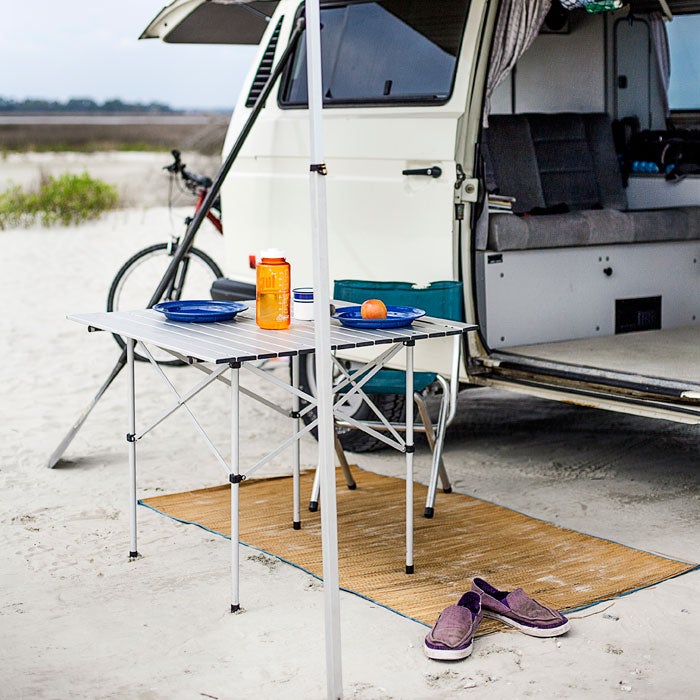 ---
12-Volt Fan
Most Vanagons have the air conditioning mounted in the back. These 12V fans ($21) do a great job moving the cold air forward.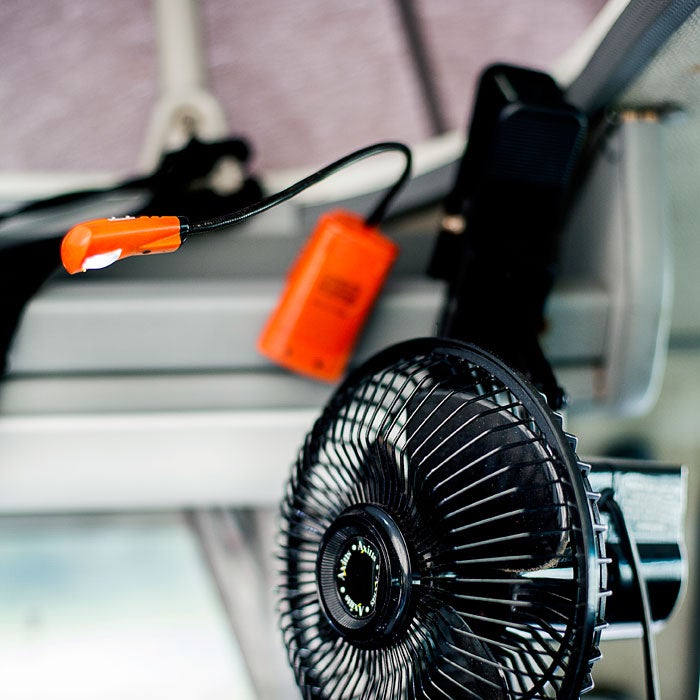 ---
Heavy Duty Off-Road Tires
Heavy-duty off-road tires not only look cool, but you'll find you need them underneath your 5,000-pound van. I suggest minimum 1,500-pound capacity tires that run at least 44 psi. I use the recently-discontinued Firestone Destination A/T's, but when they wear out, I'll probably move to General Grabber A/T's ($96 each). If you want remarkable off-road traction without the expense of a Syncro, GoWesty 2WD lift springs ($300 set) and Peloquin limited slip rear differentials are incredible.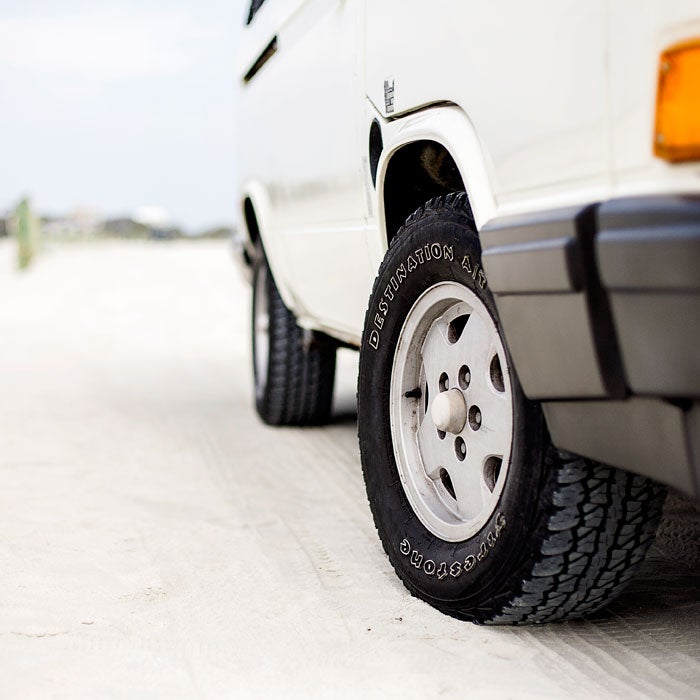 ---
Maintenance
It's vital to keep your 25-year-old van well-maintained. I still run the stock motor and have the components mostly stock, but I'm constantly replacing old parts before they wear out, and I take care of any rust spots that pop up of before they spread.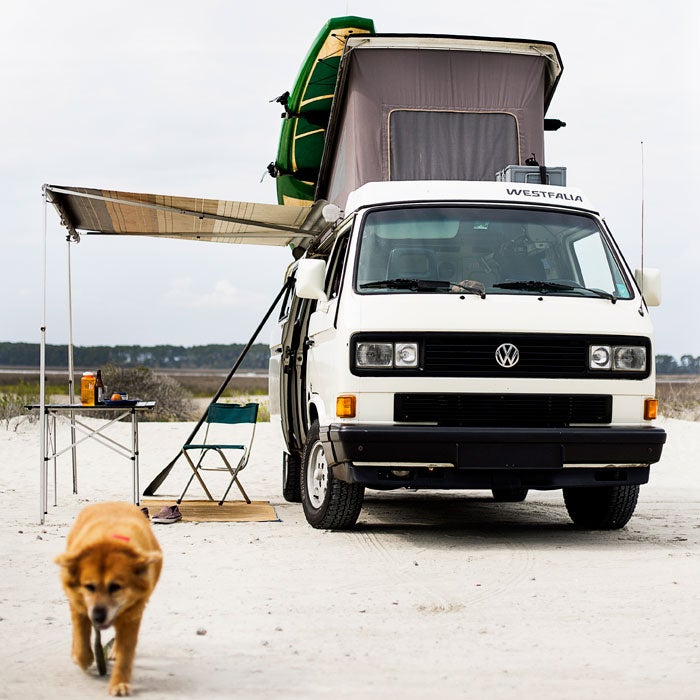 ---
Bostig Vanagon Conversion
Look at it this way. You'll spend up to $500 per month for payments on a new or lightly used Dodge Sprinter or Land Rover Discovery. Put half of that per month into your van, and you should be able to keep it in top shape. But make sure you have a realistic idea of your mechanical skills. If you lack them, either upgrade your Vanagon with a hassle-free Bostig/Ford Zetec engine conversion ($6,000), buy a Sportsmobile Ford or GMC van, or convert a Toyota Tacoma. Spare parts are far easier to find, and those vehicles are far easier for the average mechanic to work on. (Although a Vanagon is far easier for you to work on than any of the aforementioned vehicles.)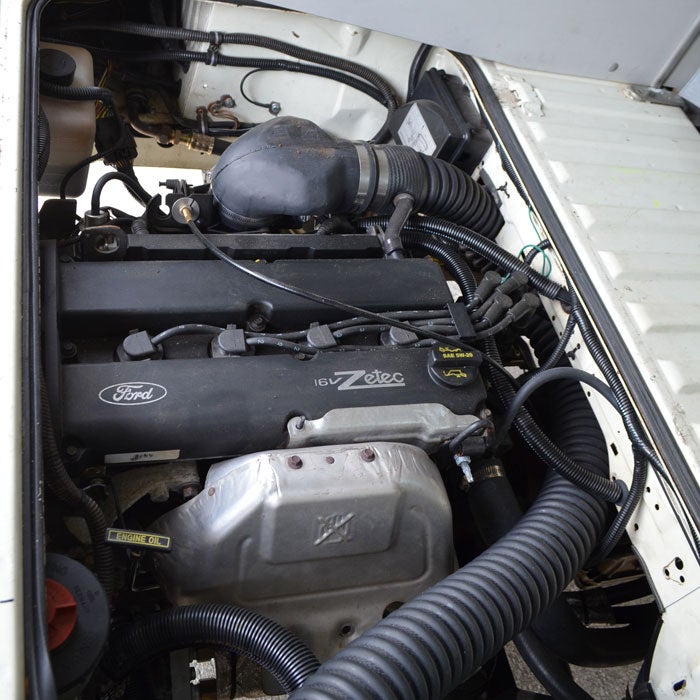 ---
Need More Van Life Advice?
Remember, if your van looks good and runs well, you'll get a lot less grief from your significant other and you'll look a lot less like a bum to local law enforcement.
And finally, consider the luxuries. Some argue that they add complexity, but my van has rear heat, cold air conditioning—even campsite air conditioning via a rooftop window unit—power door locks, power windows, and power mirrors. I consider it a badge of honor that they're all working.
To reiterate: Freedom isn't free.
Here are the best sources I've found for van life advice and vehicles:
Gowesty.com
Van-Café, which offers incredible technical articles
Expeditionportal.com
Sportsmobileforum.com
And if you own a Vanagon, you will learn something new everyday on TheSamba's forum.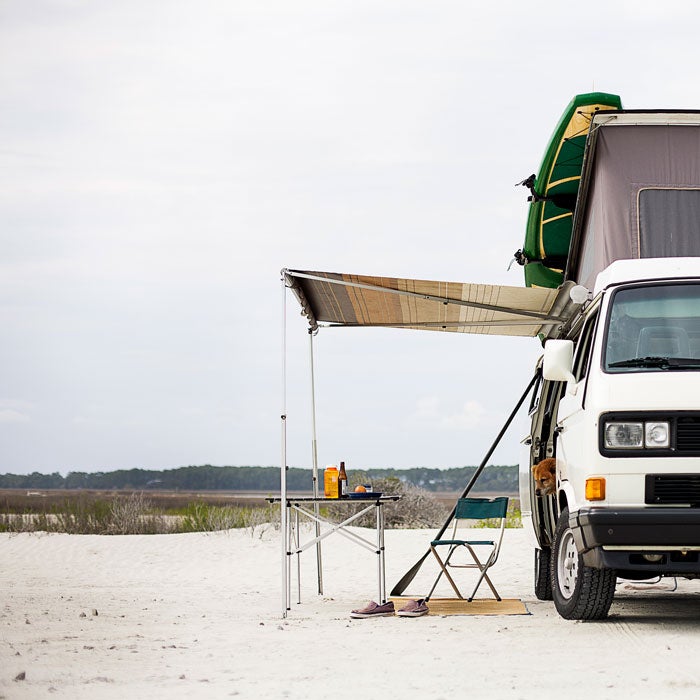 Trending on Outside Online