The New All-Wheel-Drive Prius Deserves Your Attention
The AWD-e aces snowy roads—but there's a catch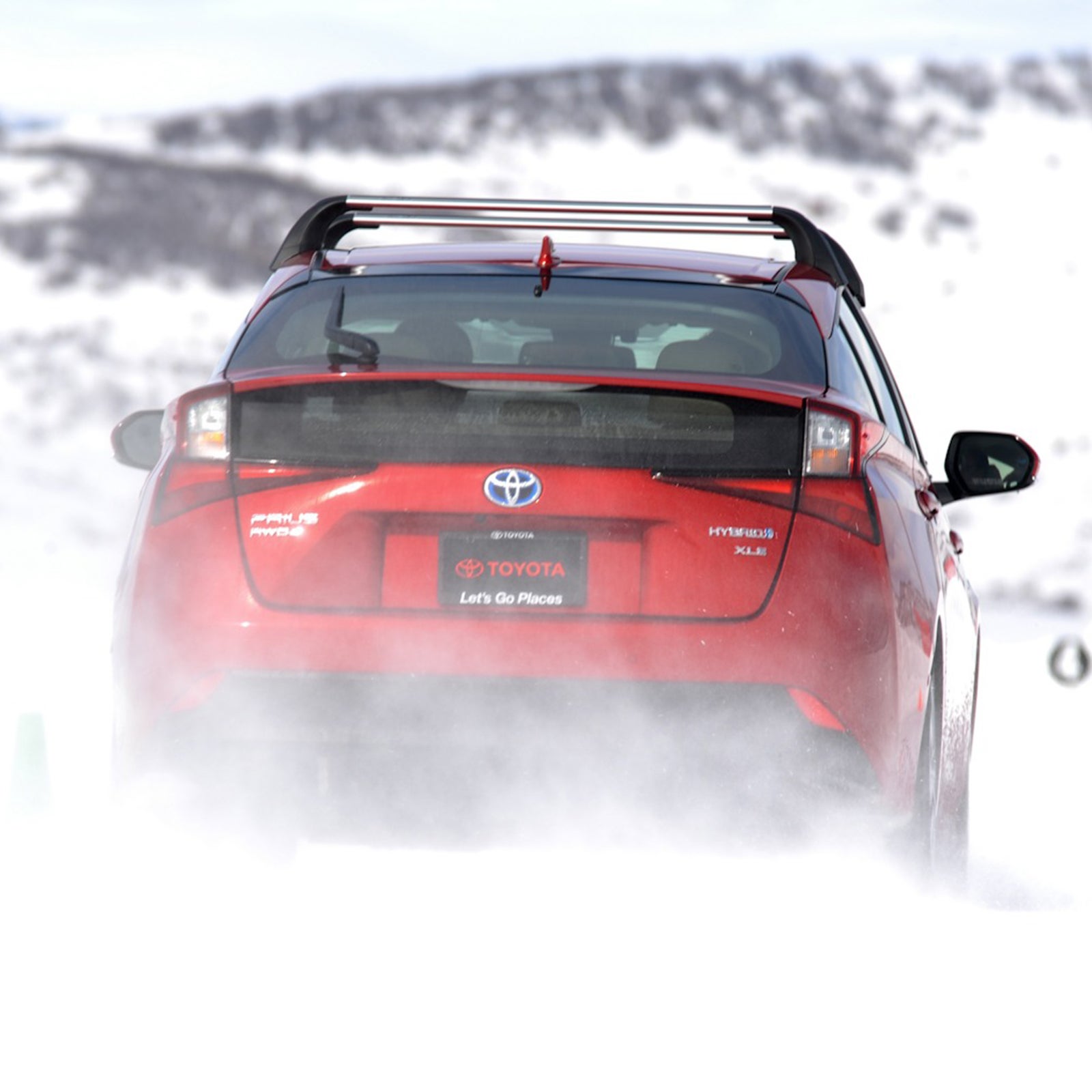 Heading out the door? Read this article on the new Outside+ app available now on iOS devices for members! Download the app.
Like most residents of mountain towns, I've scoffed at the idea of buying a Prius. This is not because I don't care about the environment. On the contrary, I'd love to fly my eco-conscious flag by owning what's widely regarded as the greenest car on the road. Getting 50-plus miles per gallon would also be great. If only the Prius's traction weren't so laughable.
"The thought of driving the Prius in the snow has been a joke," admits David Lee, product trainer for Toyota's Denver region. Its fuel-sipping two-wheel-drive system only engages the front tires, not the rear, so its ability to grip slick roads can't compete with four-wheel and all-wheel drive systems, which are overwhelmingly more popular in snowy mountain towns like Steamboat Springs, Colorado, where I live.
This year, however, Toyota is offering U.S. buyers the Prius AWD-e, an all-wheel-drive model that the company hopes will appeal to consumers like me who worry about slippery-road performance. During a media event held last week at the Bridgestone Winter Driving School, I got to see what the AWD-e could do.
Unlike winter tracks on frozen lakes, the Bridgestone Winter Driving School's three purpose-built courses are situated on land, so they feature real hills and curves. I was able to hit 50 miles per hour on straightaways before heading into off-camber turns that shrug many cars off the road. The track's surface, a mix of hardpack snow and sheets of ice, was so slippery that I had to step gingerly around the Prius whenever we switched drivers.
After an introduction to the courses and basic winter-driving techniques, we launched into a series of challenges that tested the Prius's traction. First up was the slalom course, where I accelerated to 25 mph before swinging the car through a series of sharp S turns. The idea was to see how the Prius handled an unexpected obstacle, like another car that couldn't stop at an intersection and came into my lane. Instead of spinning out through those evasive maneuvers, the Prius never lost grip. It just railed the zipper line with zero drift.
Though if I really worked at it, I could definitely get the Prius to lose traction around the course. During the hot-laps session, I had a blast throwing the car into a skid by wrenching the wheel around or braking in the middle of a turn. But it recovered quickly and stuck its course through the slickest patches, proving to be both reliable and maneuverable.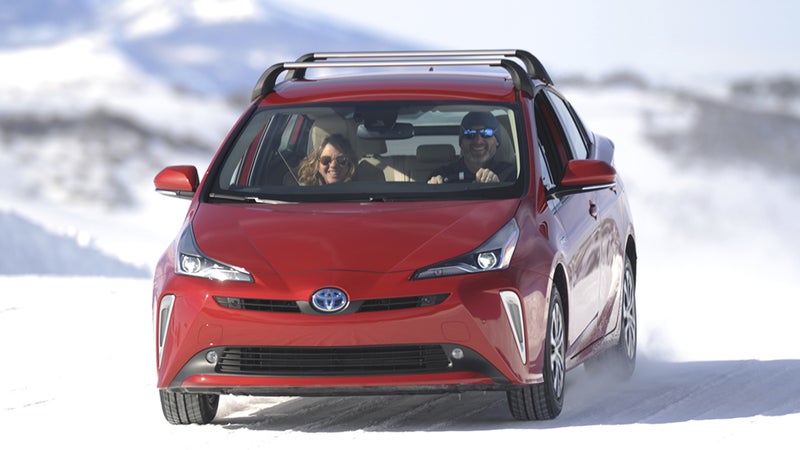 Then I moved to the hill start: parked on an off-camber patch of sheer ice, I gassed the Prius up the incline. It climbed like a cat burglar—or at least it did when I feathered the accelerator. Flooring it sent the car sliding sideways, but it also proved that the humble, fuel-sparing Prius can unleash enough engine ferocity from the 121-horsepower front-drive power train to spin the wheels.
In fact, starting from a stop is this all-wheel-drive system's special talent. To save weight (a key factor in the Prius's efficiency), Toyota engineers developed an extralight, 7.1-horsepower magnetless motor to power the rear wheels whenever conditions call for all-wheel traction. This explains the e in AWD-e and differentiates the design from mechanisms on the company's other cars, like the RAV4. "It doesn't throw as much horsepower into the rear wheels," explains Lee. "But you get really good traction from a stop." 
From zero to six miles per hour, the Prius automatically engages AWD-e. From 6 to 43, the system only kicks in as dictated by the computerized traction-control sensors. Above 43 miles per hour, the Prius loses its all-wheel-drive magic, like Cinderella at the ball. It's purely a two-wheel-drive vehicle at highway speeds.
That gives me pause. Speed restrictions on the system might work fine for in-town winter driving, but in summer, I routinely hit 50 mph on smooth dirt roads (where I'm accustomed to all-wheel-drive stability). The trade-off is fuel economy: even with the AWD-e engaged, the Prius gets 48 to 52 miles per gallon.
According to Lee, the grippier Prius is enjoying strong interest across the mountain states, where about 40 percent of all dealer orders are for AWD-e versions, which start at $26,380.
Would I buy one? Perhaps. It certainly deserves to be on mountain-dwellers' short lists. It's snappy and road hugging, and the hatchback fits all manner of gear. I would have to drive a little slower on dry dirt to to keep the AWD-e engaged. And sure, my test car got a boost from Bridgestone Blizzak snow tires, but like many who live where winter hits hard, I already put dedicated winter tires on my car every season. If that's all it takes to make this Prius stick like Velcro to snowy roads, the combination is a clear winner.
Lead Photo: Courtesy Toyota