Chalk It Up to Science
The chemistry-led quest to create the world's best super chalk blends for climbers and weight lifters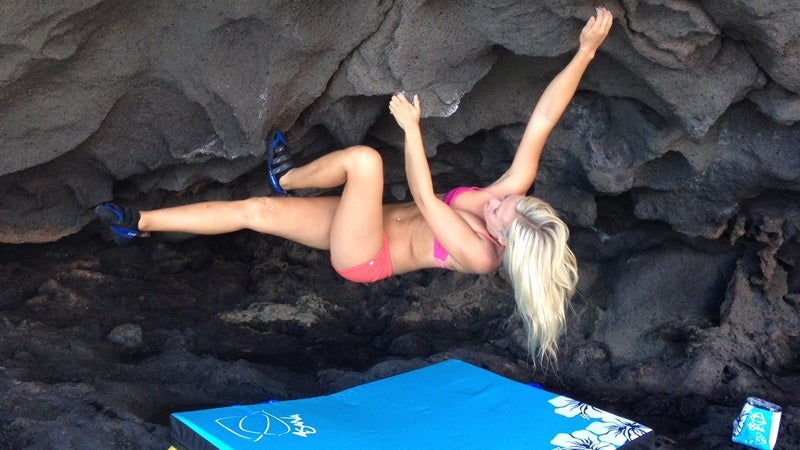 Heading out the door? Read this article on the new Outside+ app available now on iOS devices for members! Download the app.
Remember the sidewalk chalk you used to play with as a kid? Well, that's not the stuff pro rock climber Sierra Blair-Coyle covers her hands with before scaling a difficult route.   
Performance chalk—crucial for climbing, CrossFit, weightlifting, gymnastics, and bouldering—is a whole different beast that's proven (and scientifically-modified) to give athletes a better grip, increase friction, stop sweat, and kill bacteria.
Manufactured from a solid, white inorganic mineral called magnesium carbonate, performance chalk contains compounds that are exceptionally good at absorbing the sweat from your hands and keeping your palms from slipping on the rock.  
There's a reason you can't simply swap magnesium carbonate for cheaper blackboard or sidewalk chalk. "Magnesium carbonate is insoluble in water, so it doesn't dissolve," says chemistry expert and Rice University Professor of Materials Science Andrew R. Barron. "But while calcium carbonate—or old-fashioned, traditional chalk—absorbs moisture, it also dissolves in water." So if you're lifting weights with sidewalk chalk on your hands, it'll just run right off as soon as you start sweating. Not so with the high-end stuff.   
But magnesium carbonate comes with its own set of problems. According to Blair-Coyle, extreme dryness and excess sweat are the most serious issues for climbers. "I've tried a lot of different types of chalk and…they'd either dry out my hands, or my skin, wouldn't last as long when I was climbing, or didn't give me the friction I needed on a hold," she says.    
So scientists and athletes have turned to new additives like limestone, essential oils, and drying agents to make "super chalk" blends for weight lifters and climbers. The next time you're chalking up before a strength training session or climbing practice, remember—not all chalk is created equal. Here are five of our favorites.  
Metolius Climbing Super Chalk Blend  
Co-owner and vice president Brooke Sandahl claims Metolius Climbing was the first company to create a climbing chalk for the global climbing market. Metolius' Super Chalk blend includes premium-grade magnesium carbonate, plus the "perfect" drying agent (a trade secret) that provides max sweat absorption and friction. The blend comes in a powdered fine grind, chunk or nugget form, and block form.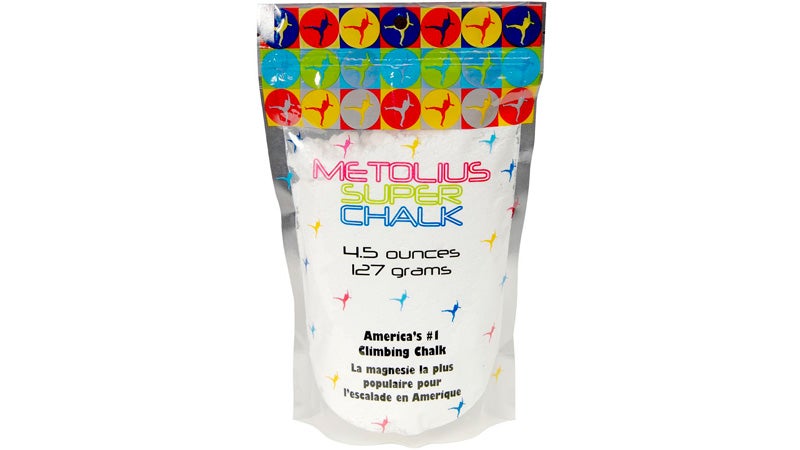 Asana White Dirt
Blair-Coyle uses Asana White Dirt, made for the organic- and texture-conscious climber. It contains 100-percent natural fine-grained and chunk magnesium carbonate, no drying agents or chemicals added. The pro climber swears by its durability and drying properties.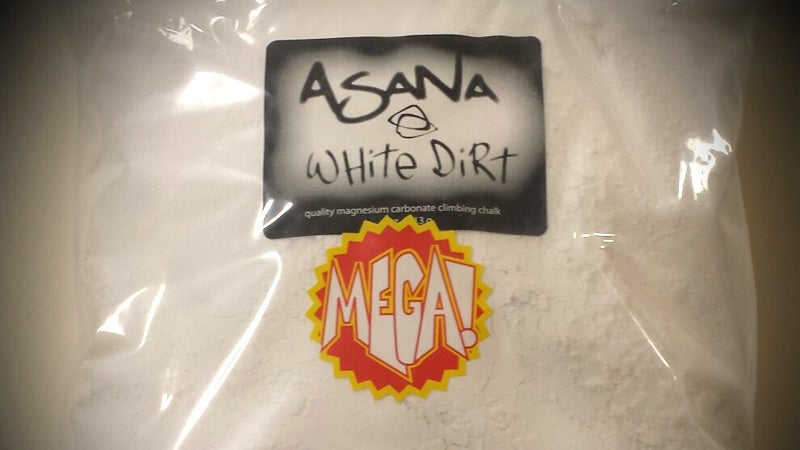 PrimoChalk
Jeremy Brooks designed PrimoChalk after a particularly challenging Olympic lifting workout. Brooks was concerned about the tears in his hands and the germs in the gym, so he developed an anti-bacterial product. After researching essential oils and drying agents, Brooks ended up creating a chalk that makes skin more resistant to abrasion.
"The Primo oil blend kills Staph bacteria, conditions your hands and gives you a better grip, but not that dry feeling," says Primo National Sales Manager Angela Lawton. "It was originally made for climbing, lifting, and CrossFit, but it's really for any athlete who needs a stronger grip. Plus we've had athletes tell us the oil blend smells really good—like Christmas."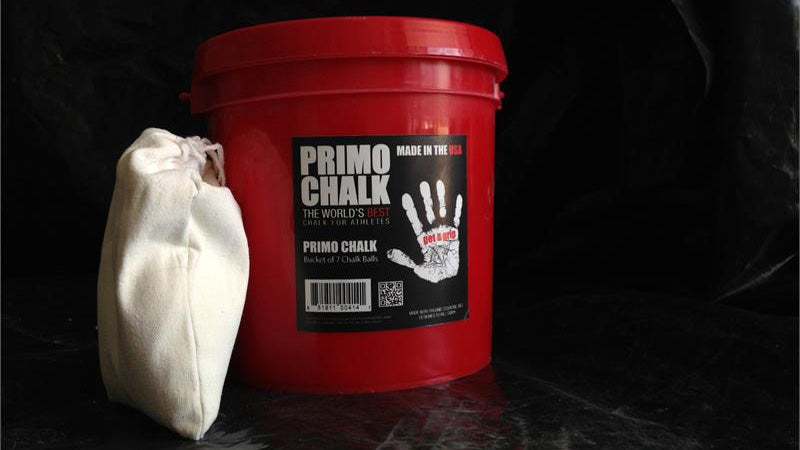 Joshua Tree Skin Care's Ice Herbal Chalk
With the slogan, "Cool your mind, soothe your tips," Joshua Tree Skin Care's Ice Herbal Chalk aims to lift the spirit when you're on the verge of "cruxing out," says Owner David Lawrence. The mint-scented magnesium carbonate is blended with natural oils and organic menthol extracts to soothe and numb tired hands and fingertips. Joshua Tree buys scraps of premium block chalk magnesium carbonate from the "big guys," then adds its own blend of oils and organic extracts. Next, it roasts the entire mix to dry it back out for climbers, bouldering enthusiasts, and gymnasts who need that extra menthol-fueled boost. "The nose is really powerful over the mind," says Lawrence.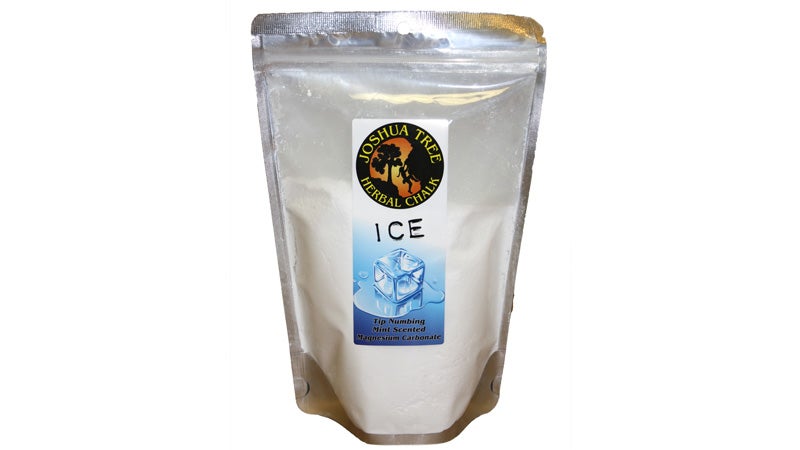 Bison Designs Ball Chalk Dispenser
Bison Designs Owner Brian Kelleghan, who started climbing in the late 1970s, was concerned about the footprint "huge puffs and residue" of chalk would leave at pristine climbing sites. So he put loose chalk in pantyhose, experimented with the layering, and soon the Bison Chalk Ball Chalk Dispenser was born and quickly trademarked. "I would literally go to gyms and ask people to squeeze my balls," Kelleghan laughs. "We use pure magnesium carbonate and found the product really maximizes what a climber wants, and there's zero caking."