We Got This Gym Climbing Kit for Under $150
The goal: test Decathlon's budget-friendly beginner climbing gear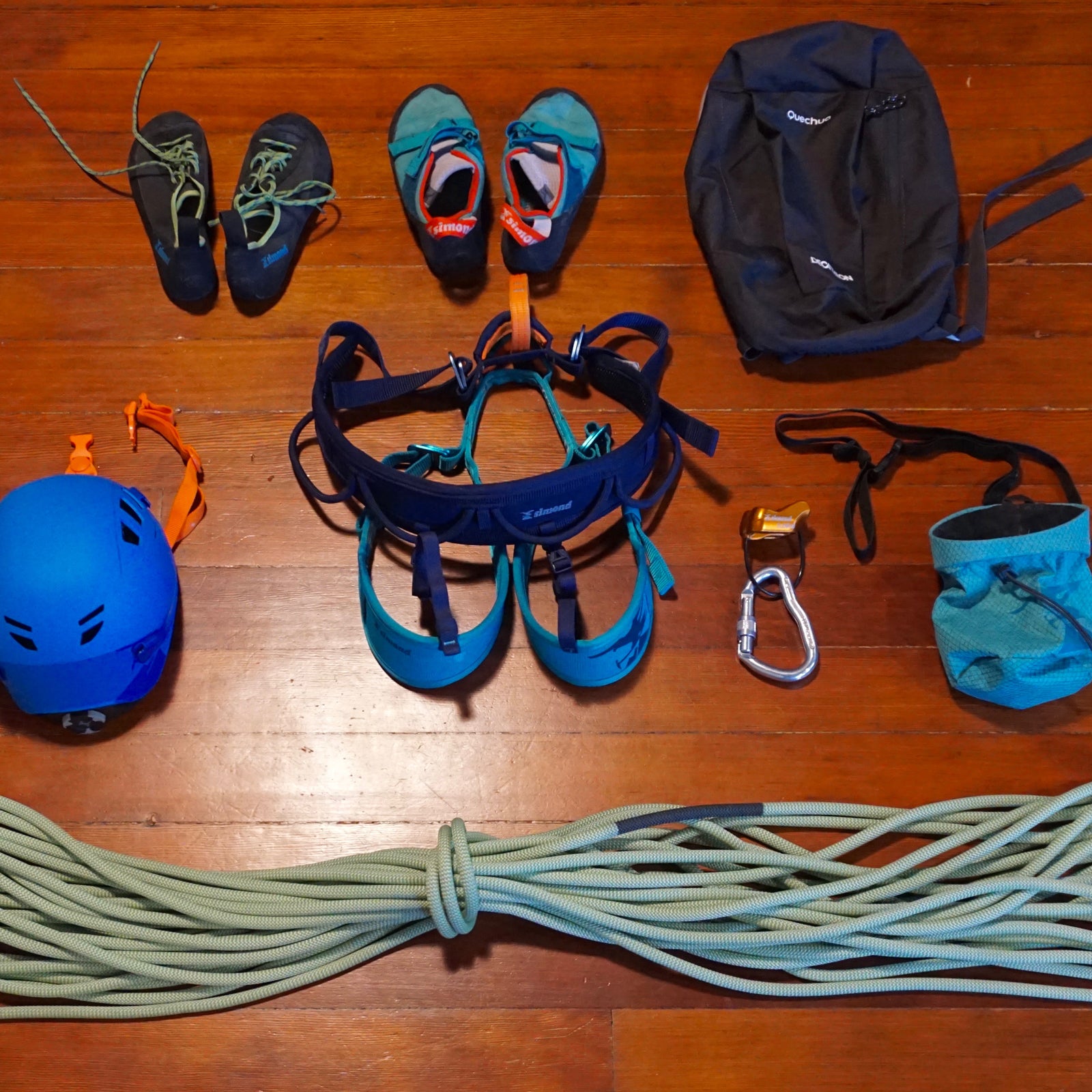 Heading out the door? Read this article on the new Outside+ app available now on iOS devices for members! Download the app.
When it comes to activities that require gear to get started, climbing generally isn't the most expensive outdoor sport—but it's also not the cheapest. Putting together a full gym kit, with shoes, chalk, a chalk bag, harness, belay device, and locking carabiner, can easily amount to over $200.
Decathlon is trying to make the outdoors more accessible with its affordable gear. The French company operates its own in-house brands, such as Quechua (hiking and camping), Itiwit (paddle sports), and Simond (climbing and mountaineering). The Simond line touts rock shoes for $45, harnesses for $55, and a 35-meter indoor lead rope for $70. While some of these products aren't jaw-droppingly inexpensive, their prices are lower than those of most name brands. There's a difference between low-cost and cheap, though, so I decided to test out the gear's technical chops.
For this test, I focused primarily on Decathlon's least expensive options, to find budget-friendly beginner climbing gear. I tested these products for a month, climbing three to four times a week both indoors and out, bouldering, top-roping, and lead-climbing. 
Shoes ($45)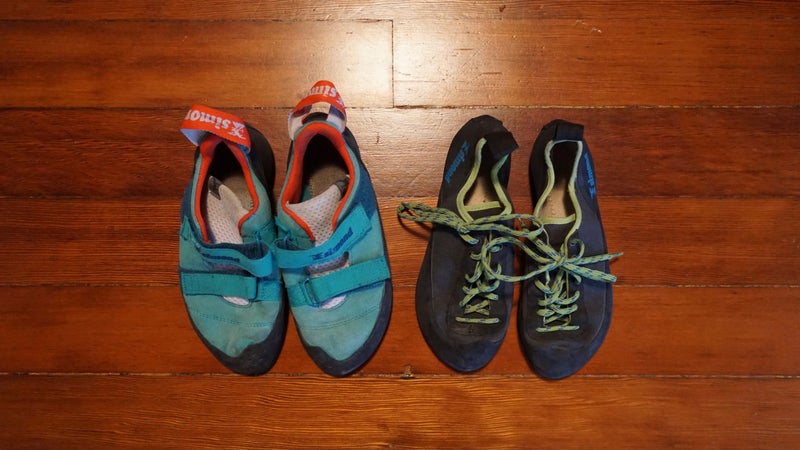 Simond's baseline shoe, the Climbing Shoes Rock, has a price you won't find anywhere else except in some extreme sales (and even then, sizes are often limited). Other shoes for beginners, like La Sportiva's Tarantulace, retail from $80 to $100. The price and simple build of this canvas shoe had me skeptical, but after a month of testing, I was pleasantly surprised by its performance.
Climbing Shoes Rock has a flat footbed, which is ideal for beginners, because the shape doesn't force your foot into an uncomfortable arched position like a more down-turned shoe would. I found the rubber tread sticky enough to trust my feet on slab climbs. The toe box is snug and gave me control to pull on overhung or vertical moves—though only to a point, as it won't give you the same results on roofs as an aggressive shoe will. The lace-up design works well if you want a bit more adjustment with fit (as opposed to rip-tab-strap models), so you can keep it relaxed on easier climbs or crank down on a tough route.
For a shoe with some extra comfort and higher ankle support, the Rock+ is also a solid option. It's still very reasonably priced, at $65, but it has more padding at the heel and tongue and comes up higher on the ankle than the Rock does, which makes heel hooks more stable. It took a few sessions wearing the Rock+ to get comfortable in my foot placement (which is normal for most new climbing shoes), but once I did, the shoe excelled at sticking to small nubs, smearing on granite slab, and handling basic heel and toe hooking indoors and outdoors. The Rock+ uses Vibram SX Grip rubber, which is known for its durability and is the same rubber found in most Tenaya shoes. Simond doesn't specify the type of rubber in the Rock shoe. I only started to really notice limitations on both shoes once I got into the V4 and V5 range, doing awkward heel hooks.
The bottom line for all climbing shoes: finding the right pair depends on your foot shape and how tight of a fit you want. I recommend trying on several sizes and types, including men's and women's, regardless of your gender. For more information on this topic, check out our 101 video on how to buy your first pair of shoes.
---
Harness ($55)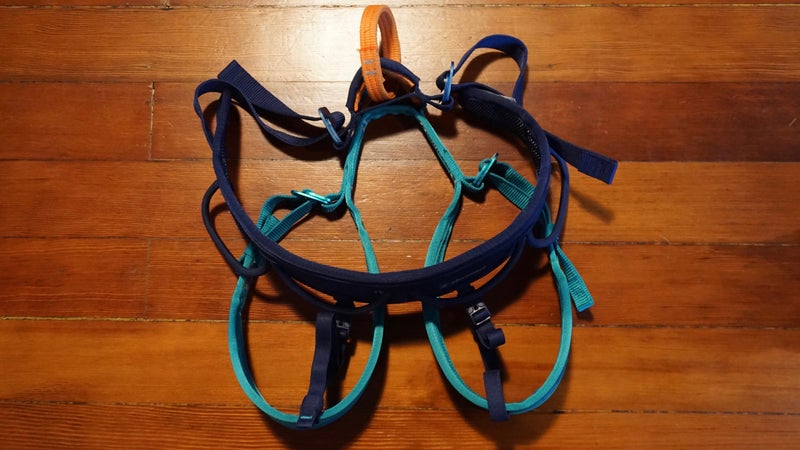 Simond's most basic harness, the Easy 3, sells for $45, but I would recommend its climbing and mountaineering harness for $55, which is just a couple bucks cheaper than a comparable harness, like Black Diamond's Momentum. That $10 makes a difference—it's fully adjustable, has two tie-in points in the front, and four gear loops, whereas the Easy 3 uses a single tie-in loop and only has two gear loops. The extra loops are only important if you plan on climbing outdoors, because you'll most likely be carrying more gear (draws, protection, runners, webbing, etc.), but the single tie-in loop is the big kicker here; it makes the harness less comfortable, because the leg straps have to go all the way up to the waist belt as opposed to leg straps that are connected by webbing, and will wear down quicker, because the single tie-in loop has to handle both belaying and tying in, so I suspect it will wear down twice as fast.
The climbing and mountaineering harness has an extra double-backed buckle on the waistband, which makes it more adjustable than the Easy 3. With the climbing harness on, I didn't notice any place where it dug in or felt uncomfortable while hanging in it for several minutes. It also gets bonus points for plastic buckles (compared to less user-friendly G hooks on harnesses like the Black Diamond Momentum) on the bungee straps, which come in handy if you need to use the bathroom. 
---
Chalk Bag ($17)
If you're looking for a simple, compressible chalk bag, look no further than Simond's Chalk Bag Diamond. The stiff rim and large opening make it easy for your hand to get into during precarious rests on long routes, and the drawstring closure is easy to open and close with one hand. There's also a small elastic strap on the side for a chalk brush. The Diamond isn't Simond's least expensive option, and there are chalk bags from other brands with similar price points, but for a quality chalk bag, anything under $20 is a good deal in my book.
I'd recommend pairing this bag with a chalk ball, like the Metolius Refillable Super Chalk Sock ($5), especially in a gym setting, where there are a lot of climbers in a closed space. Chalk bags can easily be stepped on or knocked over, and using a ball goes a long way to make sure your chalk actually stays put. Plus, I've found that using a ball gives your hands a nice coat without over-chalking. It's easy to apply, has a comfortable consistency, and works as it should. 
---
Belay Device and Carabiner ($20 and $10)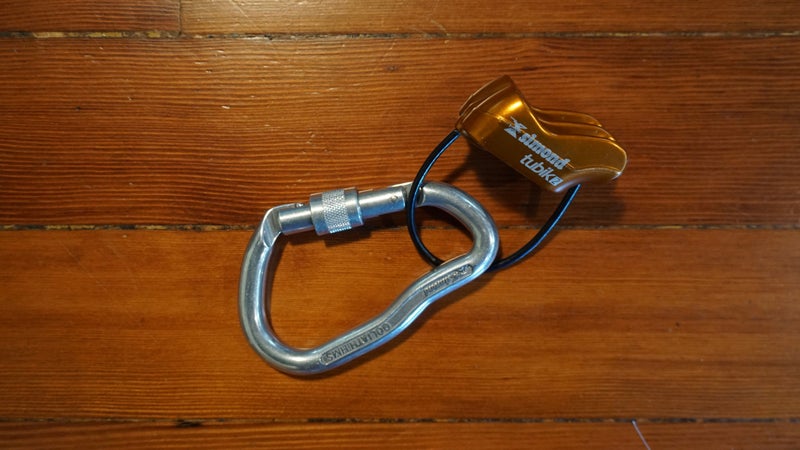 Simond's hardware prices aren't drastically different from brands you can find at retailers like REI or Backcountry. There are equivalents that are more expensive, but the difference is minimal—generally $10. 
There's nothing groundbreaking about Decathlon's belay device or locking carabiners, but there's also nothing wrong with them. Its screwgate carabiner clips and screws shut easily and is just as strong as most other carabiners, with a tested breaking strength of 25 kilonewtons on the major axis (the average locking carabiner has a strength of 21 to 27 kilonewtons). The belay device doesn't have a guide mode, so it wouldn't be my choice for multi-pitch climbs, but you don't need this feature for the gym or single-pitch sport routes. It also doesn't have an auto-locking feature, like the Petzl GriGri, so if your climber is hangdogging, it becomes a little tedious. Otherwise, the device is easy to use and smoothly handles the rope.
Buy Belay Device Buy Carabiner
---
Optional Item: Rope ($70 for 35 Meters)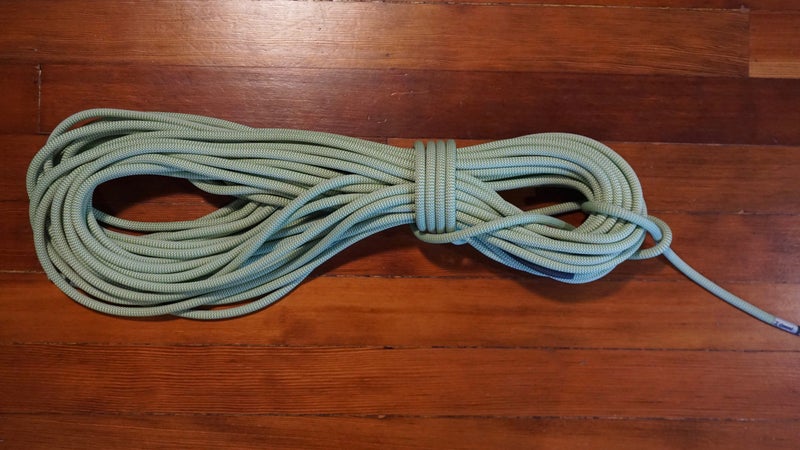 If you plan on lead climbing in a gym, many places require you to bring your own rope. First check the height of your gym's wall. Indoors, you generally don't need a rope exceeding 40 meters in length (unless your go-to gym is somewhere like Ratho, in Edinburgh, Scotland, or the Front Climbing Club, in Salt Lake City, which feature walls 21 to 30 meters high, in which case you'd need a 50-to-60-meter rope). I wouldn't go shorter than 30 to 35 meters as a general rule of thumb. A 70-meter rope for indoor climbing would be excessive.
You'd be hard-pressed to find a 35-meter gym rope for less than this Simond version. The dynamic rope is rated for up to seven UIAA falls (most gym ropes are rated between six and ten falls) and gives a comfortable catch. My climbing partner took a ten-foot fall, and the rope was springy enough to absorb the impact, making the fall easy for both climber and belayer. The rope's static elongation (6.3 percent) is slightly lower than other comparable ropes, like the Black Diamond 9.9-millimeter rope (7.6 percent)—that means you lose less ground after taking a break at a bolt or on top rope, but it also might result in a less cushy fall. My one minor issue with Simond ropes is their tendency to get twisted and knotted during the first three to four uses. On the first use, even after flaking the rope twice, the rope knotted itself midclimb. After 10 to 15 climbs, the rope started to get less twisted, but it's something to be mindful of; maybe run it through a carabiner or belay device a few times to help it untwist. As a bonus, the 35-meter rope fits perfectly into the Quechua Nature Hiking Backpack ($4), so you can bring it to the gym without the hassle of a lugging a huge bag.
The Bottom Line
Decathlon's climbing line performed well across the board. After taking the kit lead climbing and top-rope climbing in the gym, sport climbing outdoors on sandstone and granite, and bouldering in Yosemite, I don't have any major complaints that would lead me to discourage others from purchasing the gear. I was impressed with some features of its shoes and harness, especially for the low price. If money isn't an object, and you want the absolute best, Decathlon's starter kit isn't for you. However, if you're new to climbing or don't want to shell out a ton of money, Decathlon's collection is a solid place to start.
Lead Photo: Johanna Flashman