Sh*t Climbers Bring These Days
Once you brought basics. Now, it's the kitchen sink.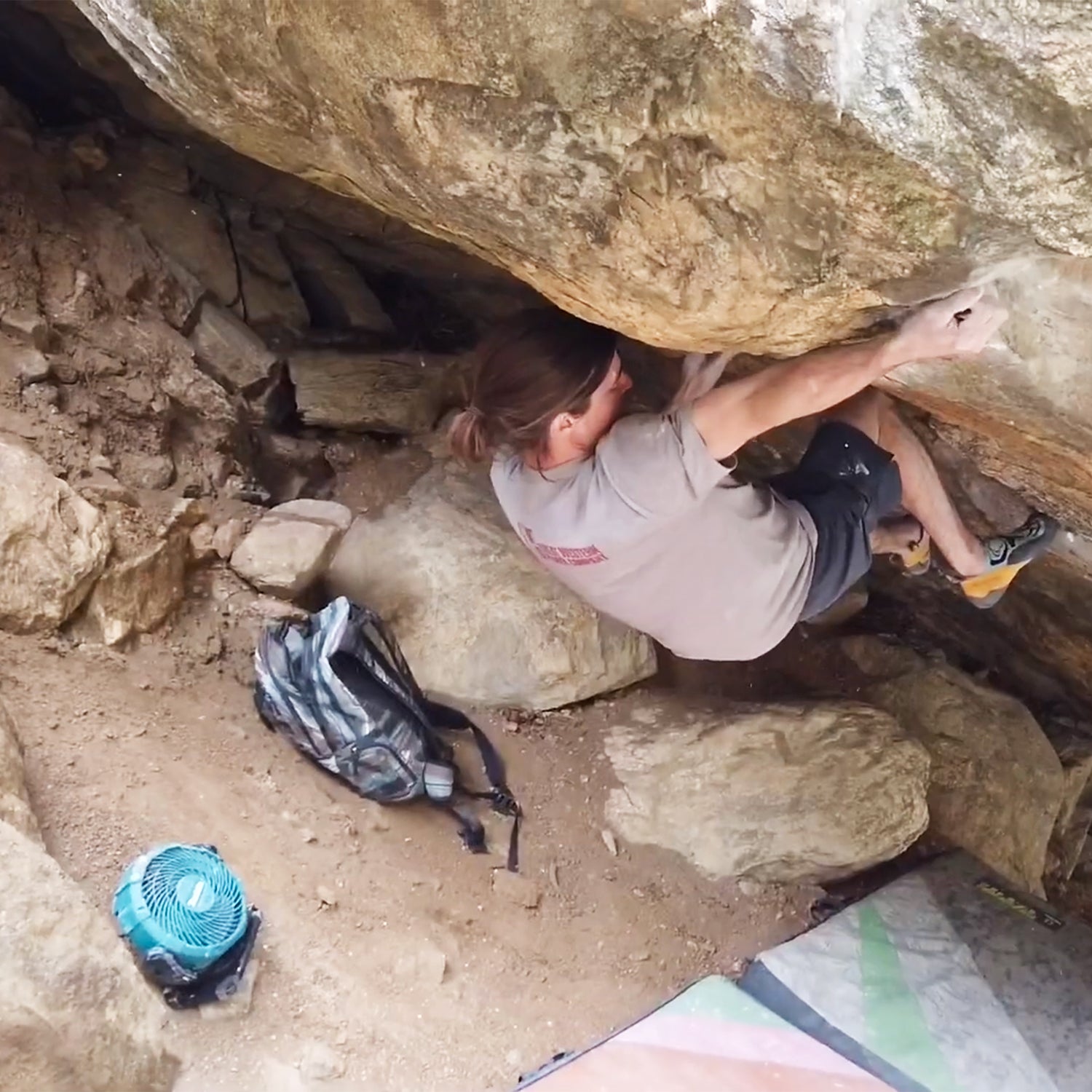 Courtesy Sam Weir
Heading out the door? Read this article on the new Outside+ app available now on iOS devices for members! Download the app.
Elliot Vaughan, 21, a climbing-gym employee, packs up to go bouldering on the high granite blocks of Independence Pass, Colorado. Shoes, chalk, crash pad, fan ….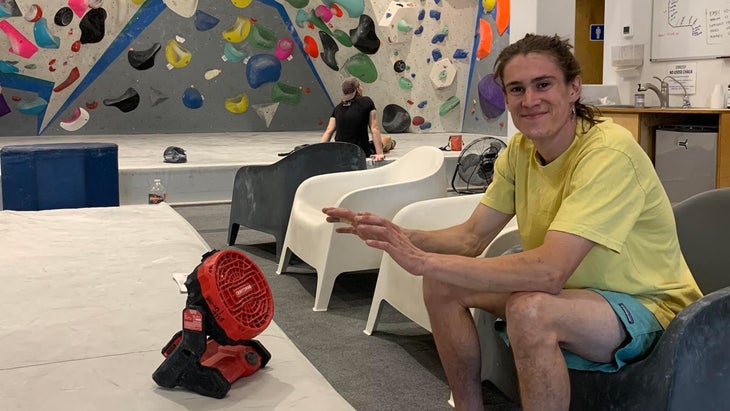 In the last several years more and more people are bringing fans to cool and dry themselves and the surfaces where they ply their hard sequences. Moisture in the air can dampen those little tiny holds you must, must minutely progress on. We are talking portable nine-inch fans—more the kind of thing you'd look for at Home Depot or on Amazon ($120) than from Petzl or Black Diamond—with rechargeable batteries that cost more than the fans. Climbers (not this one!) take fans to boulders, seeking those cool sending temps even in some dank cave. Some lug them around at competitions. Some even review them.
I've been climbing longer than you want to know, and it used to be that you'd take a rope and rack, shoes of course, the jacket on your back—and maybe a nail clipper—to the crags. OK, a roll of tape. Today you'd still take those, but climbers may also bring these accessories:
Leaf Blowers
Again to battle the dread humidity. They are portable and can be aimed, as if you were a sci-fi character with a laser gun.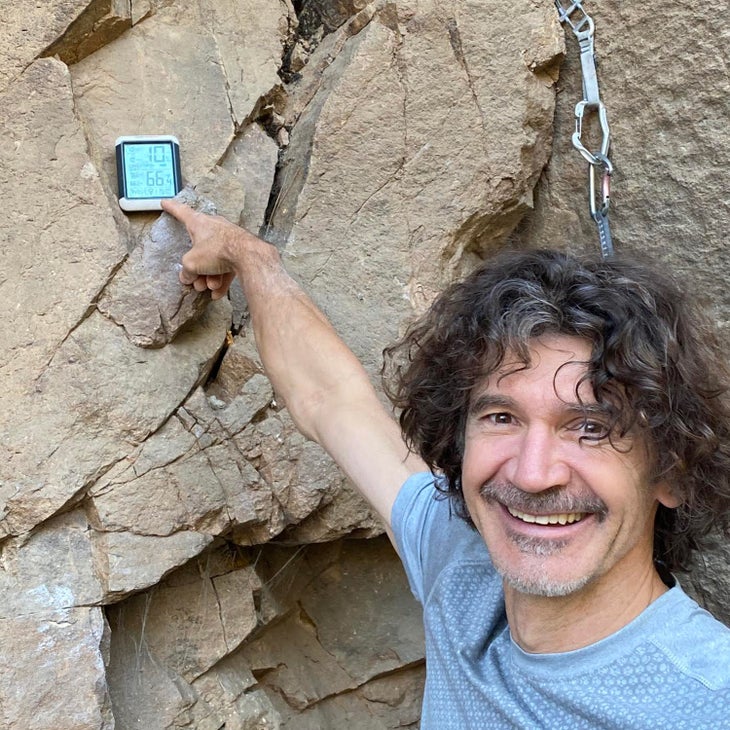 Humidity Gauges
Handheld meters, that is, are used perhaps not widely, but internationally. "Conditions aren't good!" someone might say in consternation. It's unclear whether, psychologically, that information helps or hurts.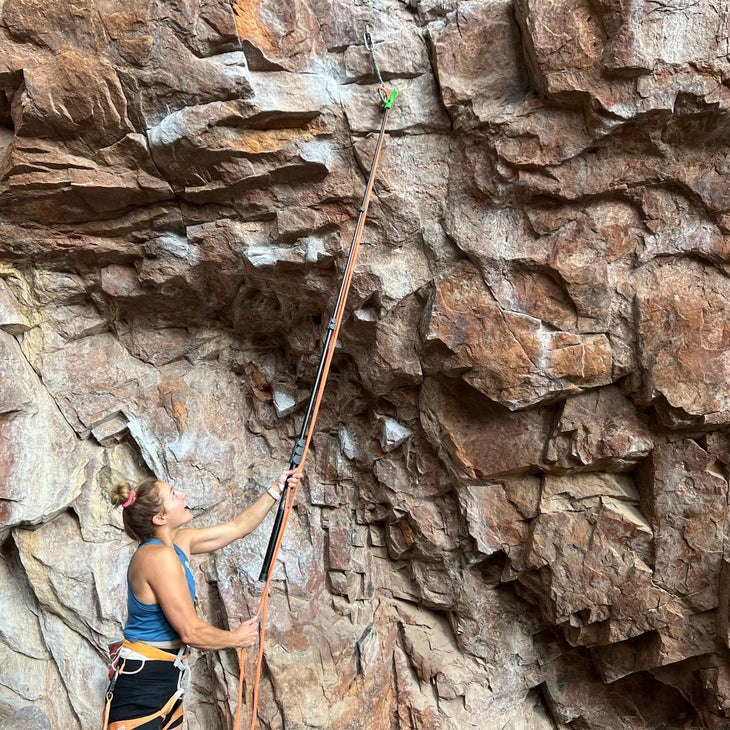 Stick Clips
These extendable sticks (named after the actual branches climbers used to tape a carabiner to) with a notch or clasp for a carabiner allow you to clip a rope into the first bolt of a route from the ground rather than going ten feet up with no protection. Some climbers traditionally scorned this resource: they were cool characters, fine climbing a few feet off the ground. Yet as far back as early Rifle, Colorado, days in the 1990s, some routes were designed to be stick clipped, because they had hard moves right off the deck. Moreover, holds can break, or you can slip and end up touring the local ER. Today everyone is walking around like a shepherd with a crook.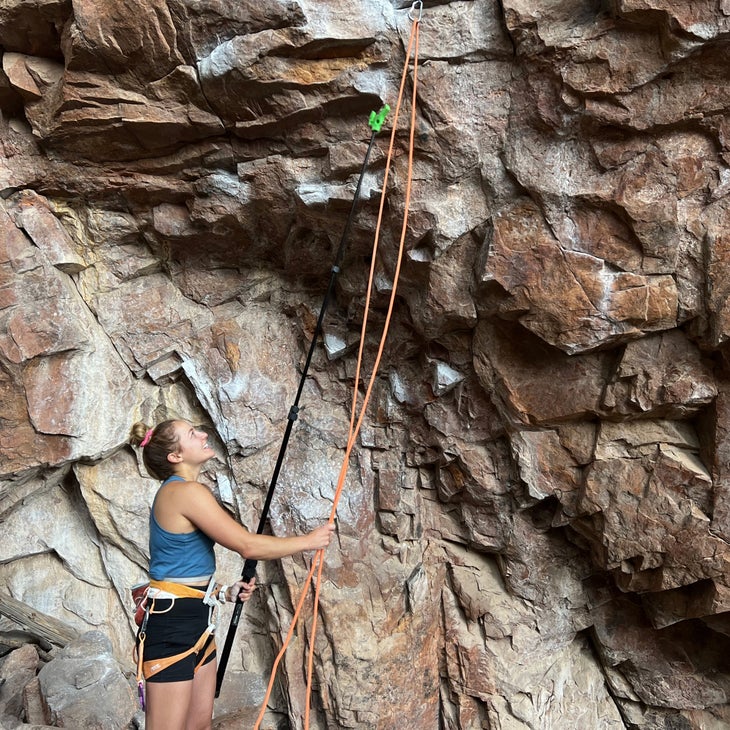 Oh, and if you want to connect elements, you can put a fan on the end of a stick clip, and hoist it up high to dry off that s0-key hold.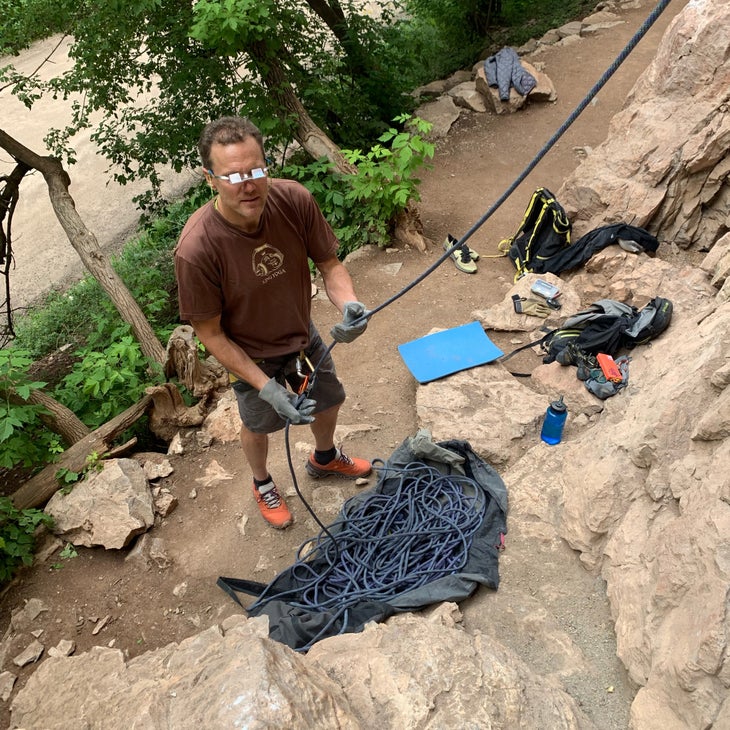 Belay Glasses
"Cheaper than surgery," as Roger Schimmel, a lifer climber, has intoned. These are shelf-like open reflecting specs that allow you to hold your head level rather than craning up to watch and belay a climber on lead. I dislike them; they make me seasick and for other reasons: a climber on lead used to be able to glance down and see the belayer's nice concerned human face looking up. Yet I may soon concede to neck aches from peering up at overhanging terrain. People in belay glasses are now routine along the bases of popular walls, like the audience in a 3-D theater.
Belay Gloves
Once these seemed a bit … over careful. Now they're standard issue. And judging by the amount of blood I saw at the base of a wall last week, left behind the day before by a very nice, experienced climber whose finger got pinched in her belay device, belay gloves just gained another convert.
Dremels
At the climbing gym, young Elliot brings out one of these electric burr devices between burns on the Kilter Board and calmly tends to calluses on his palms and fingers. From nearby, Noah Jones, 23, lowers his eyelids, murmuring, "Sooo extra"—while another youth offers that there are also callus grinders for feet.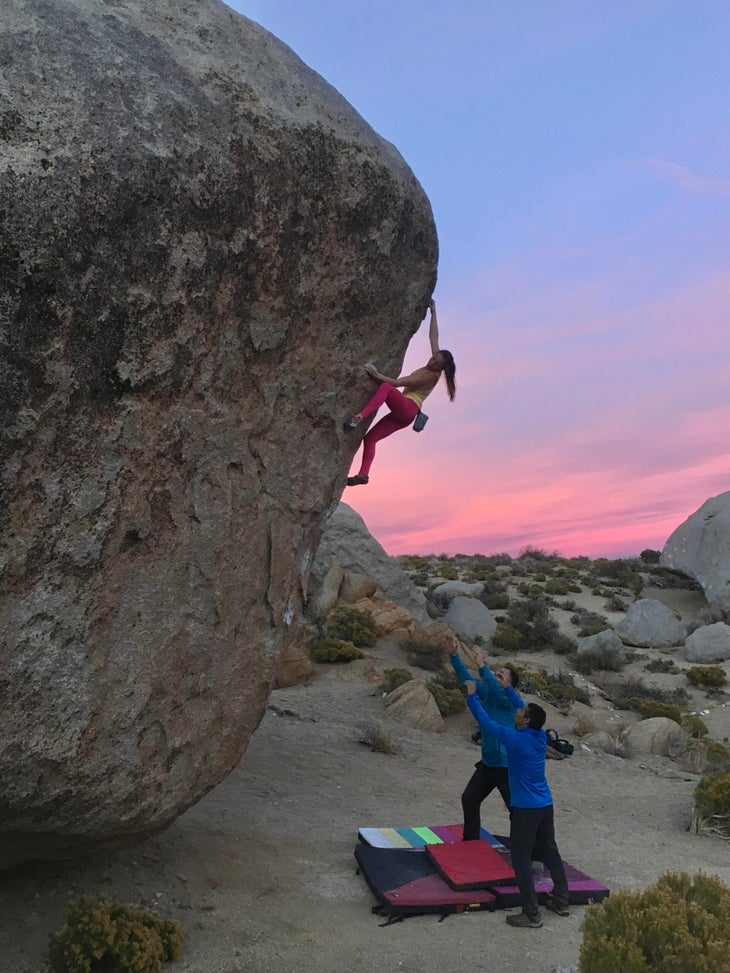 Crash Pads
Boulderers simply used to spot each other, but that was dicey over rocky ground or on hot days with slippery people. Now climbers carry bouldering pads—sometimes several strapped together—on their backs to spread on a rock, forest, or desert floor to protect them in short and not-so-short falls. Climbers with pads look like ants lugging huge crumbs.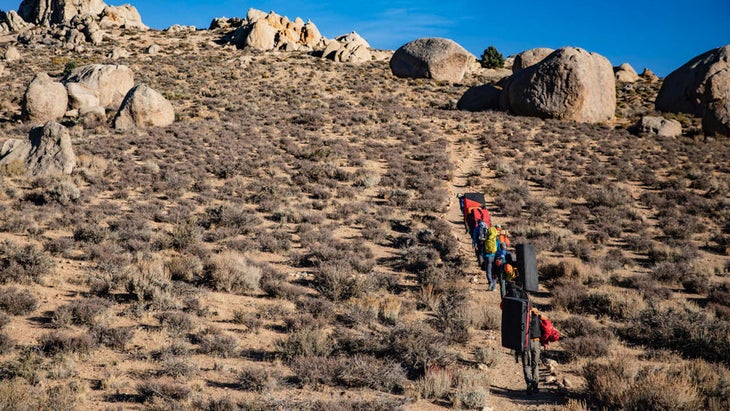 My early bouldering career, at the historic Alcove in Boston, was pre-pads, and one time I sprained my ankle and had to crutch up and down the stairs to my fifth-floor walkup. I don't need a fan, but pile on those pads.
Lead Photo: Courtesy Sam Weir