Welcome to the Mutant Factory
Since being jettisoned from Patagonia's empire twenty years ago, Salt Lake City—based Black Diamond Equipment has prided itself on breaking all the rules. They eschew advertising, take enormous risks, and employ a team of superfit athletes who do their only "market research" skiing and climbing in the Wasatch backcountry. And it's working.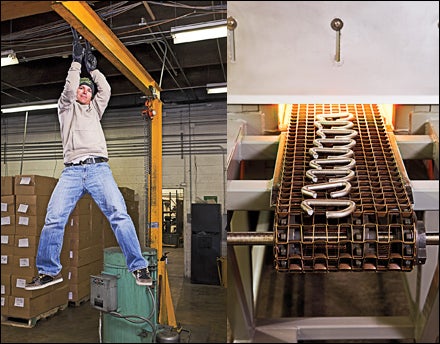 Heading out the door? Read this article on the new Outside+ app available now on iOS devices for members! Download the app.
ONE OF THE LAST THINGS Yvon Chouinard told me before we left," says Peter Metcalf, the CEO of Black Diamond Equipment Ltd., raising his voice over the factory's din, "was 'Keep it small, keep it simple, and sell it out of the back of your car. That way, the law can't get ya.' "
Black Diamond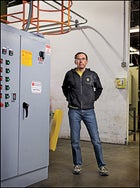 Metcalf at BD's headquarters
Black Diamond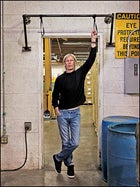 Chris Grover, BD's official "minister of culture"
Metcalf, 53, is showing me around BD's 85,000-square-foot manufacturing center and office complex, retrofitted into a former Bavarian-style shopping mall in east Salt Lake City. The plant cranks out about a fifth of the company's 4,500 climbing and skiing products (the rest are made in Asia and Europe), and our tour is accompanied by a concerto of buzzes, clanks, and a thrumming bass note. Equipment in various stages of completion is strewn everywhere, glinting under the fluorescents ice axes, skis, bindings, backpacks, telescoping poles, headlamps. So this is where gear junkies go when they die, I think, as Metcalf points out a stamping press, a laser cutter, and a drop-bottom furnace that was salvaged from a Boeing plant in Washington State.
He pauses in front of a huge vat in which hundreds of oval carabiners churn like metallic cake batter.
"Obviously," Metcalf says, "we didn't stay very small."
I've come to Salt Lake to find out how, exactly, Black Diamond has morphed from Patagonia founder Chouinard's one-man blacksmithing operation into what's arguably the most successful mountain-sports-equipment maker on the planet: a $90-million-a-year, 400-employee brand with offices on three continents. More curious is how BD, an improbable congregation of diehards and iconoclasts, has built such a formidable empire on an arcane assortment of hard goods. If you believe the creation myth, Metcalf didn't take a bunch of climbing bums and make them conform to business; he took a business and made it conform to climbing.
"They do it all wrong," says Jonathan Blum, a business analyst who's written about the company. "They make decisions by committee. They don't optimize short-term profit. They centralize risk by designing, producing, and distributing their own products. And they specialize in a very strange niche with small margins and limited appeal."
Black Diamond's unorthodox culture has been called a "rope team," a "wolf pack," and a "hippie commune" all fair appraisals and all in accordance with Metcalf's grand plan. During his late teens and early twenties, he spent most of his time clawing up outrageously difficult routes in the Alps and Alaska, sleeping in cars and, at times, inside storm drains. When he relaunched Chouinard Equipment as Black Diamond in 1989, he surrounded himself with employees who'd also lived the dirtbag dream. Today, his staff includes so many unheralded but freakishly accomplished outdoor athletes that the Salt Lake headquarters is often referred to as the Mutant Factory.
On the surface, the mutants look normal enough young, fit, and sun-kissed. As Metcalf shows me around the newly renovated sales department, a few of them talk on headsets to customers, delivering the spiel on BD's new backcountry ski boots a three-patent, four-year, $5 million endeavor that Metcalf calls "the biggest, ballsiest project in company history." In fact, the boots are just the latest and most audacious of several recent initiatives, including the complete overhaul of its ski line in 2005 and, in 2006, an attempt to "clone" itself in Guangdong, China, which is now home to BD Asia's manufacturing-and-distribution center.
As the tour continues, I follow Metcalf outside and down the breezeway, where BD leases space to a climbing gym and a Spanish restaurant. Near the company's retail store, a sleek employee lounge is under construction, soon to be pimped with a flat-screen TV, an espresso machine, passive solar lighting, and a locker room. Though it's mid-November and the economy has already begun its tailspin, the company is still gunning to hit the $100-million-a-year benchmark in 2010.
Back in Metcalf's one-window corner office, we settle at a small table. He remains compact and chronically fit, with long arms, round specs, and a dark cap of thinning hair that looks like a yarmulke. "I truly believe that we are slowly, steadily, and effectively changing the way other companies do business," he says. "What I tell people here is we have to be bold but not stupid. It's like climbing 70 feet above your last piece of pro. You're exposed, and you can't lower off to get more gear, but you know you can work the route. We aren't going to take the ground fall. We can't."
IF BD REALLY IS CHANGING the rules of the game, it may have as much to do with the mutants as with Metcalf himself. The roster of alums reads like a who's who of the high-alpine world and includes Conrad Anker, Jack Tackle, and Andrew McLean. The current guard most of whom are in their early twenties to mid-thirties may not have quite the same star power (yet), but they're hardly slackers. Bill Crouse, BD's international-sales manager, has summited Everest six times. Chris Grover, BD's official "minister of culture," is a sport-climbing legend along with Alan Watts, he's credited with bringing European sport climbing to the U.S. Brad "B-Rad" Barlage, a senior sales rep, kite-skied across Baffin Island to ski 5,000-foot first descents. Bill Belcourt, the director of climbing product, once held a North American distance record for paragliding. Barlage and Belcourt have been known to hike up 8,300-foot Grandeur Peak, on the outskirts of town, and end their day by sailing off the summit.
When I stop by Belcourt's cubicle one afternoon, the space is crowded with so many ice screws, axes, and other acutely angled hardware, it looks like a medieval armory. "This is our new stainless-steel Cyborg crampon," he says, sliding a shiny, multi-fanged toe piece across his desk. The Cyborg's teeth look sharp enough to shave with.
"Snow won't stick to it, and it doesn't rust," he says. "Stainless costs three times as much as chrome-moly, but we've created a confluence of design and materials that's four times better than our previous model."
Belcourt's enthusiasm for his products may be uncomfortably intense, but, then again, so is nearly everyone else's around here. On any given morning, you might find him or any of a dozen other staffers lighting out in the dark for "dawn patrols" burly product-testing sorties that serve as an excuse to climb and ski in the Wasatch Mountains before work. Metcalf likes this kind of "passion and intimacy" in his employees especially those who can navigate a 40-degree couloir in the morning and the latest CAD software in the afternoon.
The dream guy is someone like Andy Rosenberg, a 31-year-old mechanical engineer and expert skier from the University of Utah who joined the company in 2004. Kolin Powick, BD's director of quality assurance, was looking for the right person to torture-test a new telemark binding, the 02, when he heard about Rosenberg, a six-two, 195-pound freeheeling fanatic who supposedly hadn't met a binding he couldn't break. When Powick called him up and said they wanted to ship him off to the ski slopes of New Zealand for three months to pound on 50 pairs of bindings and skis, Rosenberg almost dropped the phone. Two years later, they brought him on full-time as a dedicated boot mangler.
The downside is that guys like Rosenberg have a knack for finding trouble in the field. In 2005, while he was shooting a sequence with Salt Lake based Powderwhore Films, he was swept away by an avalanche on Utah's Mount Superior. He pinwheeled 1,700 feet down the mountain, blacking out and breaking a rib and his collarbone, but lived to tell his story on Dateline and Today.
Other mutants haven't been as lucky. Metcalf estimates that at least a dozen people who've worked for BD have died in the mountains, including Roman Latta (buried in an avalanche near Alta in 1993), Doug Hall (flushed over a cliff while ice-climbing in Provo Canyon in 1997), and Alex Lowe (swallowed by an avalanche in Tibet in 1999).
"I've probably lost more friends climbing than I have left," Belcourt says. "A lot of times there's nothing anyone could have done about it. But I stay awake at night thinking that people I know are trusting their lives to the stuff we make."
THE NEXT DAY, I meet Metcalf at 5:30 A.M. for a hike up Grandeur Peak. This is a mellow outing by dawn-patrol standards a mere 3,300 thigh-frying vertical feet but I barely have time to adjust my trekking poles before we blast off into the dark at a pace that leaves me gasping. Metcalf grew up in New York City, where his father was an economist for Citibank. He learned to climb in high school, under the tutelage of climbing legend Guy Waterman. By age 16, he was obsessed. A few weeks before his high school graduation, he piled into a Volkswagen van with three friends and drove nonstop from New York to Alaska, where they made a first ascent of the Southwest Ridge of 15,300-foot Mount Fairweather. He spent the next six years drifting in and out of college, enduring seasonal jobs as a roughneck or selling suits at J.C. Penney just long enough to subsidize his next trip to the mountains.
Eventually, after a mostly depressing year of failed ascents in the Alps, in 1982 Metcalf ended up in Ventura, California, the home of Chouinard Equipment. Despite his glaring lack of professional experience, Metcalf talked Yvon into letting him run the company.
At the time, Chouinard Equipment was flagging, in part because its sister company, soft-goods manufacturer Patagonia, had taken precedence. But with Metcalf installed, business began to look up. He expanded the product line to include cutting-edge items like spring-loaded cams and interchangeable-pick tools. As the sport of climbing continued to grow, revenue went from $900,000 to nearly $6 million by 1989. Metcalf's relationship with his boss, however, wasn't keeping pace. When he proudly unveiled his full-color 1987 equipment catalog, stuffed with photos of shirtless climbers in rainbow leggings and sticky-soled shoes, Chouinard leafed through it with a frown. "You know," Metcalf recalls him saying, "my name's on this thing and I pretty much don't like anything you're doing here." (Chouinard denies making the comment; either way, the two men are cordial now.)
Worse yet, by the late eighties Chouinard Equipment was sagging under the weight of five liability lawsuits filed by people who'd gotten injured while using its gear. In part to protect Patagonia's mushrooming assets it was a $50-million-a-year operation by then Chouinard had already split the companies. Around the same time, he decided to move Chouinard Equipment into its own facility, eight miles across town. Metcalf was eventually demoted to manager and, even more bristling, forced to defer key decisions to other execs.
"We became elitist snobs," he says. "We believed that we were the true spirit of climbing and that Patagonia was just a bunch of fucking rag merchants. I know I fed that arrogance, because I believed it."
Though the lawsuits were largely frivolous one person had been injured while playing tug-of-war with a climbing rope they ultimately led to Chouinard Equipment's demise. Chouinard's insurer decided to settle all the suits out of court, a move that may have saved money and bad publicity in the short term but spiked Chouinard's premiums by 2,000 percent over the course of a year. The costs were too much and, in March 1989, Yvon put Chouinard Equipment into Chapter 11.
"I was like 'Ah, shit, I've had enough,' " Chouinard told me recently. "I didn't like where climbing was going anyway, with chalk and rubber shoes and indoor walls. People ask me all the time if it was hard to let Chouinard Equipment go, but it wasn't. I never looked back."
Letting go wasn't quite so easy for Metcalf. After the meltdown, he persuaded the employees to scrape together enough money to buy Chouinard Equipment's assets. At the end of 1989, they reopened as Black Diamond, but their days in California were numbered. Lacking financial support from either Patagonia or local banks, and yearning to be closer to the mountains, Metcalf sweet-talked his 40-person staff into pulling up stakes and moving to Salt Lake City.
"I told them what I had to at the time, which was lies," Metcalf says now. "What was I going to say? That I didn't have the slightest clue how we were going to raise the money? That I had absolutely no idea how we were going to pull this off?"
What began as a nine-month relocation nightmare, wrangling credit lines and seeking a suitable factory site, eventually eased into comfortable residence. As Metcalf had hoped, proximity to the Wasatch attracted a steady supply of mutants and provided a world-class backyard for R&D. Over the next few years, the business began to thrive.
By 2000, BD had quietly evolved into a champion of conservation and access issues, and Metcalf had become a prominent area businessman. Which isn't to say success mellowed him out. In 2003, for example, when a backdoor federal settlement threatened to strip wilderness protections from nearly six million acres of public land in Utah, Metcalf broke ranks. Without consulting anyone else in the outdoor industry, he sent an impromptu letter to The Salt Lake Tribune that threatened to move the city's Outdoor Retailer Show the industry's twice-a-year gearpalooza, which pumps some $40 million into the local economy every year to a more environmentally friendly state.
Though the move initially stunned some of his colleagues, it ultimately galvanized the entire industry, which realized that it did, in fact, possess powerful economic clout. Not only did the gambit work when the dust finally settled, the outdoor industry ended up on more equal footing with more powerful mining, oil, and natural-gas interests it also helped solidify Metcalf's reputation as one of the industry's most respected voices.
When Eastern Mountain Sports (EMS), a $200 million-a-year, 68-store specialty retailer based in Peterborough, New Hampshire, set out in 2005 to revive its flaccid image and dwindling profits, it reached out to BD for guidance. "When I was trying to figure exactly what we needed to do to fix the business, I called Peter," says Will Manzer, EMS's CEO. "We needed to reclaim our authenticity, and Black Diamond is as authentic as it gets." They staffed up with "knuckle draggers people who eat, sleep, and breathe their sports" and got back to the store's roots selling technical climbing and skiing hardware. By 2008, average sales had increased 15 percent.
WHATEVER HIGHER PURPOSE Black Diamond might serve, the company doesn't spend a lot of time bragging about it. Until recently, BD ad campaigns relied on stark product shots highlighting a few salient features. Internally, the marketing mantra boiled down to three words: "Product is king."
"When we started, our stuff was for the cognoscenti," Metcalf tells me. "You learned about it the same way you learned about climbing. One night you'd be sitting by the campfire, and it's burned down to embers, and someone would lean over and whisper, 'Black Diamond.' "
The gear didn't stay underground for long. Almost immediately, BD began pushing product design in brash ways. In 1992, it teamed up with the Italian boot maker Scarpa to bring out the first plastic telemark ski boots. This was blasphemy to leather-loving purists, but plastic ushered in a new level of power and control, helping spike telemarking's popularity. In 1995, BD debuted the HotWire, a carabiner with a looped wire gate that resembled a large paper clip. Initially mocked it appeared odd and unreliable it's now emulated throughout the industry.
As the product line steadily expanded, BD began looking to break into categories beyond backcountry skiing and climbing. Take headlamps, for example. In 1998, they basically came in two varieties: small and dim or bulky and bright. But the mutants wanted a headlamp that was small and bright, so they figured out how to make some. Within two years, they had 30 percent of the market share, which rivaled the biggest player in the business, Petzl. If it didn't make sense to build a product they were hot for, BD orchestrated smart acquisitions and alliances, either partnering up with an industry leader like Fritschi AG Swiss Bindings (BD serves as its exclusive U.S. distributor) or buying up a company that they liked, as they did with Ascension Enterprises (climbing skins) and Beal (ropes). By 2008, after averaging nearly 15 percent growth annually for 19 years, BD commanded at least half of the climbing hard-goods market and 35 percent of the backcountry-skiing market.
Over the years, they've also developed enough confidence and credibility to take on projects that no one else would touch. In 1997, a psychiatrist and skier from Denver named Tom Crowley showed up at the Black Diamond offices hauling a strange-looking apparatus he called the AvaLung. "It lets you breathe," he told a few managers, "under the snow." The AvaLung uses respiratory tubes to redirect exhaled carbon dioxide away from a trapped skier's face, preventing a suffocating ice mask from forming. Crowley had shopped his design for a year with no takers until then. Two years and half a million bucks later, Black Diamond brought the product to market. To date, they've sold about 50,000 AvaLungs. The device is now standard issue for Indian Army soldiers operating in the Himalayas. More important, it's been credited with saving at least five lives.
None of these undertakings, however, has been as risky as BD's ski-boot launch. No American company had produced a full ski-boot line from scratch in more than 25 years. Sales of alpine-skiing equipment flatlined a decade ago. And while backcountry skiing has been growing steadily over the past several years, it's still tiny compared with alpine, and the boot market is saturated with reputable European brands like Scarpa, Garmont, and Dynafit.
Black Diamond could have dabbled, subcontracting with an established factory to bring out a couple of cosmetically embellished house-brand boots. Instead, they scanned 100 mostly "American" feet (European feet, apparently, are narrower), cherry-picked their favorite features from existing alpine, touring, and telemark boots, and, this past fall, debuted their nine-model boot line.
When I ask Matt Hyde, executive vice president of merchandising and marketing for REI, BD's largest retailer, how big a gamble it was to release an expensive line of products right now, he bursts out laughing. "In this economy?" he says, adding, "If the boots tank, it probably won't sink the company, but it'll hurt 'em pretty bad."
WHEN YOU'RE ABOUT TO SKI an avalanche-prone chute or trust your life to a pea-size piece of climbing protection, the gear's gotta work. Herein lies the heart of BD; it's doubtful many companies intentionally break more stuff to make sure it doesn't unintentionally break when it shouldn't. For many years, BD accomplished this with "the curb test," and other equally crude experiments, in which they gathered up a bunch of samples, took them to the alley behind the factory, and beat them against the concrete until they cracked.
Thankfully, testing is (generally) a more sophisticated affair now, handled largely by Kolin Powick and his nine-man quality-assurance wrecking crew. The afternoon I stop by, someone's girlfriend has just delivered homemade muffins and the crew is gathered around, munching. Shattered boot shells, 'biners, ice axes, and other pieces of equipment are piled in corners.
"Metcalf doesn't like to come in here," Powick says between mouthfuls. "He gets all wiggy when he sees how much stuff we go through." To test their C3 Camalots, for example, Powick first put the items small camming devices with multiple moving parts through a cycle of tensile, material, durability, and various other tests. Then he sent his crew to a local crag for a real-world examination. The field test involved climbing up a rock wall, putting the cams in "progressively sketchier placements," and then taking "huge whippers." "We went through something like 500 cams before we were done," Powlick says.
In the lab, Powick shows me some of their machines. One is a pile driver called the Evanpactor, designed by Evan Bouchier, which tests the strength of plastics. (One Quality Assurance job perk is that you get to name the equipment you create.) In an adjacent room, we enter a large walk-in freezer where some of the new ski boots are getting worked over by a pair of pneumatic fatigue-testers. It's all very Willy Wonka, I think as Powick shows off their newest addition: Andy Rosenberg's Rosenflexor, which bends and twists boots in order to measure their stiffness.
"What's this one?" I ask, pointing to an older machine next to the Rosenflexor that's glistening with oil and emitting angry-sounding pops and hisses as it cranks on the toe of a telemark boot. "That's been here for a while," he says.
"Does it have a name?"
"Shiva," he says, gazing nostalgically at the apparatus, "god of destruction."
Despite their best efforts, innovation occasionally outpaces the controls. BD has launched and recalled at least three different telemark bindings, including a model called the Pitbull that was prone to breaking apart at the peak of the turn, sometimes shooting the cable stop like a rocket-propelled grenade. "I walked into the back room one day," recalls skier Andrew McLean, a former BD designer, "and there was a guy with boxes stacked around him, running all the Pitbulls we had left through a band saw."
No product, however, is quite as infamous as the Black Prophet ice ax. Released in 1993, the fearsome tool was the first to be built with a carbon-fiber handle. But it was a new application for carbon, and the shaft didn't perfectly adhere to the aluminum pick. As a result, the shaft sometimes shattered if struck a certain way against the ice, the head tumbling down into space, the hapless climber left clutching the jagged handle. BD did "the only ethical thing," says Metcalf, and instituted a full recall, even though it cost the company several hundred thousand dollars. The case is such a classic product-failure fiasco that it's been anthologized in business-school textbooks.
Remarkably, given the spectacular nature of these problems and the inherent riskiness of their business, Black Diamond has managed to avoid, deflect, or defeat almost every attempt to sue them. Of the three product-liability cases that were actually filed, two involved "gross misuses" of their carabiners the first case was a rappelling incident in Pennsylvania, the second a bungee-jumping accident in Bali and the third concerned a Korean climber who broke his legs when a postage-stamp-size "stopper" broke during a fall in Yosemite. When Rick Luskin, BD's in-house counsel, learned that the product in question in the third case had never been recovered, he flew to California, hired a guide, and ascended the route. They found the broken piece, still inserted into the rock and stamped with the symbol of its manufacturer: chouinard equipment. Case closed.
"We're pretty aggressive when it comes to litigation," says Luskin, who's gone to trial in several intellectual-property disputes for BD and won all of them. They still get threats, he says, but they rarely go very far. "There isn't a lot of incentive for plaintiffs' attorneys to keep pushing. With climbing, there is this assumption-of-risk thing. Most juries would see that we're a company that cares about our products. We have some of the best quality assurance in the business and a thorough system of instructions and warnings. The closer is almost always 'What else can we do?' "
THE DAY BEFORE I LEAVE Salt Lake, I join Dave Mellon, BD's product manager, and Thomas Laakso, the ski-line director, at Snowbird to demo the much ballyhooed new boots. The flagship model, the Factor, is olive and chartreuse, with neon-yellow buckles, in case you forget to announce that you're wearing a pair. In spite of the terrible conditions locals have been referring to the backcountry snow as "chossy death mank" the boots are surprisingly smooth and powerful. Later in the afternoon, as we drink beer on the deck at Snowbird, I ask Laakso how the boots are doing. "We're pretty much sold out," he says.
"So the market research paid off."
"Market research?" says Mellon. "We made the kind of boot we wanted to ski on. That was our market research."
I knew Mellon was just being a little glib, but this was a perfect example of BD's self-assured strategic thinking. Its ability to anticipate skiing's future in this case, the convergence of resort fun and backcountry freedom arose because the mutants were already there, pushing the limits of their sport and designing gear that allowed them to do it. "A lot of people in the ski industry are looking enviously at BD right now," says David Ingemie, president of the SnowSports Industries America, "and a lot of people are going to be scrambling over the next year to position themselves in the same way."
While skiing hard goods have become an increasingly essential part of BD's empire (now accounting for a third of their overall business), Metcalf doesn't ski much at least not compared with his staff. He's a climber, first and foremost. In fact, when we first met he told me that if it hadn't been for one climb in particular, he's certain that BD wouldn't exist today.
In May 1980, he traveled to Alaska to attempt the south face of 14,573-foot Mount Hunter, with two teammates, Pete Athans and Glenn Randall. The route 6,000 vertical feet of sheer rock and ice culminating in a mile-long ridge that looked like a ripsaw had been completed just once, in a 145-day siege in 1978, by John Waterman, Guy's son. Metcalf believed they could do it in six, in an alpine-style blitz, forgoing radios, tents, and even spare crampons.
It took them 13 days, climbing 18 hours at a stretch, but they summited. They ran out of food, with only a spent tea bag to see them through their final two days. Metcalf dropped a sling holding all but two of their ice screws. Randall broke a crampon and suffered frostbite on six fingers. Two storms forced them to burrow into ice holes in order to survive the minus-30-degree temperatures and gale-force winds. When they stumbled back into base camp, they'd lost so much weight that others there didn't recognize them.
"I felt like everything in my life had been taking me to that point," Metcalf says. "BD was the same way. On Hunter, we'd gotten 25 percent of the way up, and now there's no way to turn around, we're low on fuel, don't have enough food, the weather's horrendous. It's so easy to give up hope and say, 'We're fucked.' Then you stop and realize, Wait a minute, we're fit, we're strong, we did some amazingly difficult climbing yesterday. Why can't we do that again today?"
Metcalf seems to have done an admirable job transferring his alpine-style business philosophy to his team, but the big question is how well and for how long it can be sustained, especially as BD goes global. Most of the employees in Asia don't even seriously climb or ski, I've been told.
It seems as if the company has reached an evolutionary crossroads. A few days ago, I walked past a room full of staffers watching the latest ski flick from Teton Gravity Research. Next to one of the desks was an AvaLung, designed for extreme skier Shane McConkey, built into a bright-red backpack imprinted with a skull and crossbones. I thought of something Adam Chamberlain, BD's marketing director, told me. "Our image isn't so exclusively focused on product anymore," he said. "We're about the moment making that clip, skiing the big line that instant where you connect, through your gear, to genuine experience."
I asked Metcalf how he feels about the image update. Is it a little too Red Bull? Are they compromising their core values?
"Hey, we're hip, we're edgy. We're from California!" Metcalf said half-jokingly. "I may not have a lot of strong skills, but one thing I do have is empathy, an ability to look at things and know whether it's a good idea or bad. I don't ever want the people here to feel the way I did at Chouinard Equipment, because I know how much potential can get wasted."
After a pause he says, "I know some things here will get diluted if we reach $200 million, but I also know we can preserve a lot of what we've created. When we went to Hunter, we were determined to do it in really good style. Style is every bit as important as the goal. When you can combine success with style, that's the point where you begin to envision all the bigger things you're going to do."