The Best Base Layers for Women
More than two dozen women tested synthetic and wool long underwear from 18 brands. These are the products that came out on top.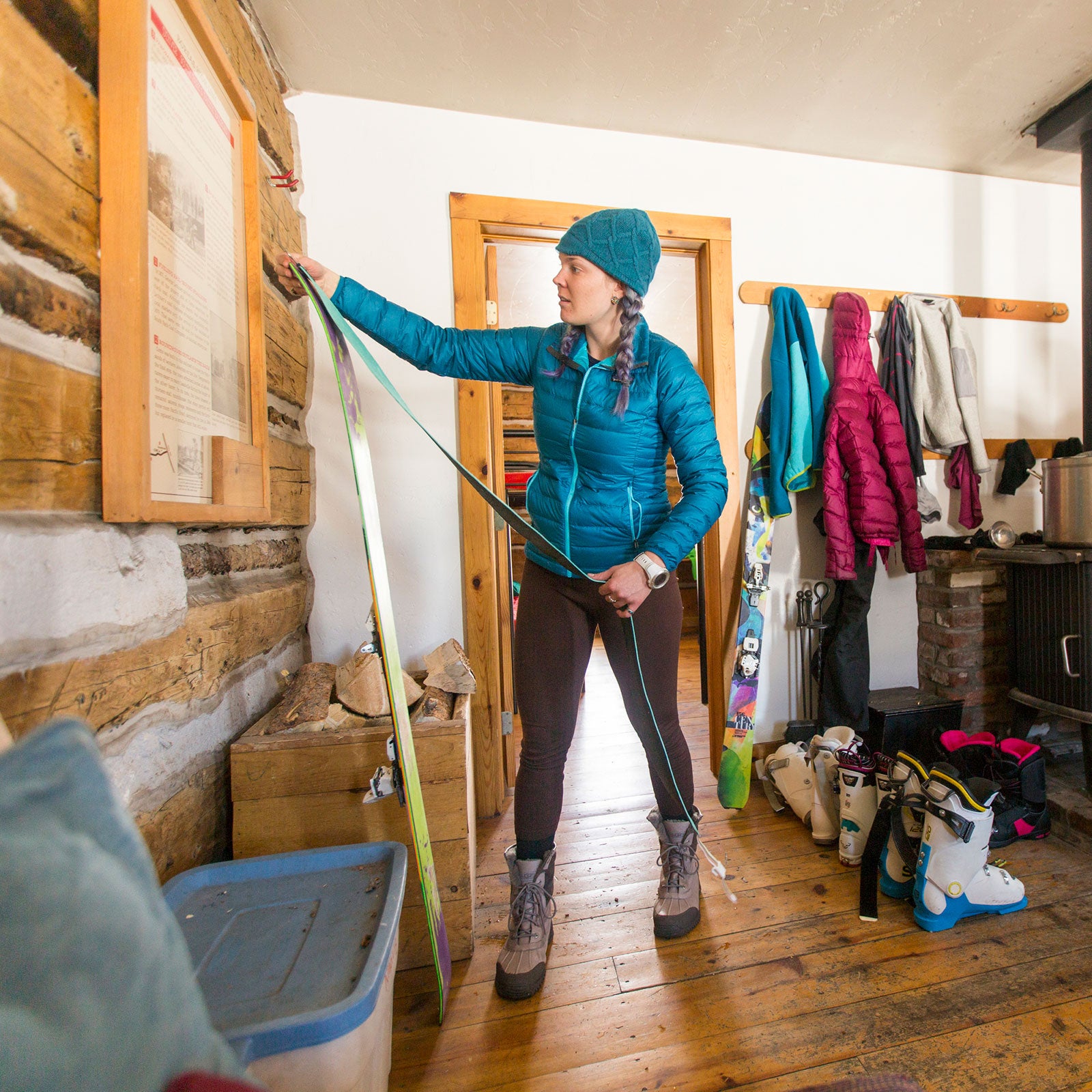 Heading out the door? Read this article on the new Outside+ app available now on iOS devices for members! Download the app.
Base layers are the foundation of any adventure kit: they're the clothes you wear directly next to your skin and are designed to insulate while wicking sweat away from your body to keep you dry.
When I asked several dozen of my friends what they look for in a base layer, what they told me wasn't surprising: they want tops and bottoms that are comfortable, durable, odor repellent, warm in a variety of conditions, yet fashionable enough for casual office wear. So, this winter, we set out to find the pieces that meet all those criteria.
Collectively, I and 30 other women spent a winter testing 40 base layers from 18 brands. We came away having found some standouts, including wool layers like the Kari Traa Rose half-zip, Kora's Shola 230 leggings, and Norrøna's Wool One-Piece, which managed to change our minds on onesie base layers for good. Here's a rundown on these styles and a handful of our other favorites, plus tips for how to find the base layers that are right for you.
---
How We Tested Base Layers
The women I asked to help me test layers are ski instructors, avalanche experts, ice climbers, and backcountry shredders from across the United States. We hiked, ran, climbed, cross-country skied, dogsledded, snowshoed, ski toured, worked, and slept in these layers in places like Colorado, Wyoming, Vermont, Texas, Hokkaido, Helsinki, and the Arctic Circle. 
When choosing the best base layers, I considered durability, fit, versatility, and whether testers reached a consensus or strongly disagreed with one another. (Much of the feedback had more to do with personal preference and how each tester was using each layer than how the piece was constructed.)
For layers that I didn't personally test, I trusted feedback from two or more testers who gave these layers overall ratings of eight, nine, or ten, where one was "I hate this so much, I will never wear it ever again," and ten was "I love this immensely and wish I could wear it all the time, all day, every day, for the rest of my life."
Unfortunately, while there are many kinds of base layers available, and they all fit differently, most of the outdoor industry's core companies don't manufacture sizes above XL or XXL. As a result, this review is not comprehensive as I would have liked.
---
The Best Overall Top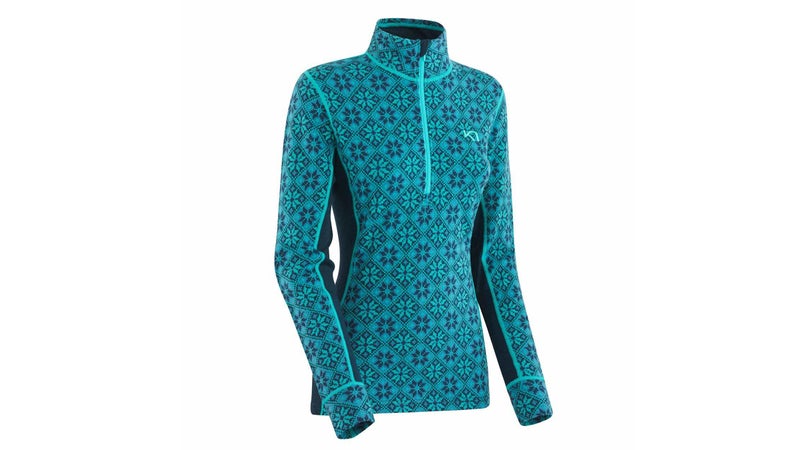 Kari Traa Rose Half-Zip ($110)
For three years, Kari Traa's Rose half-zip has been my favorite base-layer top. The Rose is made with soft, midweight merino wool and has offset seams on either side of the elbow to avoid rubbing. With a deep half-zip and thin side panels running from hip to wrist, the top also works in a wide range of temperatures. I've worn it skiing in Colorado and Wyoming, backpacking in rainy conditions in Colombia, working in the office, and while sleeping. It comes with me almost everywhere I go.
This test has only reinforced my opinion that Kari Traa—the company is named after its founder, a Norwegian freestyle skier—makes some of the best women's tops on the market. One tester thought the Rose half-zip was warm enough to cut her usual four-layer system down to three and still wicked moisture exceptionally well. Another tester wore it to climb a Colorado 14er with temperatures in the twenties and was shocked that she was able to get away with only the Rose top and a wind shell on both the ascent and descent.
As much as I love the Rose top, I only like the Rose bottoms. Another tester who said the Rose top had become one of her all-time favorite pieces of clothing agreed: the bottoms don't have the right amount of stretch in the rear and feel a bit constrictive.
Honorable Mention: One tester found Cotopaxi's llama wool Libre LT sweater ($130) itchy and not warm enough for winter wear. But another tester liked its just-loose-enough cut and the fact that it hardly smelled after seven straight days of wear. Personally, the Libre LT and its heavier-weight sibling, the Libre ($140), are two of my go-to pieces for hiking, traveling, and general wear. They are initially itchy but soften up over time and almost never need washing.
---
The Best Overall Bottoms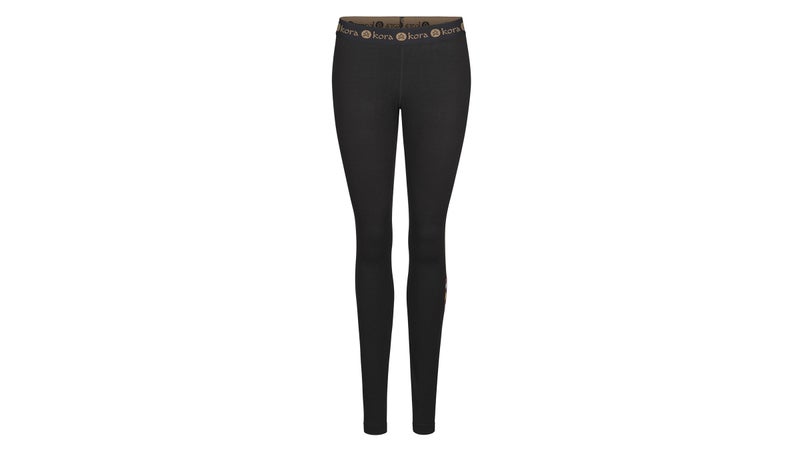 Kora Shola 230 Leggings ($145)
These solid-black leggings are made from yak wool, a fiber I may love even more than merino. The medium- to heavyweight fabric regulated my temperature on cold days, and it's stretchy enough to be comfortable for all-day wear or even sleeping. After I first got my pair, I don't think I changed out of them for three days.
They kept me warm under lightweight hiking pants while cross-country skiing on a frigid, windy day in Colorado, but they breathed so well that I never needed to delayer while working hard on substantial uphills. I wore them while hanging around my house and as leggings underneath skirts and dresses while walking around Boulder, Denver, and New York City during cold snaps. Even in New York, where humidity drives the cold into your bones, I stayed warm. A Minnesota-based tester was delighted to find she didn't get cold even in minus 28–degree weather. That versatility has earned the Sholas a place in my travel luggage and my ski pack.
The only reason I'm not ranking the Shola crew ($145) or half-zip ($160) tops as all-around best is that two testers thought the fit was too snug and short. That's a big issue for me—I like my tops on the longer side to prevent bare-skin gaps—but it may not be an issue for people with shorter torsos. One tester also thought the fabric was too itchy for a top, though I and two other testers didn't agree.
This item is currently out of stock.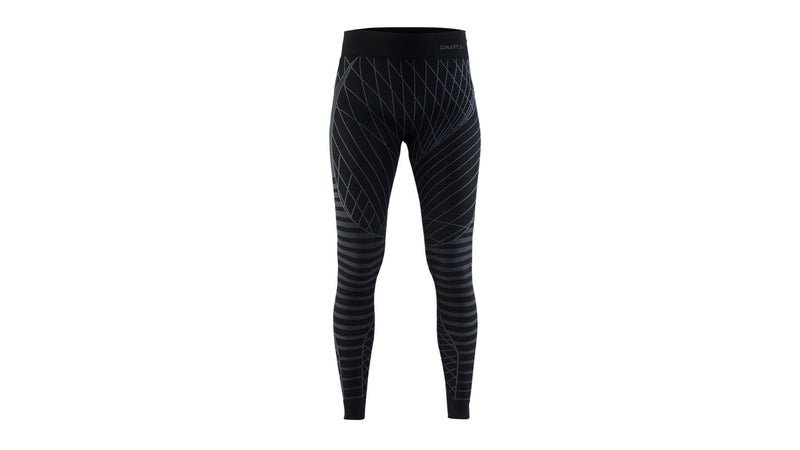 Honorable Mention: Craft's Active Intensity bottoms ($40) pack down almost as small as a pair of pantyhose, and the poly fabric is exceptionally breathable, wicks well, and is ideal for warmer days and rigorous activities like cross-country skiing or alpine touring.
---
The Best Lightweight Base Layers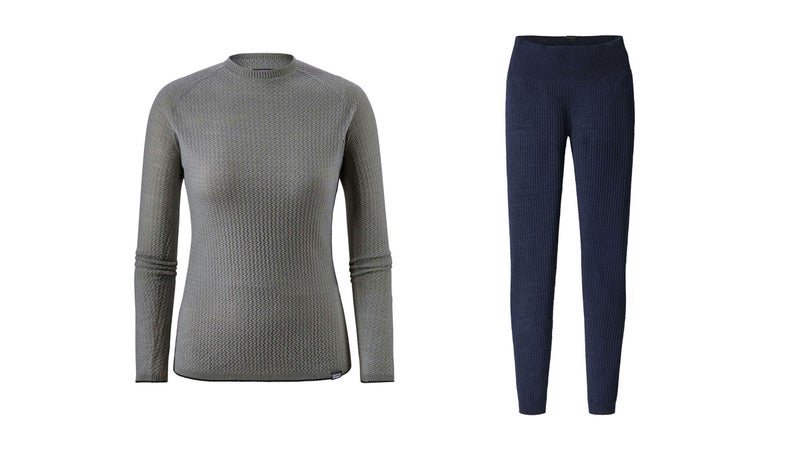 Patagonia Capilene Air Tops and Bottoms ($129 to $149)
Capilene Air is a blend of merino wool and recycled polyester that's 3D knit from thread to garment without cutting and sewing individual panels, which means there are no seams to chafe. The fabric feels lightweight, airy, and stretchy; in testing, it held an impressive amount of heat for its weight. Everyone in the test raved about the fabric and fit, often forgetting they were wearing wool base layers. I heard mixed reviews on the balaclava-style hood—one woman loved how warm it kept her face while resort skiing, while another didn't like having to tuck her hair inside her hood—but, of course, if that's a concern, there's always the crew version, which also passes as a nice sweater in the right color.
One of my testers works at a Utah ski resort. Her days consist of a combination of snowboarding, standing outside in very cold temperatures, and indoor office work. She said that she wore other bottoms to work only because I had given her other layers to test. She found the Capilene Air bottoms too warm to wear inside for long, but when she did sweat, they dried fast.
Two small details kept me from picking either the bottoms or the tops as overall winners: the bottoms can't double as travel leggings, and the top doesn't have a zip option.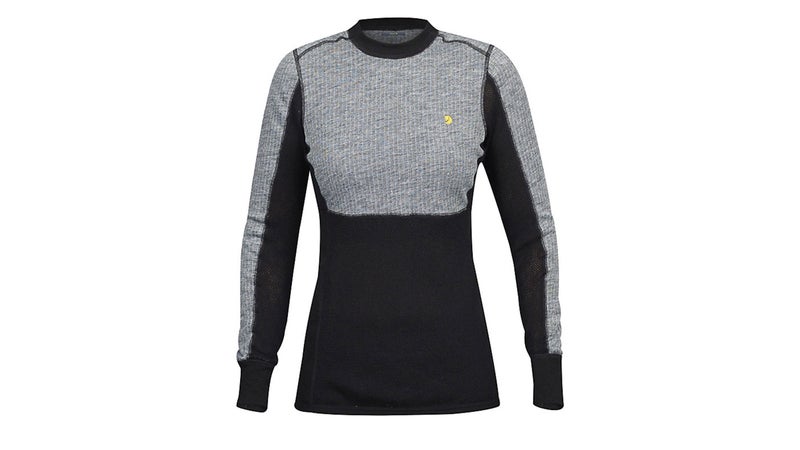 Honorable Mention: Fjällräven's Bergtagen Woolmesh sweater ($160) looks and feels a little funny—it's almost entirely mesh—but it packs a serious performance punch, affording excellent breathability.
---
The Best Heavyweight Base Layers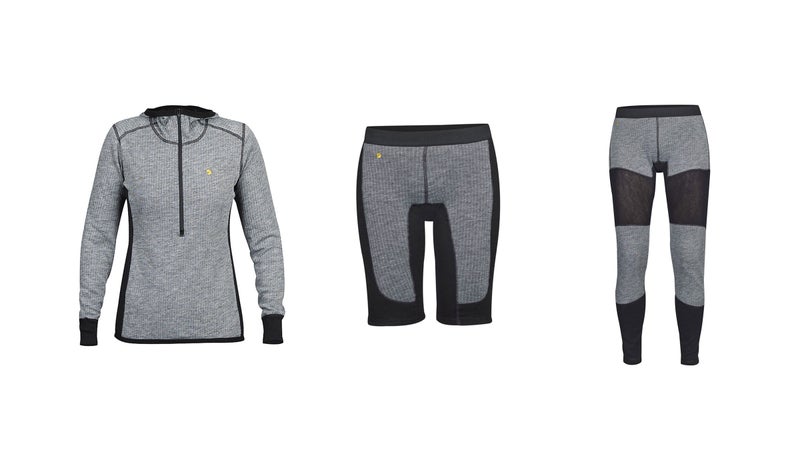 Fjällräven Bergtagen Woolterry Hoodie ($150), Short Johns ($100), and Long Johns ($140)
Fjällräven's Bergtagen base layer line is exceptionally warm, thanks to its terry wool fabric, which is slightly lofted on the inside and helps trap more body heat than traditionally knit or woven fabrics. The long johns have a lighter wool mesh on the quads and down the back of the thighs to the calves, which helps dump heat quickly. 
I lived in the Bergtagen Woolterry hoodie, short johns, and long johns for two days of dogsledding and a night of camping in Kiruna, Sweden, above the Arctic Circle. I never once got cold. I also wore the long johns for two days of cross-country skiing near Abisko, Sweden. While I did overheat and sweat in them while skiing on a sunny 40-degree day, they never got stinky.
On colder days and while dogsledding, I wore the short johns underneath the long johns, which added an extra layer of insulation while preventing air from hitting bare skin through the mesh panels. I was shocked at how much extra warmth these knee-length bottoms provided; I wore them underneath skinny jeans to wander around Stockholm and was significantly warmer than when I wore jeans alone. One important caveat: Although all three of these layers are available for sale on Fjällräven's European website, the company says they won't go on sale in the United States until September.
Learn about hoodie Learn about short johns Learn about long johns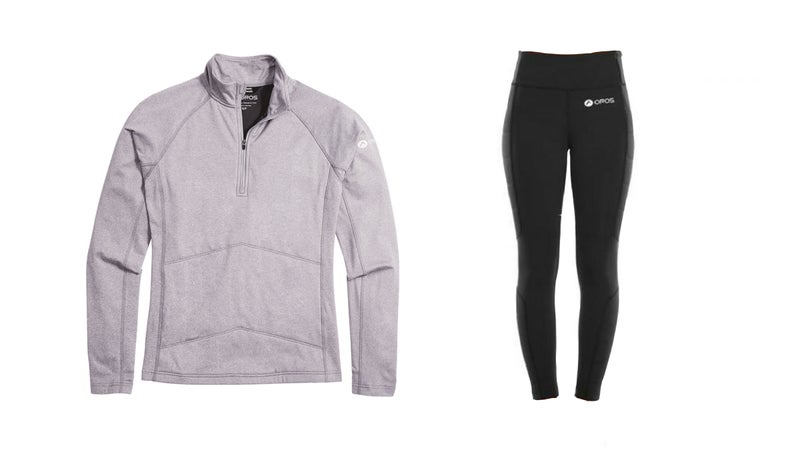 Honorable Mention: Oros's Women's Explorer quarter-zip ($110) and Discovery leggings ($95) have panels of Solarcore—a low-bulk, aerogel-like insulation that's marketed as an alternative to down—along the shins, thighs, stomach, and back. One tester said she stayed warm standing around in 10-to-20-degree weather, but another complained that the areas without insulation felt cold and drafty.
---
Best Onesie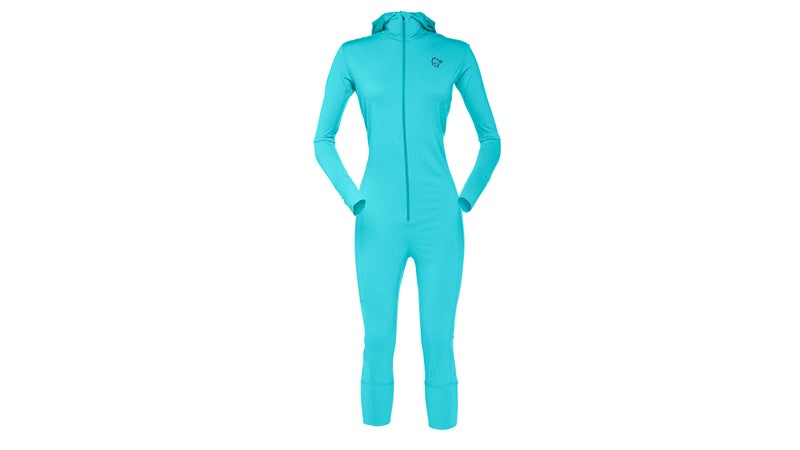 Norrøna Wool One-Piece ($219)
The Narrona wool one-piece is made from 90 percent wool and 10 percent polymide and has a well-designed hood that's snug without being too tight. On very cold days, I frequently wore the hood underneath a beanie. The torso unzips from chin to below the navel for efficient venting. While fat biking in Hokkaido, Japan, I easily regulated my temperature simply by unzipping without adding or removing layers.
Here's the beauty of a onesie design: your midsection and lower back are never exposed to icy drafts. On a weeklong trip to Jackson Hole, Wyoming, I spent a lot of time in the wool one-piece tromping around in knee-deep snow with an energetic dog. I stayed comfy even when I rolled around or lifted my arms to throw snowballs. The legs are a three-quarter-length boot cut for skiing, which brings me to my only request—that Norrøna someday make a full-length onesie for folks like me who play outside often but rarely (if ever) go downhill skiing.
Its best feature, though, is a zipper that runs from the middle of the right thigh, around the waist, to the left hip, which makes bathroom trips easy. Our test team tried onesies from five companies, and many of us were skeptics at the start of the test. A few remain unpersuaded. But of all the options we tried, it was Norrøna's drop seat that sold me, and I will not look back.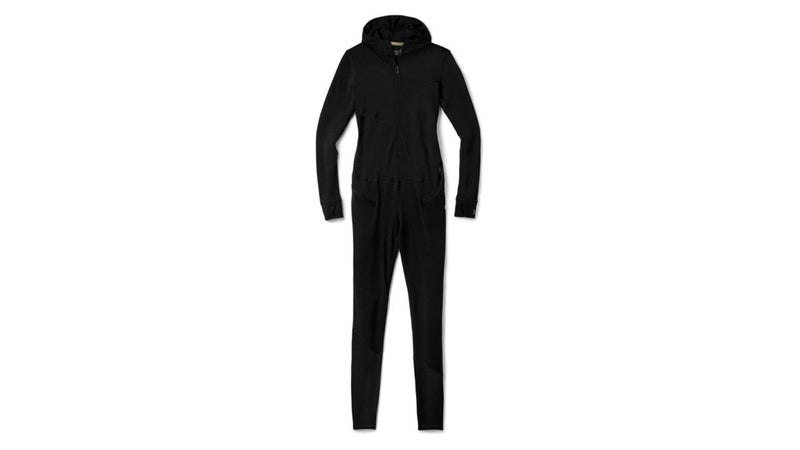 Honorable Mention: One self-described "smelly sweater" who climbed, skied, and slept in Smartwool's Merino 250 base layer one-piece ($225) loved its warmth, breathability, and odor resistance but felt the hood was unnecessary. She also wished the drop seat had a zip all the way around instead of buttons.
---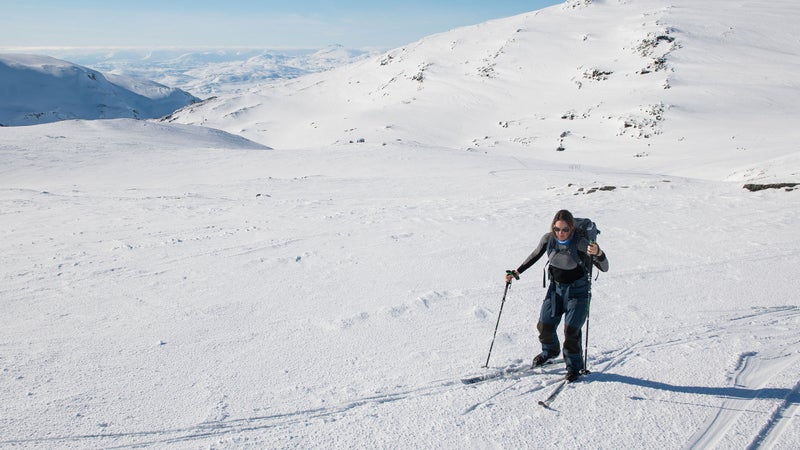 How to Buy Base Layers
Wool vs. Synthetic
Natural fibers like merino wool are cozy and repel odors for days (if not weeks). They also tend to cost a little more, and some people find them less durable. I find that natural-fiber base layers are more versatile and fashionable than synthetics, which often have that shiny look that screams "function first." A pair of plain black wool leggings, like Kora's Shola 230, looks as normal under a business or casual dress as it does in place of workout leggings.
On the other hand, synthetic fabrics sometimes last longer, hold their shape better, fit tighter, and cost less. On the other hand, they generally have a reputation for holding odors (though many have odor-repellent treatments) and being less breathable and less environmentally friendly. 
Weight
Aside from fit and comfort, the weight of a base layer is the most important thing to consider when choosing pieces for specific activities. The heavier or thicker the base layer, the warmer you'll be. The thickness of wool is typically measured in grams. Synthetics are less consistently measured; you'll see words like "lightweight," "midweight," "heavyweight," and "thermal" instead. A 100-gram wool base layer is relatively thin and lightweight, making it ideal for warmer days and intense activities that might cause you to sweat a lot. A 200- or 250-gram piece, on the other hand, is better suited for colder weather and situations where you won't be moving much.
If you live in a place with a wide temperature range or love a variety of winter activities, you'll likely want sets of both lightweight and heavyweight base layers, plus a tee or tank top to go underneath for truly cold days. And, of course, I suggest going to a physical retail store to touch the material yourself.
Fit
Checking the fabric's composition may help you understand how a base layer will fit if you can't go to a store to try things on. If you like snug-fitting layers or need a bit of stretch, you'll want to choose something with at least a little spandex, Lycra, or similar fiber. I've found that many wool base layers stretch out and become baggy in the knees and butt after a few days of wear without washing. Generally, the shape snaps back after a trip through the laundry, but if this bothers you, look for a higher proportion of spandex.
Features
Everyone has different preferences for comfort. Lucky for you, many companies offer each base layer in a variety of options: hoods, crew and quarter-zip necklines, plus thumb holes, brushed elastic waistbands, pockets, and more. These features have their own benefits. Thumb holes and brushed elastic waistbands prevent your top's sleeves and bottom hem from riding up under your jacket; quarter-zips allow you to thermoregulate. Read product descriptions carefully to avoid buying pieces that don't have features you find to be essential—or that have features you don't want or need.
Layering
In some ways, a base layer is only as good as the items you wear on top of it. For example, if you're going cross-country skiing, the lightest, most breathable base layer in the world won't do much good if you layer it under a down puffy and waterproof shell. Even the heaviest of base layers might leave you cold if you're standing on a dogsled barreling through subzero temperatures and aren't wearing a warm outer layer.
Always take the time to evaluate the activities you're doing: the temperature, wind chill, sun, and how hard you expect to be working. Choose your base and outer layers carefully so you don't render your system useless with a weak link.
Sustainability
Assessing the environmental impact of natural versus synthetic is tricky. Wool, cotton, and similar materials will eventually biodegrade. Synthetics don't biodegrade and can shed microplastics when you wash them. But it's difficult to say with certainty whether one is more environmentally friendly than the other. Look into a company's sustainability report or mission statement, if it has one. Here's Icebreaker's 2018 Transparency Report, for example. You can find Fjällräven's reports on sustainability here and Patagonia's Environmental Impact statements here. If you can't easily find information like this online, call the company to ask questions. Most outdoor companies pay attention to what consumers want from them, so your call could affect design decisions down the road.
Lead Photo: Emily Polar/Tandem