The Best Summer Jackets of 2017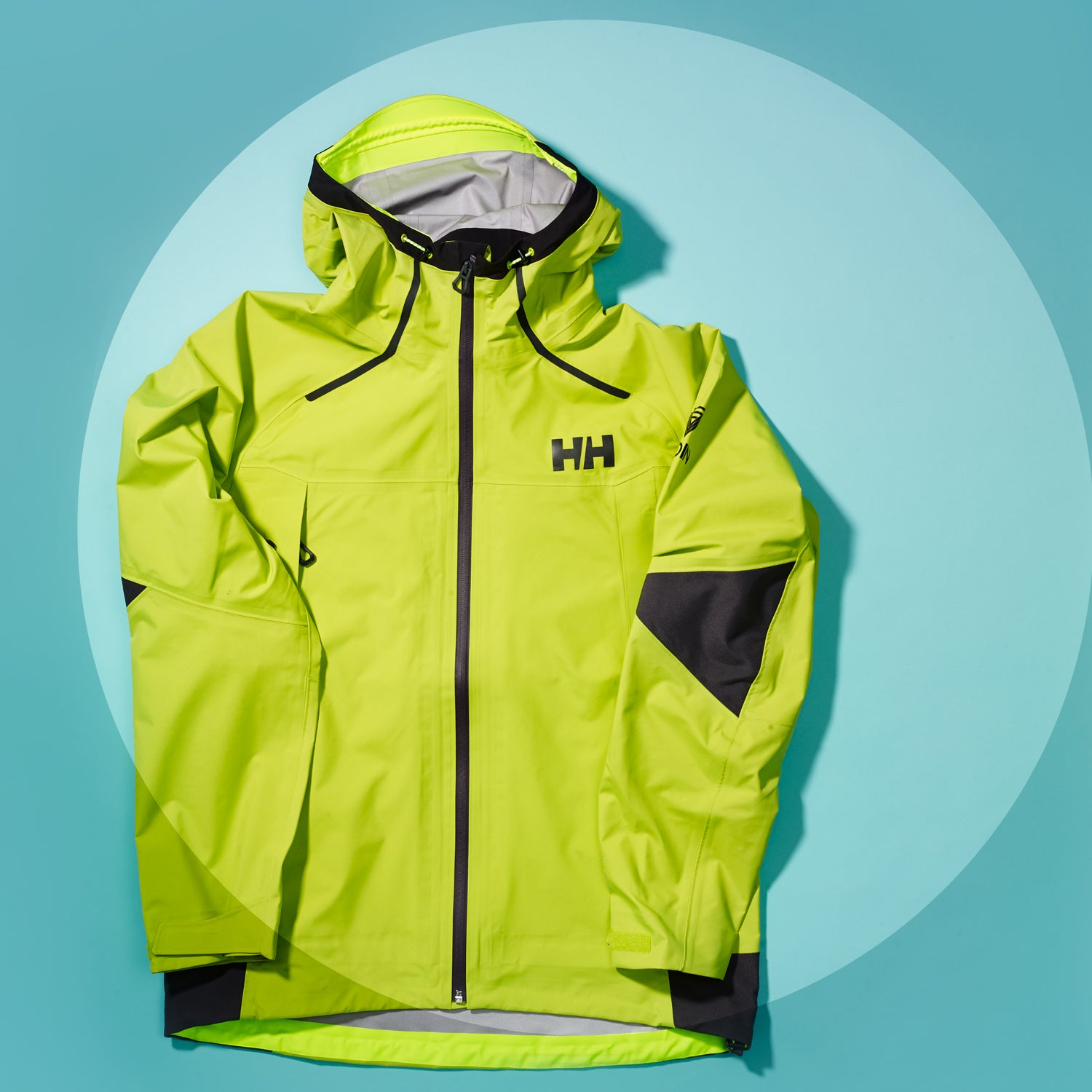 Inga Hendrickson
Heading out the door? Read this article on the new Outside+ app available now on iOS devices for members! Download the app.
Layers of every stripe. 
Helly Hansen Odin 9 Worlds ($400)
Gear of the Year
There is a glut of jackets out there, many of them highly refined tools designed for very specific pursuits. Take, for instance, a Gore-Tex shell that thinks it's a fleece, or an athletic midlayer that you can wear every day for three straight months. Of course, there are also some do-it-all workhorses, which brings us to the Odin 9 Worlds. It shrugged off everything we could throw at it, then laughed in our faces. With classic three-layer construction and tough 70-denier fabric, it refused our efforts to rip it, including several pre-thunderstorm skree scrambles. Its insanely waterproof body kept a sea kayaker happy during Vancouver Island's rainiest fall in 30 years. The huge hood cinched snug and stayed put in a gale without diminishing visibility, and soft fabric at the chin and neck didn't chafe. "Simply the best jacket I have ever tried," said a tester. "Most feel disposable. This one feels like it will last for 15 years." The Odin 9 Worlds isn't merely a jack of all trades—it's mastered them, too. 1.4 lbs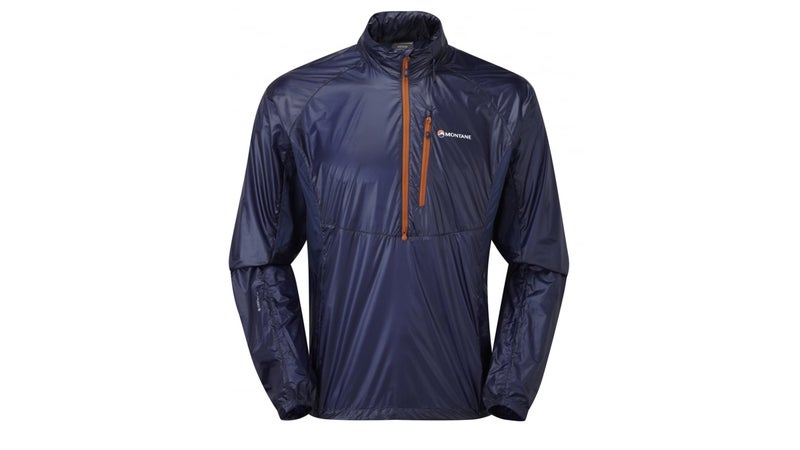 Montane Featherlite Pro Pull-On ($149)
Best For: Fast-paced missions in galeforce winds.
The Test: This shell got around. One tester stuffed it into his hydration pack as insurance on a mountain-bike epic, then forgot about it until an impromptu shower struck four hours from home. "It saved my bacon," he said. "The hood fit over my helmet and staved off enough rain to keep me from being totally hypothermic." Another used it hiking wind-whipped 14,000-foot passes in the Andes. "It breathed impressively well and dried quickly after a series of short but intense rainfalls," he said. The secret sauce? A mix of loose, highly breathable nylon across the back and under the arms combined with tougher windproof, DWR-treated nylon everywhere else.
The Verdict: Like clean underwear: don't leave home without it. 4.5 oz
Dynafit Transalper Light Dynastretch ($170)
Best For: Setting FKTs. 
The Test: For those who want to really motor in the backcountry, there's the Transalper Light Dynastretch (shown above in the women's iteration). Its racer-tight fit and elastic hem and cuffs keep everything snug, eliminating any chafing or bunching. Heat regulation—aided by thin, superstretchy nylon, small underarm perforations, and mesh-backed pockets—is stellar. Testers wore it in temperatures ranging from just above 30 degrees (over a thin fleece) to well over 50 for high-output activities like mountaineering, running, and biking. For a top this svelte, it's surprisingly tough—we couldn't tear it despite four months of bushwhacking.
The Verdict: For those who care about speed in the high alpine. 10.5 oz (men's) / 9 oz (women's)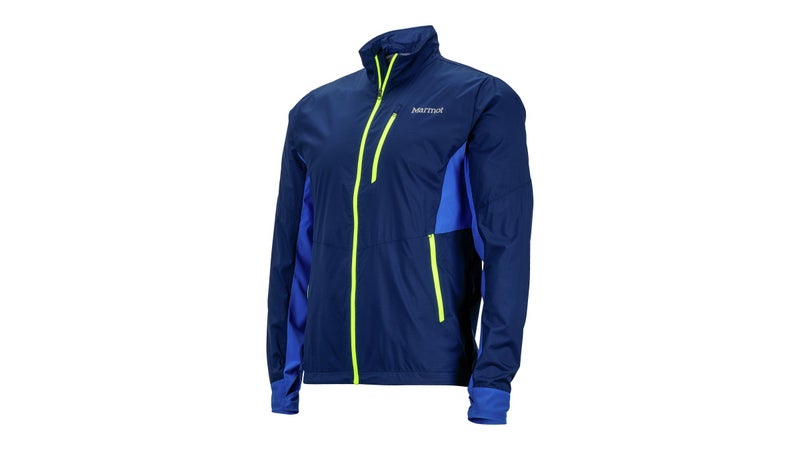 Marmot Hyperdash ($115)
Best For: A touch of uninhibited warmth.
The Test: From the outside, the Hyperdash looks pretty normal, with a mix of stretchy, windproof nylon and panels of breathable polyester under the arms for lung-busting activities. It's what's inside that had us singing its praises. Marmot sewed a mesh vest made from  soft, fast-wicking polyester into the liner. That vest added a hint of insulation on a blustery hike and sucked sweat off our skin like a sponge when we ramped up the pace. The Hyperdash performed admirably for paddling open water, trail-running through the trees, and, most notably, mountain-biking windy singletrack: we never got chilly while bombing descents after long climbs.
The Verdict: Appearances can be deceiving. A supremely versatile go-to when the thermometer heads south. 7 oz (men's) / 6.7 oz (women's)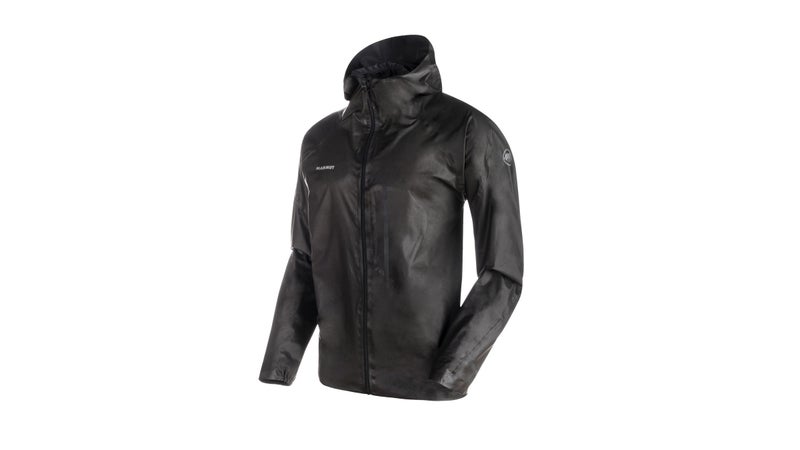 Mammut Rainspeed Ultra HS ($300)
Best For: Skimping on ounces while standing firm on protection.
The Test: Most jackets sandwich a water­proof-breathable membrane between two protective layers of fabric. This four-ounce wonder forgoes the outer material, leaving Gore-Tex Active right on the surface, where it can breathe and deflect rain better. It succeeds admirably. As we ran and paddled in wet weather, the Rainspeed was noticeably less steamy than some soft shells we've worn while still shielding us through hours of pouring rain. Once the deluge stopped, we gave the jacket one shake, and it was dry. The catch: since it lacks protective face fabric, it's best not to wear this with a pack, which will quickly wear through the fragile Active membrane.
The Verdict: A minimalist shell that works as hard as you do. 5 oz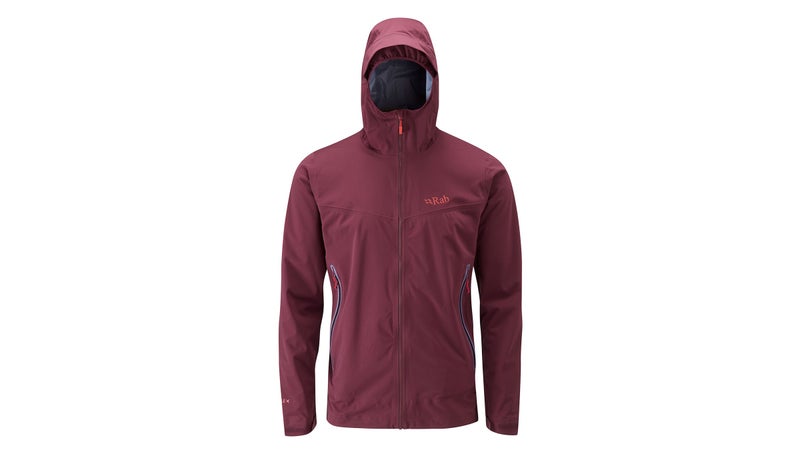 Rab Kinetic Plus ($225)
Best For: Getting after it.
The Test: The Kinetic is like Superman—mild-mannered until fierce weather hits, at which point it turns into a hero. Its hidden strength is a sandwich of Proflex (Rab's proprietary soft shell) on either side of a stretchy membrane. That fleecy, moisture-wicking fabric lends this shell impressive breathability, while DWR, taped seams, and waterproof zips make it nearly waterproof. The small details are spot-on, too: the hand pockets are high enough to access over a pack's waist belt, and the athletic fit slipped below layers without bunching. "Perfect for windy and drizzly weather or for staying warm during breaks," said a tester. "I wouldn't trust it in a downpour, but just about everything else."
The Verdict: Unlike Clark Kent's suit, this is a layer you won't be taking off. 11 oz (men's) / 9.5 oz (women's)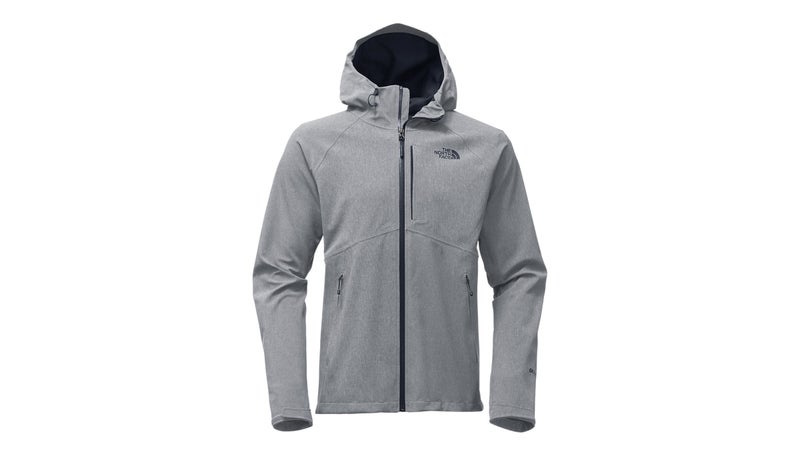 The North Face Apex Flex GTX ($199)
Best For: Mountain explorers.
The Test: The Apex acts like a classic windproof fleece. The exterior nylon is tough, wind-resistant, and stretchy, while the interior is lined with a buttery knit that adds warmth for alpine starts and windy ridge walks. It would still be a great jacket if that was the whole story. But hidden inside the face fabric is a Gore-Tex membrane that warded off rain like a hard shell, minus the clammy interior and crinkliness. "It's like a waterproof hoodie," said one tester. "Cottony and more casual looking than a technical top." Keep in mind: like a cotton hoodie, this shell isn't the most breathable, even with the pit zips open. It's best reserved for slowerpaced and stop-and-go activities.
The Verdict: Heavy and bulky, yes, but as comfortable and affordable as Gore-Tex gets. 1.5 lbs (men's) / 14.4 oz (women's)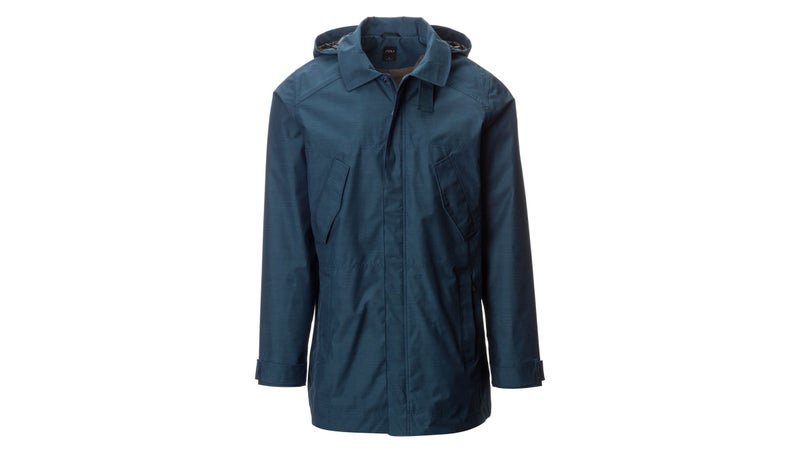 Nau Quintessentshell ($245)
Best For: City slicking.
The Test: When you're traveling, put away the hard shell and opt for something less teched out. (You're at the airport, not in the damn Rocky Mountains.) For us that's the Quintessentshell, a two-layer, waterproof-breathable jacket that shed pouring Vancouver rain for two hours without a leak. Afterward, as we merged into shopping-district pedestrian traffic, the pocket-rich style (four on the chest plus two for hands) and back waist snap that cinched the hem snug helped us blend in with the crowd. Made with organic cotton and recycled polyester that's coated with a PFC-free DWR treatment, the Quintessentshell looks a bit like denim and is almost as soft, adding to its casual look.
The Verdict: Function meets fashion, perfectly. 1.4 lbs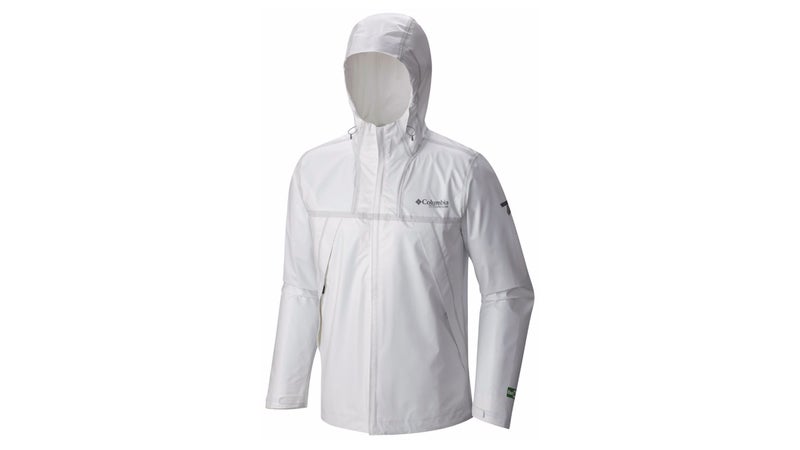 Columbia OutDry Ex Eco ($199)
Best For: Staying moisture-free ethically.
The Test: This is the greenest shell we've ever tested. Proof: it contains zero harmful PFCs, zero water-consuming or -polluting dyes, and 100 percent recycled materials. The best part is that it actually works. The Eco jacket is as breathable as its less environmentally friendly relative, the standard OutDry Ex Diamond, which won Gear of the Year last summer. The rain-slicker look comes from the membrane layered on the outside (as with the Mammut on page 55, there's no face fabric), so it vents sweat and heat way better than the competition. We thought we'd destroy the white in just a few hours (remember: no dye), but dirt miraculously wipes right off. 
The Verdict: Columbia nails the holy trinity—affordable, functional, and good for the planet. 12 oz (men's) / 9 oz (women's)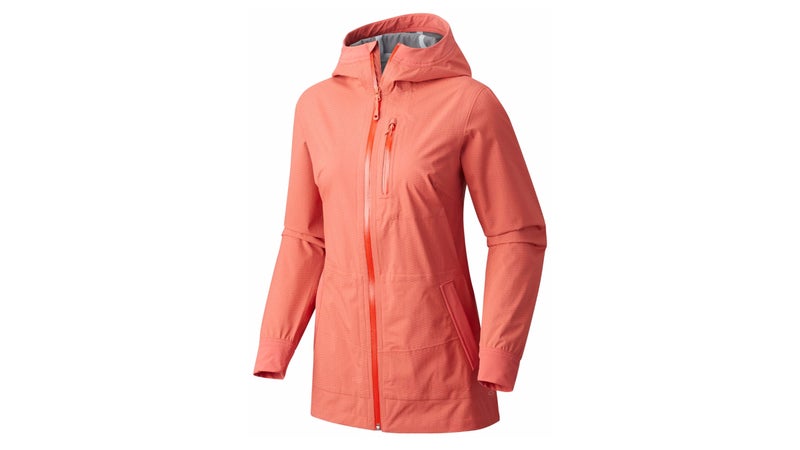 Mountain Hardwear Lithosphere ($140)
Best For: Women-specific rain protection with a low-key cut.
The Test: Nowadays, pretty much any shell from a well-respected brand will keep you dry and breathe reasonably well. It's the fit and the details that really win us over. We were quickly smitten by the Lithosphere, which nails both. The cut is long and flattering, with a tapered waist and a hem that hits just above mid-thigh. (The jacket runs a hair big, so consider going down a size.) It's also built with loads of great features: wide, stretchy cuffs that hug bare wrists or gloves, four well-placed pockets (including one in back like you'd find on a bike jersey), and an oversize hood. Oh yeah, and the VaporDry fabric, with its tiny perforations, shields you from rain without turning into a sauna.
The Verdict: A lightweight spring jacket made with an eye for detail. 12 oz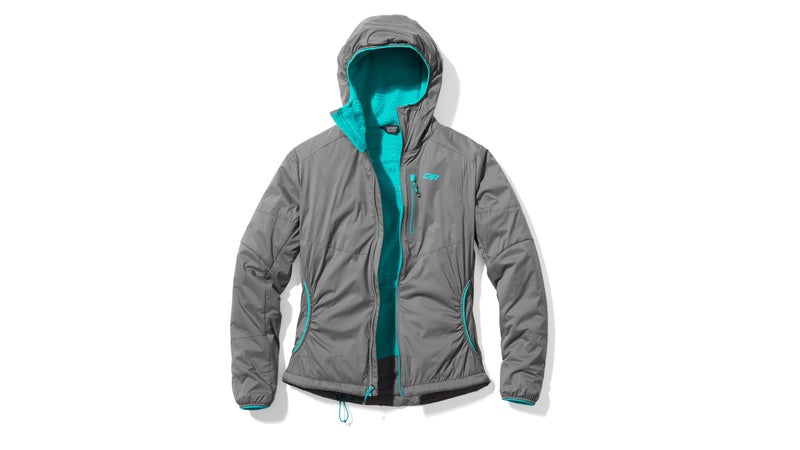 Outdoor Research Ascendant Hoodie ($199)
Best For: Snuggling up.
The Test: Imagine a cozy knit blanket transfigured into a high-performance midlayer. That's the Ascendant (seen here in the women's version). The secret to its extreme comfort and versatility is in the fabric. Outdoor Research used Polartec's new Alpha Direct insulation, which is durable enough to forgo an inner liner and lies directly next to skin. That soft, loose weave feels like your ­favorite fleece but breathes about a thousand times better. Testers wore this jacket running and biking on cool days without overheating. The water-resistant Pertex outer is just thick enough to fend off light rain, and bonus points for the soft, zipperless hand pockets.
The Verdict: This Seattle brand may just have perfected the midlayer. 14 oz (men's) / 10.9 oz (women's)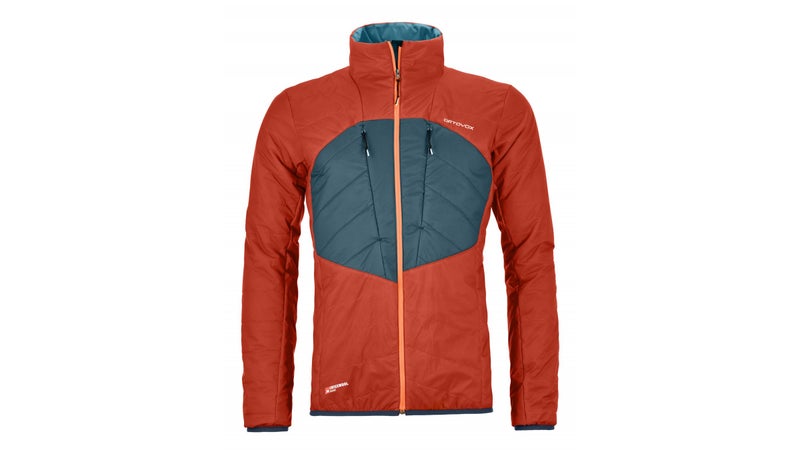 Ortovox Swisswool Dufour ($300)
Best For: Easy maintenance.
The Test: Wool from Swiss sheep doesn't have the warmth-to-weight ratio of down feathers, nor is it as soft as merino. But stuff it into a wind-resistant jacket and its breathability will blow you away. "I wore it damn near everywhere," said a tester. The Dufour so impressed another that he used it—and only it—on a weeklong hiking and scrambling trip through Canada's Banff National Park. The wool is packed into discrete baffles, where we found that it regulated temperature and moisture even better than many synthetics. The athletic fit pairs well with a base layer, and the insulated hand pockets were very much appreciated during cold morning starts. 
The Verdict: Warmth that's ­easier to care for than down and just as warm as synthetic. 8 oz (men's) / 7.1 oz (women's)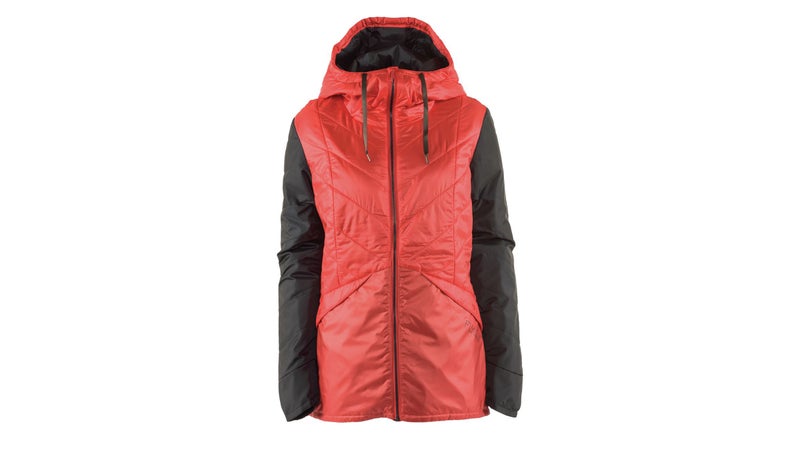 Flylow Tamara Micropuff Hoodie ($225)
Best For: Women seeking technical chops in a stylish package.
The Test: Sure, it looks like a true winter midlayer, and with 60 grams of Spaceloft insulation, it plays well on the slopes. But the Tamara is also just light enough that we wore it throughout the summer on cool days up high. It easily serves as outerwear in dry climates. (The face fabric deflects only the lightest precipitation.) Testers wore it hiking—six-inch underarm vents dump heat, and the long hem doesn't ride up under a pack—but it's too bulky for faster activities. And that's fine by us: we ended up wearing the Tamara around town on cool mornings and evenings. The cowl-like collar and snap hand pockets add class to what's ultimately a stellar year-round companion.
The Verdict: Wear it all season, then ski with it when snow starts to fall. 12 oz