The Best Reef-Safe Sunscreens
Avoid coral-killing chemical sunscreens and try one of these safer sun-protection methods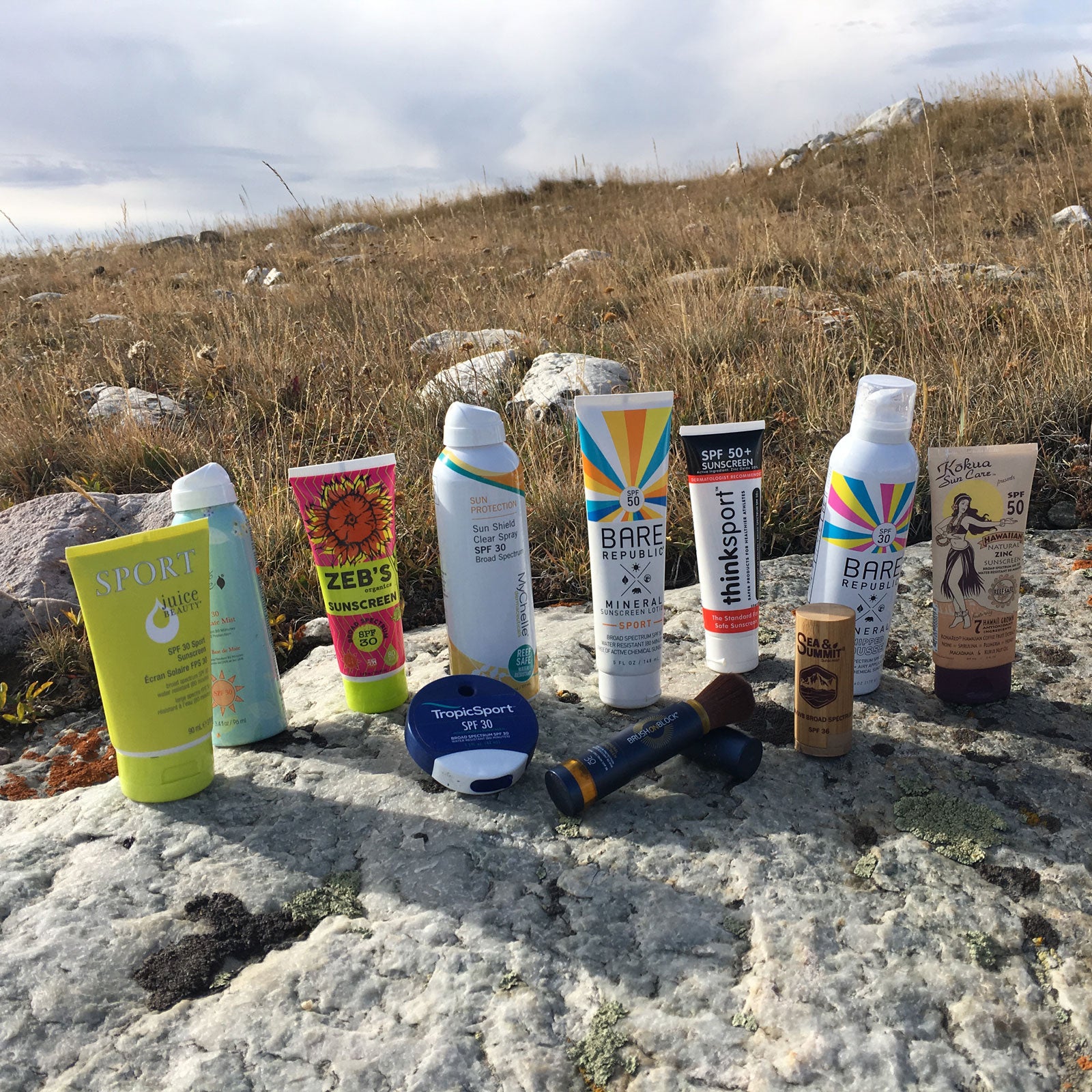 Kassandra Cloos(Photo)
Heading out the door? Read this article on the new Outside+ app available now on iOS devices for members! Download the app.
If you've seen the recent headlines about Hawaii's new law banning the sale of reef-damaging chemical sunscreens, you might be wondering how to avoid sunburns without wrecking the environment. I did too, so this summer I set out to find a sunscreen that worked well and didn't include the two chemicals, oxybenzone and octinoxate, that are most strongly implicated in coral-reef damage. I researched hundreds of products, looked closely at ingredient labels, and tested roughly 70 sunscreens from more than 35 brands.
Ultimately, I decided to review only mineral sunscreens, which use titanium dioxide and/or zinc oxide as active ingredients. Whereas oxybenzone and octinoxate soak into your skin to absorb UV radiation and distribute that energy as heat, mineral sunscreens sit atop your skin and create a physical barrier between you and the sun. As a result, they get a bad rap for being chalky and difficult to apply, but I found several, including the test-winning Bare Republic Mineral Sport Lotion, that were a pleasure to wear.
The Best Overall Sunscreen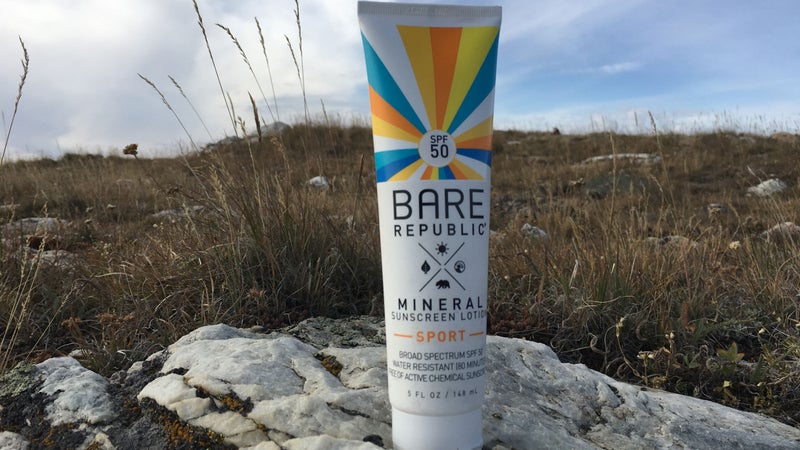 Bare Republic Mineral Sport Lotion, SPF 50 ($15 for 5 ounces)
The sunscreen I found myself reaching for most frequently was Bare Republic's water-resistant SPF 50 Mineral Sport Lotion. Once rubbed in, it was smooth and dry and became nearly invisible on my skin. You know that feeling you get when you put on sunscreen and you want to wash your hands immediately? I don't get that with any of Bare Republic's Sport sunscreens, which aren't greasy and don't leave a greasy residue on stuff you touch after application. And perhaps most appealingly, the Mineral Sport Lotion's light coconut-vanilla scent is fantastic. Choosing Bare Republic as the best overall came down to versatility (it's waterproof), smell (I love it), reinforcement from testers, and price.
The Mineral Sport Lotion's ingredient list is a mix of substances you might recognize, including coconut oil and safflower oil, and a few others you likely don't, like polyethylene, an ingredient in many plastics. I wanted to choose a winner with a short, all-natural ingredient list, and it pains me slightly that Bare Republic doesn't quite fit that description. But many of the products I tested with only food-grade ingredients are highly sensitive to temperature, becoming almost unusably viscous in lower temperatures. While the Mineral Sport Lotion does get a bit thicker in the cold, it always stayed fluid enough to apply comfortably.
One member of my test team who wore this sunscreen to go swimming in Austin said it didn't spread or blend quite as well as the chemical sunscreens he typically wears. He also said it looked a little streaky when he first got out of the water, and at the end of the day he had to sort of scrape it off his skin. Still, it didn't rub off easily and he didn't get burned, so he's confident he was protected from the sun. And like nearly everyone who helped me evaluate sunscreens, he said the Mineral Sport was his favorite product in this test.
The Mineral Sport Lotion retails for $15 for five ounces, making it one of the most affordable mineral options we tried. (Another mineral sunscreen I liked, from Kokua, was $32 for three ounces. I'll come back to that in a bit.) Even at that price, the Mineral Sport Lotion is significantly more expensive than a chemical sunscreen. In theory, an adult should use about an ounce of sunscreen—enough to fill a shot glass—to cover his or her whole body. That puts this product at roughly $3 per full-body application, while many chemical sunscreens with oxybenzone cost less than $1 per ounce. Still, given the problems with chemical sunscreens, that's a price I'm willing to pay.
I tested quite a few products from Bare Republic, and in general they all rubbed in with the ease of regular old lotions, rather than leaving the chalky white residue common to mineral sunscreens. With a couple exceptions, their products were consistently better than others in the same categories.
---
The Best Sunscreen for Faces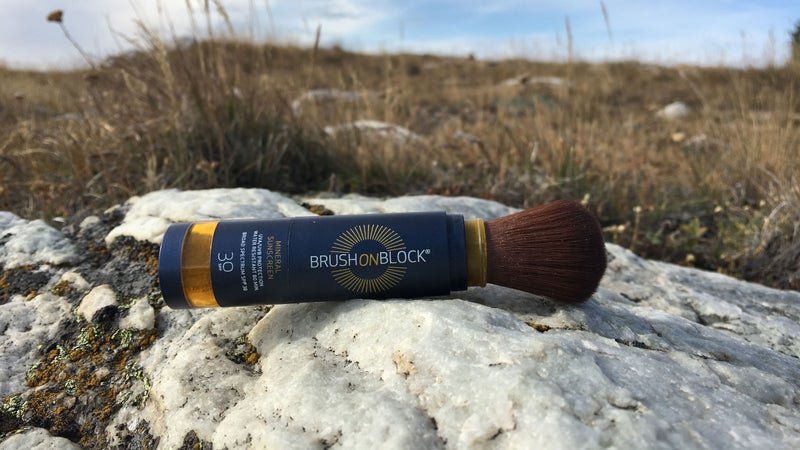 Brush On Block Translucent Mineral Powder Sunscreen, SPF 30 ($32 for 0.12 ounces)
Other female testers and I loved Brush On Block. It's packaged a bit like makeup, coming in a plastic tube with a powder cartridge on the bottom and a brush at the top, which makes it lightweight and travel-friendly. A plastic sleeve slides up over the brush to make it easy to get the lid back on—a brilliant feature. The ingredient list is relatively short: titanium dioxide, zinc oxide, alumina; boron nitride; chamomile flower, green tea, and honeysuckle flower extract; iron oxides; mica; rice lipids and starch; safflower oil; silica; stearic acid; and triethoxycaprylylsilane. Although it's expensive, that small amount of powder goes a really long way—I've used it at least a dozen times and it looks like I haven't even put a dent in the original powder cartridge. Plus, when you run out of powder you can buy a refill cartridge for $17, which also makes it a bit more responsibly packaged than other products.
Using the Mineral Powder is simple: you tap the wand a bit to kick the powder into the brush head, swipe it over your face, neck, chest, and shoulders, and you're done. The application takes less than ten seconds, there's no mess, and it's the most invisible of all the sunscreens we tried. One tester said she couldn't get past the smell, but I didn't notice a scent at all. Three other women who tried it said it was hands-down their favorite product.
Brush on Block sells the powder in two versions: Touch of Tan, which is slightly tinted, and Translucent, which is invisible. I have no idea how it's waterproof, but it is, and it has become a part of my daily routine. I've never gotten burned with it—not on hikes in Boulder and Georgetown, Colorado, nor long walks on blazingly sunny days. None of my other testers have been burned, either.
"It was the only product I reached for more than once," said one tester who bikes nearly every day and tried upwards of 20 products. Another tester who's previously had bad luck with mineral sunscreens because they don't blend well with her skin tone loved the Touch of Tan tint. It works great on top of makeup, underneath it, or alone. She used it daily in place of the powder she normally uses and wore it hiking and camping in Crested Butte, Colorado, and the White Mountains of New Hampshire. "It absorbed sweat and shine and was super helpful on a work trip where I would have been slightly embarrassed to whip out makeup but didn't want to look dead," she said. "I have oily skin prone to breakouts and this product didn't give me acne, which is why I've avoided sunscreens in the past." Men may be hesitant to use the powder because it's packaged like makeup, but they shouldn't be—it's truly invisible, and it works like magic.
---
Best Sunscreen Sticks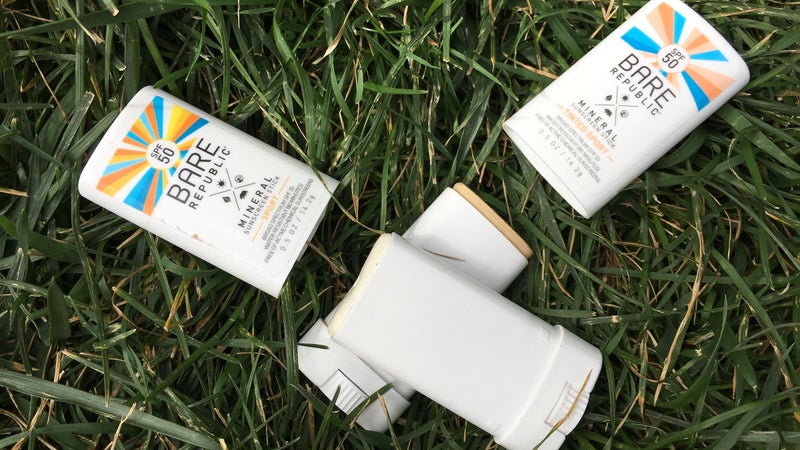 Bare Republic's Mineral Sport Stick, SPF 50 ($10 for 0.5 ounce) and MyChelle Sun Shield Stick, SPF 50 ($12 for 0.52 ounce)
We tried a range of sunscreen sticks that looked like everything from tiny deodorants to massive tubes of lip balm. In general, testers didn't like them. Compared to what most of us are used to—lotion—the sticks were too small for full-body applications. Still, if you want your sunscreen in stick form, two products stood out: the Bare Republic SPF 50 Mineral Sport Stick and MyChelle SPF 50 Sun Shield Stick. MyChelle's stick glides across the skin most smoothly and blends the easiest; Bare Republic's smells the best and has the added bonus of water resistance. Both of these sunscreens come in lightly tinted versions that mask an otherwise chalky zinc appearance. Because they're small and light, they'd be especially worthwhile for packing on hikes or ultralight backpacking trips.
---
Other Great Options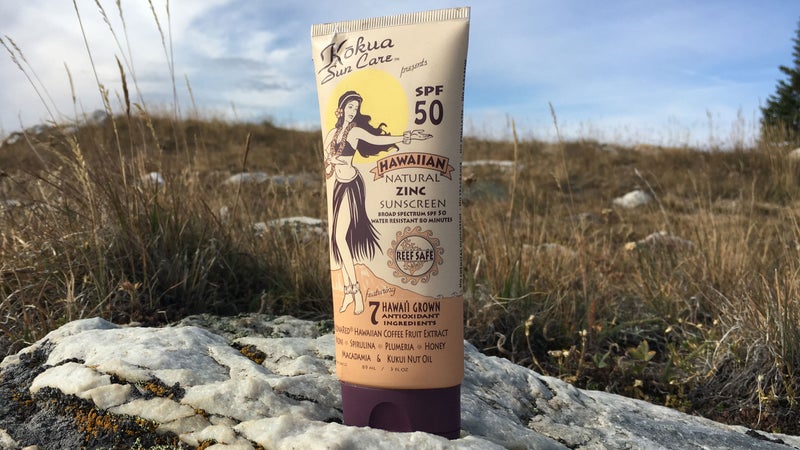 A close second for overall sunscreen is Kokua Sun Care's SPF 50 waterproof lotion ($30 for three ounces). I'd recommend it only if money's no object, or if you use sunscreen sparingly, but it's one of the most invisible lotions we tried. Kokua's lotion is thick but easy to spread, and several of its main ingredients are grown right in Hawaii, where it's made. It has a great barely-there feel against the skin. No one burned using it, and testers thought it smelled great. The only reason it's not our overall top pick is the price—at $10 an ounce, it costs more than three times as much as Bare Republic's Mineral Sport Lotion, and it's not three times better. 
Our test group also liked Juice Beauty's SPF 30 Sport sunscreen ($16 for three ounces), MyChelle's SPF 28 Sun Shield in Coconut ($20 for 2.3 ounces), and ThinkSport's SPF 50+ Safe Sunscreen ($13 for three ounces). These three sunscreens all had relatively thin, easy-to-apply formulas that blended well rather than leaving chalky residues. I also really enjoyed Sea and Summit's Clear Facestick SPF 36, which is as clear as it promises to be and comes in a cardboard tube with a bamboo cover, so it's completely plastic-free. I would use it only for my body, though; it felt heavy on my face, and the tinted version made one tester break out. Plus, at $15 for 0.75 ounces, it's not a great buy if you need to cover your whole body.
One of our testers, a Houston-based photographer who goes through sunscreen like water on assignments, was adamant that Zeb's Organics' SPF 30 lotion ($10 for 3.4 ounces), was the overall best product. He wore it to photograph a high school football game while the humidity was "three million percent" and said it was sweatproof and significantly easier to apply and blend in than nearly every other product he tried. It wasn't a universal favorite, however. Two other testers who tried it at a lake near Dallas said it was goopy, oily, and attracted bugs like honey. I also noticed that Zeb's, and a few other products with coconut oil and/or beeswax, froze nearly solid overnight on a camping trip where the temperature couldn't have dropped below 50 degrees. I wouldn't recommend it for either cold days or temperatures above 80 degrees.
Sprays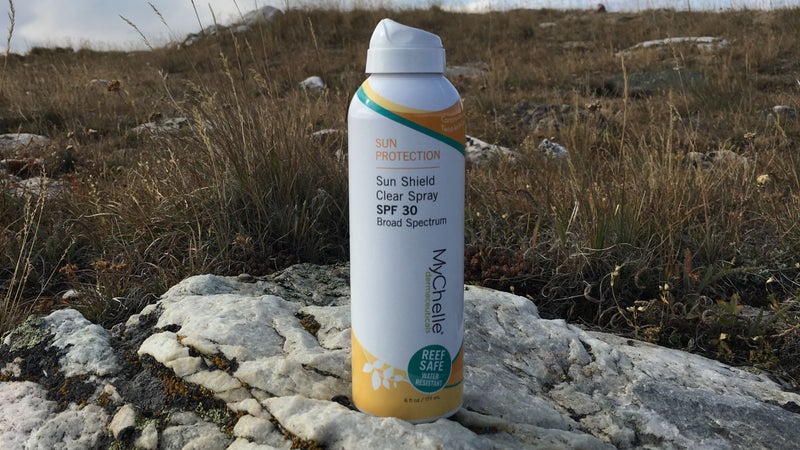 Sprays are tricky, and they're honestly not the best bang for your buck. They seem to miss your skin half the time, wasting a lot of product. But testers praised a couple of sprays for two main reasons. First, it's way easier to spray a small child than to apply lotion. Second, if you're in a hurry, sprays often go on and rub in a bit better and quicker. While most testers flagged most of these mineral sprays as awful and, as one tester reported, "best for dressing up as a ghost for Halloween," MyChelle's SPF 50 Sunshield Clear spray ($20) and 100% Pure's Yerba Mate Mist ($38) seemed to work better. Bare Republic's various sprays got accolades for smelling great. But overall, there was a clear line: mineral sprays worked best for the palest testers.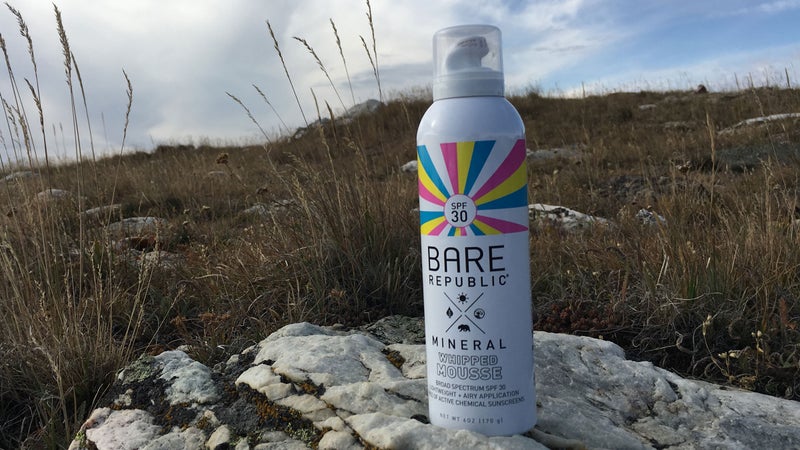 One unique product that's somewhat of a hybrid between a spray and a lotion is Bare Republic's SPF 30 Mineral Whipped Mousse ($17 for six ounces). In general, women liked it, but it got stuck in our male testers' arm hair and they hated it. It's also not waterproof, so it's much better as a daily sunscreen, or for low-intensity hiking or lounging, than for swimming or paddle sports.
The Rest of the Test
Most of the sunscreens we tried had at least one deal-breaking characteristic, even if we otherwise loved the packaging, ingredients, smell, or protection.
We weren't crazy about the smell of Goddess Garden's various products. One tester called its SPF 30 Sport Natural sunscreen stick ($8) a "hippy herb stink stick," and another felt self-conscious about the smell of the SPF 30 Sport Natural sunscreen ($13 for 3.4 ounces) when she applied it at work for a midday walk.
EiR NYC's SPF 30 Surf Mud ($24 for a two-ounce tin) worked well under makeup for one tester and ultimately matched her skin tone, but she said it took a lot of work to rub in.
We also didn't love Block Island Organics' SPF 30 Natural Face Moisturizer ($28 for 3.4 ounces). One tester complained that it was like wearing a latex mask and that it made her break out. I had a similar experience—it felt thick and heavy on my face.
And while Manda should get applause for its bioplastic tube derived from sugarcane, testers said its thick, tan Organic Sun Crème ($32) stained clothes and stung freshly shaven skin.
How We Picked the Best Sunscreens
I carefully examined the labels on all the products we tested to make sure they didn't include anything from two lists of eco-hazardous chemicals and ingredients: the HEL List, compiled by the Haereticus Environmental Laboratory, and a list from the Safe Sunscreen Council, a collection of mineral sunscreen brands.
It wasn't an easy process. With an assistant, I researched hundreds of products and exchanged hundreds (maybe thousands) of e-mails with companies, sunscreen experts, testers, and my editor. My team of 20 testers played guinea pig to roughly 70 products, hiking and biking in the mountains of Colorado, gator hunting in Houston, hanging on the beach in Rhode Island, hiking in the woods of New Hampshire, traveling in Sydney, Australia, and walking on the shores of Lake Michigan in Chicago. We examined how each sunscreen felt on our skin, whether it melted away when we sweat, and how we felt when we washed it off.
Several products caused breakouts, felt like impermeable masks, stained clothes, went on like opaque spray paint, or left oily residues on the pages of the journals in which we took notes. Some were tough to spread and even tougher to blend in. Others smelled horrible. And still others made me look like I hadn't seen the sun in ten years, and I'm already pale. I hated so many of them.
I asked my testers to keep notes on every aspect of everything they tried. How and where did they use it? How did it feel against their skin? Did it cause breakouts or dry out their skin? Did it smell nice? Did it stand up to sweat and water? Would they recommend it to a friend? And, of course, did they burn?
The products listed here are the ones we reached for more than once, the ones we would voluntarily use or recommend to a friend. While most of the products were either memorable for bad reasons (too thick, too white, too smelly) or not memorable at all, the ones we've recommended here were all in the same ballpark.
Buying Advice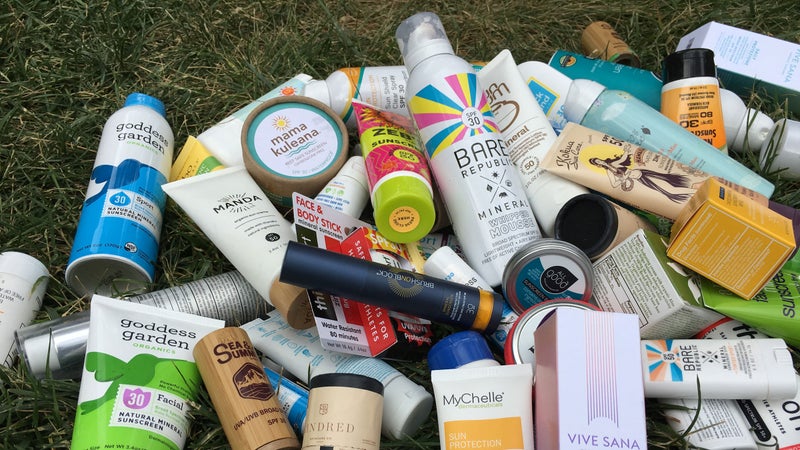 Ingredients and packaging
Don't be swayed by labels that call a product reef safe—read the ingredient label. Start with active ingredients, and look for either zinc oxide or titanium dioxide, the two most common mineral sunscreen ingredients. We've also provided a list of chemicals to avoid at the bottom of this article.
Second, understand that there is no truly reef-safe sunscreen. "Reef safe" isn't a phrase that's officially defined in any way, and it has become a marketing tool as much as anything. HEL has created the Protect Land + Sea certification program to mark sunscreens that are free of ingredients from its list of unsafe compounds, but so far not a single product it's tested has passed. (Unfortunately, HEL does not make public which companies have tried and failed to receive its certification.) All have had trace amounts of at least one ingredient on the list. That doesn't mean sunscreen makers are duplicitous, but rather it indicates how easily chemicals sneak into sunscreens in innocuous ways, including during the manufacturing process when equipment or storage containers are not properly cleaned. And oxybenzone, in particular, is an ingredient in many plastics, and it can leach into reef-safe sunscreens in quantities that are big enough to be harmful to the environment.
For that reason, I was pleased to see that some companies are using nonplastic packaging. Mama Kuleana's SPF 30 waterproof sunscreen, for example, comes in a two-ounce biodegradable cardboard container ($20), while other brands sell portable tins.
Relying on organic or natural mineral sunscreens with short ingredient lists may not work that well either. Some botanical extracts, like eucalyptus, are "toxic as hell" to invertebrate organisms because they have naturally occurring pesticides, according to HEL's Craig Downs. And beeswax—an ingredient in many of the sunscreens we tested—can be loaded with agricultural pesticides.
Tints
In some cases, you may be able to choose between regular white sunscreen and a tinted version. Tinted sunscreens are a mixed bag. Some testers loved them because they blended in better than white sunscreens, which appeared chalky. Some hated them. One, Manda, turned a tester's "mocha" skin a chalky purple. Another, Stream 2 Sea, made white testers look like they were wearing a thick coat of foundation. Unfortunately, the only way to know if a tint will work for you is to test it out yourself.
Water
The FDA allows sunscreen companies to claim they're waterproof only for a maximum of 80 minutes, which means you need to reapply nearly every hour. But you can do a bit of research and experimenting to figure out whether the sunscreen you're using is safe for longer in the water. TropicSport's SPF 30 lotion ($30 for 6.5 ounces), for example, is rated for 80 minutes of water resistance in the U.S., but it has also passed Australia's more rigorous test for 240 minutes of water resistance.
Covering up
Ultimately, the best thing you can do for your body, your wallet, and the environment is to cover up and try to limit how much sunscreen you need to use. That is HEL's recommendation, and it was echoed by several members of the test team. That's a reflection of price as much as anything: many of the sunscreens we recommend are far more expensive—from $1 to $10 or more per ounce—than the chemical varieties you'll find on the shelves of drugstores. (If price is a serious concern, or if you can find only chemical sunscreens, look for those that use avobenzone, homosalate, and octisalate. Those chemicals haven't raised quite as many red flags as oxybenzone and octinoxate.)
Our recommendation is to experiment, find which sunscreen works best for you, and use it only where and when necessary. Protect your face, ears, neck, hands, and feet with sunscreen, and wear full-coverage UPF clothing and a hat whenever possible. And when you do use sunscreen on exposed skin, use enough, and reapply often.
More on Avoiding Chemical Sunscreens
It's important to avoid chemical sunscreens even if, like me, you don't spend much time in the ocean. Coral reefs are the canary in the environmental coal mine, says Caroline Duell, founder of the Safe Sunscreen Council and CEO of mineral sunscreen maker All Good. We shouldn't feel comfortable using chemical sunscreens anywhere, Duell believes. (Our testers thought All Good's lotion was better than average, but it wasn't a top pick.) These chemicals pollute lakes and streams when we wash them off, and that water eventually flows to the ocean anyway.
Nor are chemical sunscreens good for us. When they soak into our skin, they may disrupt hormone production. "Coral are animals and their systems are not completely unlike ours," Duell says.
Chemicals to avoid: Any form of microplastic spheres or beads (per HEL and SSC); any nanoparticles, as of zinc oxide or titanium dioxide (HEL andSSC), but note: zinc and titanium nanoparticles are not to be confused with either mineral in non-nanoparticle form; oxybenzone (HEL and SSC; banned in Hawaii); octinoxate (HEL and SSC; banned in Hawaii); 4-methylbenzylidene camphor (HEL and SSC); octocrylene (HEL and SSC; banned in Hawaii); para-aminobenzoic acid (PABA) (HEL and SSC); methylparaben (HEL and SSC); ethylparaben (HEL and SSC); propylparaben (HEL and SSC); butylparaben (HEL and SSC); benzylparaben (HEL and SSC); triclosan (HEL and SSC); phthalates (SSC); homosalate (SSC); octisalate (SSC); avobenzone (SSC)
Lead Photo: Kassandra Cloos