The Best Sports Bras
We tested dozens of bras to come up with this list of 10 finalists for women size A to D+ who get after it outside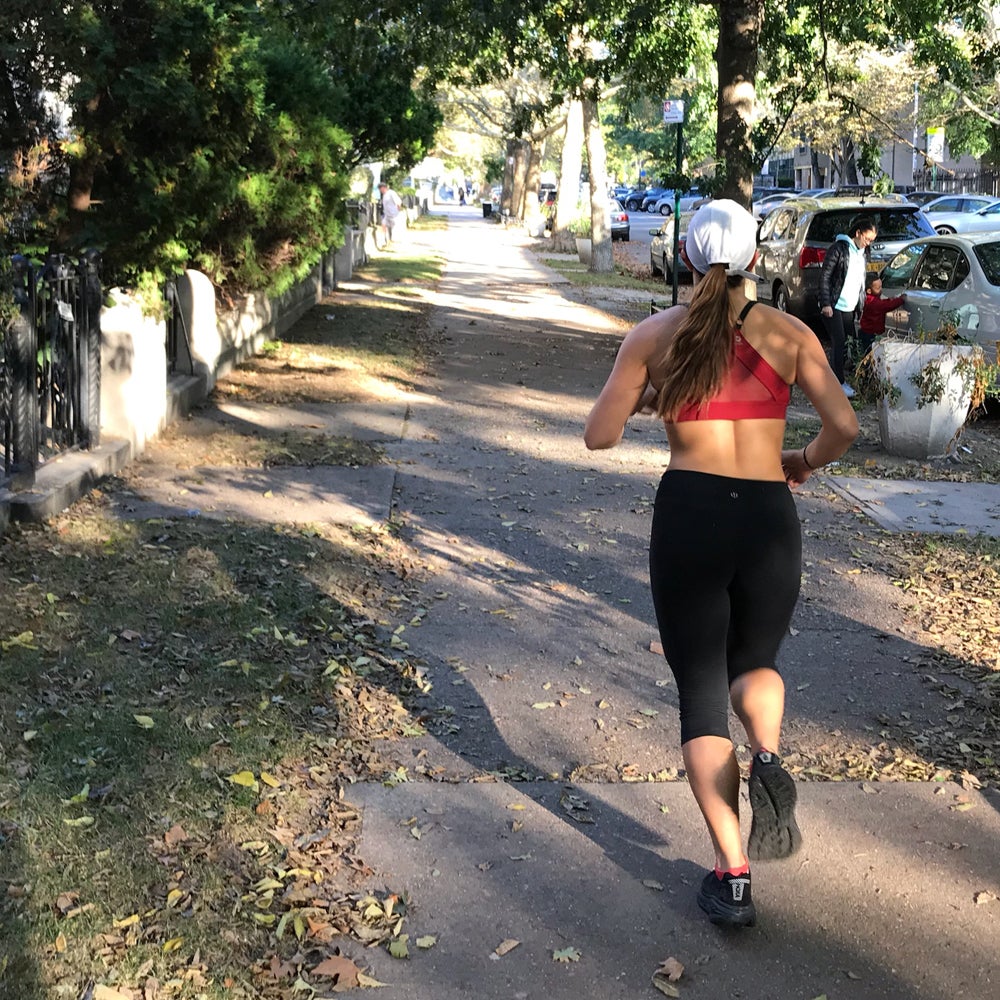 Heading out the door? Read this article on the new Outside+ app available now on iOS devices for members! Download the app.
No piece of gear (except perhaps an IUD) is more personal than a sports bra. Every pair of boobs is unique, and different activities demand different kinds of support. A great bra supports with effortless comfort, whereas a bad one can feel like a medieval torture device. 
After testing 30 sports bras from ten brands, I found the Oiselle Bae Bra to be at the very top of the pile for women with A to C cups: It's comfortable, flattering, breathable, and chafe-free. For women with D+ cups, my pick is the Brooks Juno Bra.
Here's why.
What to Know Before Buying a Sports Bra
Consider these three key factors when shopping for a bra: support, breathability, and comfort.
Support is typically the most important factor—and the most confusing. Categories like "high support" or "low impact" mean different things to different companies, and it can be difficult to discern which body type different bras were designed for. Some companies—Title Nine is a standout—do an excellent job of breaking down their bras by activity and support, but other brands offer little guidance.
In general, a small-chested women can wear a low- or medium-impact bra for a high-impact sport like running. A large-chested woman, on the other hand, should look for a high-impact or high-support bra, even for medium-impact activities like lifting at the gym.
In the way that D+ cups can't comfortably opt for a bra designed for A/B cups, small-chested women should skip anything designed for "high impact/support." If you splurge on a high-tech bra that offers more than you need, you'll end up feeling like you're wearing a straightjacket. Go for the minimum amount of support and fabric that you can get away with—you'll chafe less, breathe easier, and be way more comfortable.
High-impact bras get their support from a snug band at the base, and usually offer more coverage and adjustability. Features like hook clasps, adjustable straps, individual cups, crossback straps, and underwire help with the heavy lifting. They're usually made from heavier, sturdier fabric, and it can be tough to find a breathable high-impact bra that offers the right amount of support. Low- and medium-impact bras usually have simpler designs and lighter materials.
How We Picked the Best Sports Bra
I'm a B/C cup who used to wear a decade-old Old Navy training bra while running, so I recruited my friend, MJ Peters, a D+ cup climber, runner, and all-around badass, to help me test the high-support bras.
We ran, hiked, biked, downward-dogged, weightlifted, rock-climbed, slept, and went to work for a month in these test bras, which we picked for their popularity, brand-name recognition, and availability. What follows are well-known bras made by well-known companies, categorized by their best uses.
Here are our top ten picks, ranked with the two winners first, followed by the runners-up.
---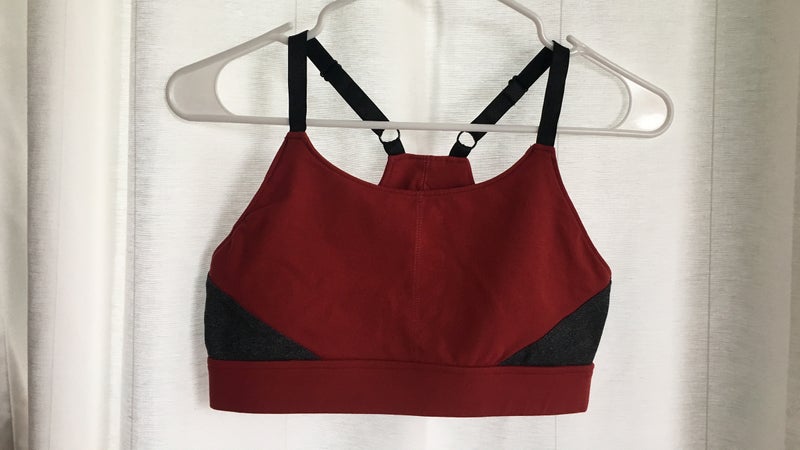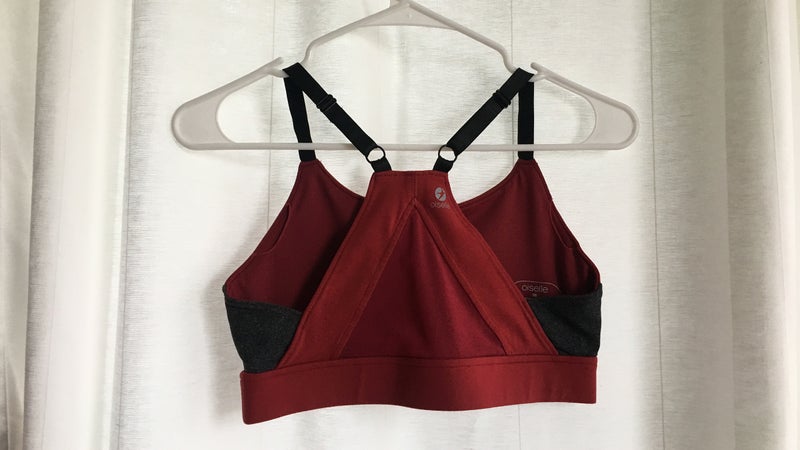 Top Pick: Oiselle Bae Bra ($54)
Size Tested: Medium 
Best For: Everyday high-impact workouts for A to C cups
Once I tried on this simple, flattering, uber-comfortable bra, I didn't take it off for two days straight. I even slept in the thing without too much discomfort.
On my first day, I road biked, climbed, and had a dinner date, and the bra seamlessly transitioned through all of it. It even looked cute enough to show some strap while I was out for a drink. It's one of just a few low-profile bras with adjustable straps—hugely helpful for athletically built, strong women who want a comfortable wide band but don't need much support up top.
It's also one of the quickest-drying bras I tested, which was a game changer when I didn't have a chance to change between a workout and work. The mesh panel in back offered great ventilation.
The Bae offers a little more coverage up front than Oiselle's other popular bras, which even with a relatively small chest, I appreciated when downward-dogging or riding in my drops. Like most Oiselle bras, this one comes with removable cups.
---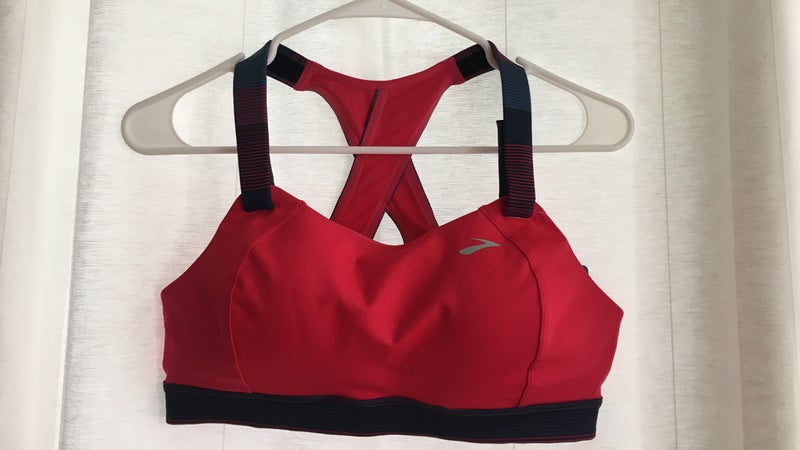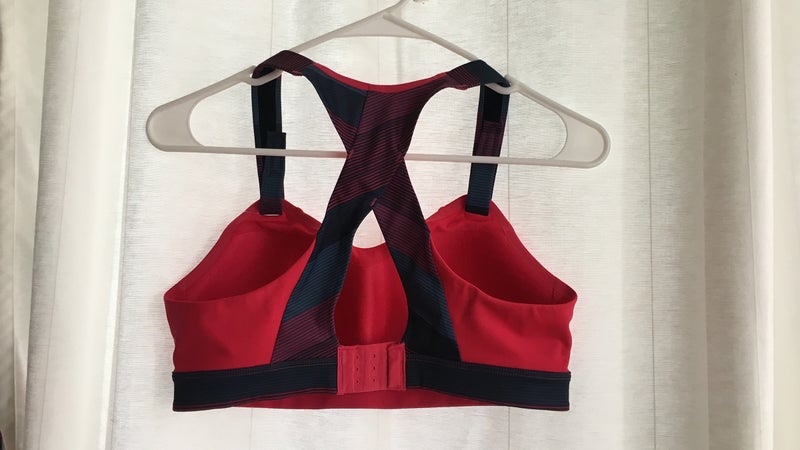 Top Pick: Brooks Juno Bra ($65)
Size Tested: 34D
Best For: Everyday high-impact workouts for D+ cups
"If I had to pick a one quiver bra out of these, this would be it," says MJ.
Thanks to a sturdy keyhole racerback design and a three-clasp band closure, the Juno's support is well distributed across the shoulders, back, and rib cage, which helps eliminate chafing and uncomfortable pressure. It offered the best support for running of all the high-support bras MJ tested, and she comfortably wore it hiking and rock climbing.
"I normally wouldn't even talk about how the bra looks, because finding one that's functional and cute is an absolute luxury for a busty girl, but this one scores points in the appearance and support categories. I sort of make it a rule to never work out in just a sports bra, no T-shirt, but I might make an exception for this one," she says.
The only downside? Like many high-support bras, the Juno is made from a thick polyester/spandex blend. The current version was designed with breathability in mind, featuring perforated fabric and key ventilation, but after a full day of multipitching, the bra was soaked—and didn't dry. The Juno is a perfect go-to weekday bra, but opt for one of the lighter options below for daylong epics.
---
Runners-Up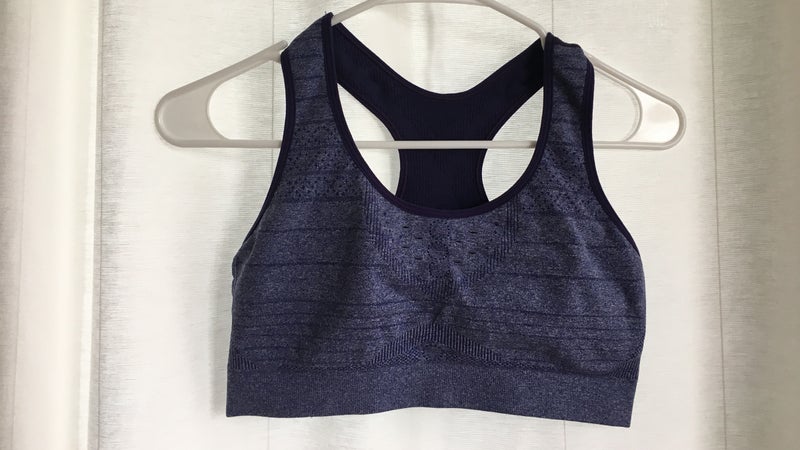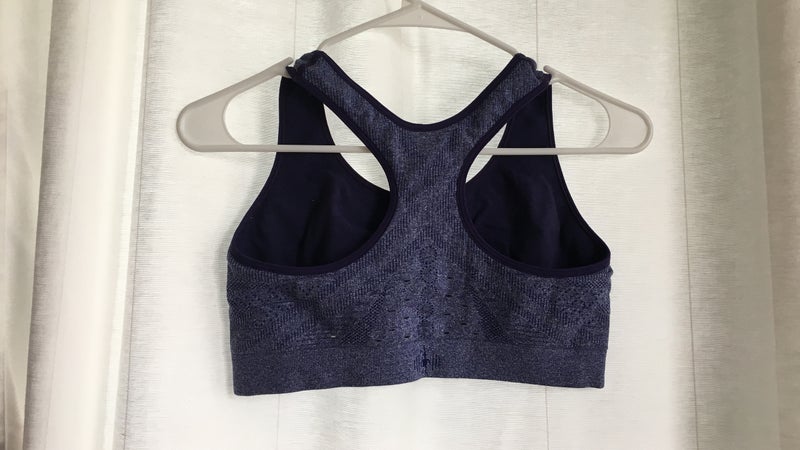 Smartwool PhD Racerback Merino ($60)
Size Tested: Small and Medium
Best For: Long days in the high alpine for A to C cups
Smartwool's merino-lined bra wasn't noticeably warm while I worked out—I even wore it to a hot yoga class—but it is great at helping avoid the post-workout chill, a key feature for long days in the high mountains. I credit that temperature regulation to the soft wool liner that dried fast and moved sweat away from my body.
I wear a size medium pretty much across the board in sports bras, but this bra ran large, so I decided to try a small as well. The medium provided plenty of support for low-impact activities, and thanks to the extra fabric, was comfortably supportive on multiday treks when I wore it nonstop (and slept in it).
The size small offered the right amount of compression for high-impact activities like trail running but was cut narrow enough that I'd worry about chafing and discomfort after wearing it for days on end. Consider sizing down if you're looking for a day-to-day workout bra, but stick with the larger size if you're looking for weeklong comfort.
---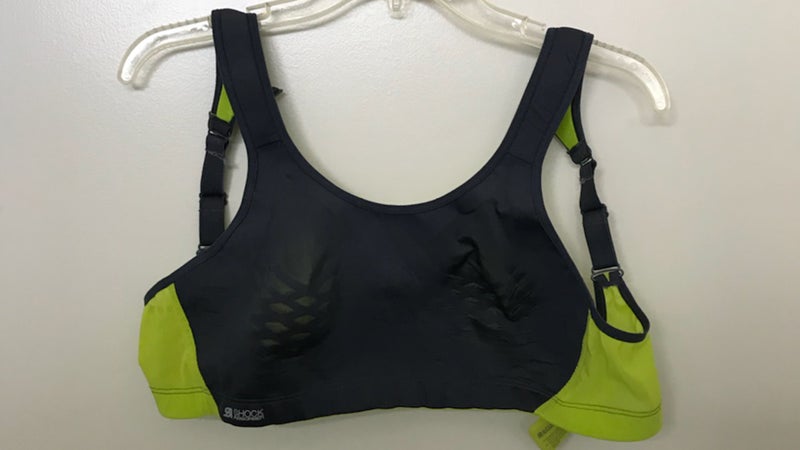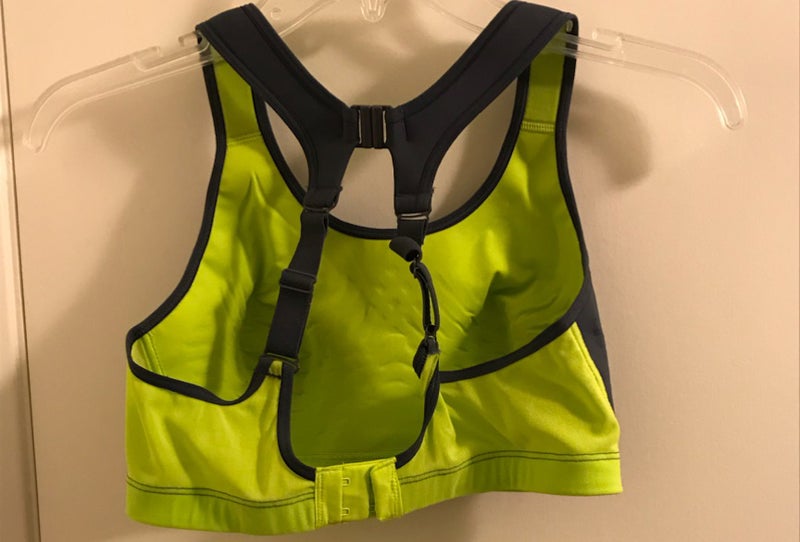 Shock Absorber Ultimate Fly Bra ($80)
Size Tested: 34D
Best For: Ultralight backpacking trips, multipitch climbing for D+ cups
Bras built for D+ ladies are often bulky. The Ultimate Fly avoids the medieval villain look (and extra weight) with a space-agey, incredibly lightweight and breathable material. "This one stayed dry and breathed well all day multipitching—a huge upgrade over the Juno for epics. It'll be my go-to for long hikes and climbs from here on out," says MJ.
Its Achilles heel is support: The Ultimate Fly lacks the band snugness of most high-support bras, which means women with D+ cups will be happiest using this for low- and medium-impact activities. It wasn't sturdy enough for running, but what it lacked in support, it made up for in adjustability: The strappy back is adjustable up and down and to the sides, offering personalized fit and comfort.
---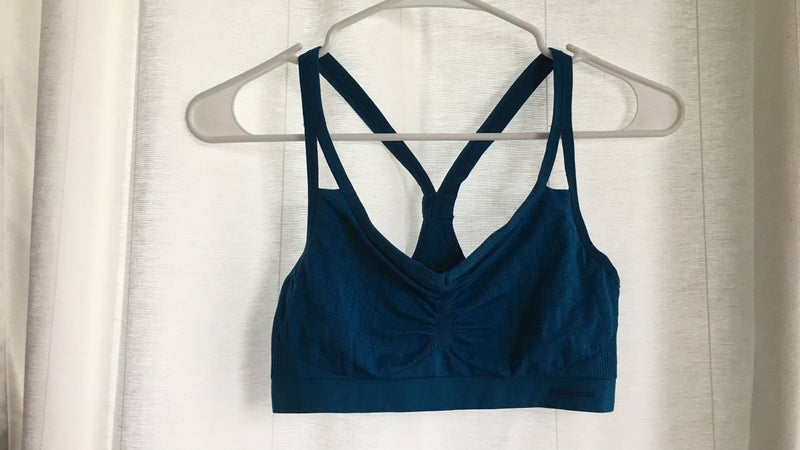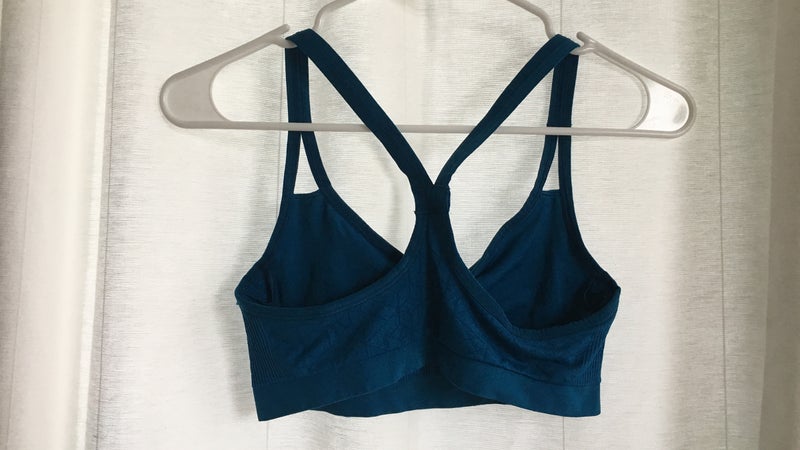 Patagonia Barely Bra ($45)
Size Tested: Medium
Best For: Small-chested women who hate sports bras
True to its name, the Barely Bra is a barely-there sports bra that I reach for more than any other bra besides the Oiselle Bae. It's made from a featherweight recycled polyester/spandex blend that's more comparable in heft to a pair of underwear than another sports bra—and it's really quick to dry.
It's a refreshing option for someone who really doesn't need much support, as it's the kind of bra you genuinely forget you're wearing. When I was dealing with monthly period bloating and other bras felt too restrictive, the Barely Bra was my go-to.
The bra's minimal support comes from thoughtfully placed compression, which avoids uni-boob with a center cinch and less support in the cups. You'll want to skip this bra for running and other high-impact sports (and skip it entirely if you're a D cup or larger), but as an everyday low-impact bra, it can't be beat.
The Barely Bra is also flattering and low-profile enough for day-to-day wear. I'd take it on a long bike tour or as my one-and-only on a long trip. 
---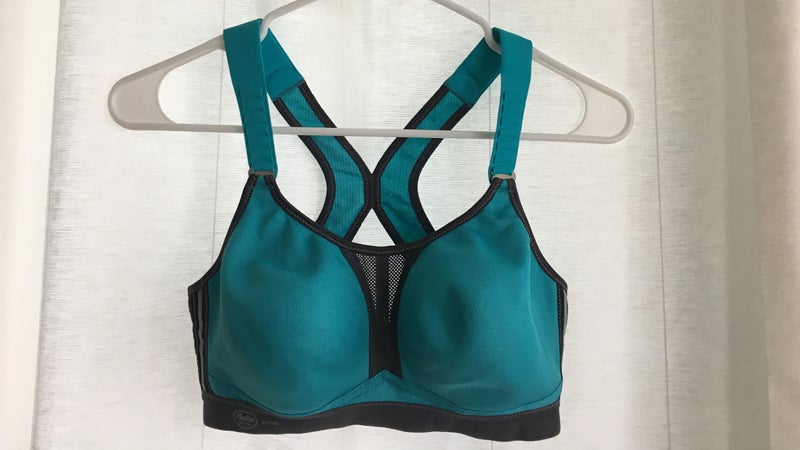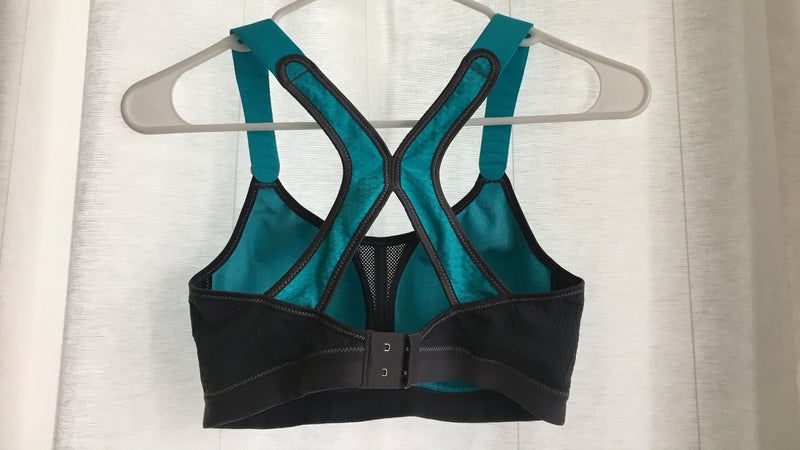 Anita Believer Bra, Sold by Title Nine ($74) 
Size Tested: 34E
Best For: High impact in hot weather for women size D and up
"I wore it on a 5K in a literal heat wave. It breathes really well. I was breathing not so well. But the bra was great," says MJ. "I would recommend this one over any other for running, hiking, or climbing in hot weather and maybe even for hot yoga."
Every material used in this bra is incredibly lightweight and breathable, and the micro-terry liner makes it sweat-wicking and quick-drying. The polyester, elastane, nylon and polyethuran blend is durable yet gentle next to your skin—and makes the Believer one of the lowest-profile high-impact bras we tested.
It doesn't compromise on support, either. For women with cup size D and up, the Believer is appropriate for running and other high-impact sports, thanks to premolded cups and a sturdy band. It's relatively easy to get on and off, with a crossback that meets lower on the back than other bras and a simple clasp closure. The front adjustability makes it easy to adjust while on—and a good fit for nursing moms.
It's a bit more restrictive than the Juno, which knocked it down a few notches for everyday comfort, but the Believer offered the best combination of breathability and support of all the D+ bras.
---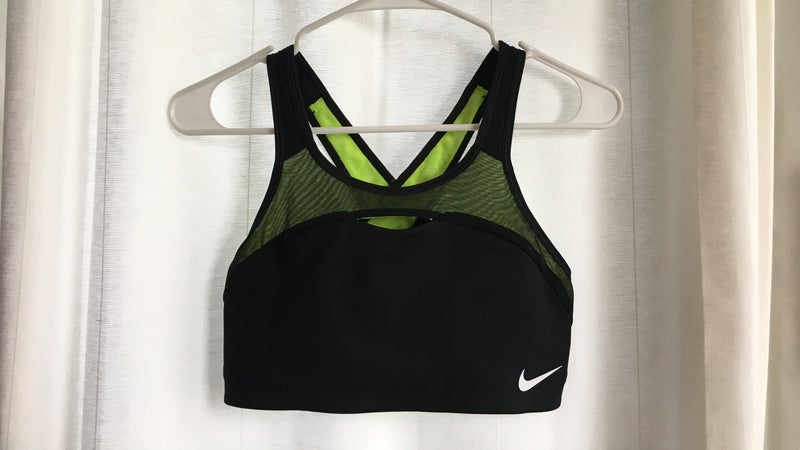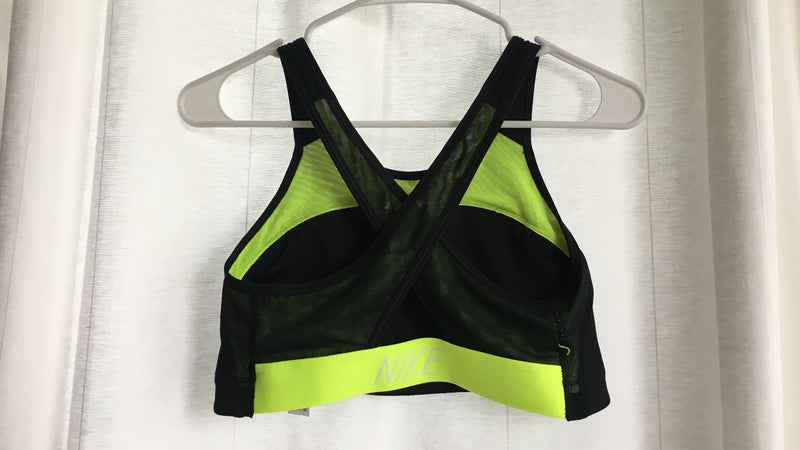 Nike Classic Swoosh Modern ($40)
Size Tested: Medium
Best For: Runners
I'm usually a compression gal when it comes to running bras. I want the whole bra to hug me, rather than rely on a single tight strap at the bottom, which I find restricting after more than 45 minutes of pounding pavement and breathing hard.
This Nike bra provides a good balance between the two. I love the high, snug-fitting neck—it provides plenty of coverage without looking weird under tank tops and earns style points and breathability for the cutout and lightweight mesh fabric at the top. The open-back design is genius—other brands have similar looks, but this one executes it particularly well, offering a highly supportive bra that's also airy.
There was a downside: At the end of long runs, I noticed pulling at the shoulders, which is normally not an issue for me. And though I haven't taken it on a long enough run to chafe, I could tell that I'd have soreness under my armpits after putting in more than six or seven miles.
---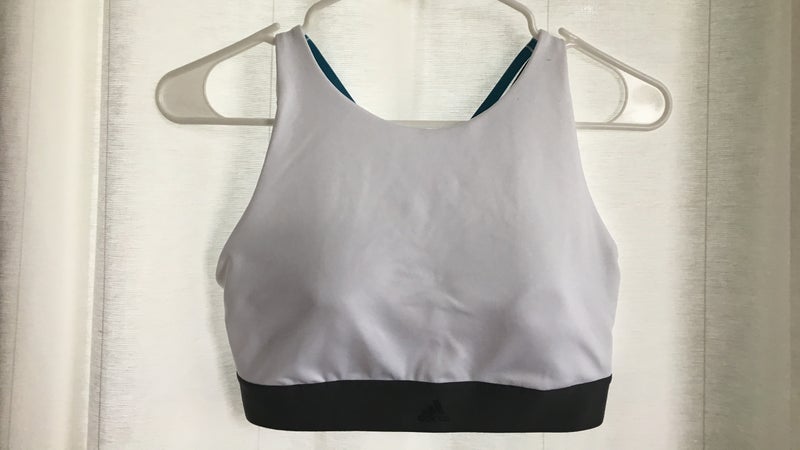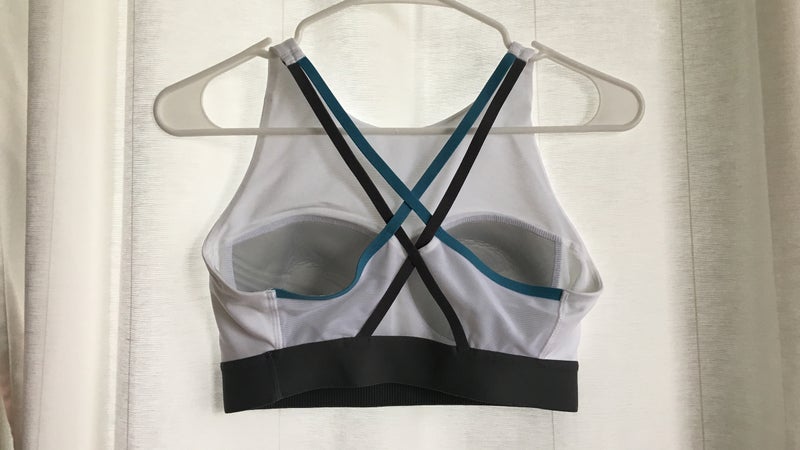 Adidas Halter Bra ($45)
Size Tested: Medium
Best For: Showing off at the gym with enough coverage to go shirtless
The fit and cut of this Adidas bra is flattering and trendy, but the high neckline looks awkward under tank tops—making it a high-coverage bra designed for wearing shirtless.
The fabric is almost neoprene-esque, and the cups are nonremovable (great for modesty and combating uni-boob), both of which limit breathability. On a humid morning run, the lack of ventilation quickly caused my sweat to pool.
And while I'm usually not a stickler for support, this bra had my boobs bouncing way too much for comfortable running. The halter bra is happiest at the gym, doing low- to medium-impact activities. It's a good specialized option for women who like to exercise shirtless but don't want to be too revealing while, say, leaning over a spin bike.
---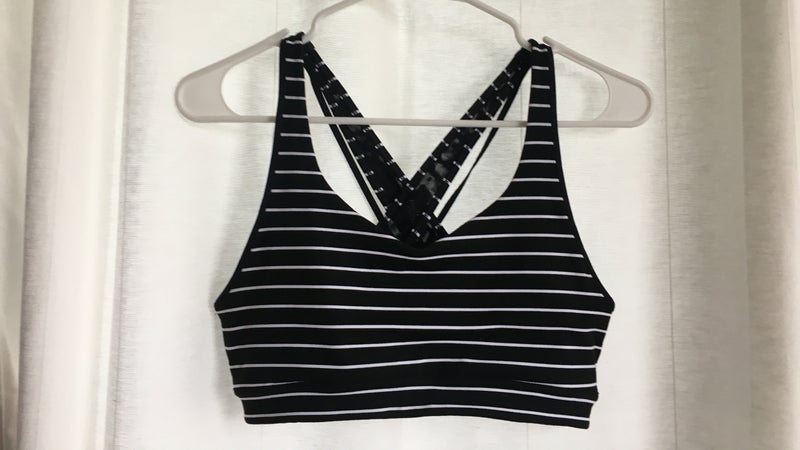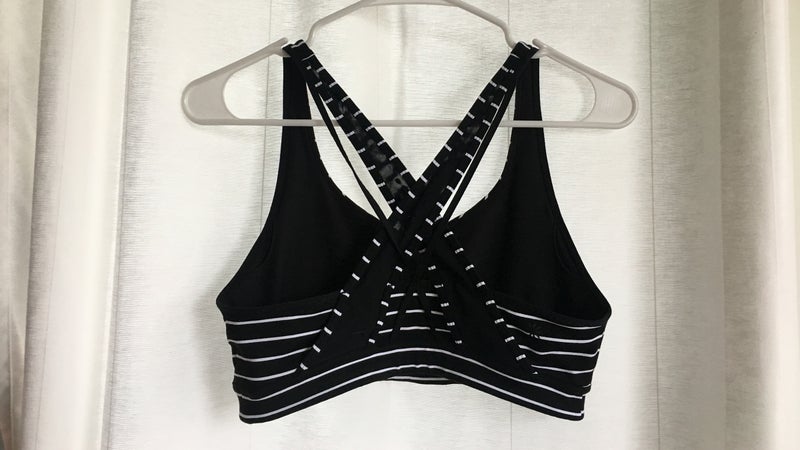 Athleta Transcendence Bra ($49)
Size Tested: Small
Best For: Yoga classes and climbing dates
This is the cutest bra I tested. The material is soft and comfortable next to the skin, a refreshing change from the techy synthetics in a lot of the other bras on this page. The cut—low, with a strappy crossback—is flattering and a great fit for C cups or smaller.
Athleta's sizing runs large: the size chart had me in a small, which was definitely my best fit in this bra. Even so, the straps felt somewhat long. It might be a better fit on someone just a little more well-endowed (or taller). That said, all the support comes from the band, which fit me well without being too tight, and the long straps didn't bother me during low-impact activities.
---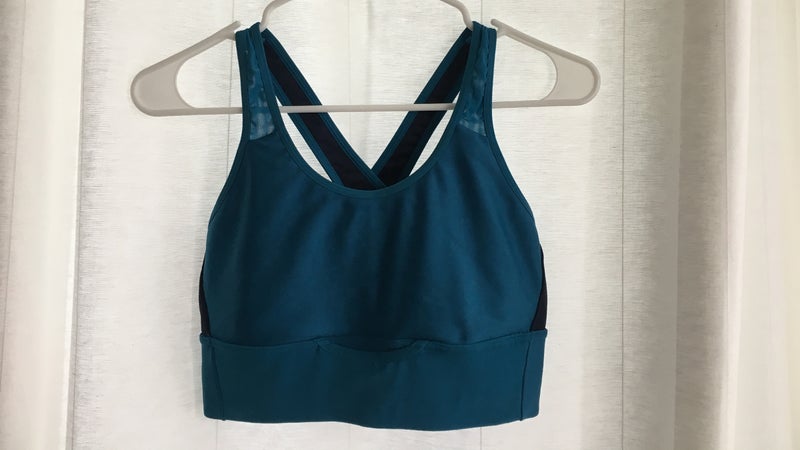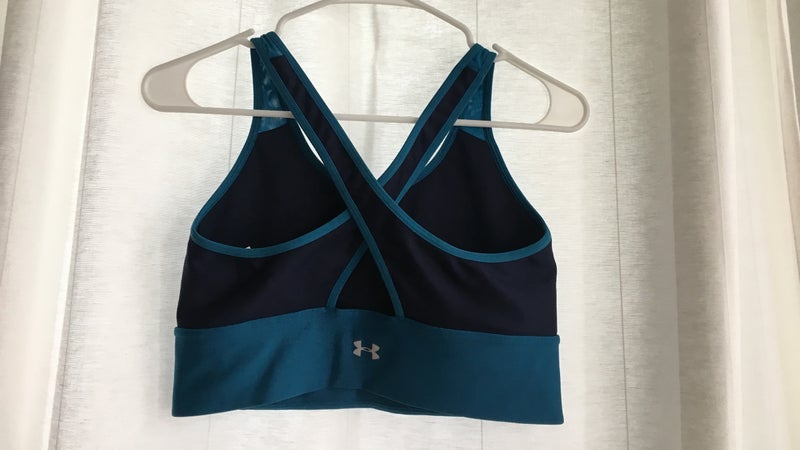 Under Armour Crossback Clutch ($50)
Size Tested: Medium
Best For: Juggling all your shit on long runs
Under Armour calls the storage pocket on the extra-wide band of this sports bra "unexpected." (They clearly haven't seen me shoving my cellphone down the front of my sports bra every time I go for a run or hit the gym.)
That long mesh pocket is an awesome feature: I can safely store keys, cards, or even my iPhone 6 in it. Yet it also added compression across a large portion of my rib cage, which gave me more support than I needed. If you're sensitive to tight bands—I had a hard time running in this model—you should skip it.
On the plus side, it's breathable (though slow to dry) and provided ample support for running. The extra coverage is nice for exercising shirtless.