How I Came to Love Birkenstock's Ugliest Sandal
The Atacama's low-maintenance durability and comfort makes me overlook its clunky appearance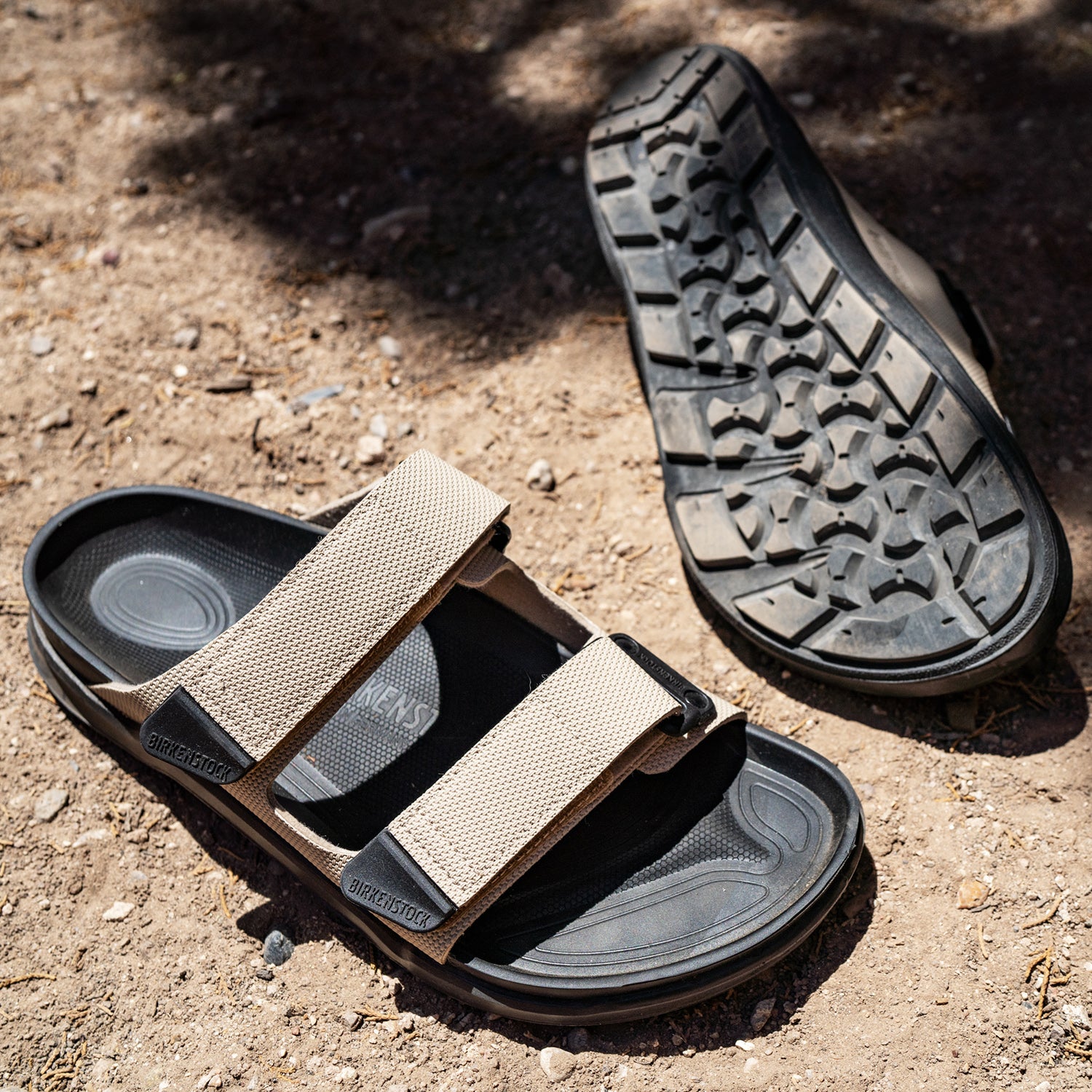 Jakob Schiller
Heading out the door? Read this article on the new Outside+ app available now on iOS devices for members! Download the app.
Like many of you, I have a long relationship with Birkenstock sandals. I coveted them through my early college days but could never afford a pair. Then one day I walked into a used clothing store near the university and sitting on the shelf were a pair of the classic two-strap Arizona sandals in my size. They were still $40 but I could swing that. That afternoon I walked to class feeling en vogue and with very comfortable feet.
Those sandals were more than worth the investment from my meager budget. They carried me for thousands of miles, traveled across Europe, and were on my feet for my first real post-college job.
I've had many pairs of Birkenstocks since, including Arizonas with and without a back strap. My wife's side of the closet is so stocked with Birkenstocks you might say she is borderline obsessed.
My one criticism—a gripe I've heard from many others too—is that classic Birkenstocks' leather straps and cork sole do not handle moisture well. I live in the desert so it rarely rains, but when it does, I always switch to a more water-friendly sandal. Same when I'm mowing the lawn or walking the dogs after the sprinklers have run, and don't want the dew piling on. The limitations are annoying.
That's why I was interested in testing Birkenstock's more water-friendly, self-described "off-road" sandal called the Atacama. Made with polyurethane rubber soles and adjustable synthetic straps, these sandals are fully submersible, promising to expand the time and places I can wear Birkenstocks.
When I got a pair, however, my first impression was that the Atacamas were downright ugly. The all-black rubber sole isn't half as pretty or classy as the Arizona's cork, and the synthetic straps with velcro closures were chunky and industrial compared to the classic style's much more graceful leather and buckles.
Despite their unattractiveness, however, I was quickly won over by the Atacamas thanks to their built-in comforts and waterproof build. Because they're made by Birkenstock, the Atacamas still come with the brand's classic, shaped footbed, so they're insanely comfortable. They have a deep heel cup that keeps your foot planted at all times, a balanced, zero-drop platform, and the much-loved raised toe bar that creates support and provides extra grip for your toes. And their ability to handle water makes them vastly more versatile than their classic cousins.
They are now one of my footwear favorites: I wear them to the pool, splash them through the mud, use them for wet dog walks in the park, and more. If they get dirty all I have to do is hose them off and they look like new (still ugly, but clean).
The Atacamas have two straps over the midfoot, which makes them convenient to slip on but limits their range of activities and terrains. Birkenstock also makes the Tatacoa, which is like the Atacama but comes with an extra strap around the heel. Thanks to their secure foothold and aggressively-lugged polyurethane sole, I would gladly hike in them. All the velcro straps are adjustable, so getting a tight but comfortable fit is easy.
I can't end without disclosing that I'm a 42-year-old dad with four kids—so not exactly a maven of fashion. What I find ugly might actually be chic. And isn't there also a trend now where ugly is chic? I could be giving you bad fashion advice about the Atacama. But, even if you find them ugly too, I'm betting you won't care how they look once you've experienced their comfort and versatility.
Lead Photo: Jakob Schiller
Trending on Outside Online