Every Cyclist Should Ride with a Bike Light
Bike lights have gotten better and better, arguably surpassing those on cars, while legislative and popular support of the devices has grown. And that's a great development for cyclists.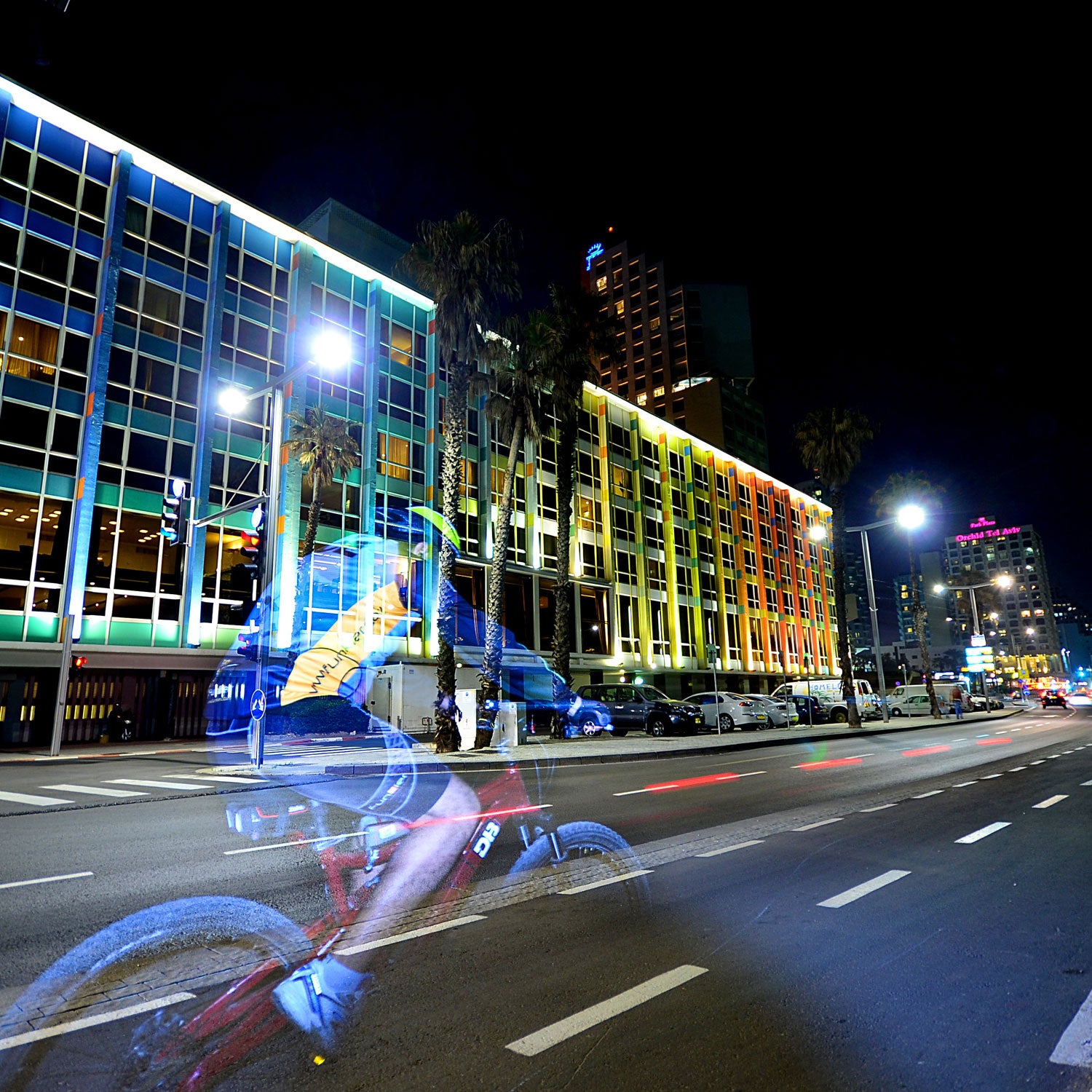 amira_a/Flickr(Photo)
Heading out the door? Read this article on the new Outside+ app available now on iOS devices for members! Download the app.
We've seen the future, and it's an impressively bright, 830-lumen bike-light setup from Bontrager. 
That system represents the leading edge in a new era in the lighting industry. Bike lights, we're happy to declare, are more car-like than ever before. In fact, bike lights are arguably becoming better than car lights.
Such technology, the bike light industry insists, will save lives. According to the Federal Highway Administration-funded Pedestrian and Bicycle Information Center, 69 percent of all bicyclist fatalities occurred in urban areas in 2012, and 30 percent of all bicyclist fatalities occurred between 4 p.m. and about 8 p.m. Better bike lights should only help hurried, distracted drivers take better note of the two-wheelers around them. 
Back to that new Bontrager Transmitr light system. Two taillights (the Flare RT; $80 each) communicate wirelessly via ANT+ (the same technology used in cell phones, GPS devices, heart-rate monitors, and gym equipment) with the handlebar-mounted, $70 remote control and the headlight (Ion 700 RT; $160). The remote turns the lights on and off, and changes their modes between daytime (brighter) and nighttime (dimmer) settings, and flashing and steady.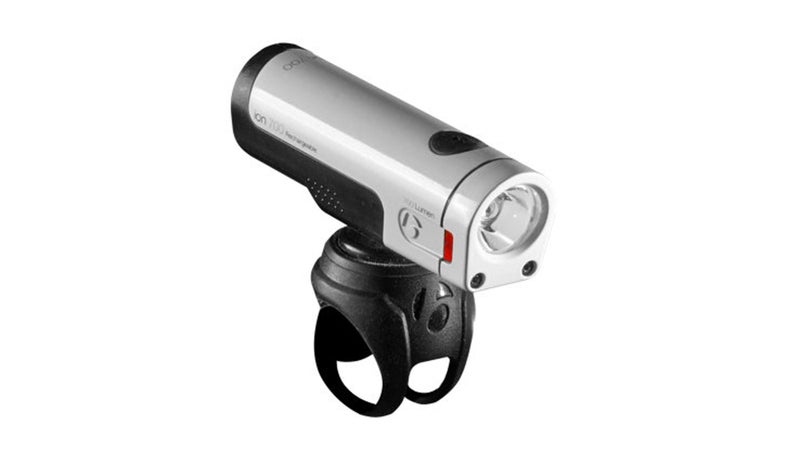 The postage stamp-size remote has five elevated buttons that are easy to navigate even in the dark, and incorporates small LEDs that briefly mimic the intensity and pattern of whatever light you choose to control. Attach one rear-facing Flare RT to each seat stay (the remote controls up to seven lights) and, combined with the front-facing Ion, you'll get more than just 830 lumens: the remote also lets you manipulate the taillights to behave like turn signals. 
"It's a natural application for the remote," says Jon Quenzer, a Trek electronics design engineer who's been working on the company's upscale Bontrager lights for years. "The feedback we've gotten is that riders didn't know what they were missing."
Bontrager's new high-end lights are part of a larger trend. Intensity and remotes are far from the entire, illuminating tale. According to sports-industry research performed by the NPD Group, market share of premium bike lights (those selling for between $50 and $149) is up significantly. Meanwhile, demand for lights that cost $49 and less has decreased 31 percent over the last three years. Many of the under-$50 "blinky" products don't generate enough light to make cyclists visible to drivers, and most run on disposable batteries.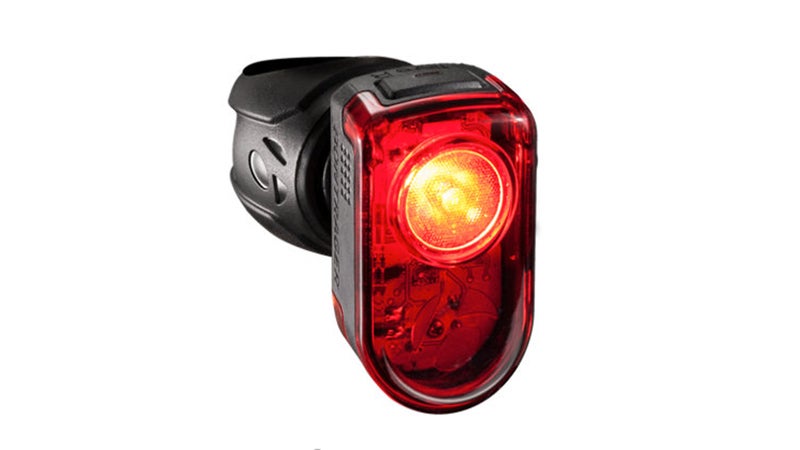 "We attribute the changes to the increasing accessibility of good rechargeable systems," says Jacob Thompson, the director of brand development at Light & Motion, a Marina, California-based maker of premium lights for cycling and other sports. "People are getting sick of the crappy ones."
The premium lights are more than USB-rechargeable. As LEDs become more prevalent—at home, and in devices and car lighting—they become less expensive and more efficient. According to the Department of Energy, today's prosaic LED home light bulb averages about 100 lumens per watt, or about 60 percent more than an LED bulb of 2012. Five years ago, says Thompson, a 500-lumen bike light would've been far heavier, and three times more expensive, than today's models. Now even $70 gets you an off-brand, handlebar-mounted LED-lit bike torch on Amazon.
The next-gen lights are increasingly packed with smarter engineering, says Thompson. "It's also about where the light goes," he says. "It really doesn't matter if a light is twice as bright if half the light is getting displaced outside of the useful window."
Enter more customized lenses and reflectors. Light & Motion's powerful, three-LED Taz (from $240) is designed to simultaneously throw a spot beam well ahead of the front wheel (to illuminate lurking road hazards), generate peripheral light (to aid turning), and smooth any seams between the different beams so that your eyes don't struggle to adjust. 
The company calculated that a rider traveling at 25 miles per hour requires 79 feet to stop ahead of an obstacle spotted in the road—and designed the Taz to provide precisely enough light to help him avoid the collision.
"We're not even that wowed by some of the light coming from cars or motorcycles," says Thompson, who can stare at a still image of a BMW with prototype laser lights and find fault with bending light and hot spots. "The beam patterns on many of those vehicles aren't so amazing."
"We're not even that wowed by some of the light coming from cars or motorcycles," says Thompson, "The beam patterns on many of those vehicles aren't so amazing."
Indeed, while battery strength may continue to improve incrementally—light-maker Lezyne's clever workaround nowadays is a field-swappable battery in models like its $160 Deca Drive—it's the potential for improved architecture around the LED bulbs that excites light engineers and designers most.
"Where there's room to improve is the optics," says Stephen Pethel, the owner of Huntsville, Alabama's DesignShine Lighting, which has developed a cult following for its handmade, ridiculously bright, $229 DS-500 taillight. "That's the next revolution that's going to happen."
The form and power of Bontrager's Flare RT taillight generates enough light to be seen over a mile away—day or night. Meanwhile the DesignShine rear light generates as many as 800 lumens, which seems like overkill (Pethel claims it can be seen for "miles," even in daylight), but succeeds at what all bike-light engineers hope to create: bike lights that alert drivers any time of day to a rider. 
Bike lights are increasingly commanding attention in other ways, too. They're required in more and more places. While no federal regulations exist regarding the use of bike lights (except that new bicycles must be sold with "passive lighting," or reflectors), most states require that bikes employ at least one light for use in dim and dark conditions. Iowa, however, could soon demand more: The Iowa senate recently voted that cyclists be required to use both a front-facing white headlight and a rear-facing red taillight. Other states, including Texas and Florida, already have such laws on the books. 
Light & Motion's Thompson wouldn't mind laws that were stricter—requiring, for instance, everyone to wear helmet-mounted lights, which are advantageous because they swivel with a rider's head and sit high. "An SUV might not see you unless your lights are elevated," he says. (Light & Motion does sell a combo headlight/taillight designed for helmet use.)
But no matter how great bike lights are now and into the future, so much of light performance still boils down to something that engineers can't manipulate: humans. 
Some European countries have standards and regulations around bike-light projection and intensity, mostly in the name of preventing increasingly bright lights from dazzling oncoming drivers, pedestrians, and even other cyclists. In the United States, riders are left to aim their lights as they please. So far the errant beams have fueled occasional Internet grousing rather than legal action. Still, such night rider negligence has given light designers pause. 
"On a car your lights are fixed," says Trek's Quenzer. "On bikes, it's the riders who have the tools necessary to blind people and to not blind people. How they use it is up to them."
Lead Photo: amira_a/Flickr
Trending on Outside Online