How to Layer for Fall
The trick to staying the right temperature this time of year? Bring smart options.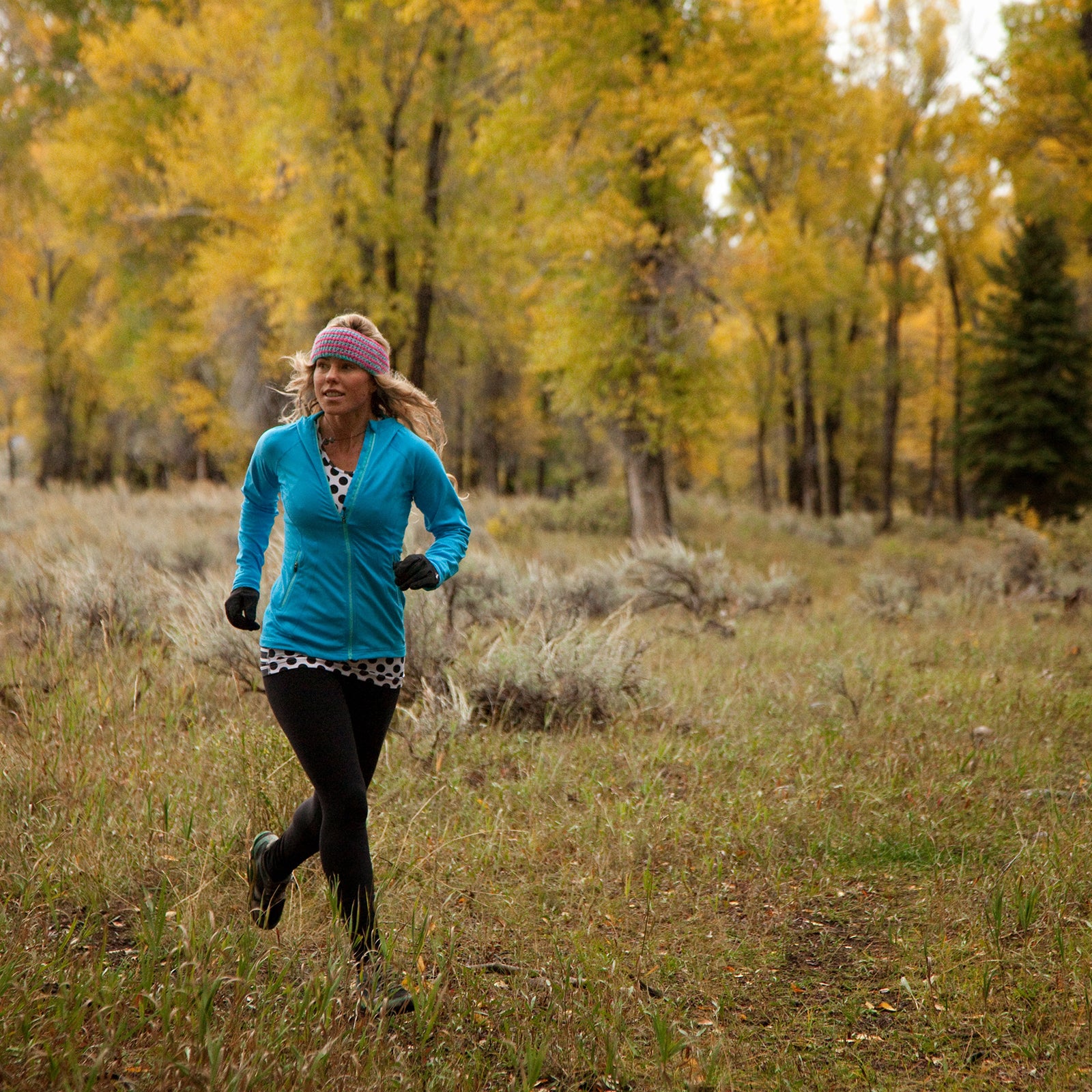 Megan Michelson(Photo)
Heading out the door? Read this article on the new Outside+ app available now on iOS devices for members! Download the app.
There's a layering philosophy that goes: Be bold. Start cold. You may have heard a friend repeat this mantra at a chilly trailhead to encourage you to ditch the puffy. The idea is, if you're setting off on an outing that will involve a certain level of exertion, you should begin in fewer layers than what feels comfortable, since you'll inevitably warm up. But that can lead to discomfort in the fall. Erin Laine, a Colorado-based mountain guide and wilderness EMT who works for guiding companies like Ice Axe Expeditions and Aspen Expeditions, says she doesn't always abide by the rule, especially at this time of year.
"Often I want to dial in my layers about 15 minutes after I've started," Laine says. "So I'll start out in an extra layer, walk to feel out the temperature, then take a quick stop to adjust. Once you start feeling yourself getting warm, you've got to open vents or get rid of a layer to avoid sweating too much."
Fall, with its wildly fluctuating temperatures, can be a particularly hard season to dress for. You may start your day in a winter puffy coat and be in shorts and a T-shirt by afternoon. The solution to staying comfortable is layering well. It doesn't matter if you're climbing a peak or chopping wood, if you're moving around outside, you'll want technical fabrics and a variety of options. We called Laine for tips on how to layer smart for the season.
Base Layer
Your next-to-skin layer is arguably the most important. You may sweat through a fabric that's not breathable enough, risking a dangerious full-body freeze. "If you start sweating too much, you can get dehydrated faster, which can put you at risk for a lot of problems in the mountains," Laine says. "Or you can get cold, which can be a big issue if the wind kicks up." For wicking and breathability, you have a few fabric options.
Wool is Laine's fiber of choice. It functions well in varying temperatures, dries quickly, and combats stinky odors. She likes a short-sleeved top for fall, like Voormi's Short Sleeve Merino Tech Tee ($70). For men, Smartwool's Merino 150 Base Layer Short Sleeve ($75) or Trew's SuperLight Nuyarn Merino Pocket T ($69) get the job done. "Climbing or guiding, I wear a short-sleeved wool base layer every day, since I'll end up getting down to a T-shirt at some point," Laine says. "I like wool, because it doesn't get all that sweaty, and it manages moisture well." If you want full-sleeved coverage but in a supremely lightweight merino, Icebreaker's BodyFit Everyday Long Sleeve Crewe for men or women ($85) feels barely there.
Synthetic fabrics, like polyester and polyester blends, wick sweat away from your skin and dry quickly. They also tend to be less expensive than wool. Corbeaux's Everyday Tee ($44) for women or Marmot's Lightweight Kestrel Long-Sleeve Crew ($40) for men are good options.
For bottoms, Laine often wears a pair of Japanese fleece shorts underneath her alpine climbing pants. That way she can rock the shorts alone once temperatures rise. The Kühl Skülpt Short 4.5 ($65) for women, made from a polyester-spandex blend, is thin and fitted enough to wear under pants. The North Face Men's Flight Better Than Naked Shorts ($60) serve the same purpose.
Cotton is no good anywhere in the layering sandwich, especially as the bottom layer. It takes forever to dry, which, in the worst-case scenario, can lead to hypothermia. Ditch cotton completely when you're active outside as temperatures cool down.
Midlayer
You'll want an insulating midlayer that packs warmth but not bulk. For fall you can opt for a lighter piece, since you shouldn't need the heftiness of a midwinter coat. Laine lives in her Patagonia Nano Air Hoody. "I wear that a lot as my next layer. It's breathable, comfortable, and it works in a lot of temperatures," she says. The Nano Air comes in men's and women's hooded ($299) or nonhooded versions ($249 for men or women) or as a vest ($199). Some may find hoods bulky or unwieldy, but not Laine. "I always get hoods. I love them," she says. "As long as they're big enough to go over my helmet, they can be nice for added warmth or to block the sun."
If you run hot, skip the insulating layer and opt for a technical, noninsulated hoodie or fleece-like midlayer. If you're into wool, Ridge Merino's new Convict Hoodie ($150), with a poly-fleece outside and a gridded merino-wool inside, will keep you toasty without overheating and has good odor control for when you do warm up. Or try Patagonia's Houdini Air Jacket ($169), made from postconsumer-recycled nylon that's supremely light and breathable, with an added layer of wind protection.
Outer Layer
You may rarely need it this time of year, but packing a shell—just in case—may serve you well. "My personal rule: bring one layer more than what I think I'll need for the day, based on the forecast and my plan," Laine says. "Having one extra layer can really go far if I end up staying out longer than planned."
The North Face's Men's Summit L5 LT Futurelight Jacket ($450) blocks wind and rain, and it's so breathable that you may not need to take it off when you're exerting energy. Also, it packs down smaller than a water bottle when you don't need it. Laine loves the women's version. "You can wear it uphill and downhill," she says. "It'll afford fewer layer changes."
A lightweight soft-shell hiking or climbing pant, like Arc'teryx's Sigma FL Pant ($189) for women or Fjällräven's High Coast Hike Trousers ($130) for men, works across activities and can handle a variety of temperatures.
Lead Photo: Megan Michelson