The History of Women's Terrible Pockets
Women's pockets used to be functional. Why aren't they anymore?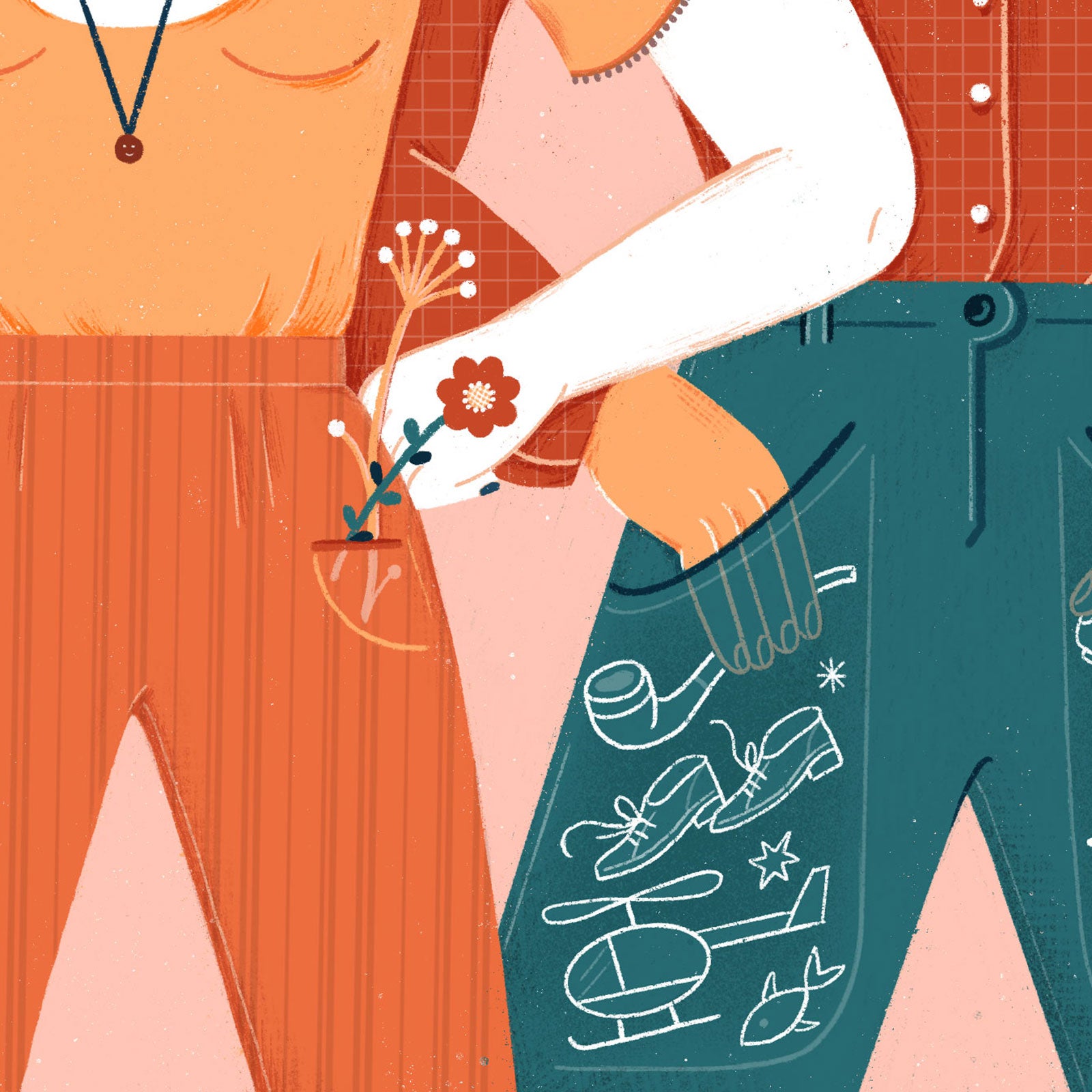 Heading out the door? Read this article on the new Outside+ app available now on iOS devices for members! Download the app.
Everyone who wears women's clothing knows: our pockets suck. If you've ever tried to stash your phone while hiking or running, chances are you've been more than slightly annoyed with the lack of real estate that our pants, shorts, and dresses generally afford. Even the most functional pants—those that advertise hip and thigh cargo pockets and hidden zippered compartments—typically fail to comfortably provide the kind of pocket space that comes standard on men's clothing.
For a while, I thought things were getting better. When I started writing about outdoor gear as a trade-news editor in 2015, I was introduced to hiking pants, and casual, stretchy slacks with (somewhat) fashionable cargo pockets, and hiking skirts and dresses that could store a Kindle. It seemed like pockets were trending toward bigger—or at least toward existing.
But then I dug into the history of how we got to where we are today. And I was shocked. Not only did women's pockets start out much bigger than they are now, they also started out more spacious than what men's clothing had to offer. So where did things go wrong? How did our hiking, climbing, and biking apparel end up with such subpar storage?
I called Ariane Fennetaux, who coauthored The Pocket: A Hidden History of Women's Lives, 1660–1900 with Barbara Burman. As it turns out, storage previously wasn't sewn into clothing; women would wear pockets on a belt around their waist, usually beneath their skirts—sort of like a stealth fanny pack. They would access these pockets (which were often made in pairs, much like we have two hip pockets today) through slits in the outer layer of their dress. "There are lots of complaints today about women's pockets being inferior, but there were no complaints when women had those pockets," Fennetaux says.
These pockets were huge; they were often large enough to carry snacks like oranges and apples. They were also beautiful and personalized with embroidery and embellishments, much like purses are today. Women would make their own pockets or make them as gifts to give to friends. And each woman had her own system for organizing small items inside her pockets.
In the beginning of the book, the authors share a 1725 classified ad from a London newspaper that offers a reward for the return of a pair of lost or stolen pockets. They contained the following items: a silver purse, a pair of gloves, a ring, a toothpick case, a handkerchief, a key, and a thimble.
Not only did women's pockets start out much bigger than they are now, they also started out more spacious than what men's clothing had to offer. So where did things go wrong?
Over time women's pockets changed with evolving fashion. As dresses became more formfitting, it became harder to conceal bulky pockets underneath them. Toward the end of the 1700s, women's storage options shifted from pockets to reticules or small purses. This is because pockets would ruin the silhouette of the dress, according to the Victoria and Albert Museum, an art and design museum in London. By the 19th century, women's clothing had started to integrate pockets that were built into their garments, much like today. The Workman's Guide, published in 1838, contained sewing patterns for on-seam pockets. But while integrated pockets on men's apparel were perfected, according to Vox, dressmakers put them in weird, impractical places, like near the hem of the skirt. Pockets became almost politicized, as some women fought for "pocket equality" while fashion trends pushed reticules and purses. Pants pockets ultimately suffered the same fate: when women started wearing pants more regularly, around World War II, the focus was initially on their function, so pockets were large and practical. But again, as fashion evolved and designs slimmed, pockets messed with the silhouettes and started to shrink and disappear.
Today, even in the outdoor industry, where apparel tends to trend more toward function than fashion, I have a difficult time finding decent pants pockets. When I hike and backpack, I usually have to store my phone in the water-bottle pouch on my pack to avoid creating a sweaty patch on my thigh or an uncomfortable bulge at my hip crease. Even my most comfortable hiking pants just don't feel as good when I have things in the pockets—they're either too tight or too loose, so objects bang against or dig into my legs while walking.
The best outdoor-industry pants pockets I've found so far are from Boulder Denim, which makes jeans for outdoorsy people. The company has done a solid job of outfitting its women's line with front storage big enough to hold a smartphone—a feat I've yet to see elsewhere. Founder Bradley Spence says he wasn't aware that women's pants pockets were so terrible until he started the company. Originally, he was planning to make only men's jeans, but friends and partners of the founding crew urged them to tackle a women's line that would finally allow storage for more than a single tube of ChapStick. Spence thinks it's possible other companies fail in this realm because they're afraid jeans won't look good with the bulges pockets can create. But to Boulder Denim, that wasn't a good enough reason not to try.
"I don't know exactly why other brands don't do it, but it was so easy for us to include pockets, it didn't make sense for us not to," he says. To create them, the company pulled together popular designer women's jeans and studied the way the legs were stitched. It combined its favorite features into its own style, and improved upon them by making the pockets larger. Because they're a bit more formfitting, the pockets on Boulder Denim's women's jeans are slightly tighter than the men's version, so it's not quite as easy to slide your hand inside. But they're still significantly larger and more functional than any other pair of women's jeans I've ever worn.
Guinevere Ganzel, senior women's designer for Toad&Co—whose dresses have amazing, deep pockets that fit phones, passports, and more—and Karenina Gonzalez, a women's and kids' designer for United By Blue, which also prioritizes storage on its women's apparel, think there's hope that pockets will only further evolve for the better in the near future.
"Pockets have changed because phones have changed," Gonzalez says. "We didn't have cell phones back in the day, so we didn't have to put them anywhere. Now I have to think about phones [when designing apparel]."
Ganzel says Toad&Co found that women are stoked to find pockets in their clothing, so it's been important for the company to prioritize storage when designing apparel.
Fennetaux says it's unclear exactly why women's pockets have suffered this fate, but there are a few theories: conspiracies, for example, to force women to buy handbags or rely on men to carry their things; the impracticality of wearing pockets with slimmer fashions; and the aforementioned unsightliness of bulges that pockets create. Perhaps it's some combination of all of these things, Fennetaux suggests. But one thing is sure—pockets are in the spotlight now.
"There's definitely more of an awareness, and almost a political demand for pocket equality, on social media," she says, citing an example of the dresses worn at the recent Oscars, in which women posed for photos "with a hand conspicuously in their pocket."
Ganzel's take on why they're not standard for most clothing is that sometimes a pocket will change the shape of an outfit in a way that makes it unattractive and therefore undesirable to buy.
"With so many bottoms being skinny silhouettes, pockets create bumps and can hinder a good-looking pant in many cases," she says. This is why some companies will add what she calls a "focket," or fake pocket, where it only appears as though storage exists. Thankfully, that trend seems to be on the way out. "I think people are fed up with having things that don't function at all," Ganzel says.
Indeed we are. I'm just one person reviewing gear and apparel, but I've started asking about pocket functionality when I accept products for review. I turn down a lot of clothing without them. If you're an outdoor-industry designer reading this, hear our pleas: We want our clothes to help us go hands-free when we play outside. If it can't fit a phone, you can do better.
Lead Photo: Alessandra De Cristofaro