5 Lightweight Jackets That Are Great for Spring
These men's jackets offer versatile protection for a variety of weather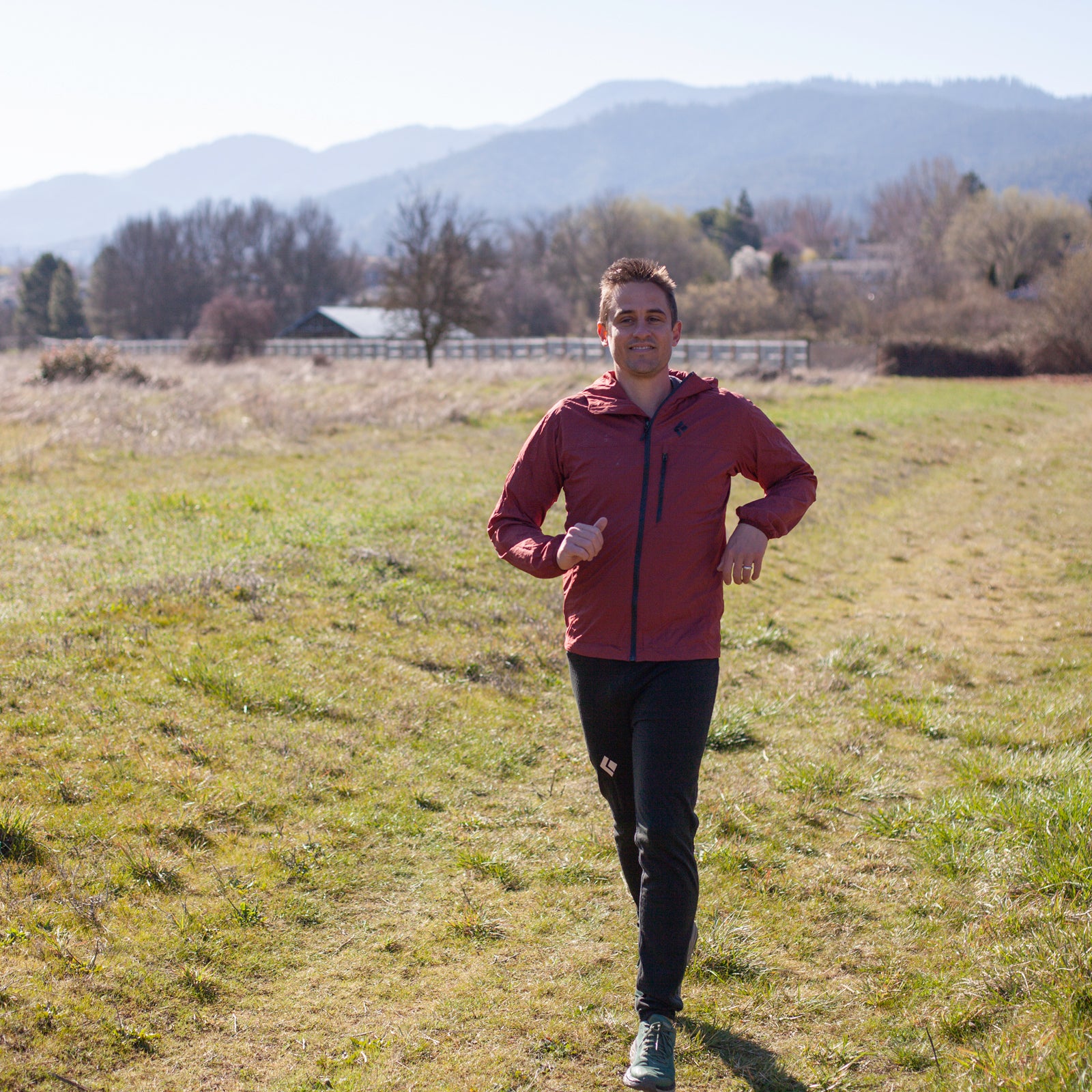 Heading out the door? Read this article on the new Outside+ app available now on iOS devices for members! Download the app.
A quality soft shell is the best jacket for athletes who perform highly aerobic activities in variable conditions (basically, spring pretty much anywhere in the country). While this type of jacket won't keep you bone-dry in a torrential downpour, a good one will often keep your body drier in more circumstances, because they're built to let more sweat out than a fully waterproof hard shell. I put five of the top lightweight soft shells in a head-to-head test to help you find which is right for you.
The Test
Warmth: I ran for an hour in each of these soft shells in temperatures in the mid-to-high thirties. 
Breathability: I ran for an hour in each of these soft shells in temperatures from the mid-fifties to low sixties, to make sure I would reach a full sweat.
Protection: I spent 30 seconds under the shower in each of these and recorded how well they kept water out of their interior. (I recognize that none of these were designed to be waterproof, but I wanted a marker to help inform those of you looking for a soft shell that offers more protection from rain and wet snow.)
The Winner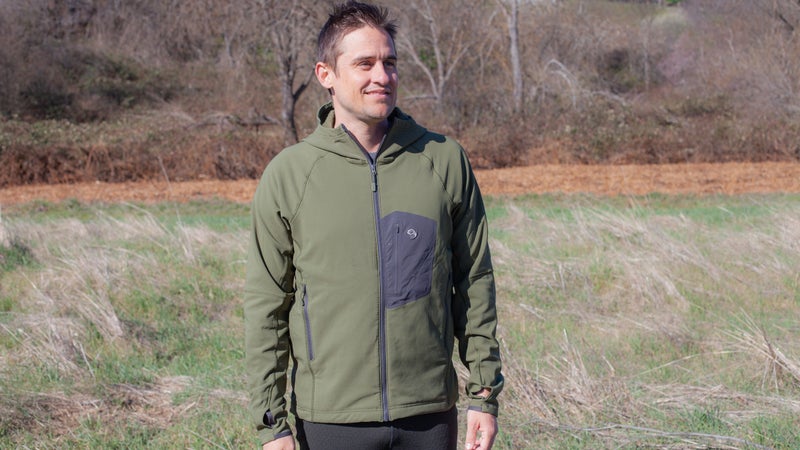 Mountain Hardwear Men's Keele Hoody ($150)
Warmth: 4
Breathability: 3.5
Protection: 5 
Movement: 4.5
During my runs, I found myself drawn to the Alpine Start and the Airshed Pullover (both reviewed below) because they were lighter, but the more testing I did, the more I realized the overall utility of the Keele. The small amount of fleece-like insulation on its interior offered just the right amount of loft to warm me up on cold runs, and while it proved to be a little hot during a 54-degree run, it still breathed remarkably well when I started to sweat. I was most impressed with how this soft shell, which looks more like a fleece than a shell, almost completely repelled water during the shower test, leaving very little moisture on the interior after 30 seconds.
---
Best for Movement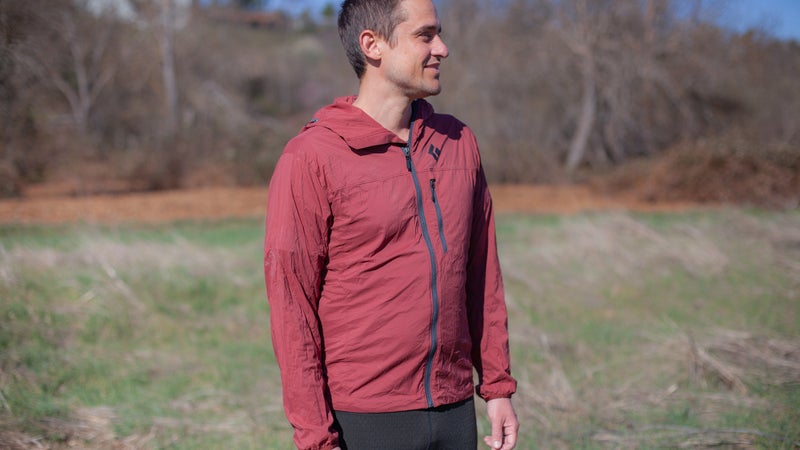 Black Diamond Alpine Start Hoody ($165) 
Warmth: 3
Breathability: 4.5
Protection: 2.5 
Movement: 5
The Alpine Start nearly took the win. Over the winter, I grabbed this jacket more than any other, but it ended up getting edged out by the Keele because it didn't repel water particularly well—it soaked through in six seconds. This was my favorite ski-touring shell, however, because it moved so well and had enough stretch to hold a pair of skins in the chest pocket. During runs it was almost as breathable as the Patagonia Airshed, and its extremely stretchy material meant it was the only jacket that didn't feel constrictive during the circuit workout.
---
Best for High-Output Activities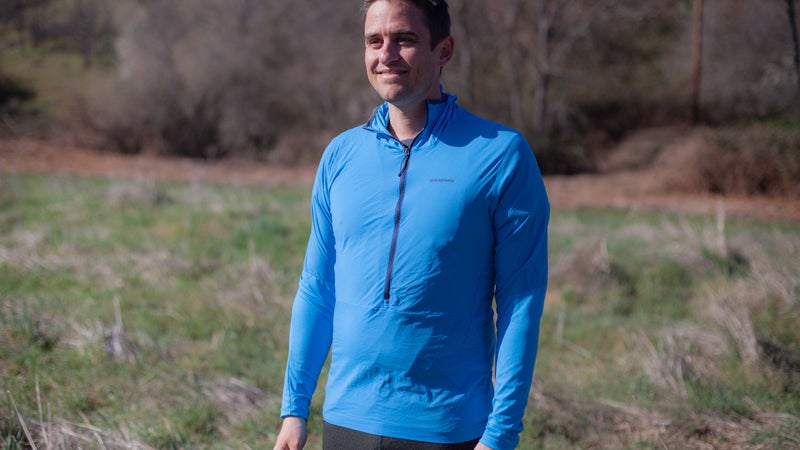 Patagonia Airshed Pro Pullover ($129) 
Warmth: 2
Breathability: 5
Protection: 2 
Movement: 4.5
The Airshed is a fantastic jacket to run in if you're a heavy sweater like me. While its body is extremely breathable, it was still warm and wind-resistant enough to be comfortable five minutes into a run on a 36-degree morning. Besides that, its hood and arms are made from Patagonia's ultralightweight base-layer material, Capilene Cool. The result is a jacket that was damned near impossible to sweat out and that moved completely organically. While this is the one I wanted to grab the most on warm runs, it didn't offer much in the way of protection, completely soaking through in less than two seconds in the shower.
---
Best for Durability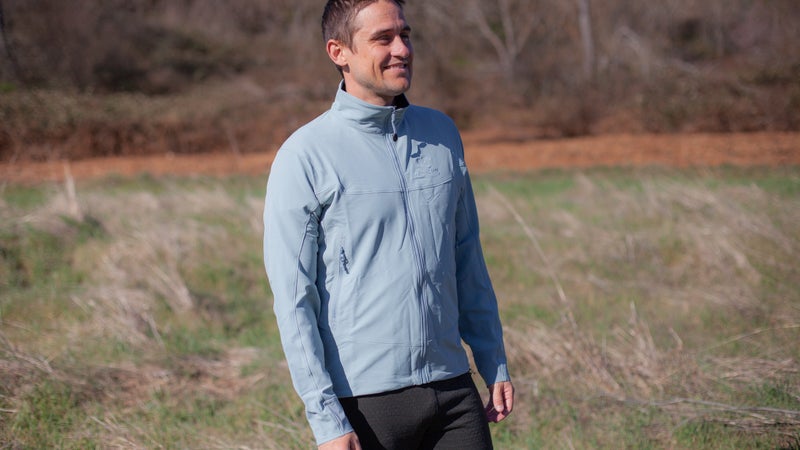 Arc'teryx Gamma LT Jacket ($225) 
Warmth: 4
Breathability: 2
Protection: 5 
Movement: 4
The Gamma LT was made from an extremely hearty nylon-polyester-elastane weave that would likely do well battling rock but was not the most breathable of this bunch. While this jacket was uncomfortably hot during my runs on warm days, it was fantastic in the morning and would likely have been a winner in a ski test. It won the most points in the shower test, though, allowing very little water in—I could feel there was water entering but couldn't even make out individual drops. It beaded water on the exterior like a hard shell. 
---
Best for Style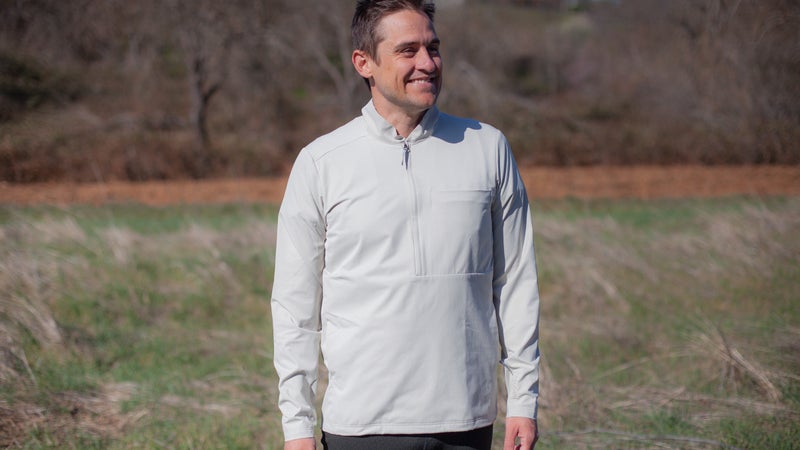 Houdini Daybreak Pullover ($200) 
Warmth: 2.5
Breathability: 4
Protection: 2.5
Movement: 4
The Daybreak would be great for traveling: you could easily wear this both out for runs and to restaurants. Houdini describes it as a minimalist jacket-shirt hybrid, and that is quite accurate—it was plenty breathable for a 53-degree, three-mile stroller run. The Swedish company uses classic Scandinavian style in all of its products, and this jacket is no exception. It doesn't make you feel like an über-athlete when you get coffee after a run, but, like a shirt, it didn't repel water particularly well, soaking through in six seconds. However, it admirably held up to wind during one 35-degree early-morning run.
Lead Photo: Sarah Jackson