The Best Rechargeable Heated Socks for Chronically Cold Feet
Never worry about cold feet again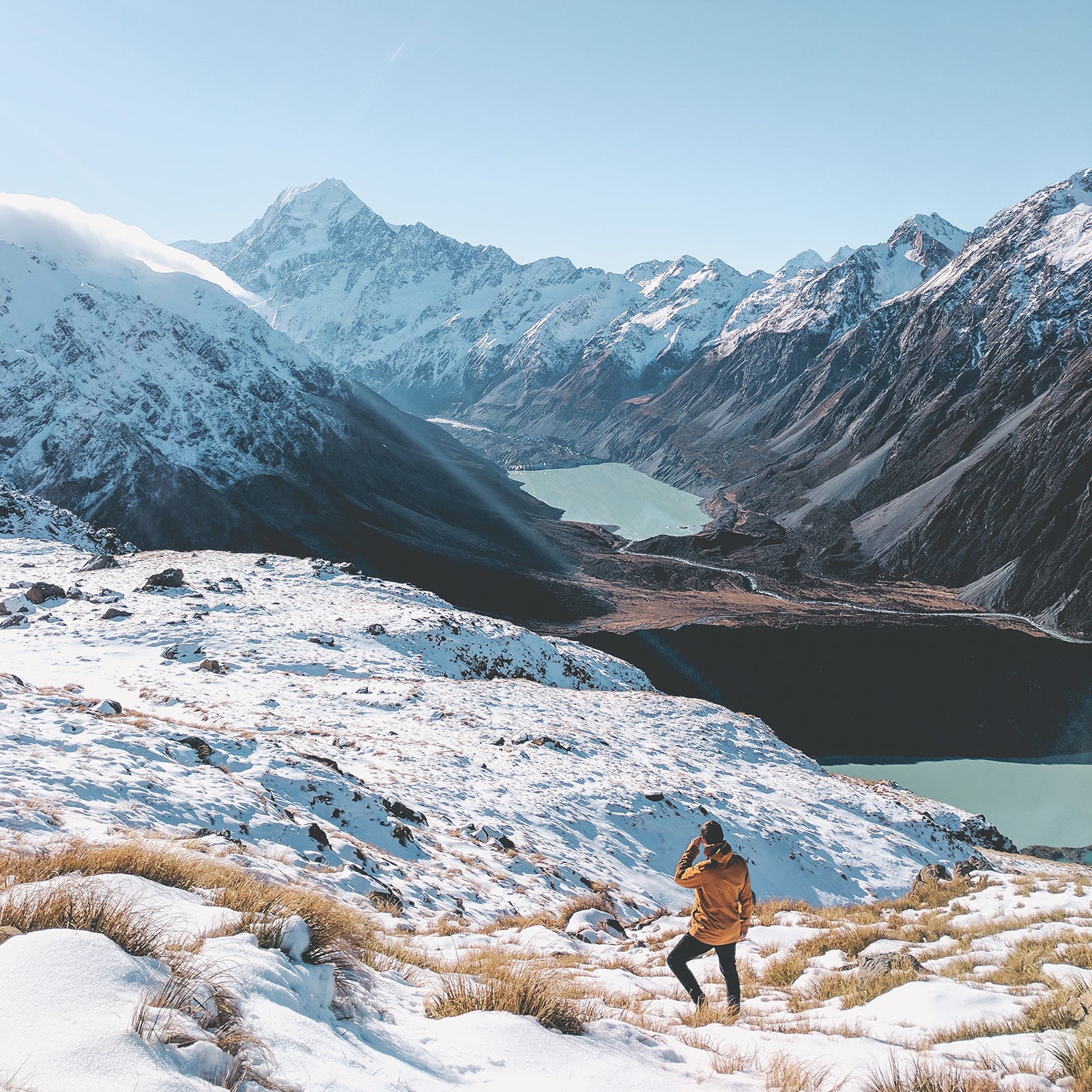 Heading out the door? Read this article on the new Outside+ app available now on iOS devices for members! Download the app.
My toes almost always get cold when I ski and snowshoe, and a lot of women have the same problem. Studies have found that in cold temperatures, female bodies limit blood flow to the extremities more than men—possibly because of our estrogen levels. Women are also five times more likely than men to develop Raynaud's syndrome (when hands and feet overreact to mildly cold temperatures by emptying the capillaries of warm blood).
I've put up with toes (and fingers) that routinely turn to ice almost every time I ski or hike in winter conditions. There have been days when I've ended backcountry ski tours in a panic, wondering if I'd irreparably damaged my feet. And on really cold powder days, I've had to warm my toes in the lodge while my friends keep on shredding. I hate that.
I've tried lots of remedies over the years, but none has been a magic bullet. The chile-pepper lotion felt greasy and didn't provide long-lasting warmth. Stick-on toe warmers are bulky (and rarely stay in place when I slide my foot into my boot). Heated insoles worked for a while, but the wires frayed before long and left me cold once more.
Are Heated Socks Worth It?
So I got curious about heated socks, which have been around for years and seem to offer some major advantages: they're compatible with custom insoles, and you can wear them in any shoe or boot, which means that one pair of socks can provide heat across multiple activities.
They're heated by battery-pack technology, so they're going to cost you more than your average pair of socks. I ruled out the less expensive options, like the Rabbitroom model ($43), which I worried would fit poorly (it only comes in one size) and seemed too bulky for anything athletic. Instead I tested Gobi Heat's Tread Heated socks ($179) and the top-end Therm-ic Powersocks 700 ($270).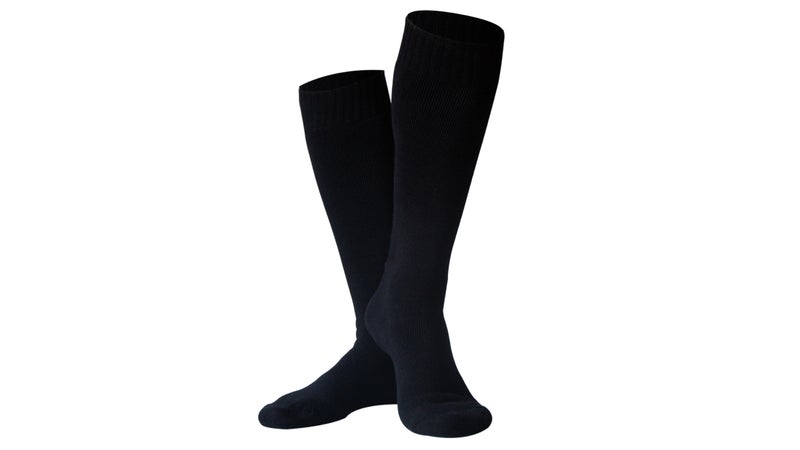 The Best Heated Socks for Function
I first tried the Gobi Tread on a ten-degree ski day at Steamboat, in Colorado. I'd charged the battery packs overnight and slipped them into the dedicated pocket at the top of the cuff. The battery packs are thin and unobtrusive. I never noticed them while skiing or boot-packing. Meanwhile, I immediately noticed a blast of heat on the hottest of the three settings. An elegant little key fob lets you toggle between settings without reaching down and wrestling with your snow pants—but if you forget that remote control, it's easy to change settings manually by pressing a button on the batteries.
After multiple days at the resort and in the backcountry, I can report that the socks fit fairly well. They come in two sizes—small/medium and large/extra large—so there's some sagging on my foot, but not much. (I wear a women's 6.5 shoe.) I wish the material—they're made of 100 percent cotton—was thinner, because I prefer the thinnest possible socks for skiing. People who like cushioned models will likely find these just right. The company says that the batteries will last up to 12 hours. On the lowest heat setting, my toes stayed comfortable down to zero degrees for up to seven hours. Off the slopes, I wore the socks in my winter boots to keep my feet warm while standing around on the snow, like when I was volunteering for my daughter's ski race or watching our Winter Carnival parade.
My only real criticism with the Tread is that I can feel the heating wires under my toes. It's less noticeable when I'm actually skiing and my weight is distributed across my whole foot. But when I'm boot-packing, stepping primarily on the ball of my foot, the underfoot wiring starts to feel lumpy and uncomfortable.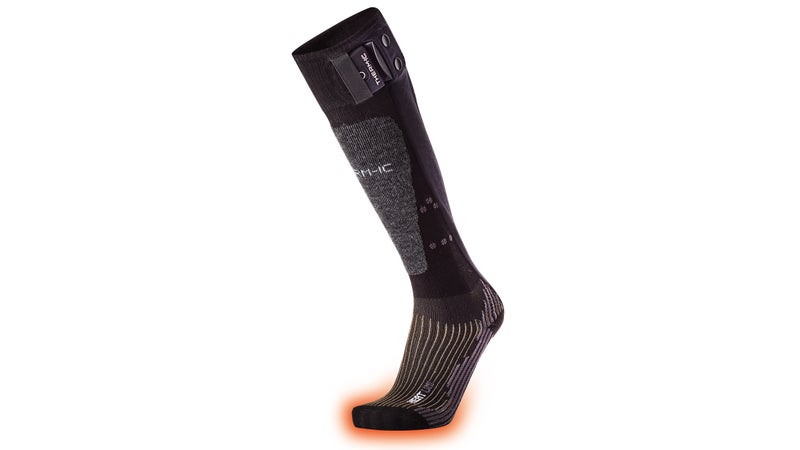 The Best Heated Socks for Fit
I didn't have that problem with the Therm-ic Powersocks. Their underfoot wiring is thinner and less obtrusive, and I didn't notice it, no matter the activity. These socks come in four sizes—ranging from 35 through 47—so they hug my foot better. And the fabric's blend of polyamide, acrylic, polypropylene, polyester, and elastane does a slightly better job of wicking sweat: I can wear the Therm-ic socks in my ski-touring boots without my feet feeling swampy. The battery pack is thicker and bulkier than Gobi's, but once I nestled it in its pocket, it sits above my boots and doesn't present a problem. Therm-ic says says the charge lasts for eight hours, and I found they did, indeed, stay toasty for a day of skiing.
The Powersocks also pair with your smartphone for Bluetooth control over the heat settings. The app even lets you adjust each sock individually, in case your right foot happens to be chillier than your left.
So are the Therm-ics worth the extra money? I'd say it depends on your activity. For on-piste skiing and snowboarding, the Gobi Tread works great. But for hiking or anyone who prefers the thinnest possible socks, the Therm-ic seems like the better investment.
Either way, both models keep your toes warm during winter sports.
Lead Photo: Samuel Scrimshaw/Unsplash