Rumpl Gives Guys a Way to Get Cozy
Puffy blankets made by this two-year-old California company bring outdoor textiles inside.
Courtesy of Rumpl(Photo)
Heading out the door? Read this article on the new Outside+ app available now on iOS devices for members! Download the app.
Department stores think they've answered the age-old question: "What do women want?" Their aisles display perfect beds topped with coordinating pillows that may appeal to ladies, but not to men—at least, so says Wylie Robinson. 
"No one in the bedding industry is talking to guys," claims the 30-year-old Californian, who didn't covet the ruffled shams he saw in bedding superstores and catalogs. So along with his friend and fellow outdoorsman, Nick Polinko, Robinson launched Rumpl, a bedding company that aspires to "make it okay for a guy to buy a blanket."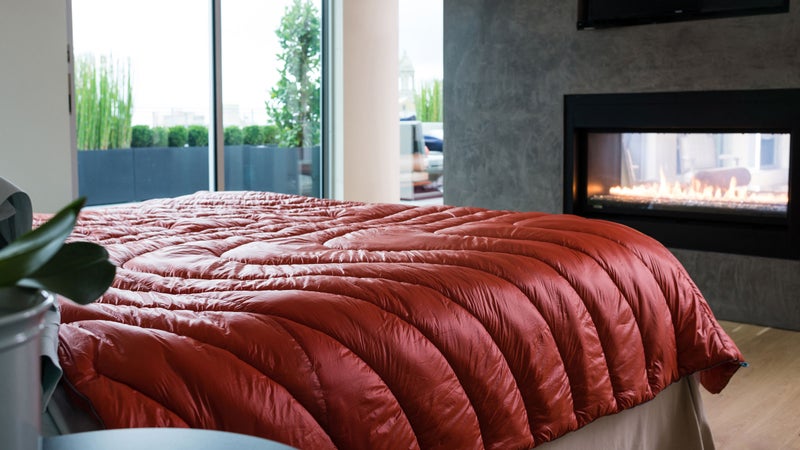 So what do guys want? "Untucked comfort," says Robinson. "Men may care about design, but they want a comfy house, not a catalog house."
Rumpl offered its first puffy blankets on Kickstarter in December 2013. After a successful campaign, it started selling them in various sizes and colors on its website. They're the blanket version of your favorite car-camping sleeping bag, complete with nylon fabric and synthetic insulation, except with swirling, wave-like baffles (rather than utilitarian grids). The patterning looks good in the bedroom, but the materials stand up to outdoor use. 
Robinson envisions a revolution in home bedding, made possible by outdoor textiles. Sheets, towels, robes all can morph into what he calls "active homewear."
Using rugged, outdoor-worthy materials made sense to Robinson, a former pro mountain biker and recreational surfer. Both he and Polinko spend as much time outside as indoors, and when at home, they found themselves reaching for camping gear when they needed a cozy coverlet. 
"There are all kinds of cool textiles that have been pioneered for the outdoor industry, but no one is using them for the home," says Robinson. 
They will be soon. The high-fashion world has already started to exploit performance fabrics (witness Rag and Bone's new jeans made of Schoeller Prestige, which was developed for equestrians). And Schoeller's energear textiles (which reflect infrared rays back to the body to increase personal energy and shorten warm-up phases), were designed for mountain athletes, but have been used in horse blankets. It's only a matter of time before they appear in bedding for people, too.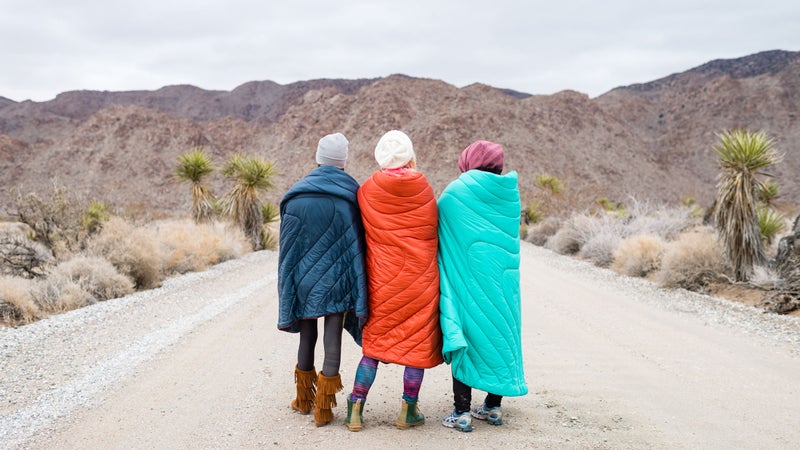 Rumpl wants to be the tip of that arrow. Whereas Big Agnes only sells its Down Comforter through outdoor retailers, Rumpl's channels include Zulily, Touch of Modern, and Huckberry. Soon the company will expand into brick-and-mortar stores with several new products: the 50/50 puffy, which uses a wool/cotton fabric on one side and a stretch polyester shell on the other, and a hoody blanket that features the same shelled fleece that Nike uses in its running apparel. Rumpl is also developing a DriDown puffy blanket (current versions use only synthetic insulation).
For Robinson, puffy blankets are just the beginning. He envisions a full-on revolution in home bedding, made possible by outdoor textiles. Sheets, towels, robes all can morph into what he calls "active homewear." 
"We're really trying to tackle a dated industry" he says. "We're taking something that's traditionally kind of boring, honestly, and we're injecting new technology into it."
Lead Photo: Courtesy of Rumpl