The Sunblock Lowdown
The FDA regulates sunscreens just like any over-the-counter drug, which means that all those words on the label actually mean something. Here's what you need to know to slather smart.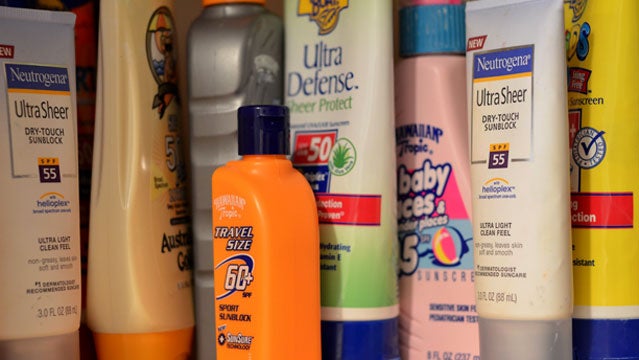 Joe Shlabotnik via Flickr
Heading out the door? Read this article on the new Outside+ app available now on iOS devices for members! Download the app.
SPF (Sun Protection Factor)
The higher the SPF, the more protection from UVB rays, which are the ones that burn your skin. But what most people don't know is that UVB protection doesn't increase proportionately as SPF goes up, and once you get above 50 there's practically no difference. The biggest leap comes between SPF 15—which blocks 93 percent of UVB rays—and SPF 30, which blocks 97 percent. Apply an SPF of at least 30 half an hour before exposure and reapply every 90 minutes.
Sunblock Versus Sunscreen
Sunblock contains particles that block UV rays, whereas sunscreen is formulated with chemical components to absorb UV rays.
Broad Spectrum
A general term signifying that the lotion guards against both UVA rays (responsible for the signs of aging) and UVB rays (responsible for sunburn).
Water Resistance
Indicates that it will stay on your skin longer even if you sweat or go swimming. No sunscreen is entirely waterproof, however, so you'll still need to reapply after getting out of the water.
Expiration Date
Not only can your sunscreen lose its efficacy, but some can start breeding bacteria. Most SPFs have a two-year shelf life from the date of manufacture. Buy a bottle every summer.
Active Ingredients
There are 17 FDA-recognized ingredients that offer sun protection, but the most effective ones are absorbers like Parsol 1789 (avobenzone) and Ecamsule (mexoryl), which soak up rays from the sun, and reflectors like titanium dioxide and zinc oxide, which sit on the surface of the skin and deflect rays. The combination of titanium dioxide and zinc oxide delivers broad-spectrum protection, and avobenzone is very effective when paired with octocrylene.
Oxybenzone
Avoid this common broad-spectrum chemical, which is in many commercial sunscreens. Despite being approved by the FDA, it can irritate skin, and some research has linked it to increased cancer risk.