Voormi's Plan to Revolutionize Our Outerwear and the Mountain-Town Economy
This month, a tiny Colorado startup will attempt a bold rescue of the nation's mountain towns while reinventing waterproof-breathable fabrics. How? With this super-comfy hoody.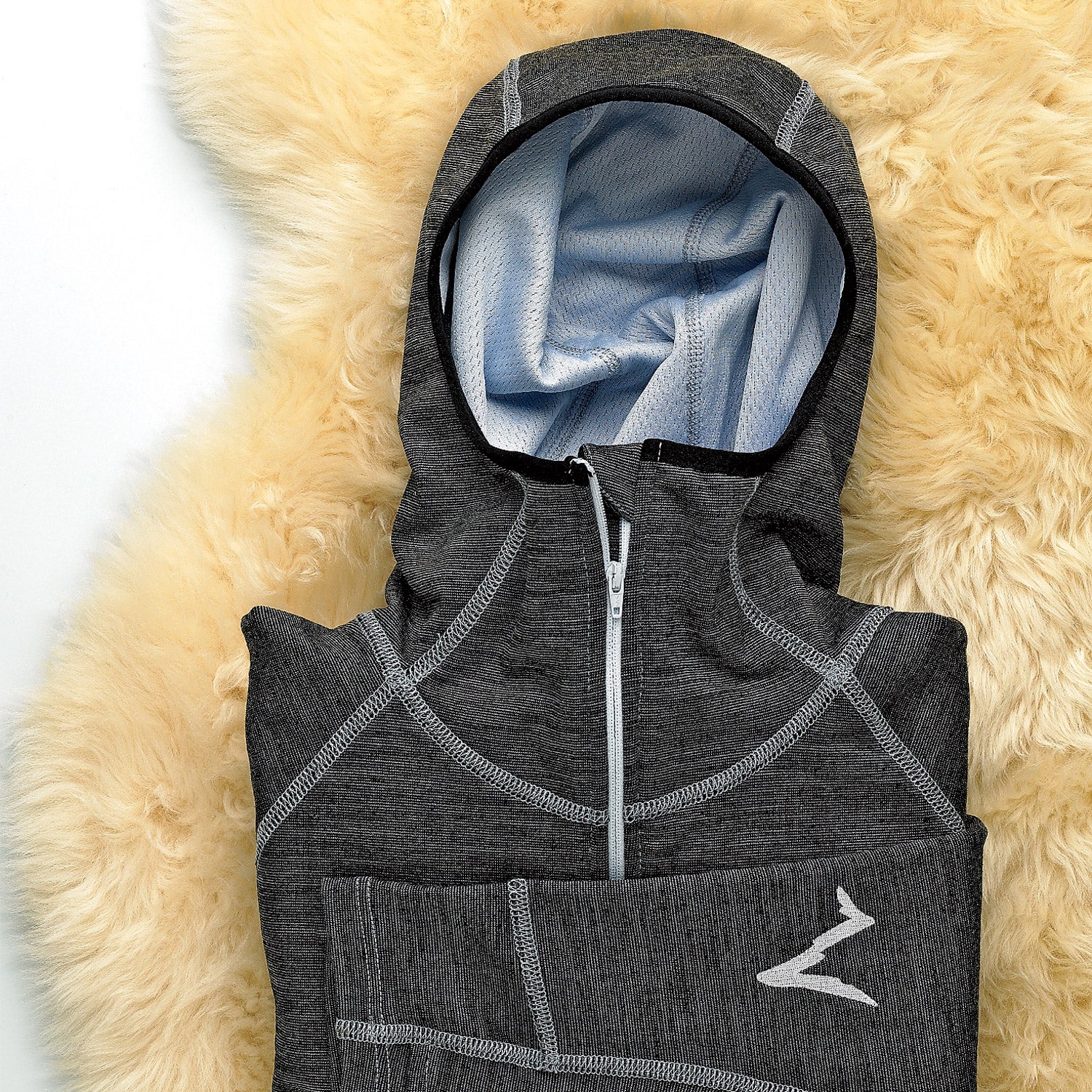 Dustin Sammann
Heading out the door? Read this article on the new Outside+ app available now on iOS devices for members! Download the app.
Five years ago, Dan English, a former manager at Microsoft and an executive vice president at hunting-apparel company Mossy Oak, had a revelation: there were too many clothes in his gear shed. Most of it worked all right but was so specialized that he had to bring a suitcase full of layers whenever he traveled. Many of the hard shells were so flimsy, they didn't last more than a few seasons. 
"I wanted to know how you could wear a piece of apparel for longer," English says, "both throughout the day and over the span of years."
Since the 1970s, companies had been making shells the same way: by sandwiching a waterproof membrane between two pieces of fabric. Confined by overseas supply chains and textiles sourced largely from two companies—eVent and Gore-Tex—innovation was incremental at best.
So in 2010, English established Voormi, named for a fictional, yeti-like mountain-dwelling beast, in a rusty, flood-prone building in Pagosa Springs, Colorado. Setting up shop in, say, Boulder, which is home to dozens of outdoor companies, would have made life easier. But the team he assembled—his son, Dustin, a guide on Denali; Doug Lumb, who spent 43 years at Polartec developing fabrics used by Nike, Salomon, and the U.S. military; and Timm Smith, a former chemical engineer at Gore-Tex—worried that moving to a gear hub would only breed more cookie-cutter apparel. Pagosa Springs, a town of 1,700 surrounded by nearly three million acres of national forest and wilderness, seemed like the perfect undiscovered mountain playground. 
"Working in Pagosa allows us to focus on things that are needed rather than things that are trending," Smith says. 
What was needed, they decided, wasn't another new material but an entirely new approach to making it. "If you lay out all the garments in the industry, they're all made in one or two factories, and they all perform the same way," says Dustin English, who serves as Voormi's director of product integrity. "We wanted to make something unique from natural fibers using resources in the area we're playing in."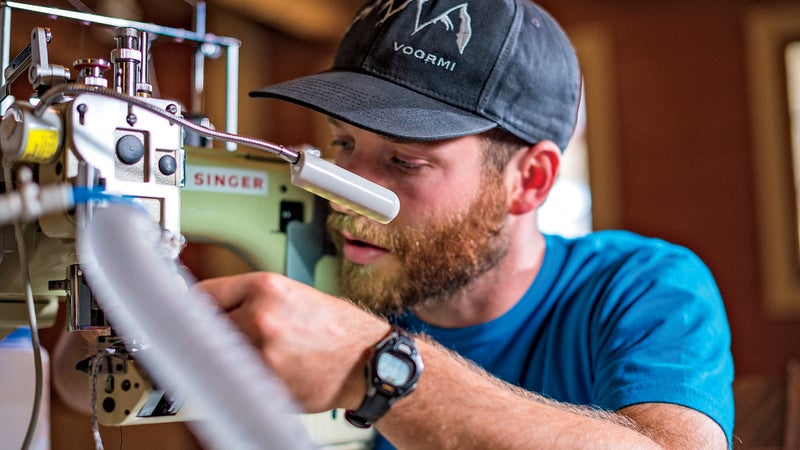 Instead of gluing pieces of fabric to a membrane, Voormi developed a way to knit a textile—in this case, wool—through it. The new method, patented under the name Core Construction, creates a single-layer jacket that's mostly weatherproof but wears like a fleece. The technology will debut in two shells this October—the men's Fall Line and women's High-E—which will be sold along with Voormi's other products in 40 retailers and at Voormi.com. In Outside's tests, Core Construction was adept at deflecting snow and wind, was warm enough to wear all day on a ski hill, and fit and felt like a sweatshirt. It didn't hold up in sleet, but according to Smith, it isn't meant to. "There are a lot of 100 percent seam-taped hard shells out there," he says. "I'm not sure the world needs another one."
The breakthrough fabric isn't the only way that Voormi is trying to change the way apparel companies work. Instead of outsourcing production, it built factories in small towns in Colorado. The wool comes from merino sheep raised in the Rocky Mountains, gets turned into yarn in North and South Carolina, and is stitched into apparel in Pagosa Springs and Rifle, Colorado. Think of it as the craft-beer approach to manufacturing, more Oskar Blues than Coors. 
"We don't want the 100,000-square-foot factory in China or Malaysia," Smith says. "We want to go into rural America and find small mountain towns with people who can sew living in them. Maybe there are only ten of those people in Pagosa Springs. But if I have ten places with ten sewers each, then I have a 100-sewer factory." 
The partners hope to transform those mountain-town economies from ones composed mainly of low-wage seasonal work to ones with a diverse, stable revenue stream—without any connection to ski resorts and tourism. "Most people who grow up in a mountain town have a minimum of two, three jobs," says Dan. "We're trying to provide year-round employment with benefits." 
The trick will be to maintain that philosophy if the technology takes off. Though Smith says that Voormi has no plans to experiment beyond natural fibers, that doesn't mean other brands won't. 
For example, police departments might want to use Kevlar instead of wool and weave it through nylon to create lightweight body armor. Phillip Gibson, a scientist with the U.S. Army's Molecular Sciences Engineering team, who has worked closely with companies like Nike and Polartec, says the technology could also lead to improvements in the apparel worn by troops to protect against chemical and biological threats, perhaps by weaving plastic threads through a material like Tyvek. "The chemical-biological clothing has many of the same issues as outdoor clothing," Gibson says. "You want it to be breathable but to keep something out at the same time and not be too stiff."
To help expand Core Construction's range of applications, the Englishes created a second business, called Starting with New Rules, to license the technology to other manufacturers, the same way Gore licenses its membranes to Black Diamond and Mammut. 
When we spoke in July, Smith wouldn't divulge anything more about potential partnerships. For now, he said, he's focused on his own new line. 
"We have all these cool technologies, and we express them through Voormi's products," says Smith. "The idea is: show the market it can be done, create the consumer pool behind the technology, and then create the demand from other companies."