What footwear and raingear work best in the rainforest?
My husband and I are going to Peru for our 50th anniversary. We will be adventuring in the Amazon rainforest, and I'm wondering what kind of supportive footwear I can use on the wet, slick trails. Also, what rainwear would protect against torrential rain, yet not be too hot in the jungle? Judy Reeds Spring, Missouri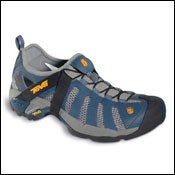 Heading out the door? Read this article on the new Outside+ app available now on iOS devices for members! Download the app.
Oof, that's a tough one. It's very hard to find footwear that is comfortable in hot, muddy climates, particularly if you need footwear with good support. My tendency is to break the problem into two components: footwear and ankle support. For footwear, the best choice is apt to be something that dries and drains quickly and that offers good traction, such as the Teva Sunkosi ($99; teva.com). These are essentially running shoes adapted for wet conditions, with synthetic materials that don't absorb water and lots of drain holes so water can escape. And, for low-cuts, they're pretty supportive. You might also take a look at a light, waterproof hiker such as the Vasque Breeze Gore-Tex XCR boots ($145; vasque.com). But my feeling is that once they're covered in mud and over-topped, they're not going to feel that great.
Teva Sunkosi

Sunkosi
For the ankles, get a pair of Swede-o ankle braces (various models, most around $40; swedeo.com). These are easily the best way to prevent ankle problems, even when wearing fairly heavy boots. They're light, comfortable, and fit under any shoe.
Rainwear is equally difficult. There simply is no such thing as a rain jacket that is "comfortable" when it's 90 degrees and raining. I'd take a good-quality umbrella, then an inexpensive but effective rain jacket such as Marmot's Precip ($99; marmot.com).
Happy anniversary! I think…
Check out the new 2007-2008 Winter Outside Buyer's Guide, packed with reviews of more than 300 new gear must-haves. It's available on newsstands this month.
Trending on Outside Online