What shoes work well around the cpsite?
If you are like me, when you arrive at your cpsite after a long hike, you want to switch out of your boots and put on something lighter. What shoes are out there that will work well around the cpsite? Something that will protect the toes, has enough sole so you can step on a rock with hobbling yourself, and doesn't make for much extra weight. John New York, New York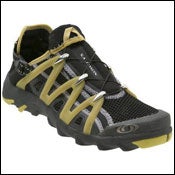 Heading out the door? Read this article on the new Outside+ app available now on iOS devices for members! Download the app.
I've been sort of pondering that same question myself, John. Of course, in this day and age of light-packing, and given the fact that nearly all hiking boots are far more comfortable today than their of counterparts 20 years back, we should be doing the right thing and simply wearing our trail boots around camp—maybe going barefoot occasionally if need be.
Salomon Karma

Karma Sandal
But I have to agree that after a long, hot day on the trail, putting on something light and comfy and ambling around the campsite is a real treat. A few weeks ago, for instance, I opted to carry a pair of basic Teva sandals on a backpacking/climbing trip. They're fairly light and very comfortable, but this type of Teva has drawbacks. They don't offer a lot of toe protection, in the event you want to do anything more ambitious than loaf around camp or wander to the nearest stream for a water refill. And foot stability is a little problematic. They set out to combat this problem with a new sports sandal called the Karnali Wraptor ($100; teva.com), which has some toe protection and is very stable. It's worth looking into.
Beyond that, trail runners and things like that are too heavy, in my view. Water shoes, on the other hand, tend to be quite light while still offering decent toe protection, good traction, and a lot of comfort. Salomon's Karma ($90; salomonoutdoor.com) is a good choice, with a mesh upper, tough toe camp, and grippy outsoles. Weight is about 20 ounces for a pair, so a bit over a pound. Teva's Sunkosi shoes ($100) are a touch heavier, with a little more polyurethane around the uppers and a little less mesh than the Salomon shoes.
One potentially intriguing choice is the Vibram Fivefinger ($70; vibramfivefingers.com). These are a sort of rubber five-toed sock—think of gloves for your feet. They slip right over your feet and toes for a very unusual footwear experience. They offer decent foot protection, good grip, and they're very light at 11 ounces per pair. But opinions are mixed. Some people really hate the way they feel, and in my own experience it can be a little tough to get all your toes into the correct slots. But they've improved from the pre-production models I tried, so worth a look.
You've seen our picks for 2007 Gear of the Year, and now the entire
Outside Summer Buyer's Guide is online. Check out this year's more than 400 must-have gear items, including hiking shoes.
Trending on Outside Online