Gear Guy
Which gloves will keep my hands warm on the mountain?
My hands are always freezing on the mountain when I go skiing (I think I have poor circulation). Do you have any recommendations on the warmest gloves for winter? Leigh Ann Kansas City, MO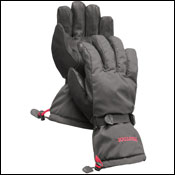 Heading out the door? Read this article on the new Outside+ app available now on iOS devices for members! Download the app.
For starters, you might very well have poor circulation, as in Raynaud's Phenomenon or some other problem. So you might want to see a doc to get checked.
Marmot Randonnee gloves

Randonnee gloves
Otherwise, there are several steps to take that will help keep your hands warm. But before we get to gloves, make sure that nothing you have on—particularly your jacket—is restricting circulation. If it's snug in the armpits or at the wrist, that may be an issue. Also, make sure that what you're wearing over your torso is plenty warm, maybe even a little overly-warm. Cold hands are an indication that your body is pulling blood back to the core, so you want to keep your core plenty warm.
As for gloves, start with a layer close to your skin. I like silk because it's not bulky—silk-liner gloves are widely available at REI, Amazon, and many other retailers, and usually cost $8 to $10 a pair. I also like the Manzella Z-base Power Dry Glove Liners (www.manzella.com), which cost $17 a pair.
Next, for a very warm main glove, you have several choices. For three or four years now I've been wearing Marmot's Randonnee gloves ($100; www.marmot.com), which have been updated with Gore-Tex XCR liners. They're fabulous gloves. Pittards leather on the palm and fingers gives you good grip, and the Primaloft insulation is warm and non-bulky. Because of the Gore-Tex, they're essentially waterproof. And they're fairly long, so they cover your wrists and keep you warm there.
Outdoor Research's Couloir Gloves ($99; www.orgear.com) are similar in design to the Randonnee, although they employ pile insulation on the palm and lofted insulation on the back of the hand, which makes sense as you compress the lofted insulation when you grip your poles. Like the Marmots, the Couloirs have XCR lining, and a long cuff. They're very, very warm.
Another interesting option is Pearl Izumi's Amfib Lobster Glove ($65; www.pearlizumi.com). It's a fully insulated cycling glove, which also makes it an excellent ski glove. And it's a semi-mitten, meaning the "mitten" portion is split in half, so your forefinger and middle finger get to stay together, as do your ring and little fingers. That helps with warmth, and you retain fairly good dexterity. Mittens, of course, are warmest of all, but they make it difficult to manipulate poles, bindings, and other ski thingies.
Finally, I'm all for add-on handwarmers. Try some Heat Treat Hand Warmers, $9 for a six-pack from REI.com. They fit inside your gloves and use a chemical reaction to create warmth.
Check out this year's more than 400 must-have gear items, including a comprehensive outdoors apparel section, in the 2006 Buyer's Guide.