Which shoes will get me through rainforest hikes?
I do light hikes in the hot, humid, muddy Puerto Rican rainforest multiple times a year for work. My coworkers wear rubber wellies, and I usually buy essentially disposable boots (and throw them away after a week). I'm sick of wet feet, but most waterproof boots seem made for winter. Any advice? Heather Mountain View, California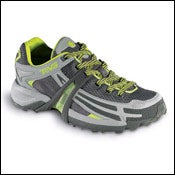 Heading out the door? Read this article on the new Outside+ app available now on iOS devices for members! Download the app.
That's an exceedingly difficult question. You sum up the challenge nicely: "Hot, humid, wet… wreak havoc on seams." Indeed it does. Plus, you really don't want anything that heavy and waterproof on your feet. I'm surprised those other guys wear rubber Wellingtons. You would think their feet would just pool up in sweat.
Teva X-1 water shoe
Teva X-1 water shoe
But, what else are you going to do? You can spend $150 to $200 for leather or leather-and-fabric boots with a waterproof liner, and before you know it you've stuck your foot into a foot-deep mud bog, overtopped the boots, and you're soaking wet. Plus, odds are good that they won't even last all that long.
Are there any serious objective hazards to contend with, such as poisonous reptiles? Nasty biting millipedes? Thorns? If not, then you might try a water-friendly shoe. Yeah, you're feet will still be wet, but at least the water will drain out, and the shoe is made to take the moisture. Teva's X-1 shoes ($90; www.teva.com) have running-shoe comfort in a design that lets water flow out quickly. Salomon's Karma Amphib ($90; www.salomonoutdoor.com) offers a woman-friendly fit design that is supposed to keep crud out of your feet—twigs, pebbles, and the like. That is a very good thing.
I think this water-shoe family is going to be your best bet. Otherwise, it's disposable shoes, or those Wellies.
Also, check out this year's more than 400 must-have gear items, including a comprehensive section of women's gear, in the 2006 Buyer's Guide.
Trending on Outside Online