Winter Grooming 101
Cold is brutal on skin. Keep your armor smooth with these simple remedies.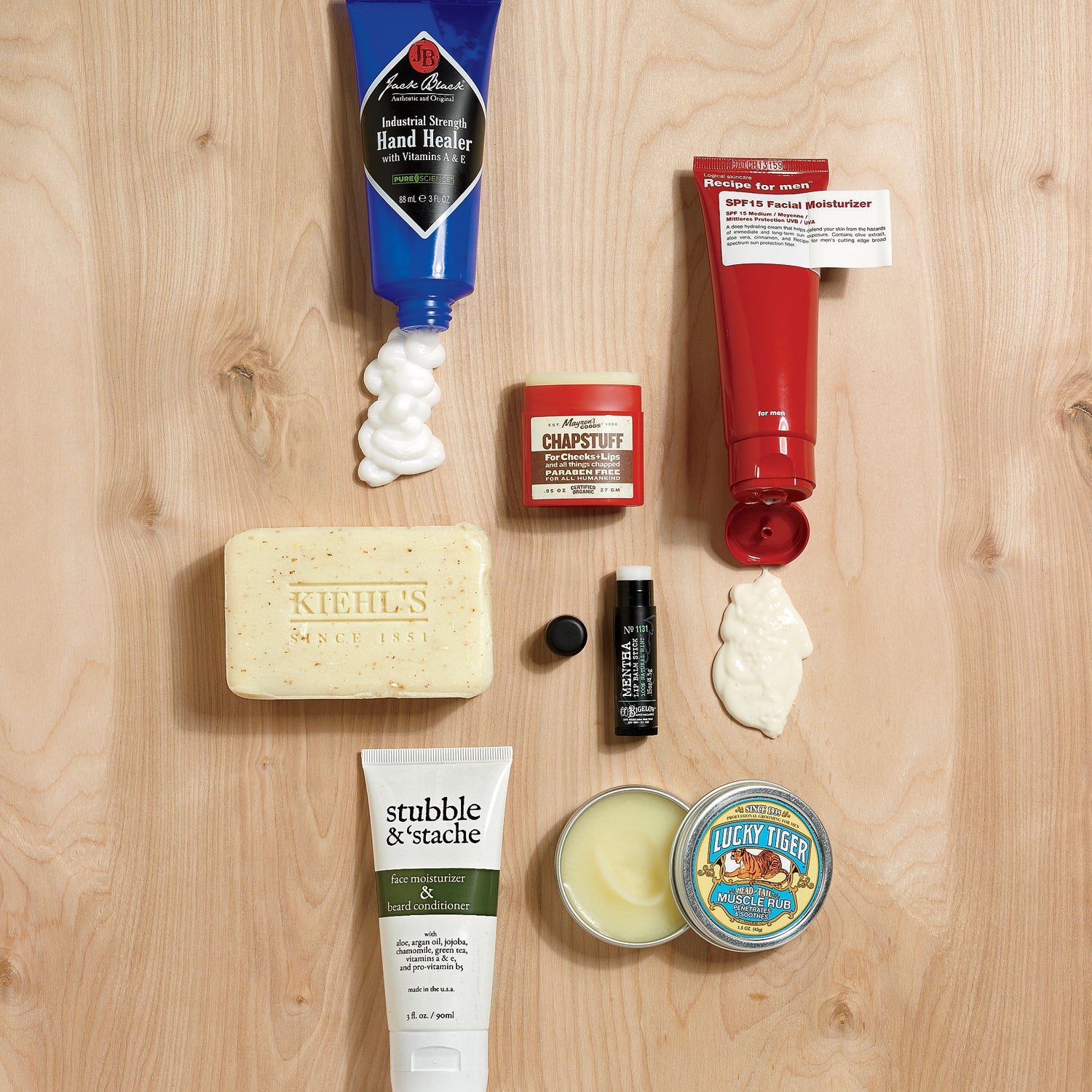 Hannah McCaughey
Heading out the door? Read this article on the new Outside+ app available now on iOS devices for members! Download the app.
Save your skin this winter with these seven essential grooming tools. 
1. Stubble & 'Stache Face Moisturizer and Beard Conditioner
A two-in-one lotion with aloe and jojoba hydrates coarse hairs and the dry skin beneath. $34, stubbleandstache.com. 
2. Kiehl's Ultimate Man Body Scrub
Dry skin is dead skin. Scour it away with gritty oat bran and kernels. $15, kiehls.com.
3. Jack Black Industrial Strength Hand Healer
Rub on twice daily to prevent dryness, calluses, and cuticle damage. $15, getjackblack.com. 
4. Mayron's Goods Chapstuff
Apply wherever dry skin is found. Loaded with beeswax, chamomile, cocoa butter, and calendula. $15, mayronsgoods.com.
5. Recipe for Men SPF 15 Facial Moisturizer
This protection comes packed with burnet, ginger, and cinnamon to minimize oiliness and protect from UV rays. $37, recipeformenusa.com.
6. C.O. Bigelow Mentha Lip Balm Stick
Shea butter in this balm guards lips from wind and cold. $7.50, bigelowchemists.com.
7. Lucky Tiger Head to Tail Muscle Rub
Heat up muscles before a morning ski, and soothe them once you're done, with a comforting blend of eucalyptus, wintergreen, and menthol. $12, getluckytiger.com.
---
8. Embrocation (For Cycle Geeks)
It's unreasonable to ride a bicycle when it's 20 degrees outside. Normal people bundle up and go skiing. But we cyclists wear thin layers and anoint ourselves with sharp-scented embrocation—a warming ointment used to prep muscles for the cold—to protect exposed skin. We're not unlike the Yaghan people, who lived naked in the harsh Patagonian climate by coating themselves in whale blubber. Embro's viscous, waxy consistency staves off the elements like a leather sealant. Really, it's as much about the ritual as the protection. One whiff from an open can sparks the anticipation of a flinty ride ahead. And in a group, the faint aroma of eucalyptus and cedar that rises off you is like a secret handshake. It says, "Damn the elements. We're going riding." Try Paceline Chamois Butt'r Embrocation, $20.