Clif Just Called Out Kind Bar in 'The New York Times'
The energy bar wars just escalated, folks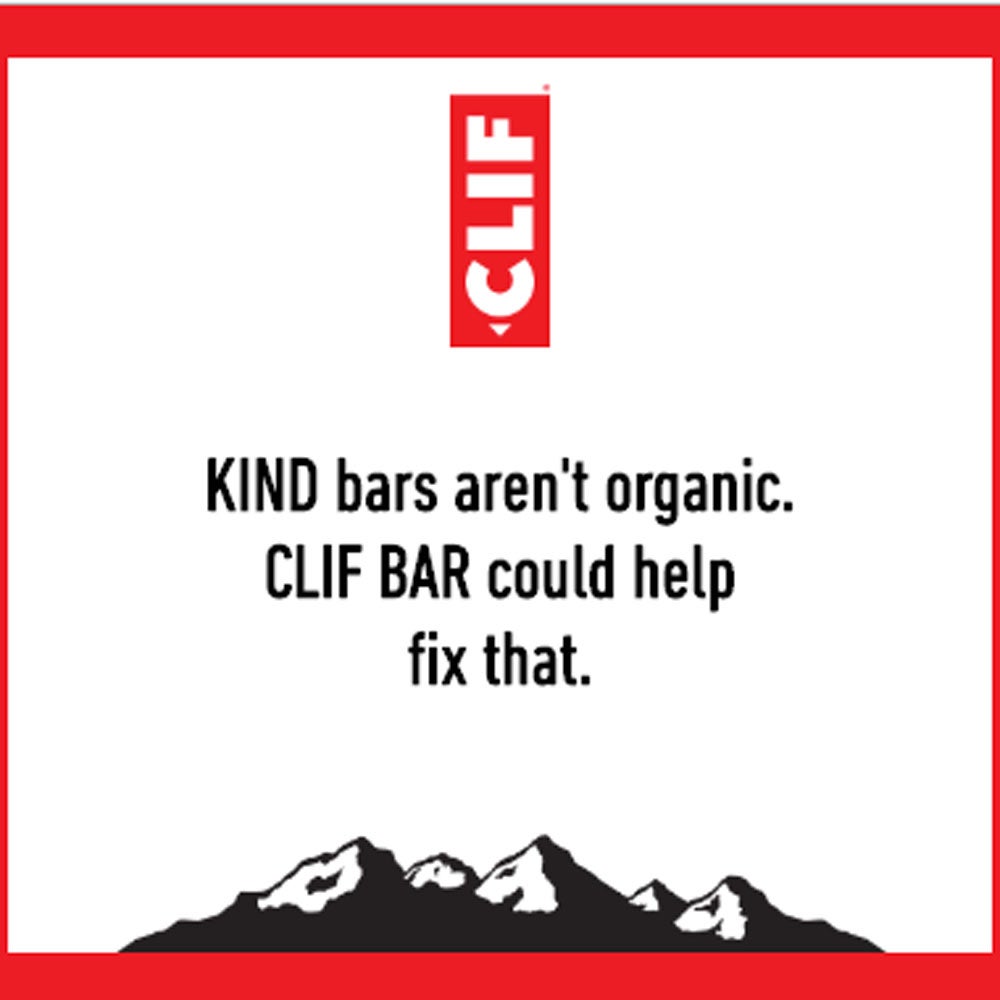 Heading out the door? Read this article on the new Outside+ app available now on iOS devices for members! Download the app.
Clif Bar has issued a challenge to one of its biggest competitors, Kind Snacks. In an ad in Wednesday's print edition of The New York Times, as well as on the paper's homepage, co-CEOs Gary Erickson and Kit Crawford penned an open letter urging Kind CEO Daniel Lubetzky to transition his company to organic ingredients.
"Do a truly kind thing and make an investment in the future of the planet and our children's children by going organic," the letter reads. It goes on to list the primary benefits of organic food, such as reduced pesticides, and then finishes with a pledge to share Clif Bar's decade-plus of knowledge in sourcing organic ingredients, as well as donate 10 tons of organic ingredients should Kind take up the challenge. Erickson and Crawford also call out Larabar (owned by General Mills) and RX Bar (owned by Kellogg's) and invite them to join the movement, too. (Currently, none of these competing brands use organic ingredients.)
"The ad was meant to move the dial on organic," says Crawford. "We were trying to think of a creative way to do this, and we thought, 'Why not invite Kind Bar to come and join us?'" Ultimately, Crawford and Erickson say, they hope the ad starts a conversation about the relative importance of organic farming and ingredients sourcing, whether that be encouraging more brands to switch suppliers or encouraging consumers to start buying from brands that do. 
It's also straight-up marketing. "It's a strategic move to reach new audiences," says Lindsey Bier, a business communication professor at the University of Southern California. "If Clif were only seeking to address Kind, there are other ways they could have done that without taking out an ad in The New York Times."
Clif Bar has been incorporating organic ingredients into its products since 2003. "Clif is, in a very gentle way, calling out its competitors," says Bill Pearce, a lecturer at UC Berkeley and former chief marketing officer at Taco Bell. It's yet another example of the cutthroat world of energy bars, which Outside explored in a feature last month.
So far, according to Erickson, neither Kind Bar, RX Bar, nor Larabar have responded to the letter. Though Kind's Lubetzky offered this statement to Inc: "Clif's approach in selling snacks made predominantly from organic brown rice syrup, which is basically sugar, isn't the solution. We'd be happy to meet and share why Kind focuses on making snacks that always lead with nutrient-dense ingredients like whole nuts, whole grains, and whole fruit—instead of sugar. That is why Kind's leading snack bars have a fraction of the sugar in Clif's lineup."
Will the campaign be successful? Pearce is doubtful. "Direct 'you're bad, I'm good' advertising works in politics but does not work in consumer goods," he says. Bier disagrees, pointing out that the ad is consistent with Clif Bar's company values, which include sustainability. "When we're looking at building a brand, we want brands to communicate their actions but also have them be authentic and reflect back to their values," she says. "That's exactly what this does."