Hobie M-80 – Surfboards: Reviews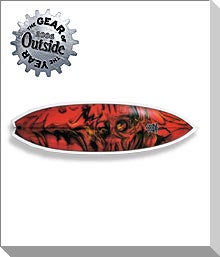 Heading out the door? Read this article on the new Outside+ app available now on iOS devices for members! Download the app.
Talk about kids in a candy store. Contemplating the 20-surfboard quiver we assembled for Buyer's Guide testing this year, our wave riders felt as if they'd been given the keys to Wonka's brand-new surf factory. We had longboards, guns, funboards, thrusters, and fish—yet there was one stick our testers kept plucking from the rack: the Gear of the Year-winning Hobie M-80. At first glance it looks like a mid-eighties four-fin, but from the initial paddle and bottom turn it's clear the M-80 is the sweetest thing on water.
Hobie M-80 (5'4″ to 6'8″) $800 www.hobie.com
1. You heard it here first: Four-fins will be the hottest surfboard trend in 2006—and the Hobie M-80 is going to be leading the charge. Shaped by Hobie veteran Terry Martin, this board is a fast, easy-paddling, mush-shredding machine.
2. It paddles with uncommon smoothness and speed for a six-foot-two-inch board. With hard rails and minimal rocker, the M-80 glides into waves, almost like a longboard. I had lots of two- and three-stroke takeoffs—it catches waves so early and easily that it feels like cheating.
3. With 21.5 inches of width tapering to a wide double-winger swallowtail, the board turns quickly while remaining loose. That means the M-80 can sometimes spin out during sharp turns in head-high surf, but experienced riders will learn to anticipate and control the slides, adding to the fun.
4. Most important, the M-80 is fast. Really fast. The quad-fin setup gives it amazing drive down the line. Surfing it in a hollow, shoulder-high reef break, I was consistently able to rocket through sections I normally don't make. At times I even had to rein it in to stay near the peak.
5. At 2.6 inches thick, it also has mucho float, which maximizes fun in smallish, mushy surf—the sort of waves most of us see on an average day. Think of it as an "80-percenter," the perfect board for knee- to head-high surf—80 percent of the conditions you'll encounter.
Trending on Outside Online