Should You Buy Patagonia's Black Friday Ad?
On November 25, when most retailers were pushing their flashiest Black Friday deals, Patagonia took out a full-page ad in The New York Times urging people not to buy one of its most popular jackets. Reactions ranged from adulation to contempt. Was this a hypocritical marketing ploy or an honest call to reduce consumption?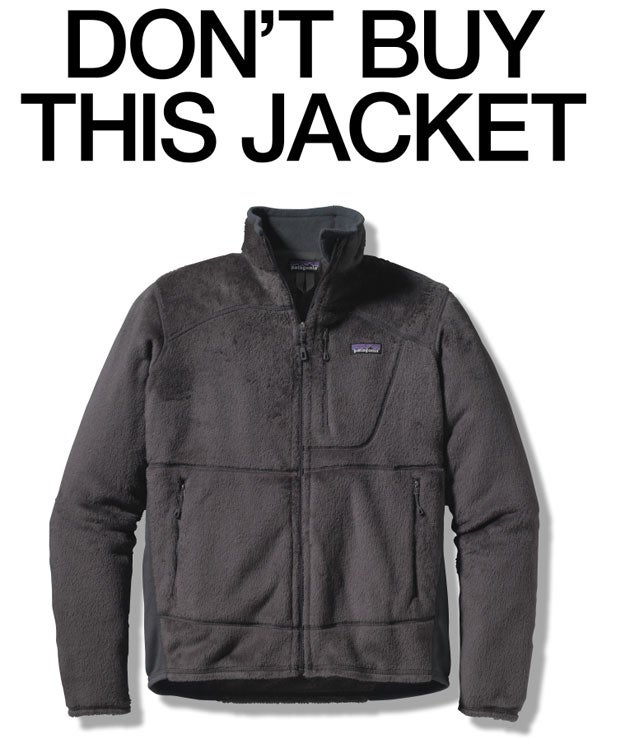 Heading out the door? Read this article on the new Outside+ app available now on iOS devices for members! Download the app.
If nothing else, Patagonia's Black Friday ad was the rare kind that caught a harried reader's attention and held it. The header, an unexpected imperative in capital letters, was qualified in the fine print below. "This is a 60% recycled polyester jacket, knit and sewn to a high standard," it read, though not before reminding us that all clothing production contributes to environmental bankruptcy. For example, the ad pointed out, the pictured R2 jacket required enough water during the manufacturing process to "meet the daily needs of 45 people" and "generated nearly 20 pounds of carbon dioxide" on one leg of its transportation journey. Patagonia posted the same ad on its website through Cyber Monday and Emailed it to about 750,000 customers.
The full Patagonia ad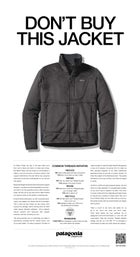 The full Patagonia ad
The ad was analyzed by the Harvard Business Review, the International Business Times, Forbes, and innumerable blogs. AdWeek named it its ad of the day for the boldness of the appeal. Gawker, meanwhile, called it sanctimonious: "You are the reason people think liberals are smug."
Indeed, it read like a brilliant piece of reverse psychology, a self-righteous celebration of the brand cloaked in an earnest plea to rethink a culture of unchecked consumerism and its effect on the environment. The text read "DON'T BUY THIS JACKET," but some thought Patagonia was really saying, "Purchase high-quality products from our conscious company instead of crap from evil corporations."
"Of course we want people to buy from us," says Christina Speed, Patagonia's marketing director. "We're a company that makes clothes, and we need to be profitable. But everyone needs to consume less."
She says the campaign was inspired by a page in the 2004 Patagonia catalog that asked people not to buy a best-selling shirt. "The message is absolutely sincere. If you don't agree with what we're doing and the ad made you angry, then don't buy from us."
Not that the company is hurting for supporters. One purpose of the ad was to spread awareness of Patagonia's Common Threads Initiative, an extension of the "reduce, reuse, recycle" mantra that guides their its (and consumers') practices. Recently, it ramped up its repair center for quicker turnarounds and will recycle worn-out clothing into new fabric. This fall, Patgonia hooked up with eBay to facilitate the exchange of used apparel. Sellers who list Patagonia goods on eBay will get a free listing on the apparel maker's used-clothing-and-gear site.
Though few people would accuse Patagonia of greenwashing, the ad's double-edged sentiment lead to kickback from some consumers. On the company's Cleanest Line blog, readers said they found the message patronizing and wondered why Patagonia didn't close stores if it was serious about boycotting the retail frenzy. Others noted that Patagonia bemoans carbon emissions while continuing to manufacture its goods overseas.
Still, Patagonia is a proven supporter of environmental initiatives. It cofounded 1% for the Planet in 2002, which donates 1 percent of annual sales to environmental causes. Roughly 1,400 companies have since joined the nonprofit (Outside is a member). They shifted to 100 percent organic cotton in 1996, long before eco-friendly materials became part of the vernacular. And it encouraged its employees to take time off to volunteer for grassroots environmental organizations, while it continued to pay full salary and benefits.
Here's where the campaign's message gets murky. Patagonia, green as it is, is just as guilty as any other company of pushing the newest apparel technology each season, making this year's fleece more covetable than last year's. In order to keep up in an industry that's exploded in the past decade, there's little choice.
Outdoor Retailer, a biennial trade show that presents the industry's latest gear, has experienced surprising growth in the past four years, according to Kenji Haroutunian, the show's director. Even through the recession, the number of exhibitors at the summer OR market has risen from 925 to over 1,300, and from 750 to 975 in the winter market.
"Traditionally, the outdoor industry mostly sold hard goods like kayaks and tents to a very niche market," said I Ling Thompson, the vice president of communications at the Outdoor Industry Association. "Now there's a lot more geared toward lifestyle rather than technical. There's the outdoor brand as a status symbol."
A Patagonia down jacket is an undeniable staple of mountain-town wardrobes and an increasingly common sight on the streets of cities like New York. Speed bristles at the idea that the company's clothing is desirable as fashion. "We loath the idea of being a status symbol. It's just not in our DNA," she says. "Our clothes are designed for performance."
So was the ad a way for high-minded shoppers to justify expensive Patagonia purchases, or a genuine attempt at changing consumer culture? Probably both. A better question might be whether a branded program built around a buy-less model can succeed. The ad certainly helped Patagonia grow its Common Threads Initiative. The program gained 13,000 new pledges in the week following the campaign, after collecting only 8,000 since it launched in September 2011. The goal is to reach 50,000 by September 2012. If it does, here's an important follow up question: Will the eco-initiative rub off on other businesses?
Patagonia founder Yvon Chouinard hopes so. He likes to advance the idea that there's no such thing as sustainability. Making apparel does harm the environment, and at the end of the day people aren't buying less of it at all. In fact, Patagonia–which has been around since the early seventies–is growing at a gobsmacking rate: it expects to end 2011 with a 15-to-25 percent jump in sales from 2010. Demand for inventory is surging; a sign, Chouinard thinks, that the recession drives consumers to step back from trends and invest in quality products from noble companies.
"Business is one of the most powerful ways to make change," says Speed. "Being a martyr–capping our sales, closing our stores–that doesn't do anything. We have to be successful to show other businesses that it can be done."