What Outdoor Retailer's Move Back to Utah Means for the Industry
And how it will affect us all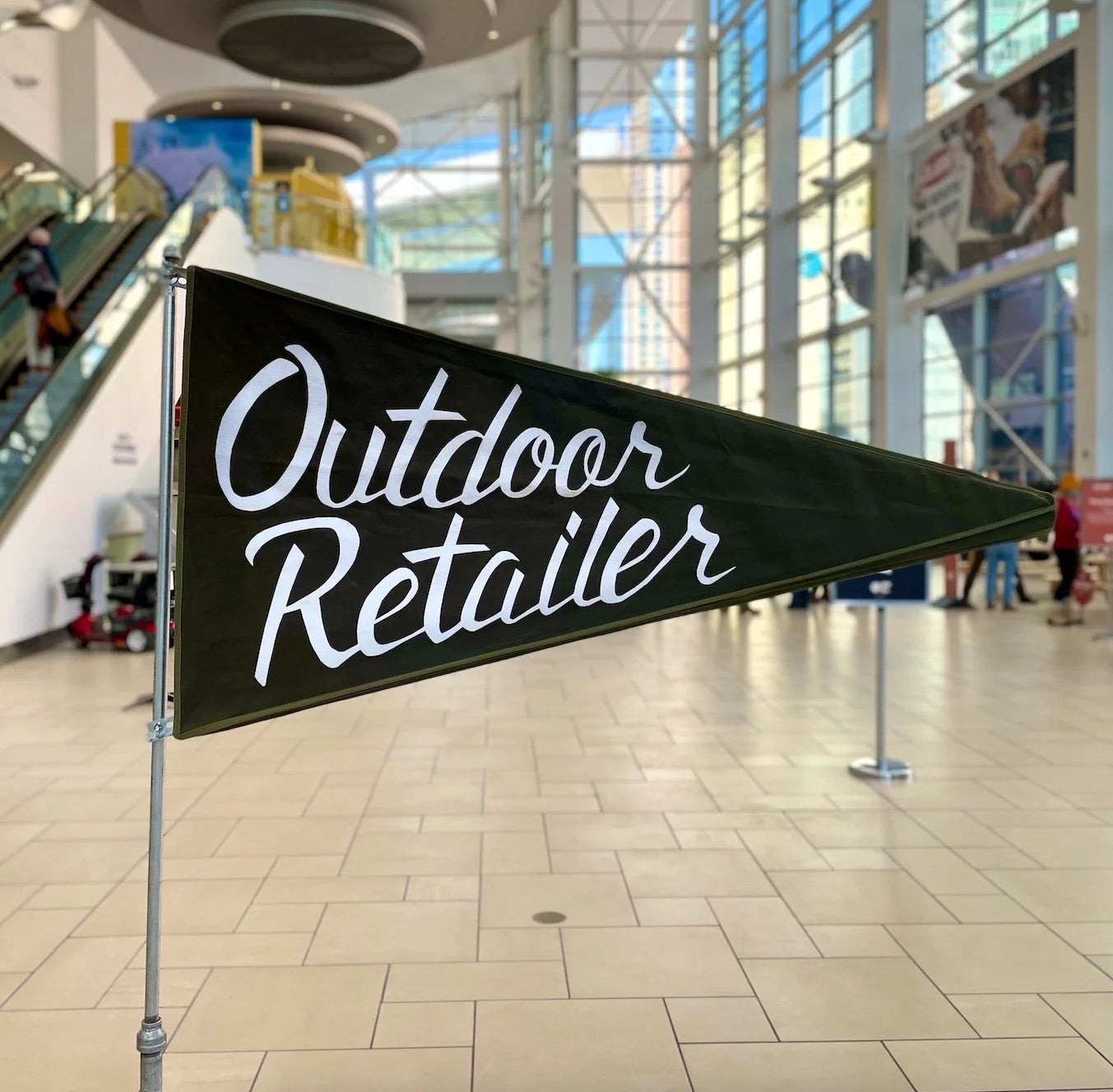 Courtesy: Andrew Weaver
Heading out the door? Read this article on the new Outside+ app available now on iOS devices for members! Download the app.
Before the COVID-19 pandemic, Outdoor Retailer was our industry's indispensable event. Twice annually, more than 20,000 people crowded into the trade show, wandering a vast grid of booths that displayed companies' top-secret coming attractions—racks of impossibly light down parkas, cases of glittering climbing hardware, and gadgets like stoves that charge a smartphone with a twig fire. The national media reported breathlessly on next year's gear and shop owners and employees rubbed elbows with outdoor celebrities like Alex Honnold and Bear Grylls and partied at corporate shindigs featuring bands like Parliament Funkadelic and Macklemore.
Beyond the gear bacchanal, Outdoor Retailer was instrumental in growing the industry's conscience. Dozens of conservation and equity nonprofits rallied support at the show, and the Outdoor Industry Association (OIA), which has been the show's title sponsor for over 25 years, grew from a trade-issues lobbying group into a more forceful advocate for public lands protection and social equity. Congresspeople and senators roamed the show stumping for legislation like re-authorizing the Land and Water Conservation Fund and expanding designated wilderness areas. In 2017, Outdoor Retailer made national headlines when it decamped from Salt Lake City and moved to Denver to protest Utah's efforts to decimate Bears Ears and Grand Staircase-Escalante National Monuments.
So it was a blow to many when, after canceling the previous two in-person shows entirely, the Delta and Omicron variants whittled the August 2021 and January 2022 events to fewer than 8,000 attendees apiece. Some believed the show would never recover its previous size due to shifts in the way business is done: many factories now need orders well in advance of the event, a significant number of retailers have migrated to less expensive regional trade shows, and direct-to-consumer sales mean the show is simply no longer essential to some brands. Recognizing all of those factors, certain companies have shifted their marketing budgets away from previously lavish expenditures at Outdoor Retailer, or have stopped attending entirely. To the chagrin of many who love the energizing effects of Outdoor Retailer's critical mass, the show's star has undeniably dimmed.
The Next Evolution of Outdoor Retailer
It therefore made financial sense when, last month, Outdoor Retailer announced that despite its 2017 exodus, in January 2023 the show would return to Salt Lake City, where costs will be lower for both attendees and exhibitors—and the show itself. Then, a week after the announcement, Outdoor Retailer let go two of its senior management team, brand development director Larry Harrison and senior marketing director Jennifer Pelkey. Harrison said it was an additional cost-cutting move. Representatives from OR declined to comment on the reasoning behind the decision.
But those weren't the only problems: when brands caught wind of the potential about-face, 34 of the industry's biggest players—including Patagonia, the North Face, and REI—peremptorily announced that, on moral grounds, they would not attend Outdoor Retailer if it moved back to Utah.
"We will not support or attend a trade show event in Utah so long as its elected officials continue attacks on national monuments and public lands protections," they wrote in a public letter distributed by the Conservation Alliance. While President Biden reversed the Trump administration's 2017 decision to shrink both Bears Ears and Grand Staircase-Escalante National Monuments, the state of Utah is currently paying a law firm to take that decision to the Supreme Court. "Before we'd return to a trade show in Utah, we'd need a commitment that Utah wouldn't pursue that suit," says Corley Kenna, Patagonia's head of communications and policy.
Furthermore, many have noted that Utah's passage last month of a bill restricting transgender youth from sports participation makes the state anathema to an industry working to increase inclusivity. "Why would you want to tie outdoor retailers to such a trans-phobic state?" wrote one person on social media. "It is a slap in the face to the entire LGBTQ+ community."
Outdoor Retailer and supporters of the Utah move say they aren't ignoring the state's unpalatable politics. "Leaving after 2017 has not brought the change we had hoped for, so we will push back, not pull back," the company wrote in a press release. They announced plans to donate a portion of show revenue to support public lands in Utah and to bring government officials and industry stakeholders together for meetings "focused on influencing policy, assisting advocacy efforts, and directing resources into protecting natural and cultural spaces." It's unclear, however, how much they'll donate and where the money will go, exactly.
Nevertheless, the upcoming Utah trade shows will almost certainly be smaller than those of the show's pre-pandemic apex. In addition to the boycott by many of the industry's heavyweights, the trade show's primary model has been shifting for the last decade or more. Outdoor Retailer was originally created to show off future products to retailers who would write orders on the spot, but the factories making the gear are requiring increasingly long lead times, so orders are now being filled weeks in advance of the shows—a problem only exacerbated by the pandemic. Instead, for the manufacturing brands footing a portion of the show's bill, Outdoor Retailer has largely become a marketing event. Even before COVID, dozens of brands like Arc'teryx and Columbia had decided the costs were no longer worthwhile and decamped. Then, says Conor Hall, director of Colorado's Outdoor Recreation Industry Office, "COVID-19 threw lighter fluid on that smoldering model." Some of the brands and retailers that have abandoned OR are now rendezvousing at less expensive regional trade shows and smaller national gatherings like the Big Gear Show in Park City, Utah, whose exhibitor fees are significantly lower than OR's.
From the retailer side, national chains and online behemoths like REI and Backcountry don't necessarily need a big show like OR to find new vendors, says Wes Allen, owner of Sunlight Sports in Cody, Wyoming. "Every brand makes a pilgrimage to REI's headquarters in Seattle, and would give their left arm to sell their stuff with REI." Many manufacturers, including Patagonia, Arc'teryx, and Columbia, are also growing their own direct-to-consumer businesses online in addition to operating fleets of brick-and-mortar stores. "It's unlikely those big brands will miss Outdoor Retailer," says Allen.
What a Weakened OR Might Mean for the Industry
So, what is lost if Outdoor Retailer continues to fade? First and foremost, it's the community building, say most attendees. "Trade shows are great for networking and trading ideas that you didn't know you needed to trade," says Chris Sword, CEO of RoVR Products. Those ideas run the gamut from updating style and technologies to building consensus on the moral and political issues that affect the entire outdoor community. "Where else can the CEOs of The North Face and Patagonia grab a casual beer together?" says Sword.
Speaking of community building, look too at the constellation of nonprofits that rely on the show to recruit supporters and spread their messages. Some, like The Outdoorist Oath, which seeks to increase inclusivity in the outdoor industry, were literally created at the trade show. "You don't see that activism at many other trade events, if any," says Harrison.
In addition, a weaker trade show might mean a weaker OIA, which is undeniably the industry's most powerful agent of change in Washington. (Last year, OIA's executive director, Lise Aangeenbrug, was invited with a handful of other business and labor leaders to sit down with President Biden and Vice President Harris at the White House.) At one time, OIA relied on show revenue from Outdoor Retailer for over 60 percent of its budget—a tenuous position that effectively tied the organization's fate to OR's. Recently, it's whittled that reliance down to a quarter, but a smaller Outdoor Retailer still means less opportunity for OIA-driven consensus building and possibly less fiscal might for OIA as well. Representatives from OIA declined to comment on funding issues, but in a statement released after OR announced its upcoming move, the group did say that it "expressed the concerns of many of [its] members regarding a move of Outdoor Retailer to Utah."
A smaller national trade show will impact us all as outdoor consumers, too. Small brands, the kind with just a few employees and maybe a bit of seed funding, have been helping drive gear innovation for decades. Without the show, their opportunity for in-person discovery by important retailers will likely diminish. Allen describes the sensation on the Outdoor Retailer show floor when Jetboil, founded by a pair of New Hampshire cousins, debuted in 2003. Such brands made it at Outdoor Retailer "because shops can wander the show and discover dozens of them all in one place," Allen says. "There's no way a small brand can afford the time to attend each regional show or knock on the doors of hundreds of stores across the country."
"It's hard to imagine Outdoor Retailer succeeding without its deepest-pocketed companies."
Nicholson echoes that sentiment from the show's leadership team. "What makes the show relevant is the ability for retailers to discover and elevate the importance of new and younger brands," she says. "There's been no slowdown of brands entering the industry. Trade shows have always served as an efficient path for small companies to showcase their products and gain exposure."
"The chance encounters you get when there's 20,000 people in the building were critical for us," says Kelli Jones, founder of NoSo Patches, which makes adhesive patches to help individuals repair their gear. At Outdoor Retailer in 2018, Jones happened to meet Burton's director of global sustainability. They hit it off, and that friendship led to one of NoSo's biggest contracts. Then, in 2021, The North Face icon Conrad Anker dropped by the tiny NoSo booth and expressed his love for the company's mission. That led to a partnership with The North Face—a huge deal for the ten-person company. 
By the same token, the show has been indispensable for independent retail businesses like Allen's. At a big trade show, he says, "small shops can efficiently find unique products that fit their vision, or get a leg up on competitors by discovering emerging brands." It's how they compete with national chains and e-tailers.
As with NoSo's Jones, Allen relies on the excitement of the show to help keep his business energized. "We retailers are motivated by helping people get excited to go outside, which spreads that conservation ethic," says Allen. "When there's 25,000 people at the show, there's a powerful sense of belonging."
Outdoor Retailer says it has plans to increase the critical mass at its Utah shows to keep the community building alive. When the company announced its return to Utah in late March, it declared it would be "reinventing OR" by hosting speakers, community events, and musical acts "beyond the walls of the convention center." Many are hopeful the strategy works, even if the high-profile boycotters of the show follow through with their threats. "I'd love to see [the show] survive," says Allen. "But it's hard to imagine Outdoor Retailer succeeding without its deepest-pocketed companies."
Perhaps, though, there's a third option for attendees and exhibitors—a way to retain the political and cultural momentum created by Outdoor Retailer while satisfying those repelled by the state of Utah's stances on conservation and equality. The same day OR announced it was leaving Colorado, officials in that state said they would establish their own trade event, describing it as a South by Southwest for the outdoor industry. Details are sparse, but given Colorado's reliance on outdoor businesses to power a significant part of its economy, a new event might quickly gain support among state organizers and lawmakers.
"There should be the leadership piece and the creative piece," says Colorado's Hall. "Given the upheaval in our society, it's more important than ever to nurture connections within our community."
Lead Photo: Courtesy: Andrew Weaver