REI's Closing on Black Friday. Other Gear Companies Need to Follow Suit.
The outdoor equipment co-op will close on one of the biggest shopping days of the year. The rest of the gear world should take note.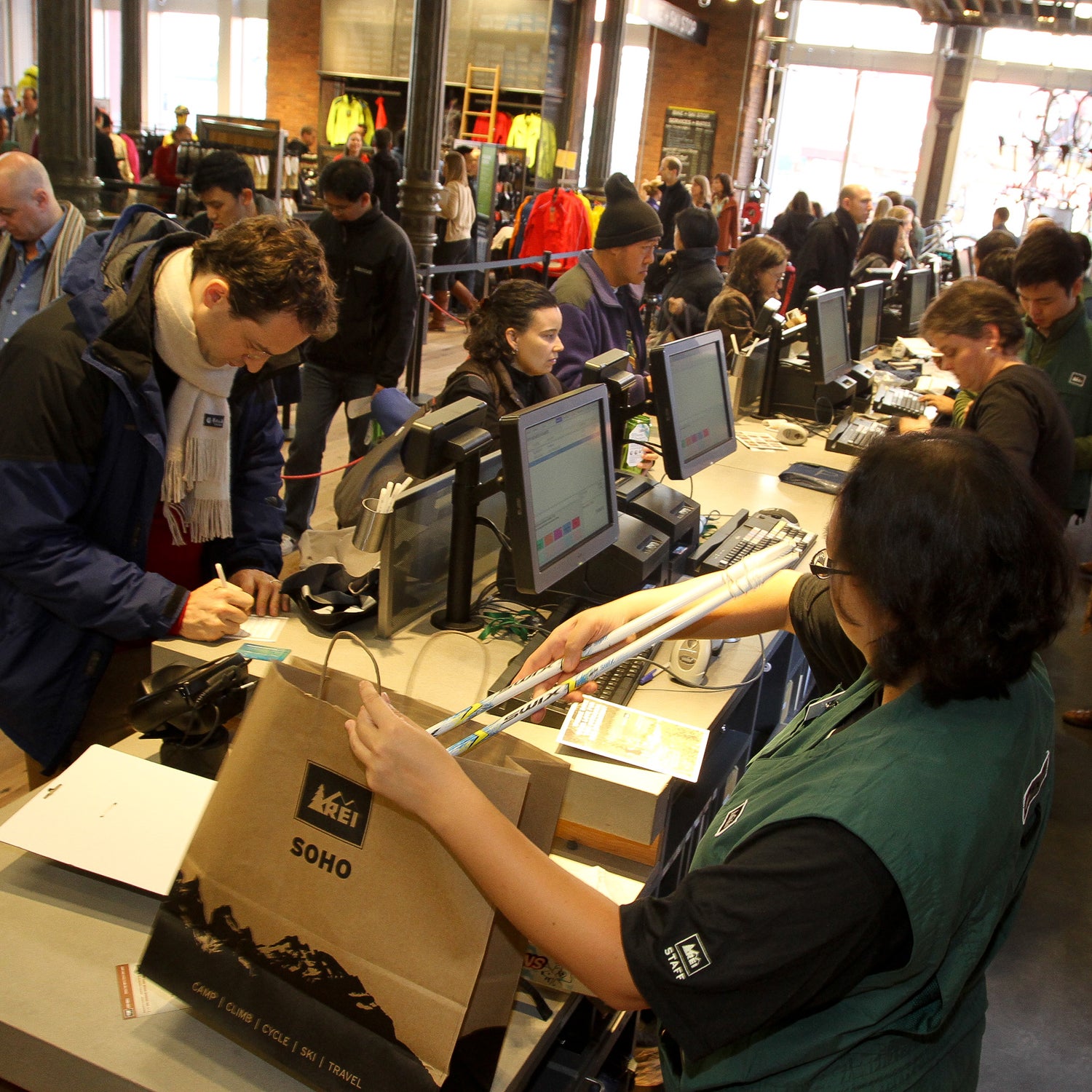 AP Images for REI(Photo)
Heading out the door? Read this article on the new Outside+ app available now on iOS devices for members! Download the app.
In a bold and unexpected move, outdoor retail giant REI announced Tuesday that it'll close 143 stores, black out its website, and give each of its 12,000 employees a paid day off on Black Friday. The decision, applauded by many here at Outside, was made because the store felt like Black Friday shopping has "gotten out of hand." 
While REI hasn't asked other retailers to join in, it's clear the #OptOutside hashtag that went along with its campaign is meant to inspire a movement—a sustainable antidote to the bleary-eyed, turkey-stuffed hordes of shoppers duking it out in the aisles of big-box stores. "We're absolutely open to other (retailers) wanting to be a part of this," says REI's Chief Creative Officer Ben Steele.
Other companies have shown they want to be part of the goodwill flood, too. The day after REI's announcement, outdoor gear maker Outdoor Research said it will join the company in the #OptOutside movement and close its corporate offices, distribution center, Seattle factory, and retail store on Black Friday. 
In recent years, major department stores like Nordstrom have scaled back, opening later to give employees more time with their families on Thanksgiving. Patagonia has repaired gear and hosted used clothing swaps on Black Friday. But it's unlikely that other big outdoor retailers will follow REI's lead this year. We spoke with several companies, including Sierra Trading Post, Eastern Mountain Sports, and L.L. Bean, and they all said they'll open on the day after Thanksgiving. (L.L. Bean's flagship store in Freeport, Maine, has closed only three times in its 103-year history: once when JFK was shot, once when L.L. Bean died, and once last month when a longtime president of the company passed away.)
"I can say with some confidence that REI was able to make this decision because it's a co-op," Carreiro says. The very premise of co-ops is to provide an "ethical and humane" alternative to the typical corporate model.
Earl Richmond, who owns a local gear store called CKS Main Street in Buena Vista, Colorado, says he would close if he could, but he needs the business. "It's not right, but it's how America's been molded," he said. "If people are going to go shopping, it's important that retailers are there."
So what gives? Why is REI able to walk away from the biggest shopping day of the year? 
One reason: money. REI is in its second year of double-digit growth and crushing its competitors. Last year, for instance, REI raked in $2.2 billion—three times Patagonia's revenue and $600 million more than L.L. Bean's. 
But another reason, says Joshua Carreiro, a sociologist who has taught at Smith College, is that REI isn't your typical capitalist company. It's a co-op—quite possibly the largest co-op in the U.S.—and that means it's less beholden to the bottom line, and investors, than its corporate publicly traded competitors. "I can say with some confidence that REI [was able to make this decision] because it's a co-op," Carreiro says. The very premise of co-ops, Carreiro says, is to provide an "ethical and humane" alternative to the typical corporate model. 
REI will take a short-term financial hit by closing on Black Friday (in the past, the day has been one of the company's top-10 sales day of the year), but the decision to go totally dark on Black Friday will likely benefit it down the road, thanks to all the positive marketing. The response from professional athletes, REI members, employees, media, and the general public has been overwhelmingly supportive, Steele says. 
Lorna Caputo, a market insights manager for the Outdoor Industry Association, says the decision plays into consumers' desire to support an "authentic" brand whose values align with their own. Even Carreiro, who's professionally obligated to eye the decision with skepticism, was practically giddy when he heard the news. "It's smart, it's ethical, and it's positive," he says. 
If you do need to get your shopping done that day, places like CKS Main Street will welcome you. "The smaller fish in the pond need to eat everything they can to stay afloat," Richmond says.
Lead Photo: AP Images for REI
Trending on Outside Online