Toms Is Weighing in on the Gun Debate
The shoes-for-good company is the latest in a string of outdoor brands taking a stand on hot-button political issues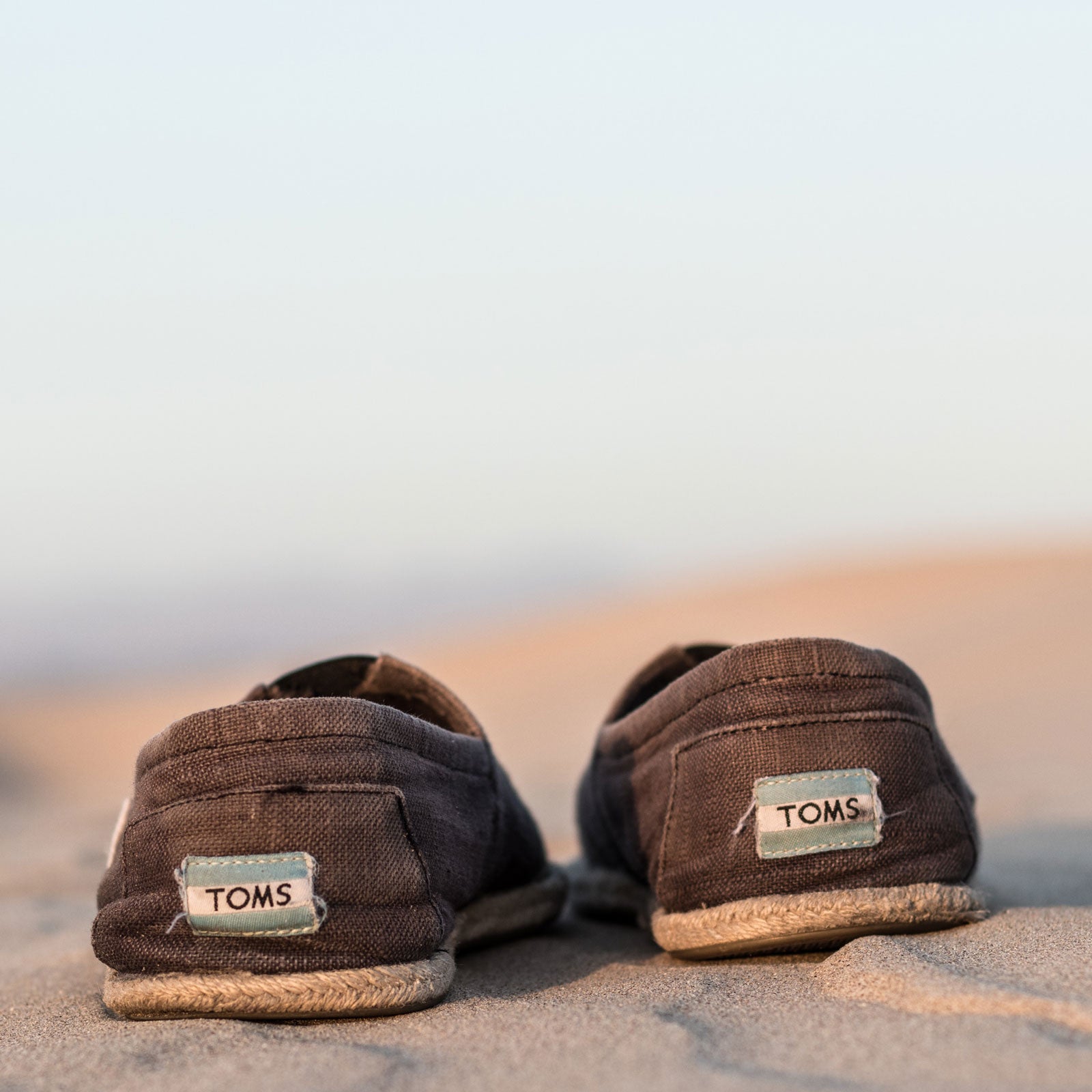 Jeremy Perkins/Unsplash(Photo)
Heading out the door? Read this article on the new Outside+ app available now on iOS devices for members! Download the app.
The gun-violence-prevention movement has a new advocate. Last month, Toms launched a campaign to urge Congress to pass federal legislation requiring background checks for the purchase of firearms, with a $5 million donation to advocacy groups, a postcard-writing initiative, and a slew of new marketing campaigns both online and in stores. The initiative came at the end of a year that saw a number of other outdoor companies—Patagonia, Dick's Sporting Goods, and REI among them—taking firm stands, and in some cases direct action, on hot-button issues like public lands and gun violence. After years of brands staying away from politics for fear of retribution, is this the new norm?
In many ways, the campaign is a logical extension of Toms' philanthropic ethos. In 2006, the company captured consumers' attention—and dollars—when it launched with a one-for-one business model that was unheard of in the fashion and apparel industry: for every pair of shoes sold, the company would donate another pair to children in need around the world. The company has since expanded to sunglasses (with donations of corrective eyewear and vision surgeries), bags (money to support prenatal care in developing countries), and coffee (contributions of clean water).
But founder Blake Mycoskie had always kept his company's giving apolitical for fear that taking a side would be risky for business.
That changed on November 7, 2018, when a gunman opened fire in a bar in Thousand Oaks, California, 15 minutes from where Mycoskie lives. The morning after the shooting, his wife called him and said she was afraid to take their son to school. "Before we got off the phone, she said someone has to do something," Mycoskie says. 
"We had been talking for years about how we could use the Toms platform to do more than just give shoes or eyesight surgery," he says. Now was the time, he thought.
The company is now pushing to send one million postcards by the time Congress reconvenes on January 3.
Immediately after hanging up, Mycoskie drafted an email to the Toms CEO and the board of directors, proposing a multifaceted campaign against gun violence. The initiative was threefold: donations to advocacy groups lobbying to end gun violence, a makeover of the Toms website and stores with messaging calling attention to the issue, and a drive for customers to write their senators advocating for a yes vote on requiring background checks come 2019.
"We have nothing against guns, the second amendment, or hunting," Mycoskie says. "What we're trying to work on is passing universal background checks at a federal level, which will decrease the amount of gun violence happening in our country right now." In other words, the entire initiative is designed to focus on the parts of the gun debate that Mycoskie thinks most people can agree on: preventing convicted felons and those with track records of domestic abuse or documented mental illness from buying firearms.
On November 20, the Toms website launched homepage display reading "End Gun Violence Together." Mycoskie went on The Tonight Show to announce $5 million in company donations to organizations like Giffords: Courage to Fight Gun Violence, March for Our Lives, and the Black and Brown Gun Violence Prevention Consortium. He and his wife also privately kicked in $1 million. 
That same day, Toms unveiled an online tool for sending postcards to senators. Simply provide your name and address and hit submit; the system generates a postcard addressed to your representative that Toms prints, stamps, and mails. 
Mycoskie and his team hoped to get 50,000 people to participate in the postcard campaign. They achieved that in the first two hours. When Outside spoke to Mycoskie in late December, that number was up to 705,000. The company is now pushing to send one million postcards by the time Congress reconvenes on January 3. 
Many businesses have gotten involved in the gun-control conversation in the past year—some intentionally, some not. And it hasn't always gone well. Last February, in the wake of the shooting at Marjory Stoneman Douglas high school in Parkland, Florida, Dick's Sporting Goods pulled assault-style rifles and high-capacity magazines from its shelves and implemented an age requirement of 21 years for gun purchases at its stores. The move caused an outcry from conservative media and customers.
What we're trying to work on is passing universal background checks at a federal level, which will decrease the amount of gun violence happening in our country right now.
Around the same time, retailers REI and MEC faced petitions to halt orders from brands owned by Vista Outdoor, parent to one of the country's leading producers of ammunition and assault-style rifles. Both retailers were met with praise after relenting to consumer pressure and vowing to put holds on all Vista Outdoor orders.
Needless to say, throwing itself in the middle of the national screaming match on guns was a risky decision for Toms, whose customer base splits 50-50 Democrat-Republican, according to Mycoskie. But "people expect Toms to do something like this," he says. So far, the reaction has been decidedly positive, most notably among men. Historically, 85 percent of Toms customers have been women. Since the End Gun Violence Together initiative launched last month, the company's men's business is up 70 percent.
"We've seen support from conservative people," says Mycoskie, "people who are gun owners but also dads. It's had a unifying effect." This may be due in large part to the fact that Toms has been careful not to use the phrase "gun control" in any of its messaging.
Of course, likely the biggest contributor to the initiative's success is the brand's track record of philanthropy and social engagement. Speaking up on a major social issue is exactly what loyalists expect the company to do. It's similar to the conditions that enabled Patagonia—a company known for its environmental activism—to come out strong on the public-lands front and continue to post record profits. 
Not all businesses have social responsibility woven into their heritage to such an extent. But perhaps their successes indicate that we are on the verge of new territory. As American politics grows more galvanized, maybe companies are becoming more brazen and less afraid of entering the fray.
Lead Photo: Jeremy Perkins/Unsplash
Trending on Outside Online