Walmart Just Launched a Line of Backpacking Gear
The retail giant wants to increase participation and diversity in the outdoors by lowering the cost barrier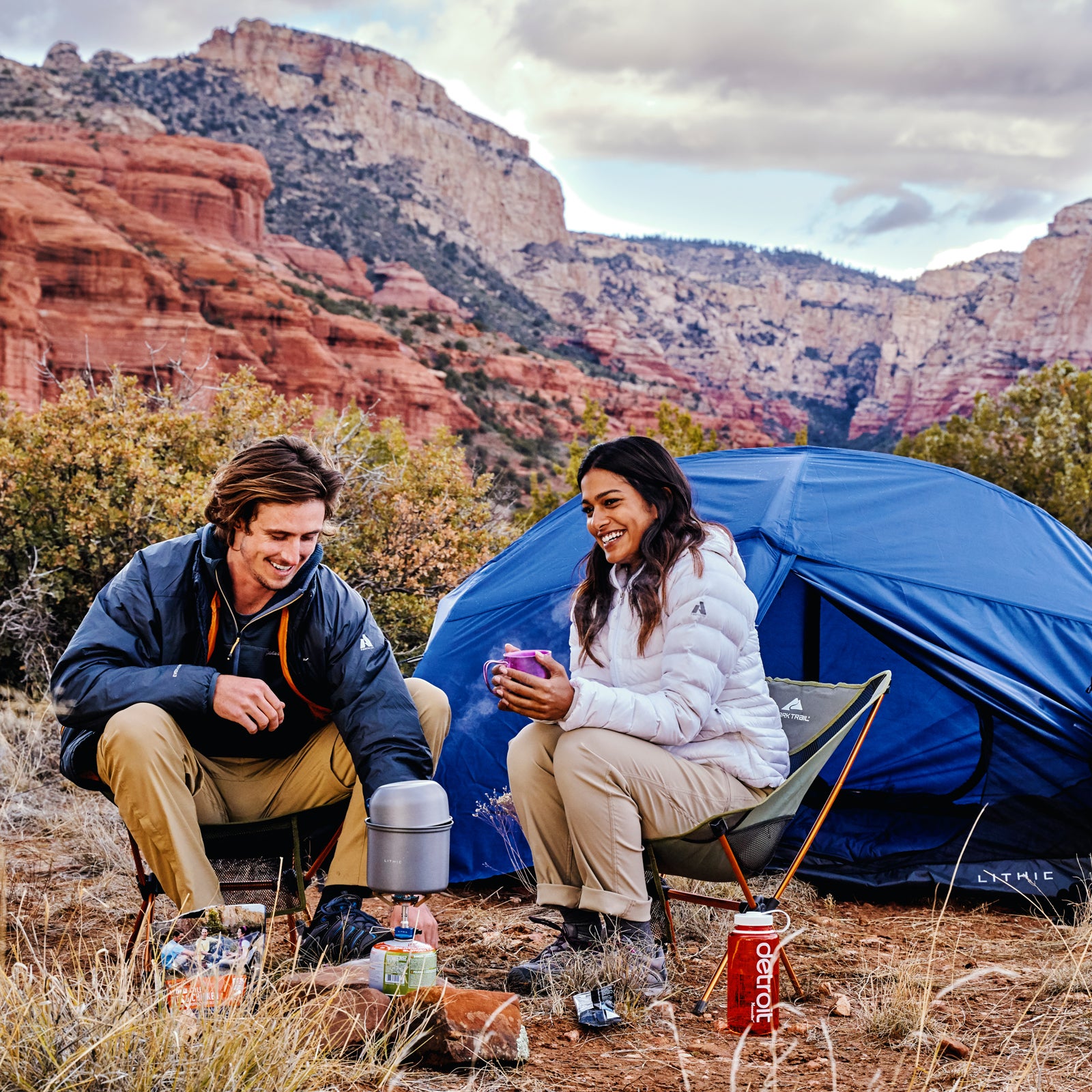 Heading out the door? Read this article on the new Outside+ app available now on iOS devices for members! Download the app.
Here's a surprising stat: according to Walmart, the company sells two million tents and three million sleeping bags each year. If those figures are accurate, it likely makes Walmart the largest retailer of tents and bags in the nation. But, the majority of those sleeping bags cost less than $30 and are intended for car camping or other casual uses. 
Walmart is betting that some of the customers who buy such products are ready to ramp into lighter backcountry gear and deepen their connection with the outdoors. Today the chain announced the launch of Lithic, a line of backpacking gear priced as much as 40 percent lower than similar products on the market. It's also releasing Allforth, a line of backpacking-oriented outdoor apparel that had a soft launch last fall, with prices ranging from $15 to $35 and availability in larger sizes (up to 3XL for men and 2XL for women). The idea, says Eoin Comerford, general manager of e-commerce for Walmart's outdoor division, is to increase outdoor participation by offering more inclusive apparel and lowering the cost barrier to backcountry use. "The outdoor industry will not grow without attracting a more diverse customer base, and diversity will not happen without inclusivity," he says.
Lithic gear ranges from one-to-three-person tents to down sleeping bags to stoves. Judging by the gear Outside has tested, it's of similar quality to products offered by specialty manufacturers. Lithic is already available online and currently in about 50 Walmart stores, all west of the Mississippi, as well as in all 11 Moosejaw shops, the specialty retailer that Comerford founded and Walmart purchased in 2017 (Comerford remains the CEO). Allforth apparel consists of 15 models of shirts, shorts, and pants made of performance fabrics and featuring technical specs like venting and zip-off legs. It is available exclusively online.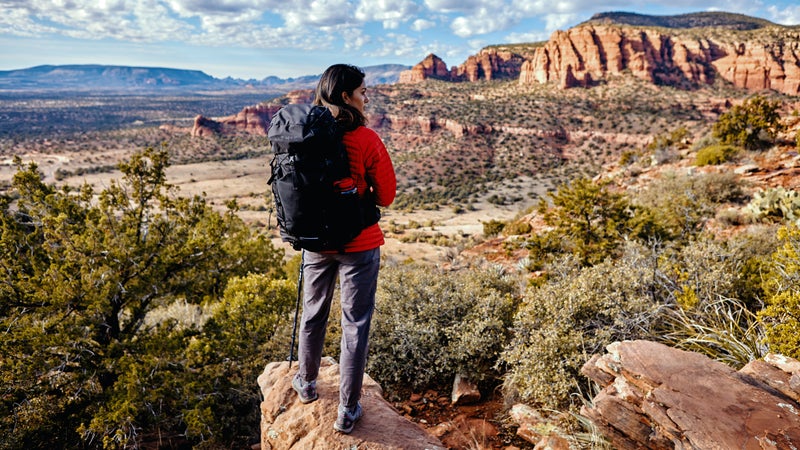 Walmart's foray into backpacking gear has the potential to impact outdoor retailers and manufacturers that have been hit hard by COVID-19 store closures and the deepening recession. Mindful of that, and of Walmart's failed and controversial launch of an online specialty outdoor gear shop in 2018, Comerford points out that "the vast majority of Walmart customers who will buy Lithic gear have never walked into a specialty retailer" and are therefore not competition for those shops, nor for specialty brands. 
Furthermore, he says, the new Walmart brands should help create new customers for specialty retailers and manufacturers by providing affordable entry gear for backcountry pursuits. "The most likely source of beginner backpackers are car campers who already know and enjoy life in a tent," Comerford wrote in an open letter to the outdoor industry on LinkedIn. "This trend is reflected in the most recent KOA North American Camping Report that shows car camping is becoming more diverse. Non-white active camper householders increased from 12 percent of the total in 2012 to 31 percent in 2018." 
In our reporting, we haven't encountered industry backlash that contradicts this. In fact, says Rich Hill, president of the independent specialty retailer group Grassroots Outdoor Alliance, Lithic's customers don't overlap with those of his trade group. "We have to embrace lower-cost gear like this, because it is how most people gain entry into outdoor adventure," he says. "Ideally, every shop would carry some very low-cost options. Then, once the customer is ready to upgrade, the shop can sell them a sleeping bag that stuffs to half the size."
However, the quality of this new gear is better than most will expect—the result of being designed by Moosejaw employees and manufactured by some of the same partners that outdoor-retailer stalwarts use, Comerford says (though he declined to name which ones). 
We tested the Lithic two-person tent ($129). At 35.5 square feet and weighing 5.42 pounds, it has specs, materials, and structure comperable to something like MSR's Elixir, but it costs $121 less. The Lithic tent stood up fine to 30-mile-per-hour gusts and includes a separate footprint and top-shelf aluminum stakes. On our sample, though, one of the hooks that helps hang the inner mesh tent body from the poles was mistakenly sewn hanging into the tent body's interior. 
The Lithic down sleeping bag ($109) features a 35-degree rating and 600-fill down stuffing and weighs 1.87 pounds. By comparison, the North Face's Gold Kazoo has the same temperature rating and weighs 1.81 pounds, albeit with a slightly more lofty 700-fill down and a few design niceties, like a vaulted footbox and a draft collar. But at $240, the North Face bag is also more than twice the price.
We didn't test any Allforth gear, but online reviews following the company's soft launch have largely been favorable, and the prices are impressively low. The Aspen Convertible pant ($35), with zip-off legs and two-way stretch fabric, is similar to the Silver Ridge Convertible pant from Columbia and retails at close to half the price. The technical shirts also offer comparable savings. 
Walmart can build gear more cheaply because, as the world's largest retailer, it can exert considerable pressure on material suppliers and manufacturers to lower their prices. The company also likely takes less margin on each product than specialty manufacturers, says Comerford, and, of course, it's cutting out the middle man by manufacturing its own brands.
"We have to embrace lower-cost gear like this, because it is how most people gain entry into outdoor adventure," says Rich Hill, president of the Grassroots Outdoor Alliance.
Walmart isn't the only retail behemoth to recently enter the American outdoor industry boasting such prices. In 2019, European outdoor retail giant Decathlon launched an online presence and two physical locations in the U.S. in a bid to capture the lower end of the market. Like Walmart, Decathlon manufactures its own gear, enabling the company to boast astronomically affordable prices. (The brand offers an 800-fill down sleeping bag and a 6.8-pound backpacking tent for just $149 each.) However, it has yet to make a sizeable dent in the outdoor world and has not yet made good on its plans to open more stores outside the San Francisco Bay Area. 
Of course, Walmart already has 4,756 store locations in the United States and legions of customers who buy inexpensive camping gear there. But will those customers be interested in making the switch to products that are both pricier and more pared down? Lithic's prices "seem really cheap to us," says Hill, "but those are high-dollar items for Walmart." In an effort to get the products in front of new users, Walmart decided to place them in stores that are relatively close to backcountry destinations, including Hood River, Oregon; Tucson, Arizona; and Gallup, New Mexico. The products, says Comerford, are being stocked as a collection, featured on the endcaps of aisles. 
As for Comerford's goal of getting the gear into the hands of a more diverse customer base, those locations seem like a mixed bag. Southwest and Intermountain West locations certainly have a considerable number of Latino customers, but of the 50 Walmart locations, only the three Phoenix stores would seem serve truly ethnically diverse populations.
Comerford points out, though, that the gear is available in Moosejaw shops across the upper Midwest, including Chicago and Detroit, and online. 
José González, the founder emeritus of Latino Outdoors, says that his own introduction to outdoor brands was through Walmart, where he found "affordable and accessible gear." He says that Lithic and Allforth are "a great start in getting more diverse populations outdoors," though he personally wouldn't buy the products because of the company's history of problematic labor practices and predatory marketplace behavior.
González points out that charitable giving tied to the Lithic and Allforth products could go a long way toward repairing that reputation. So could donating a certain percentage of product revenue to nonprofits that specialize in loaning gear to new and minority users, which would also help the company market its gear to its target consumers. (Organizations like Bay Area Wilderness Training and the Appalachian Mountain Club's Youth Opportunities Program have large gear libraries that loan gear to urban populations new to camping.)
Garrett Dempsey, who runs a gear library for Detroit Outdoors, says that while some of his clients don't shop at Walmart for ethical reasons, many others shop there regularly. "I'm not going to tell a parent without considerable means that they shouldn't buy suitable Walmart gear for their child," he says. "If this gear is well priced and accessible, it absolutely would help lower the cost barrier for some folks."
Even beyond the debate over cheap gear—whether increased access for all outweighs the labor abuses all too common in the garment industry—there is one unequivocal bright spot: Walmart's inclusive marketing strategy. Allforth's models represent a wide range of skin colors, ages, and body types. González notes that Allforth surpasses even REI's efforts to feature diverse models in that it includes a wider range of ages. "It's positive that I can see people here who look like my parents," he says. "A lot of communities of color do spend money on outdoor products. It's important to acknowledge that."
Lead Photo: Courtesy Moosejaw